Minor League
Eastern League (1938-1945)
Championship Season
Major League Affiliations
Hartford Bees in the Baseball Hall of Fame
Notable Hartford Bees
---
From 1934 to 1937, minor league baseball in Hartford, Connecticut, was temporarily replaced by a semi-professional team called the Savitt Gems. In part due to effects of the Great Depression, no minor league club represented the city until February of 1938. The vacancy was filled by the Boston Bees of the National League who decided to relocate their Class-A minor league affiliate in Scranton, Pennsylvania. Boston Bees owner, Bob Quinn, leased Bulkeley Stadium, reintroducing Hartford to the Eastern League.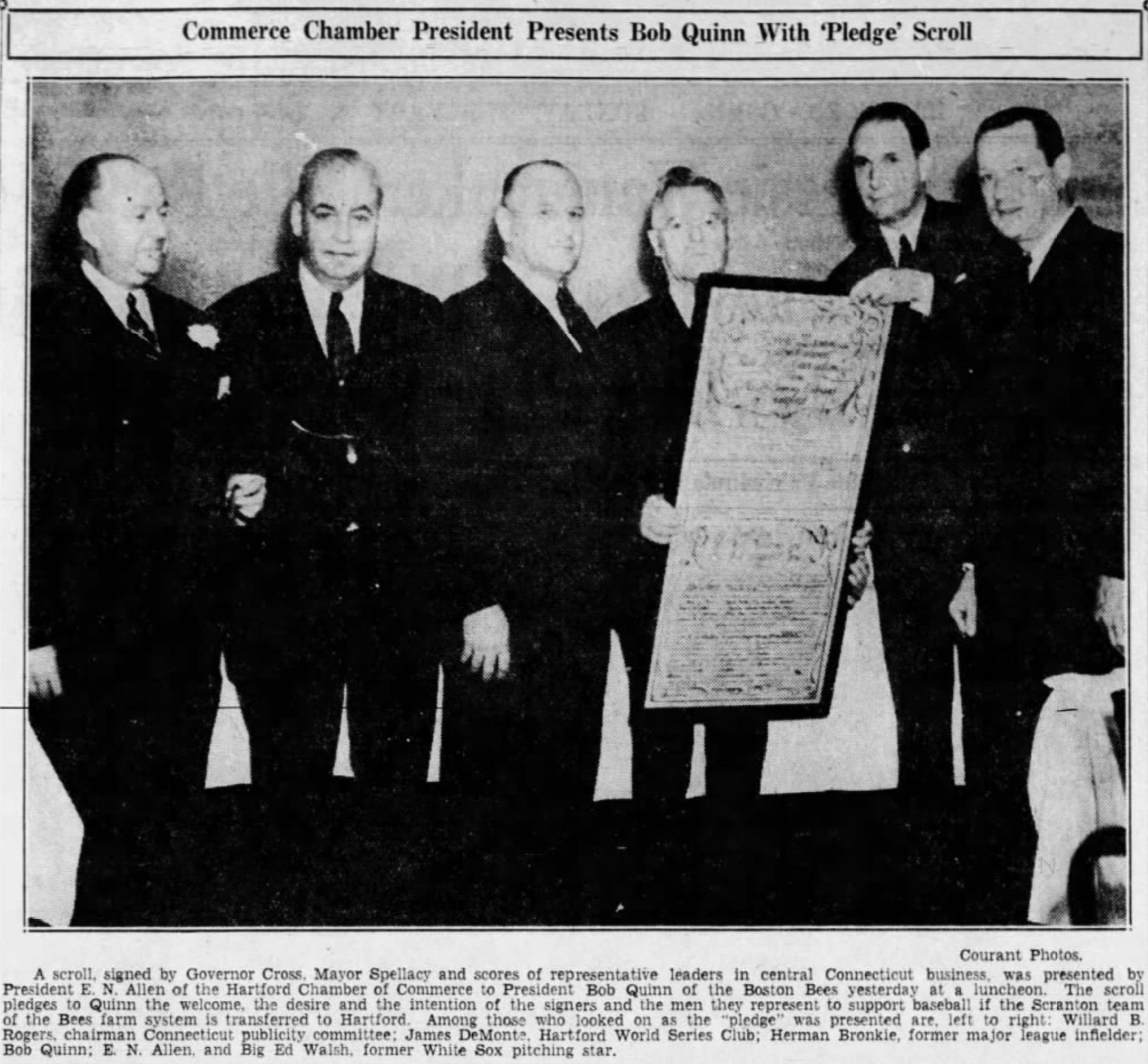 Quinn's son John Quinn was assigned as President of the Hartford club. Operations were carried out by General Manager Charles Blossfield – who became a beloved local figure. Blossfield hired staff, prepared the stadium and recruited players. A final roster was selected at Spring Training in Evansville, Indiana. Back then a Class-A club was one step down from the Major Leagues. For the most part, top prospects went through in the Eastern League (and still do today).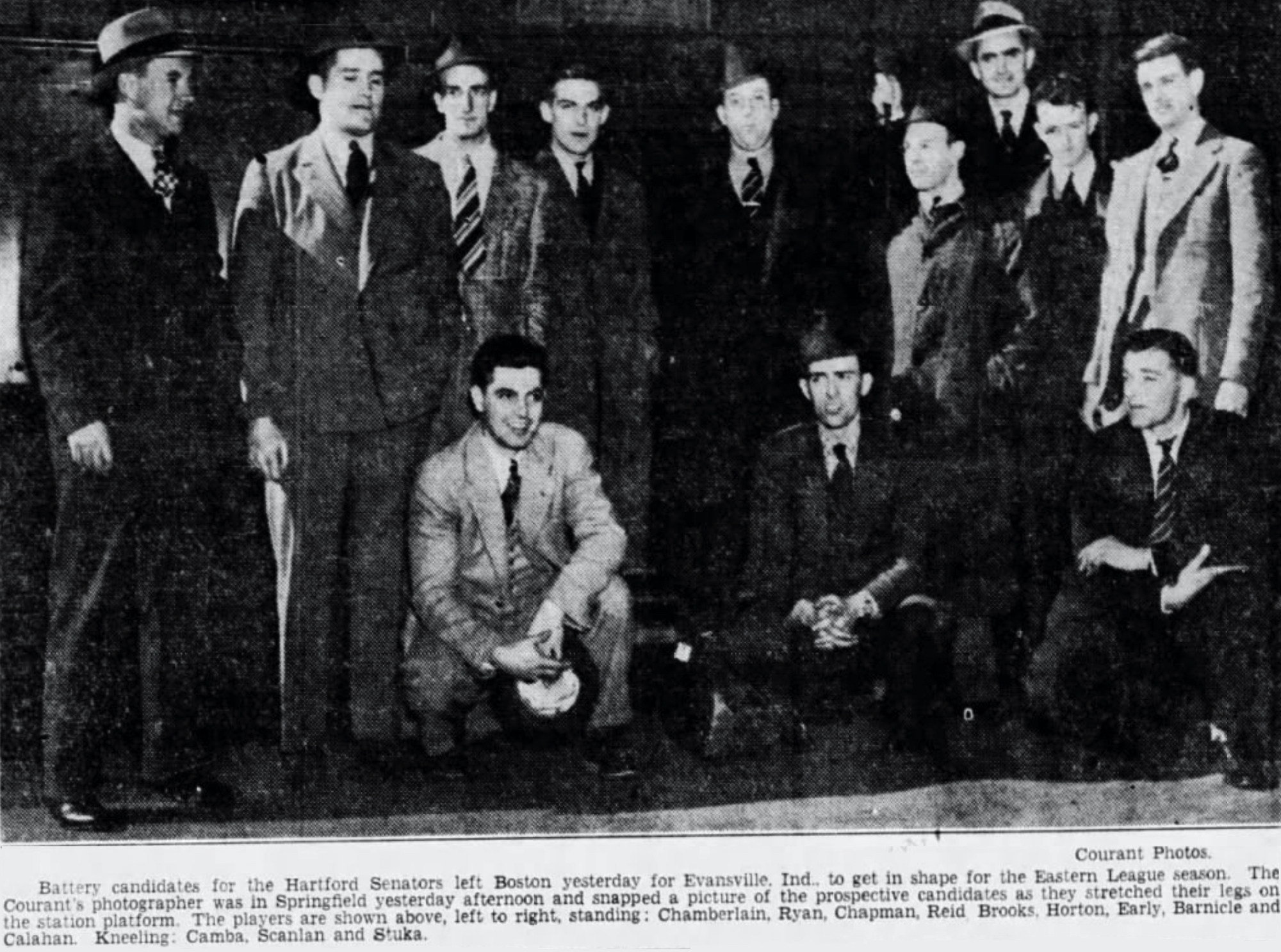 As a final stop before Boston, Hartford's new team became a highly anticipated attraction. The club immediately took on multiple endearing nicknames. Fans previously knew them as the Senators. The Hartford Courant referred to them as the Senators, Bees or Baby Bees. Other newspapers like the Hartford Times nicknamed them the Laurels. Despite conflicting mascots and disagreement among proofreaders, fans turned out in the thousands to Bulkeley Stadium.
Hartford's manager was Eddie Onslow, a 45 year old baseball veteran. He directed a youthful crew of power hitters, including Ralph McLeod, Stan Andrews and Lee Heller. A two-way pitcher named Art Doll paced the team in batting average (.366) as well as innings pitched (244). Hartford finished the season with an even record at 67 wins and 67 losses.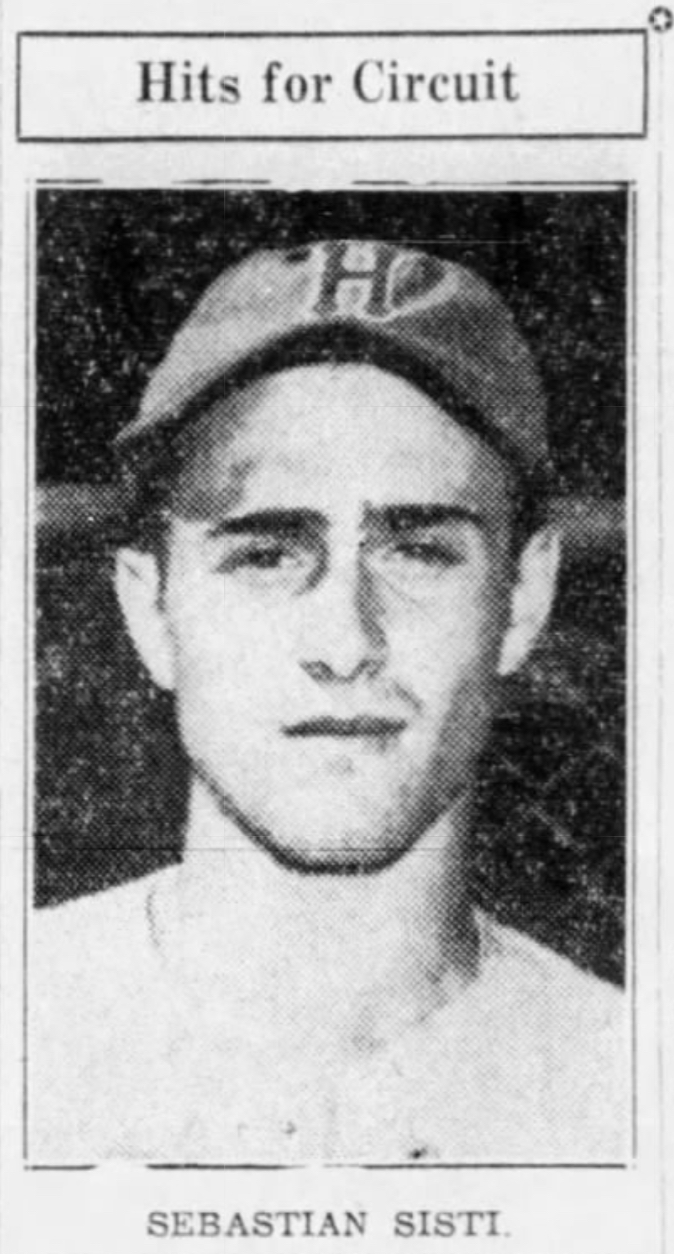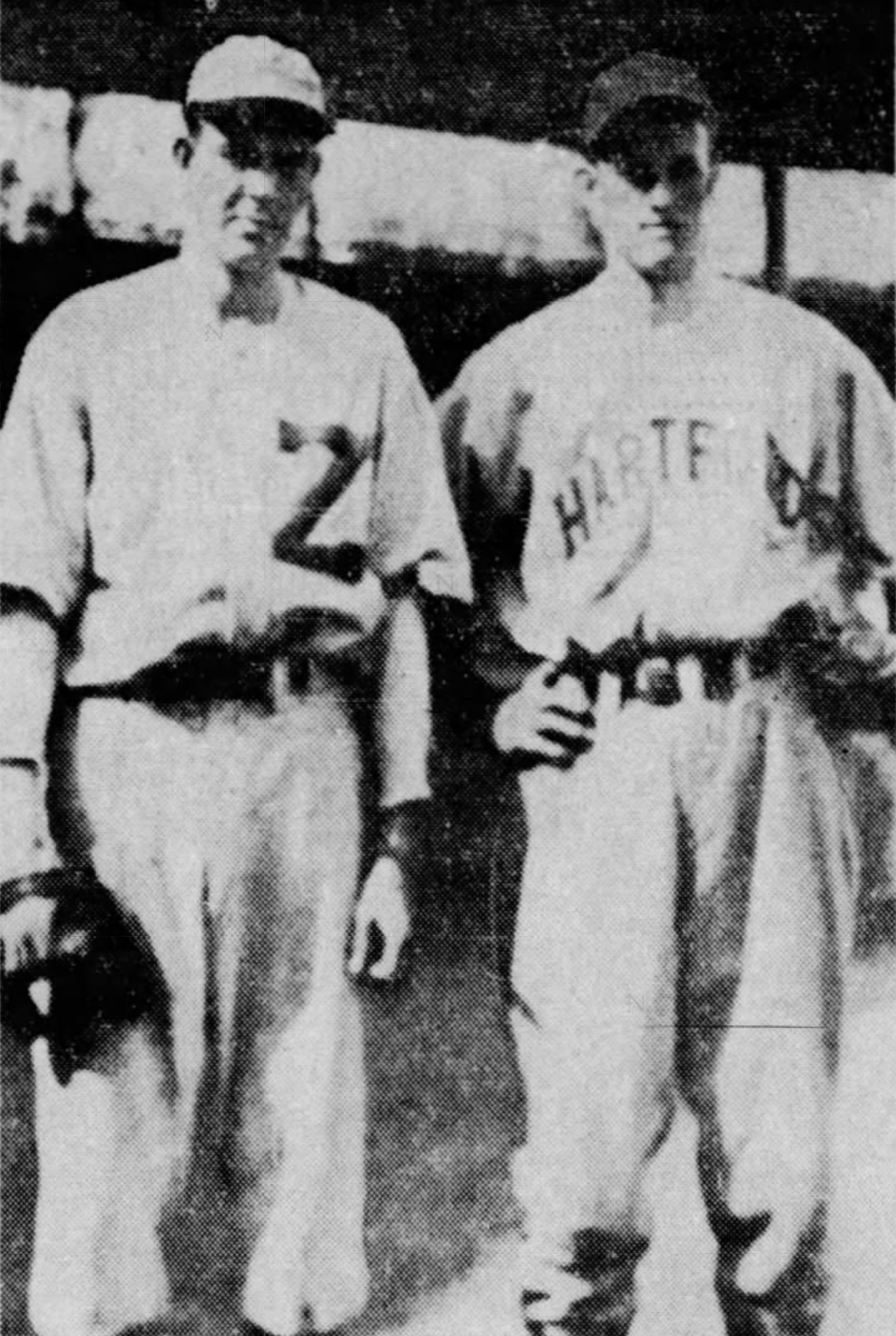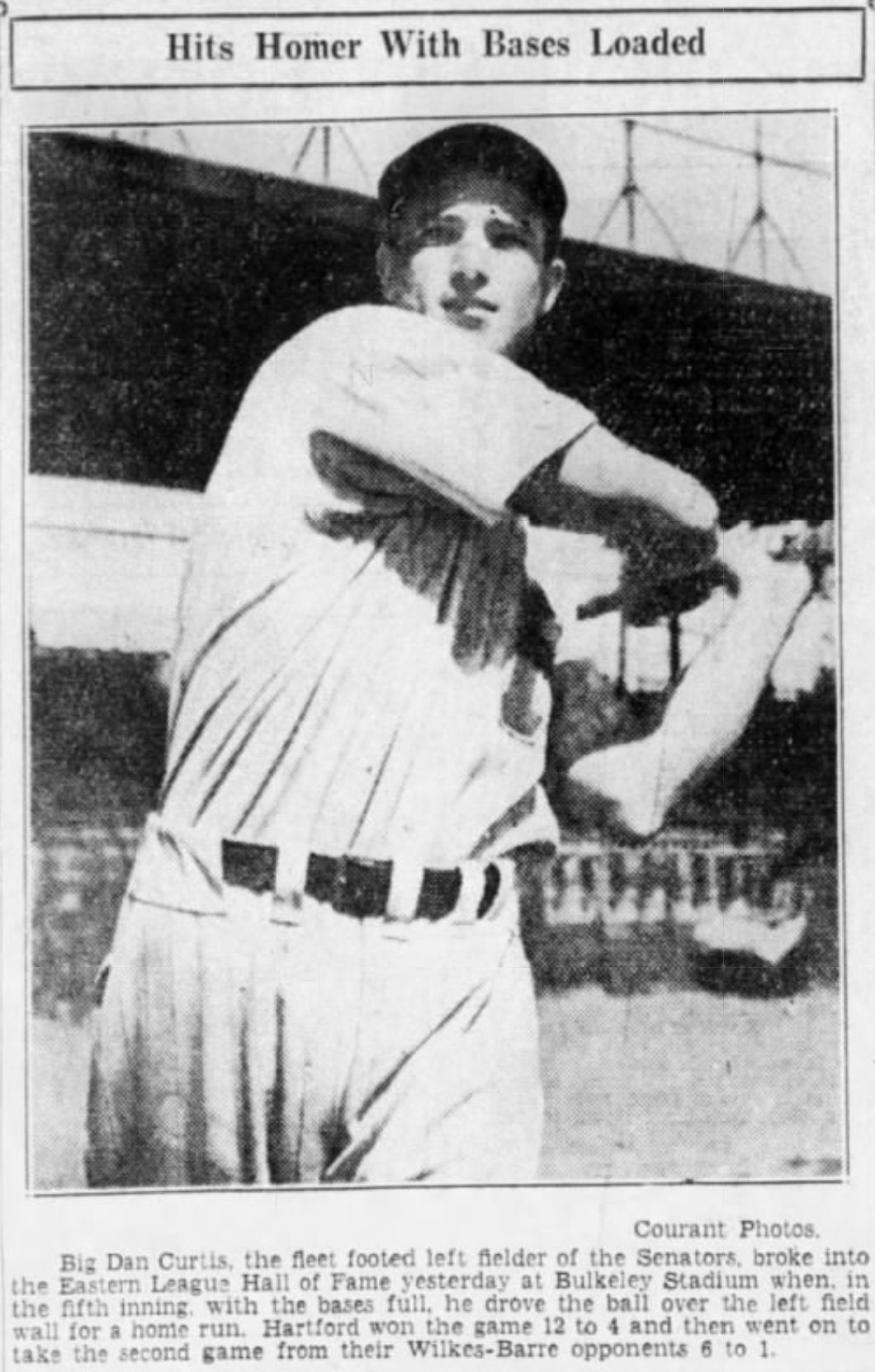 The next year, Hartford signed big league veteran Fresco Thompson as player-manager. Thompson, 37, had been an elite hitter for the Philadelphia Phillies. He was also a former teammate and friend of Lou Gehrig at Columbia University – the superstar first baseman who had previously played minor league ball in Hartford under the guise of a fake name. Expectations for quality baseball at Bulkeley Stadium grew with Thompson at the helm.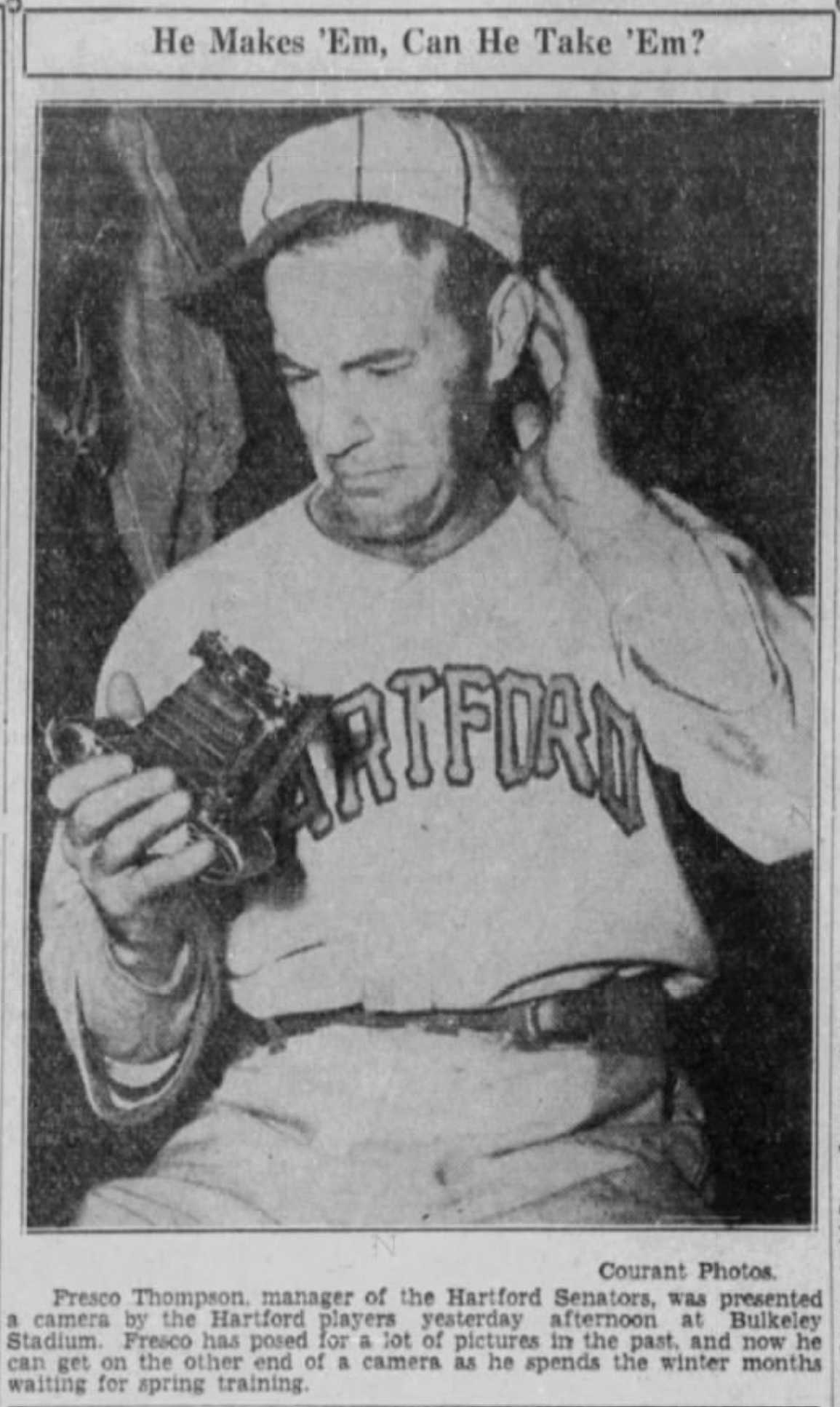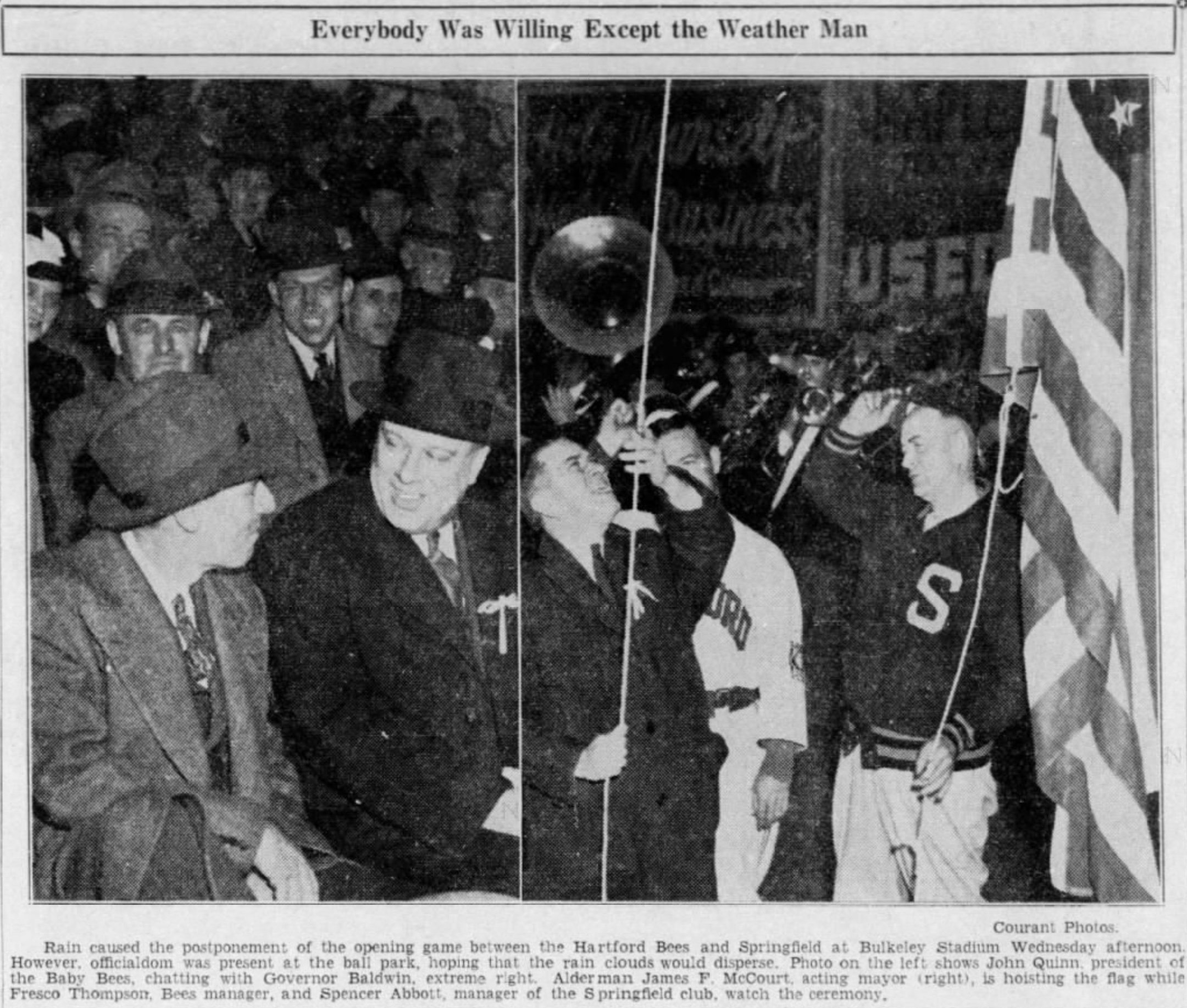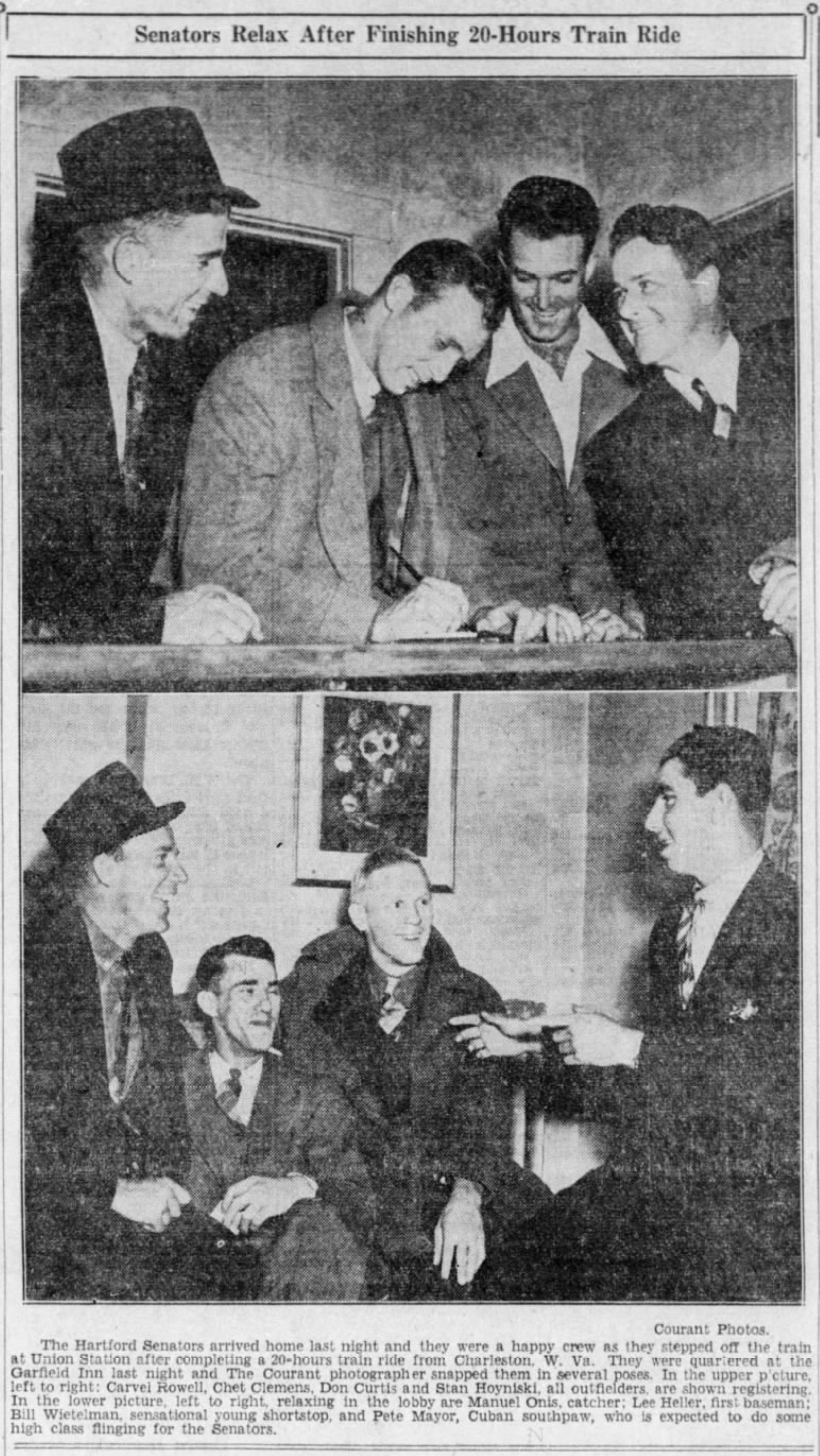 The Bees of 1939 added outfield prospects in Ralph Hodgin and Bama Rowell. Sebby Sisti returned for a second season. In 199 at bats, Sisti had a .312 batting average before being called up to Boston. Despite a promising roster, fan expectations were dashed. The club had a miserable second half of the season, and Hartford sunk to last place in the Eastern League.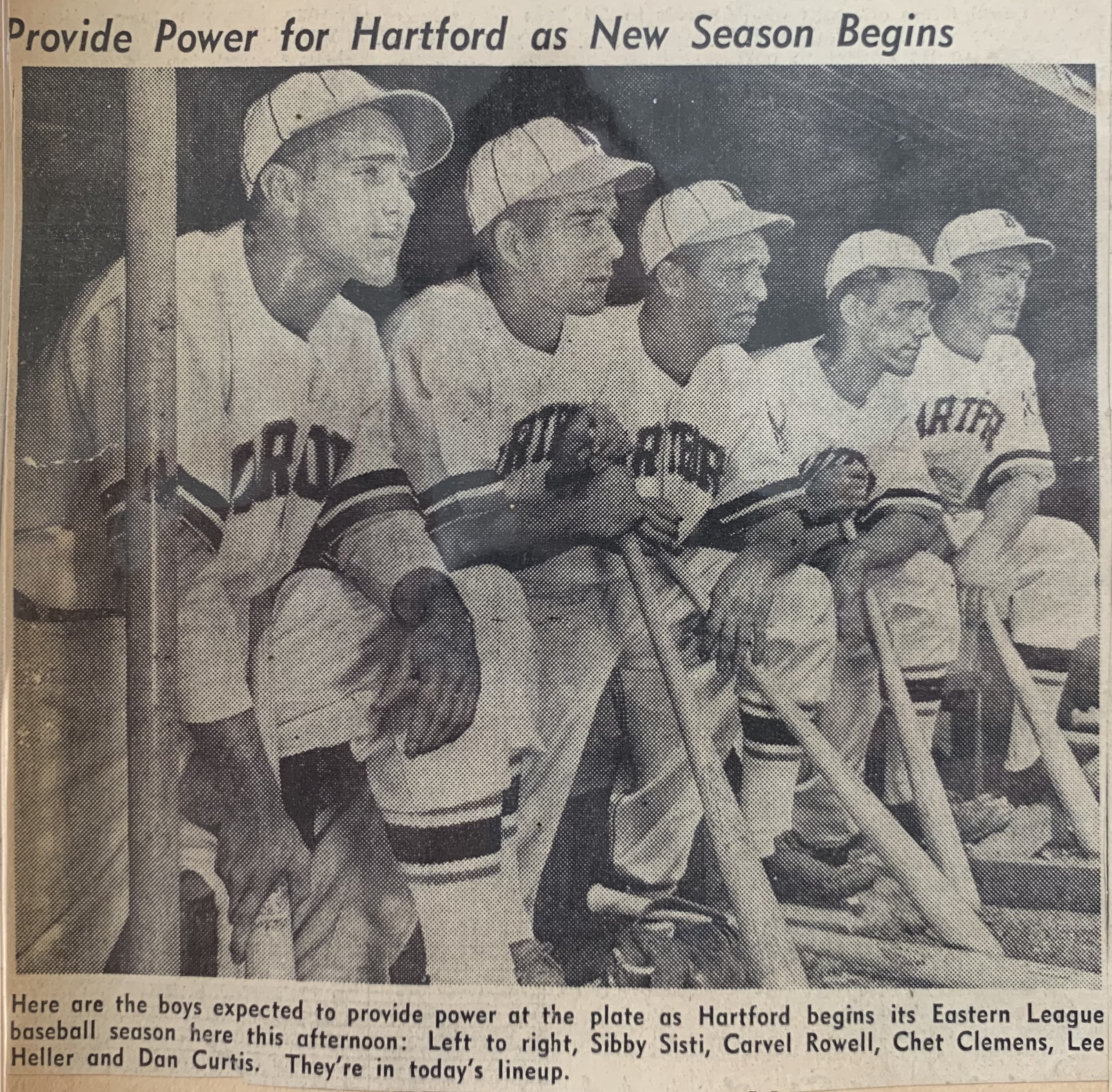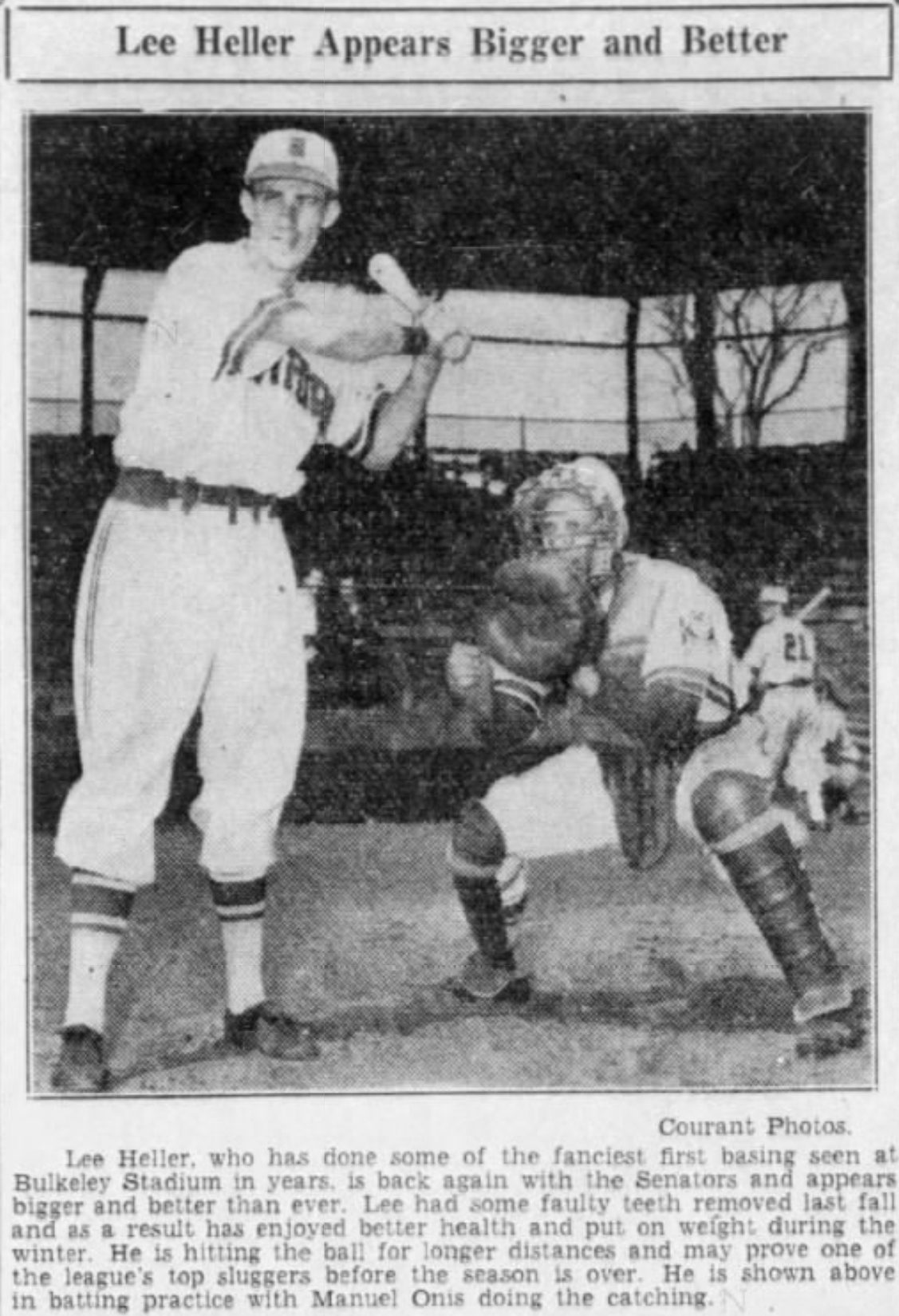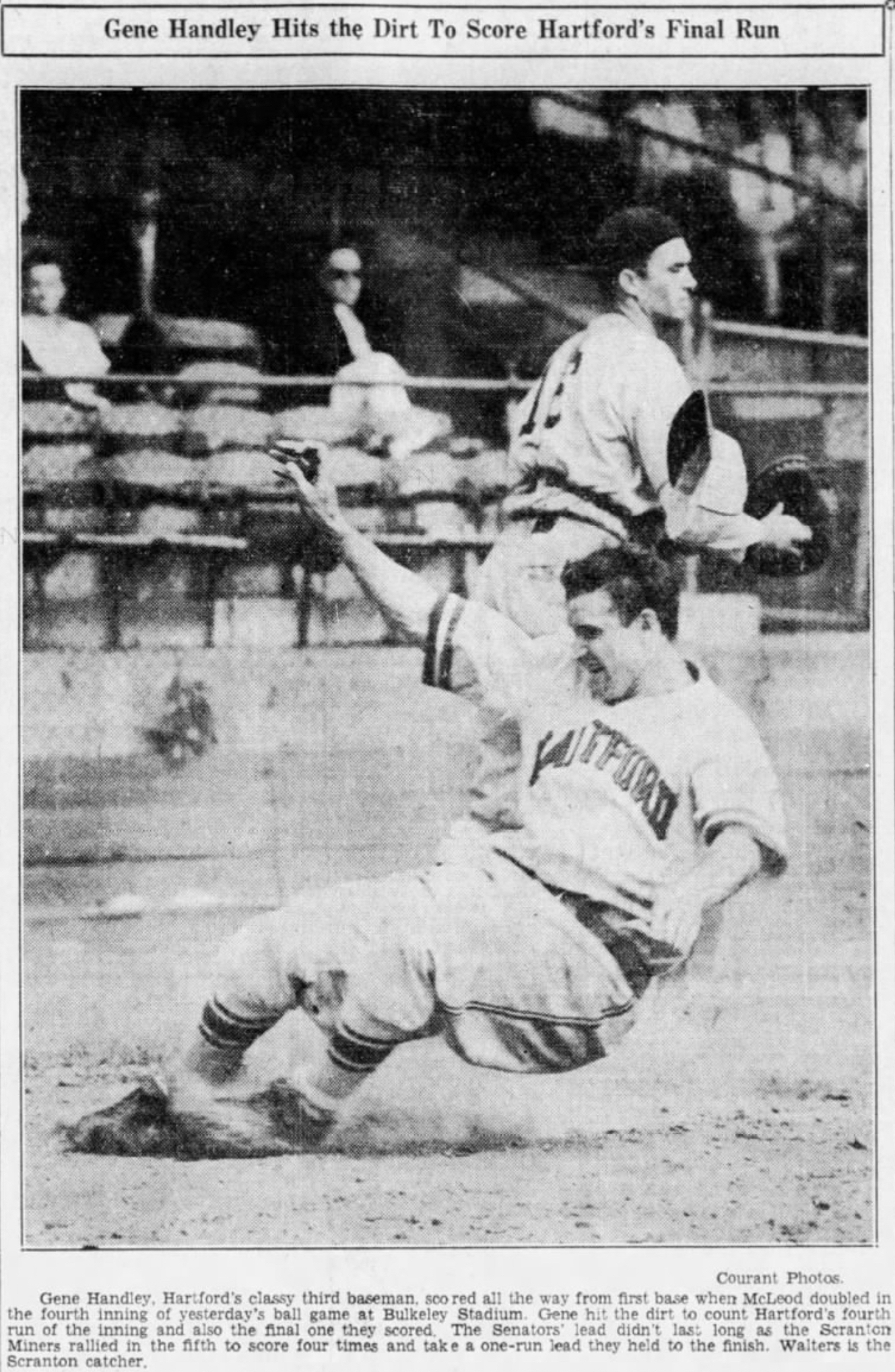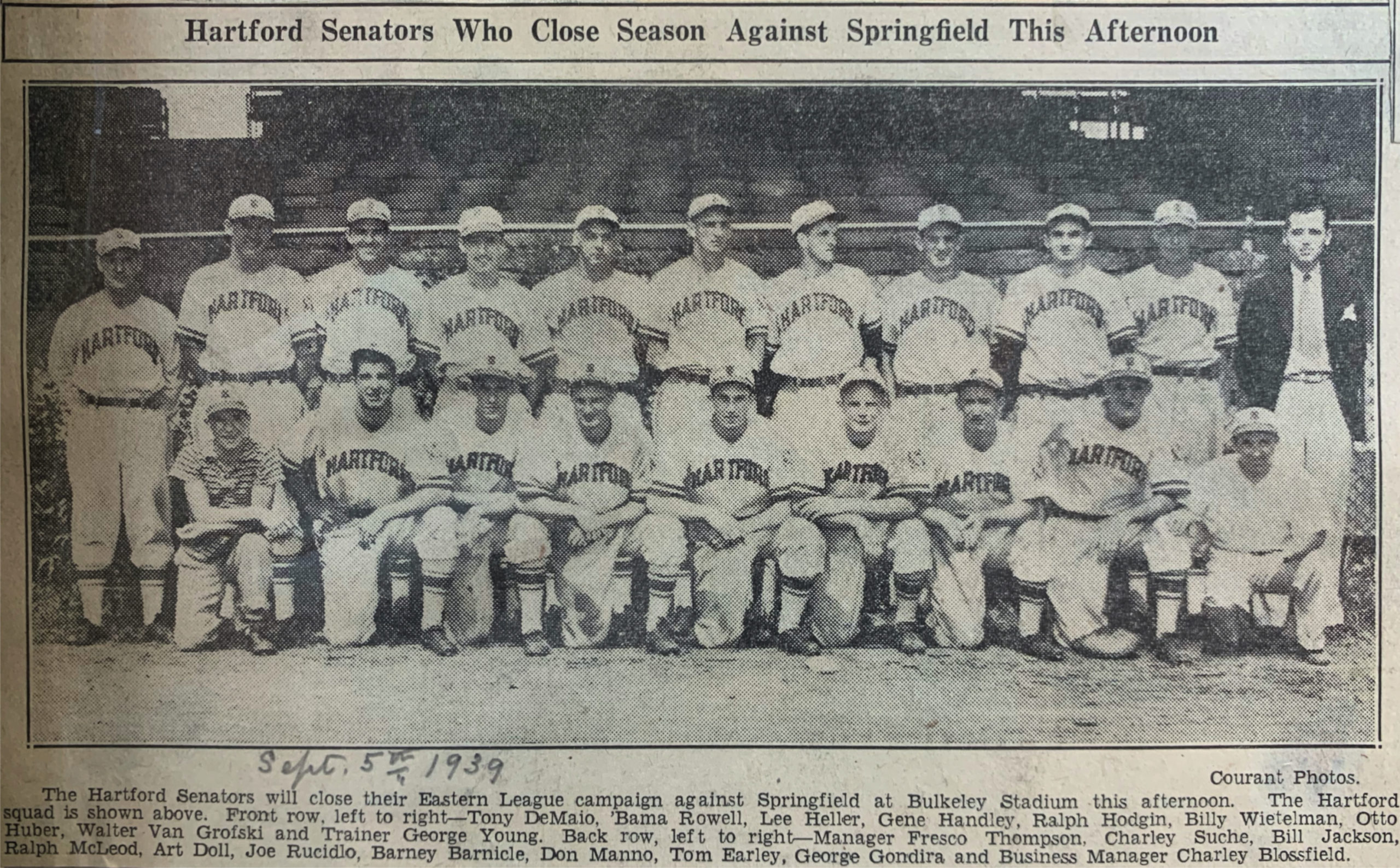 Finally, the Bees played to their potential in 1940. The turnaround began when the organization hired Jack Onslow as Manager. He was a catcher for the Pittsburgh Pirates, a radio broadcaster and the younger brother of former manager, Eddie Onslow. The new Onslow would be credited for his handling of Hartford's pitching staff. Starters Art Johnson, Hank LaManna, George Diehl and Joseph Rucidlo each earned double-digit-win seasons and were among league leaders in earned run average.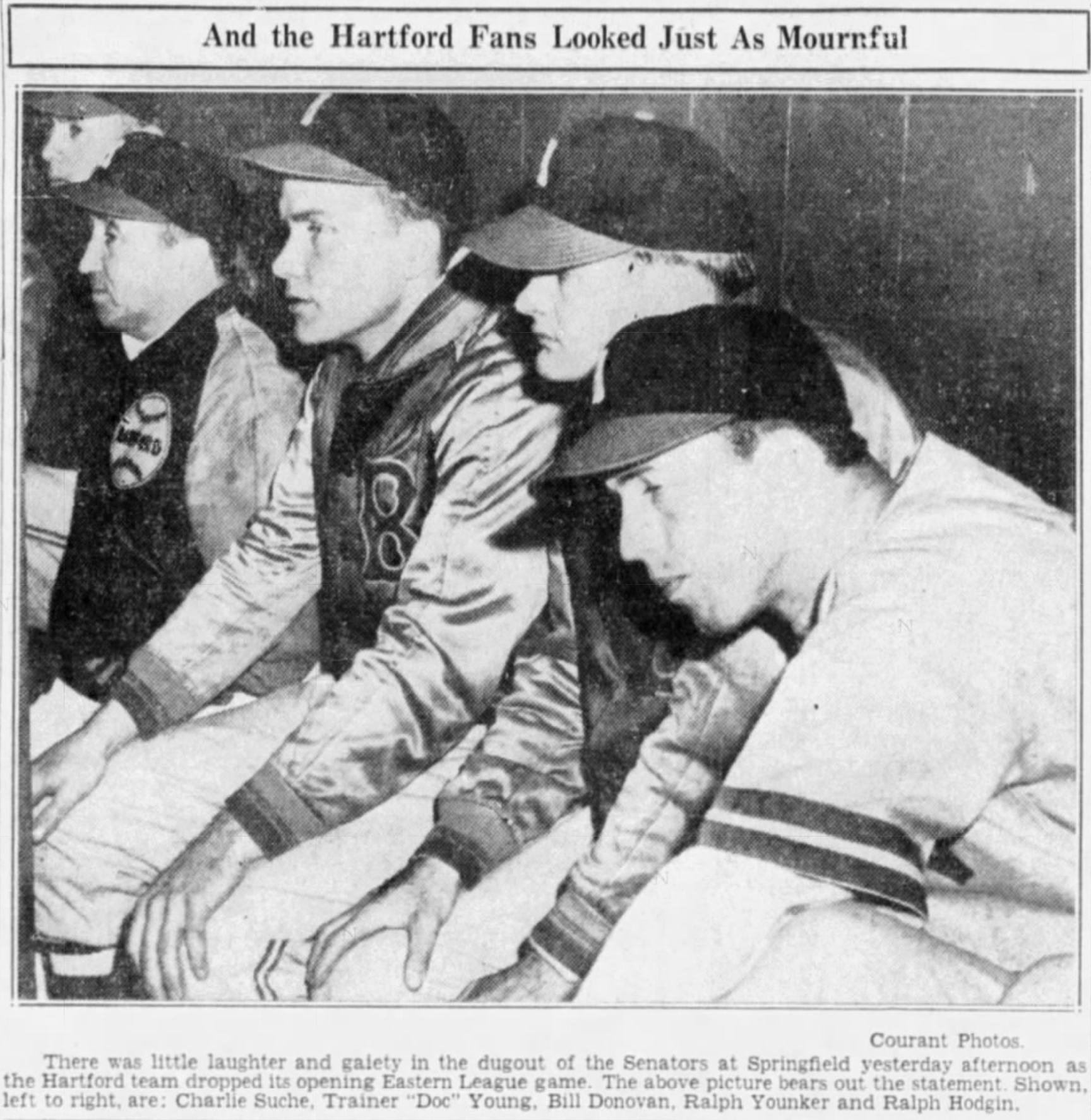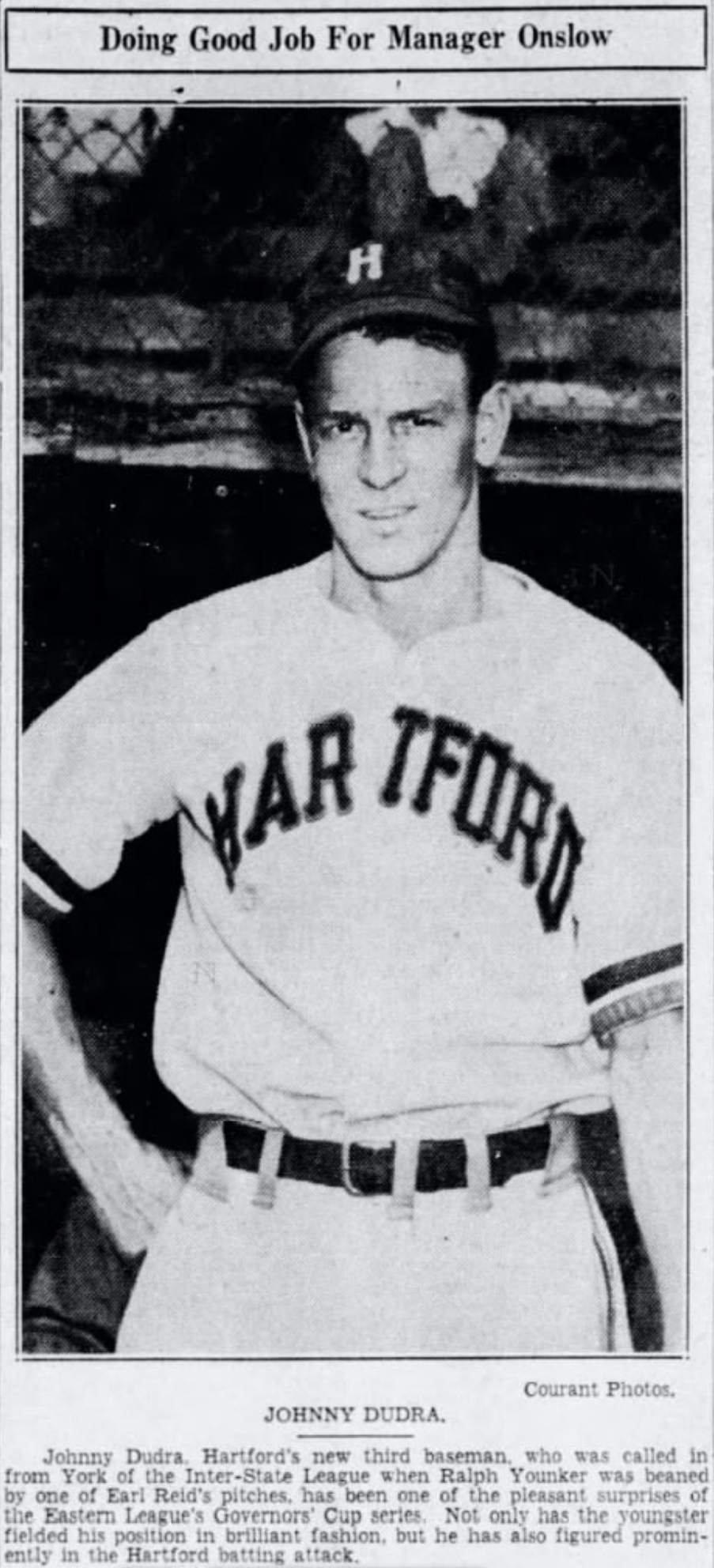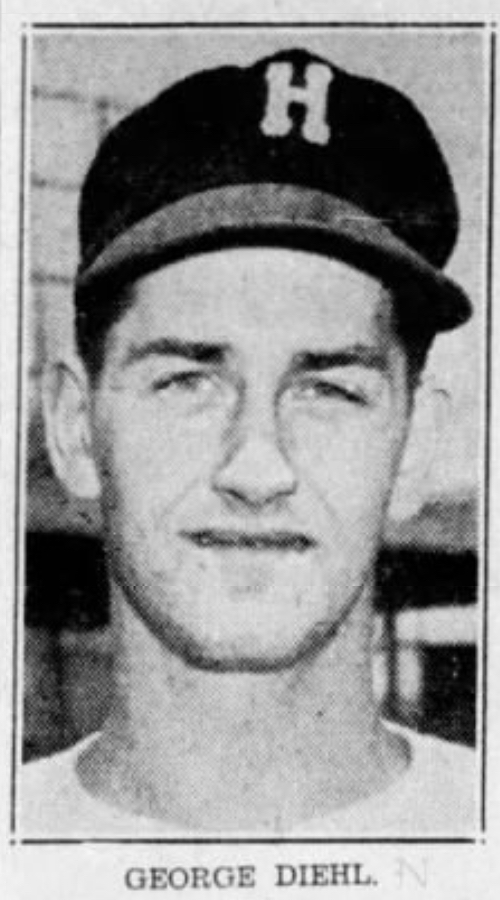 The club's best all-around performance came from Ralph Hodgin, whose 160 hits marked second-most in the Eastern League. Second baseman, Tommy Neill, knocked a team-high .326 batting average. A 19-year old reliever named Jim Hickey began his four-year stint with the team. Mike Sandlock, a local from Greenwich, Connecticut, served as backup catcher. By the end of September Hartford had placed third, qualifying them for the postseason. They contended in a four-team playoff dubbed the Governor's Cup but lost to Binghamton in the finals.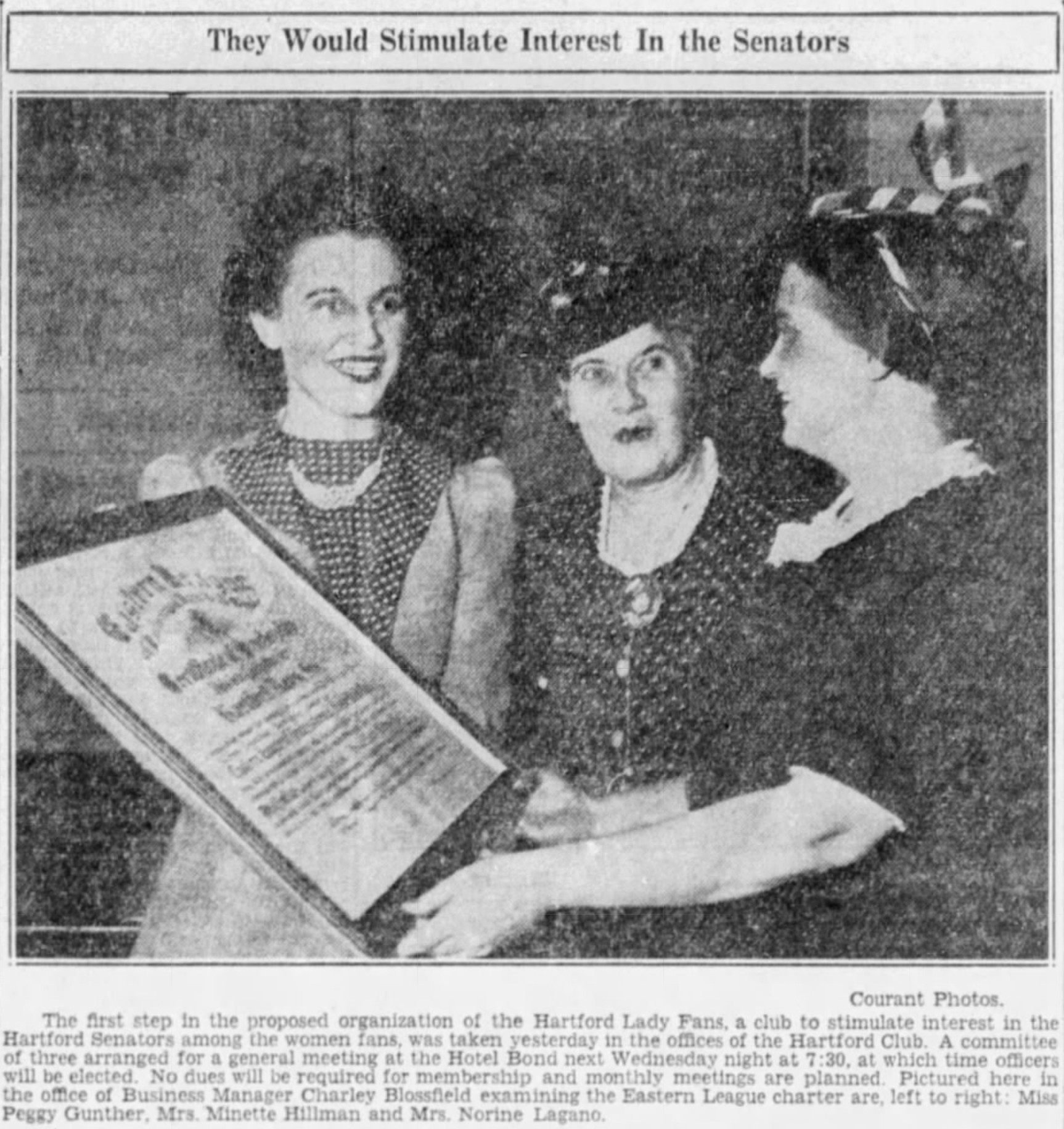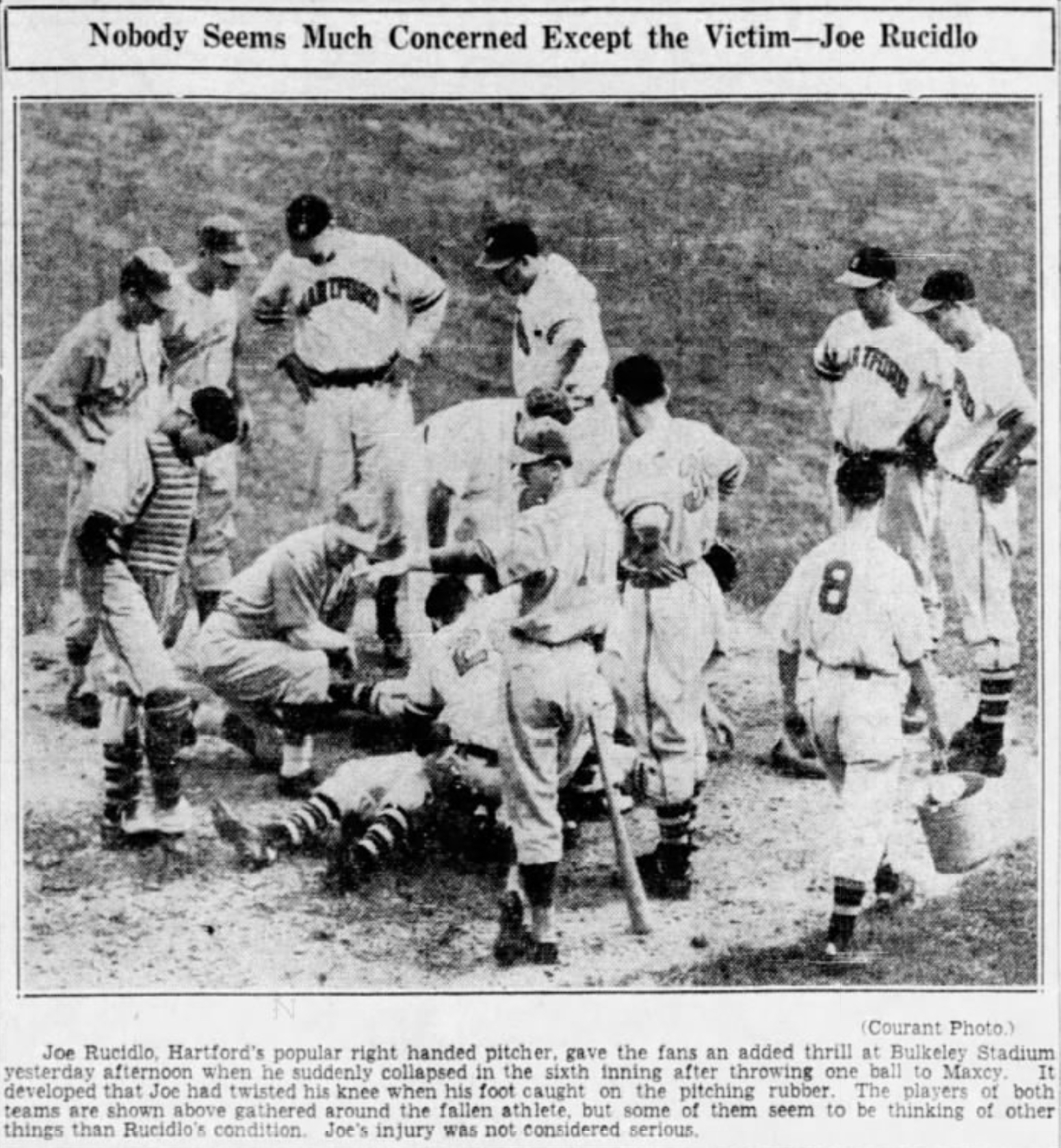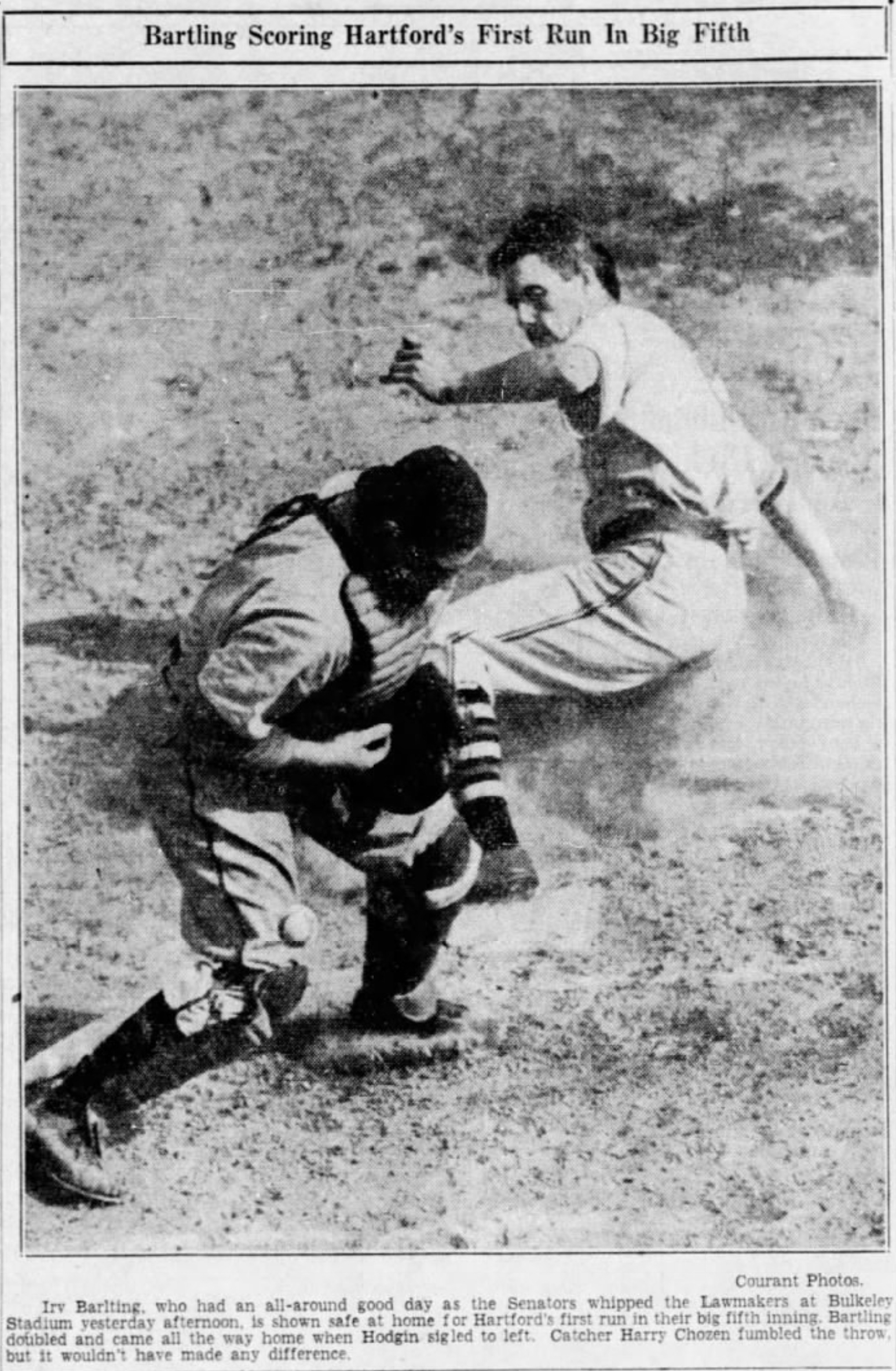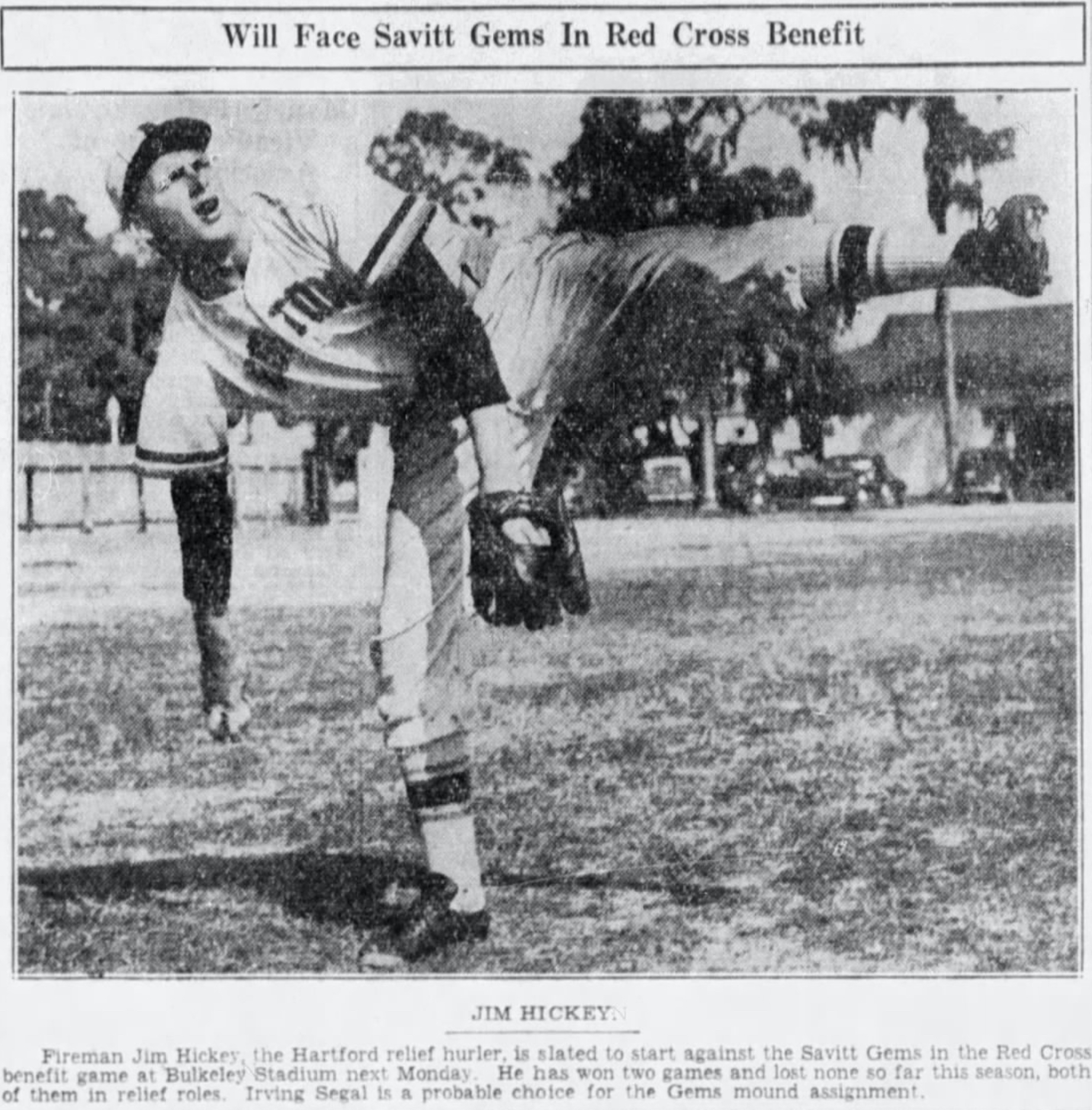 In 1941, the Boston Bees were rebranded to the Boston Braves. That same year, business manager Charlie Blossfield convinced franchise owners Bob Quinn and John Quinn to make changes at Bulkeley Stadium. Blossfield predicted that electric lighting would boost ticket sales if night games were played on a regular basis. This allowed fans to go home after work, attend a ballgame in the evening and repeat this schedule day after day. The first game under the lights at Bulkeley Stadium took place on June 16, 1941, in game that Hartford lost 5-3 to Scranton.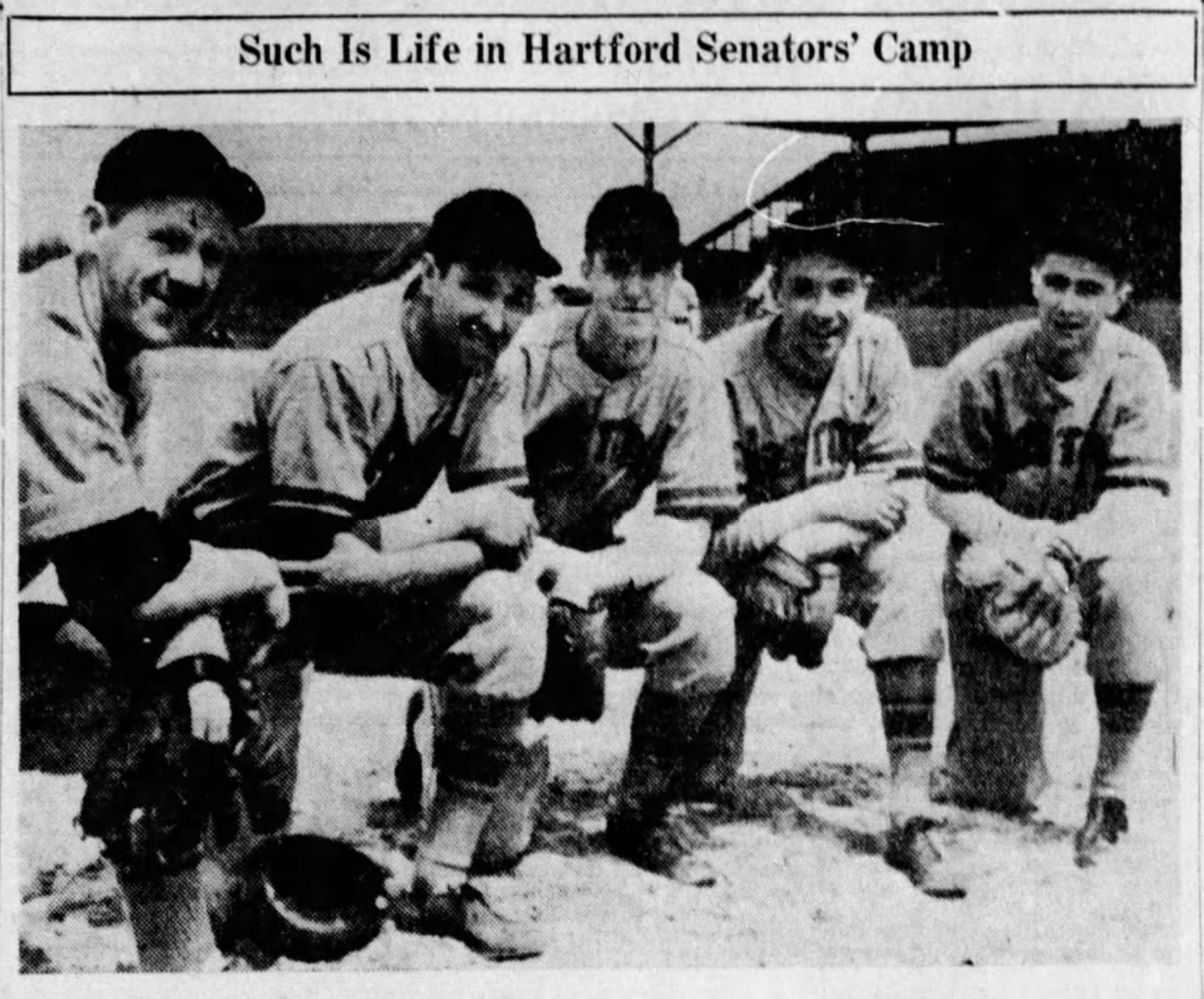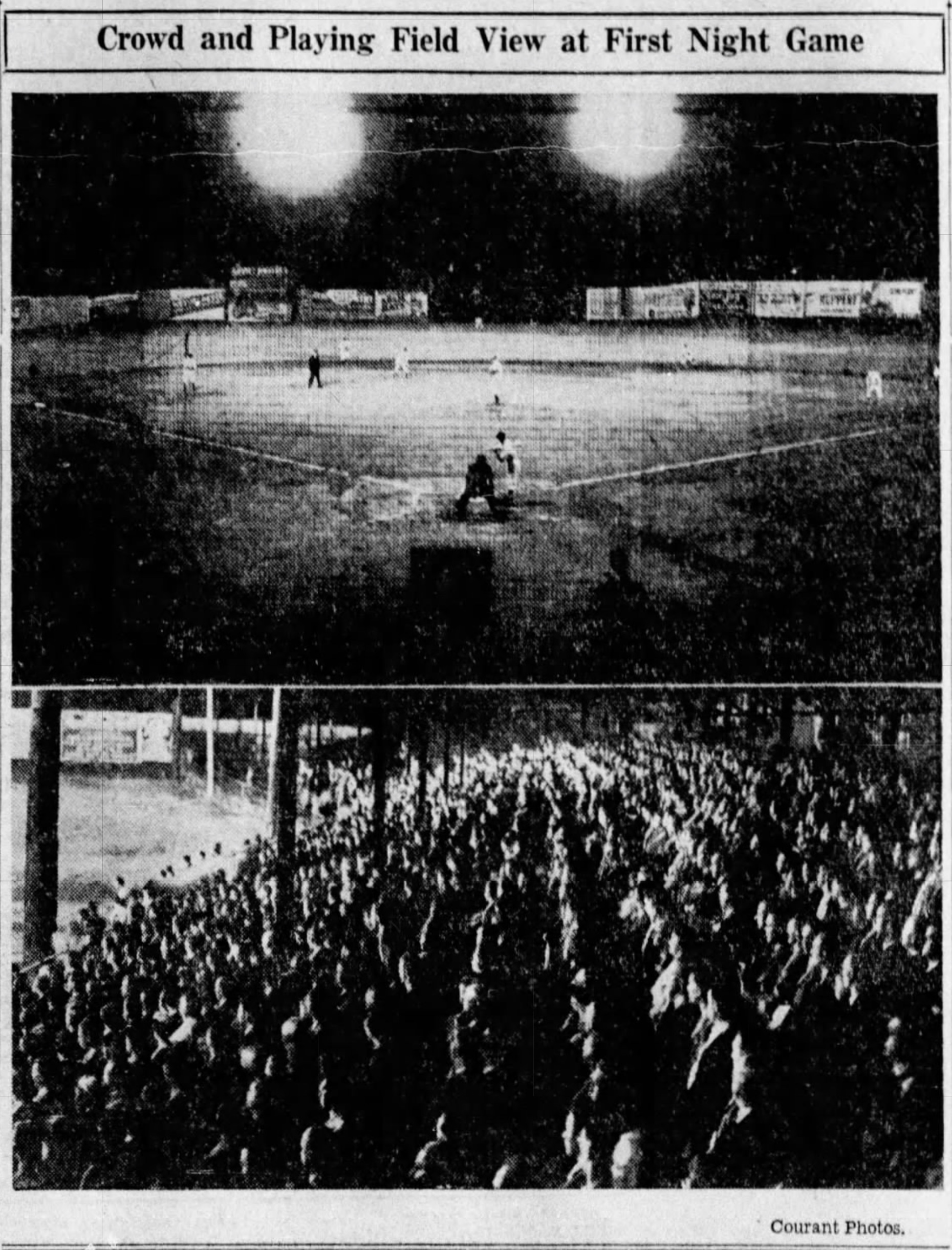 Three weeks later on July 8, 1941, over 5,500 fans marveled at an exhibition game between the Hartford Bess and their parent club, the Boston Braves. The witty and widely adored Casey Stengel was serving as Boston's manager at the time. Stengel's team fielded several former Baby Bees. Sebby Sisti played third base and led-off for Boston. Bama Rowell played second base and hit fifth. Boston squeezed by Hartford 8-7, escaping the embarrassment of losing to their minor league affiliate.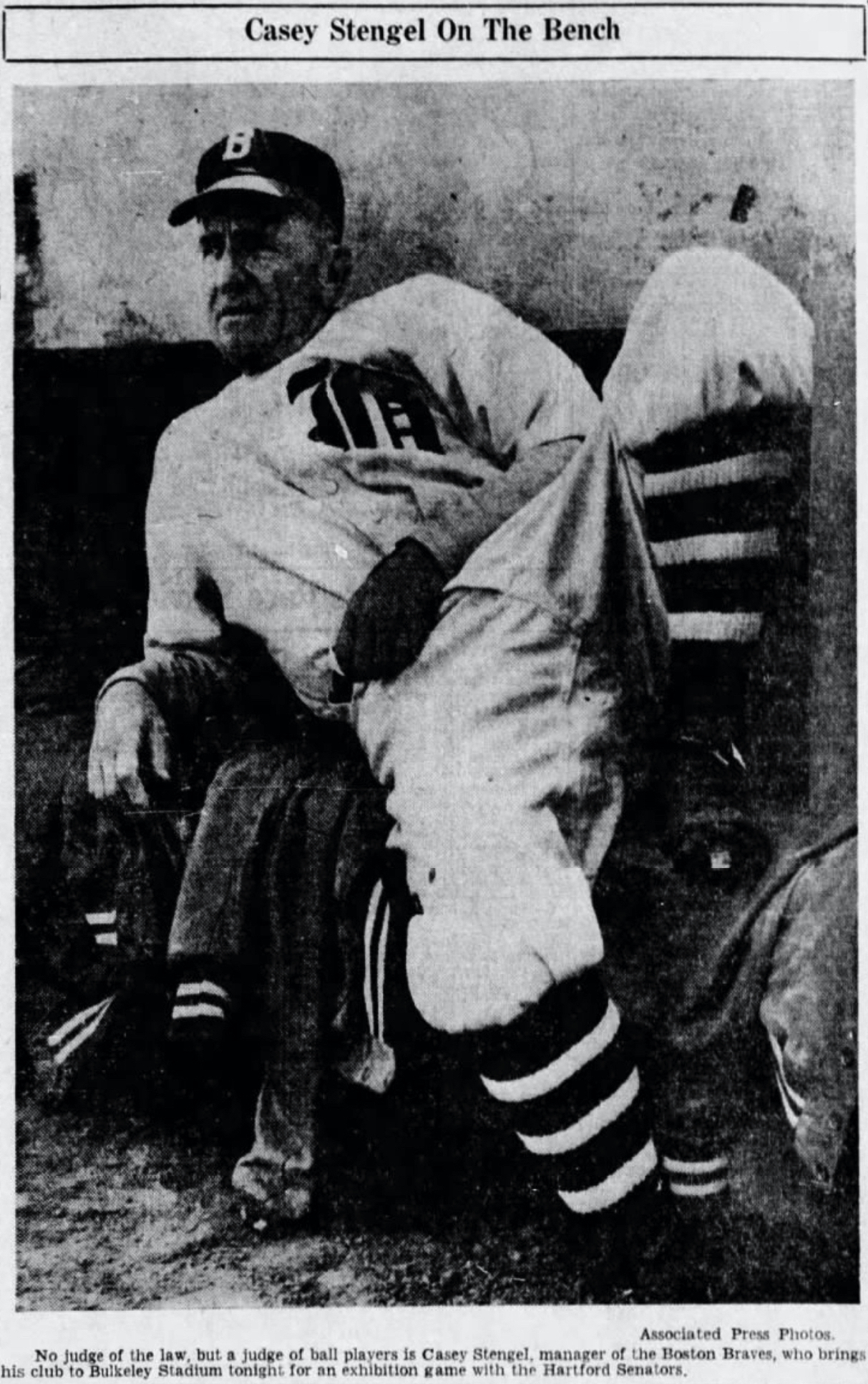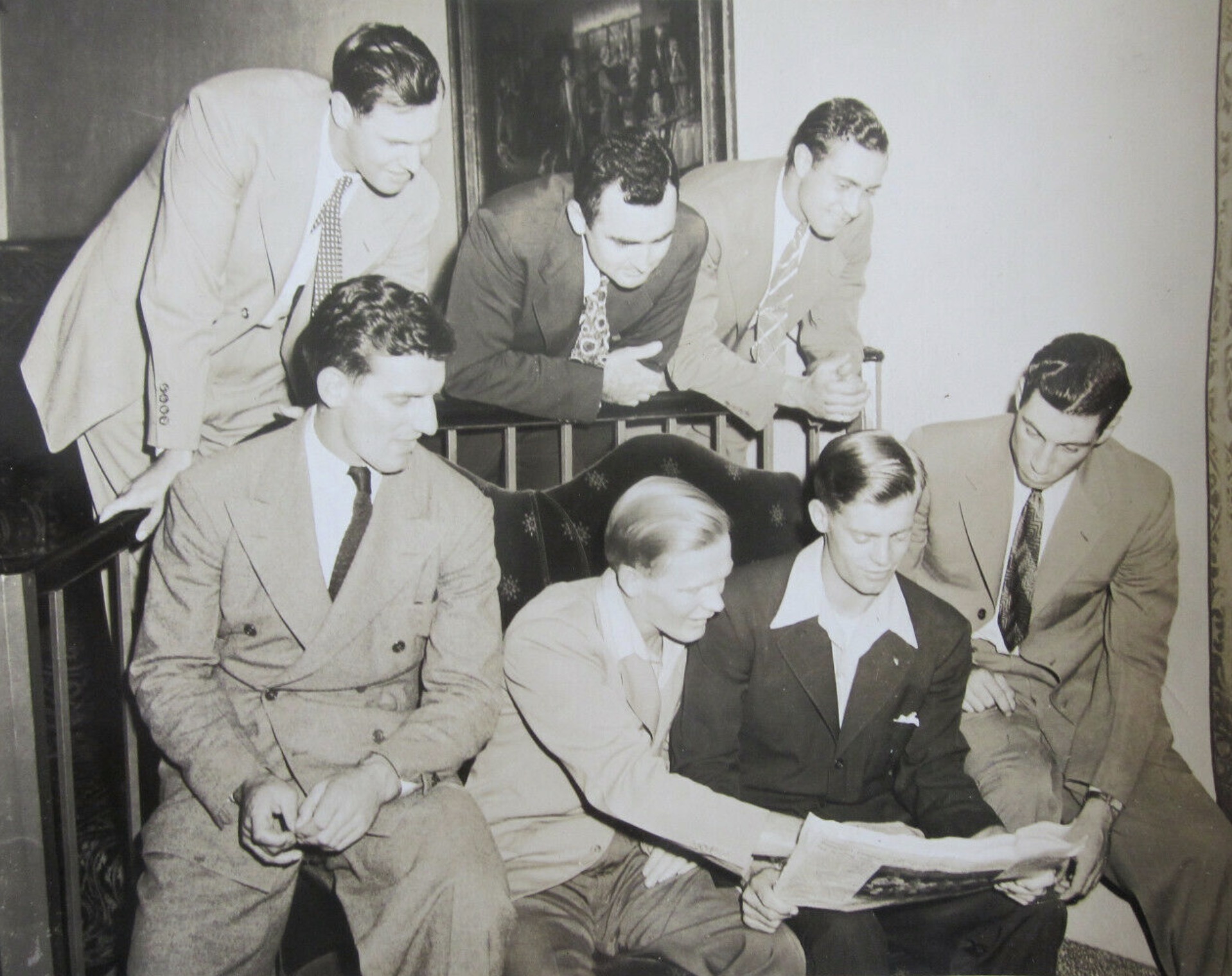 As the regular season commenced, Hartford scuffled. Jack Onslow was dismissed after a bad month of July, and their 26-year-old first baseman Don Manno was appointed player-manager. The Bees were destined for a seventh place finish. For major league-owned franchises like Hartford, winning minor league pennants had become less of a priority. Instead, the minor league club was managed the a farm system for the first time – feeding its top players to Boston. George Barnicle, Al "Skippy" Roberge and William "Whitey" Wietelmann were among the personnel who split time between Hartford and Boston as big league call-ups.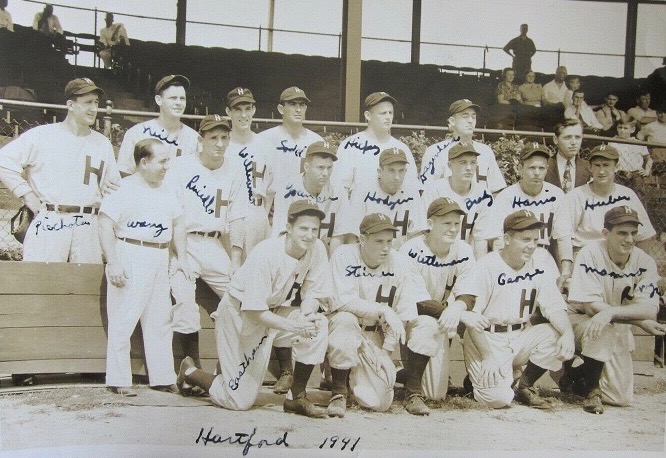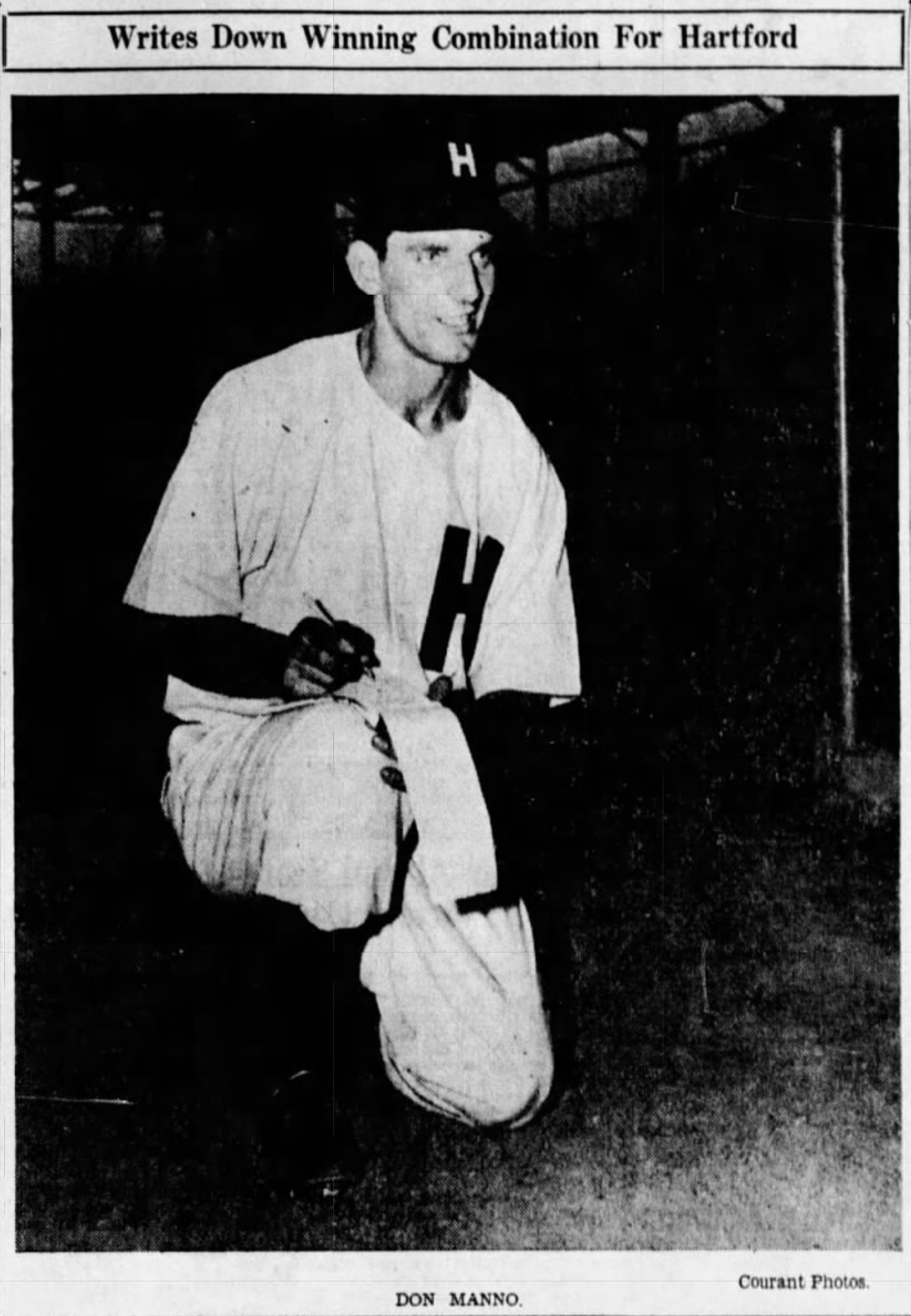 Meanwhile, Ralph Hodgin continued his torrid batting for the Bees with 150 base hits in 1941. Hodgin's dependable bat made him one of the most popular players to ever wear a Hartford uniform. Leo Eastham was also a major contributor with 107 hits and nearly flawless defense at first base. Charles George, Robert "Ace" Williams and John Dagenhard led the team in innings pitched. Serviceable catchers John Stats and Red Steiner shared time behind home plate.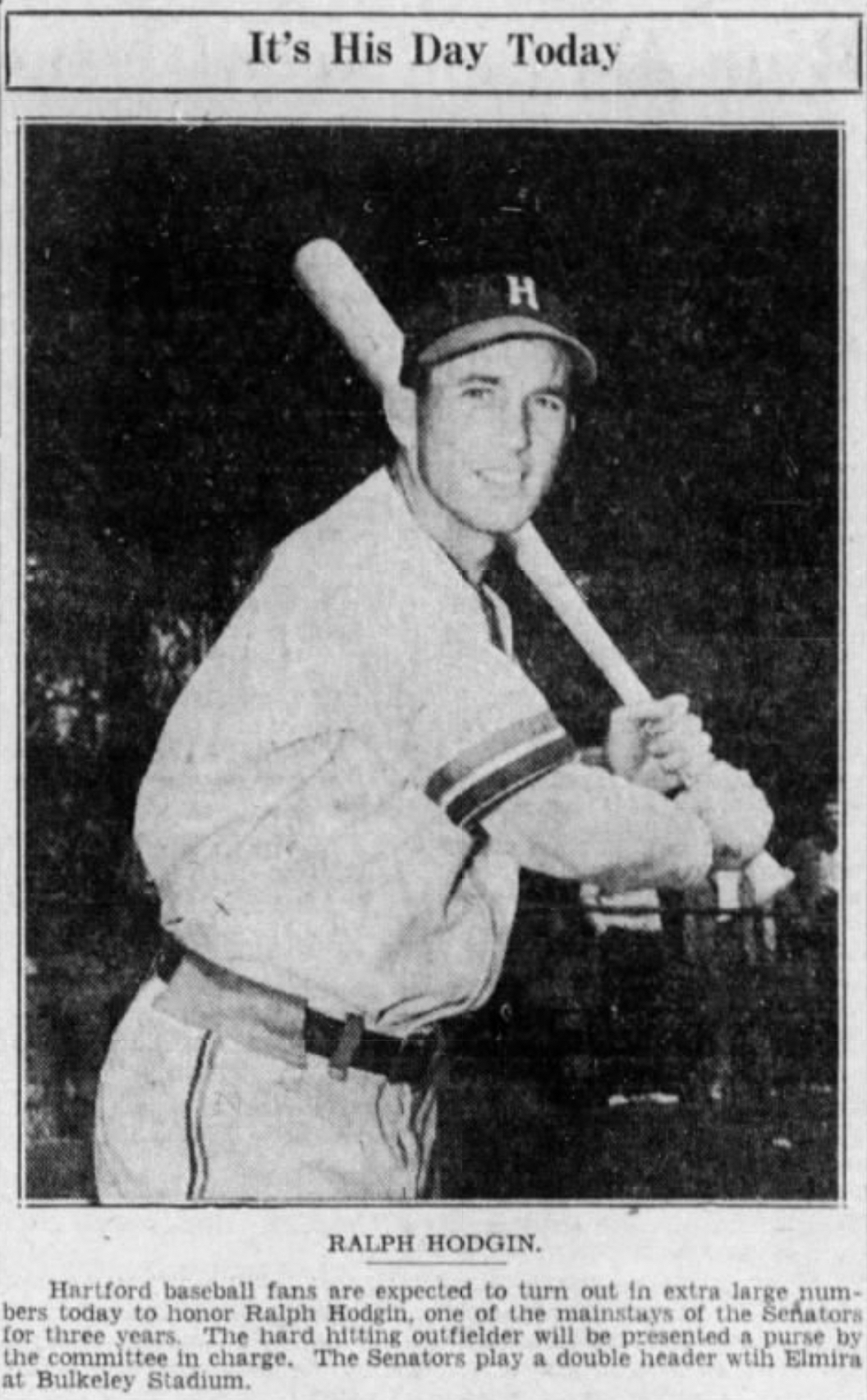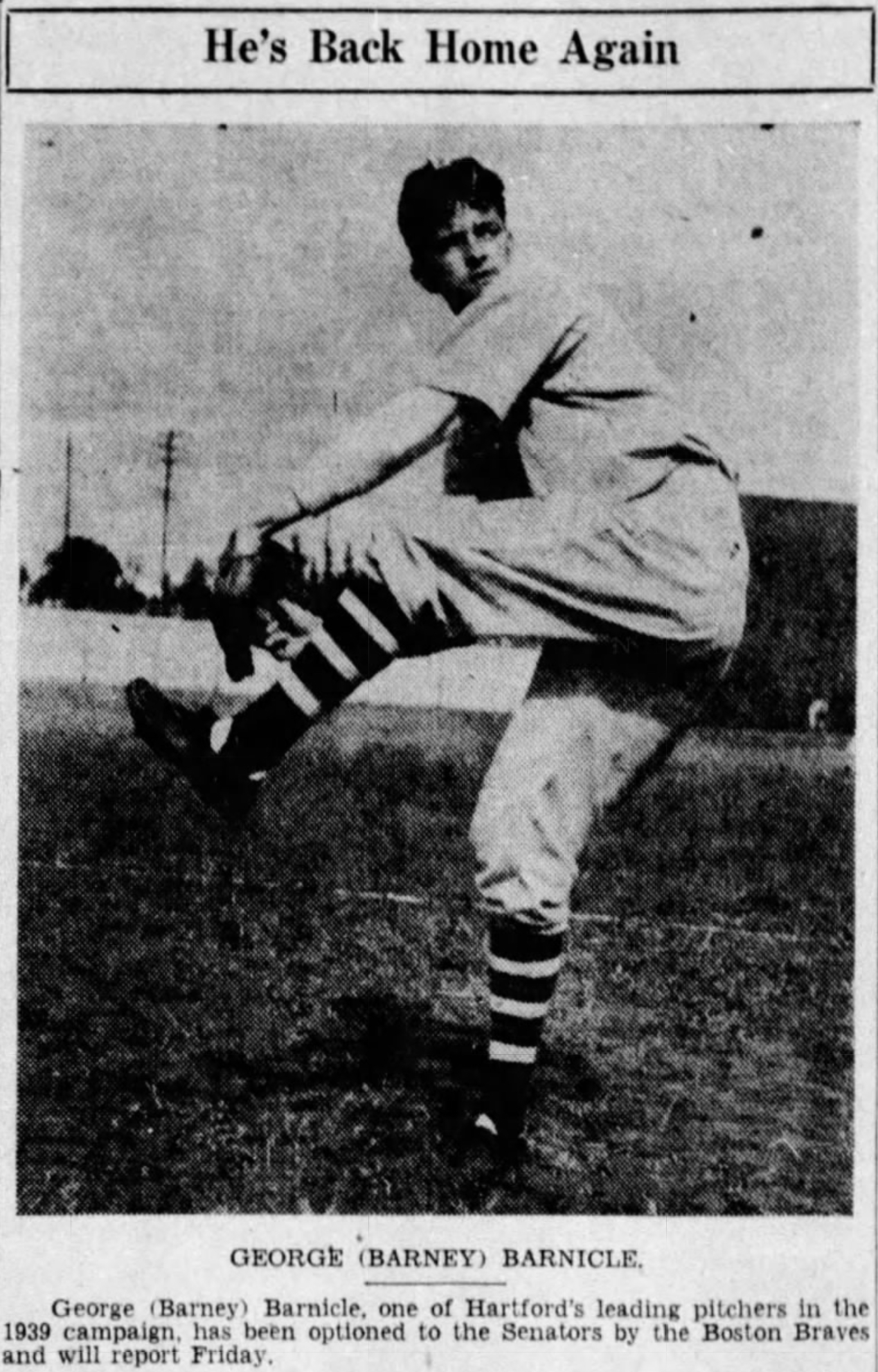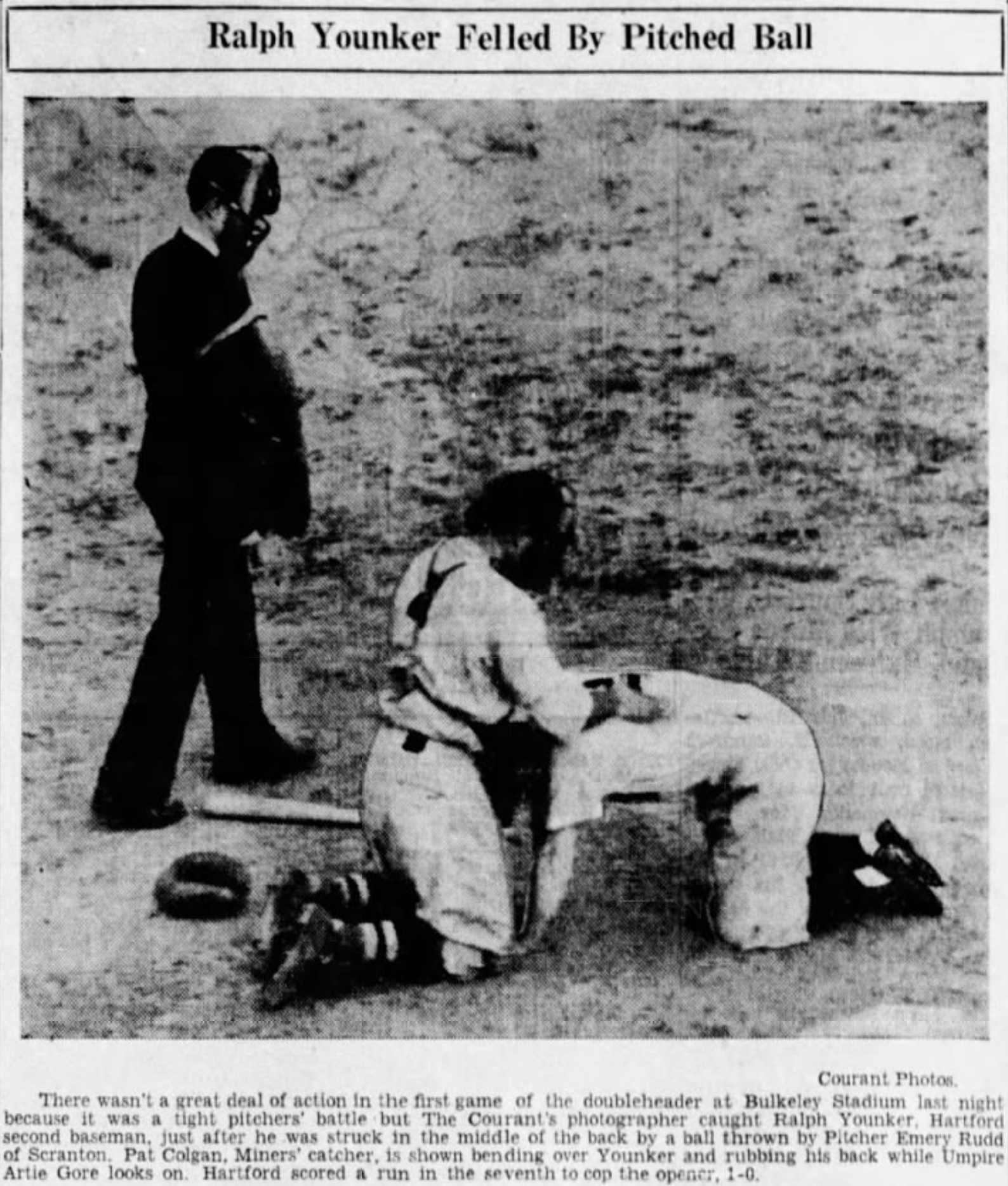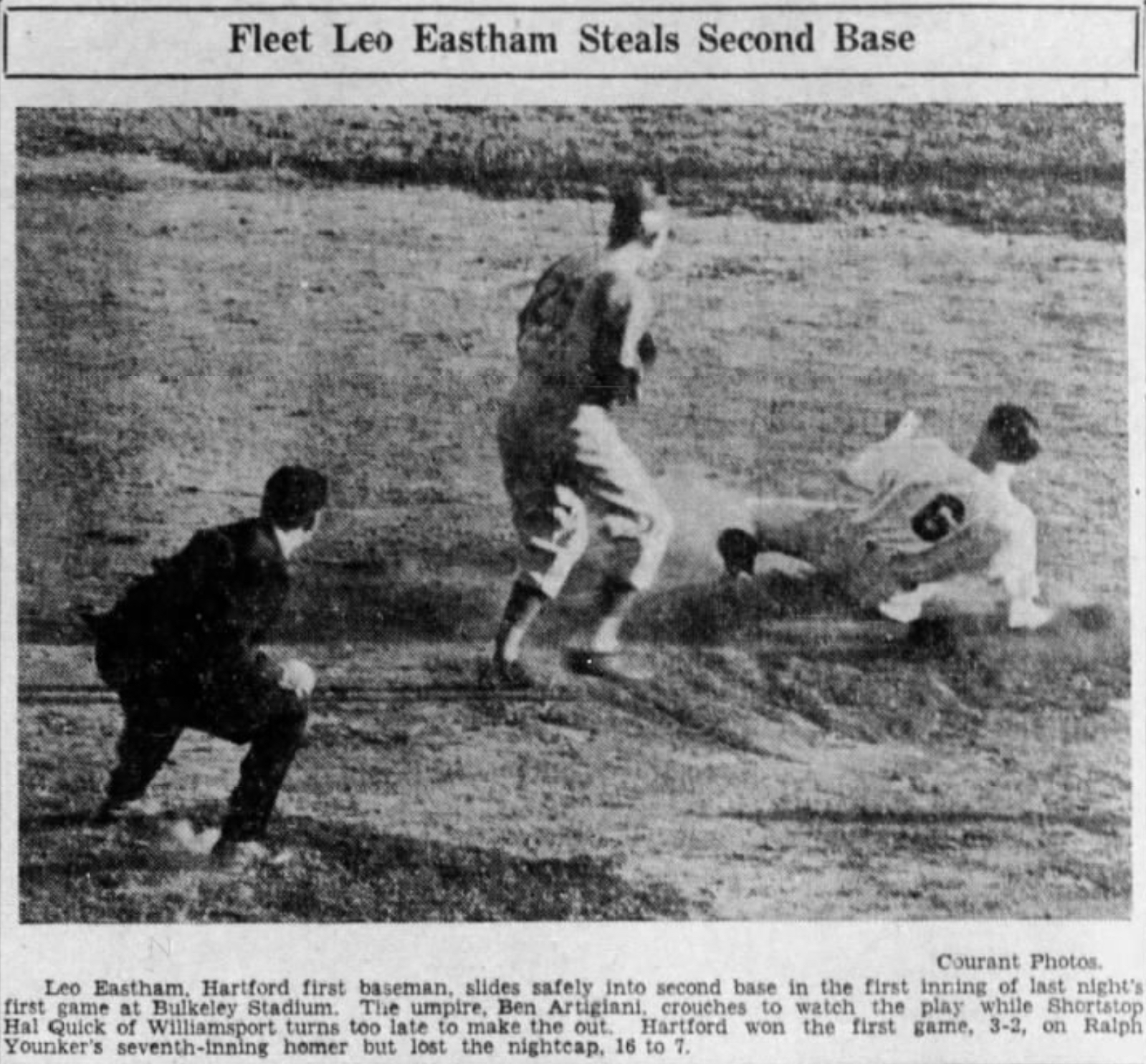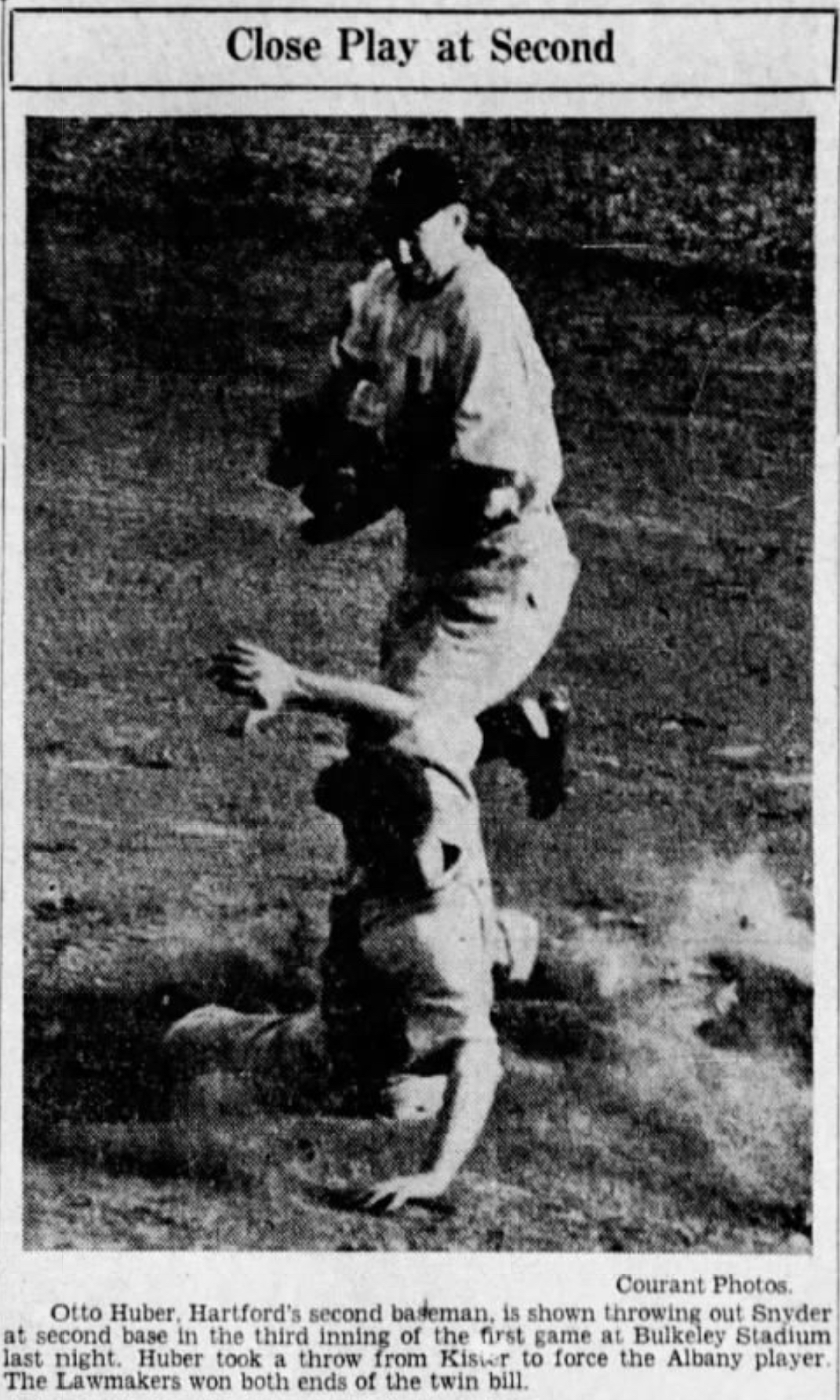 In Hartford and throughout the nation, the events at Pearl Harbor on December 7, 1941, changed the baseball world forever. American troop enlistment during World War II upended the careers of many minor leaguers – though not all of them. The Hartford Bees came back next summer with a new manager named Del Bissonette. He would become one of Hartford's most memorable clubhouse commanders. Playing for Bissonette was one of the best pitchers to ever throw in a Hartford uniform, Warren Spahn.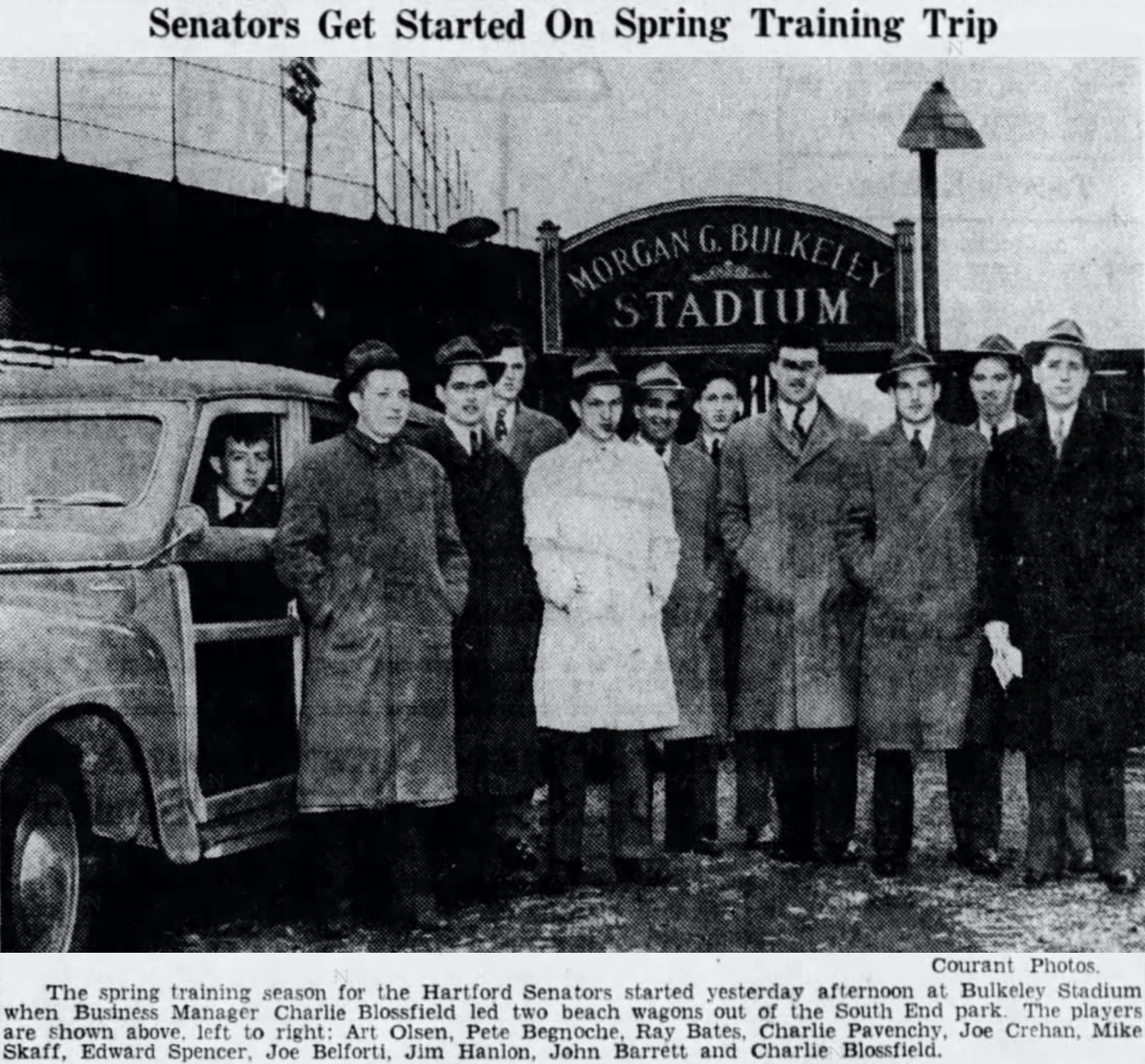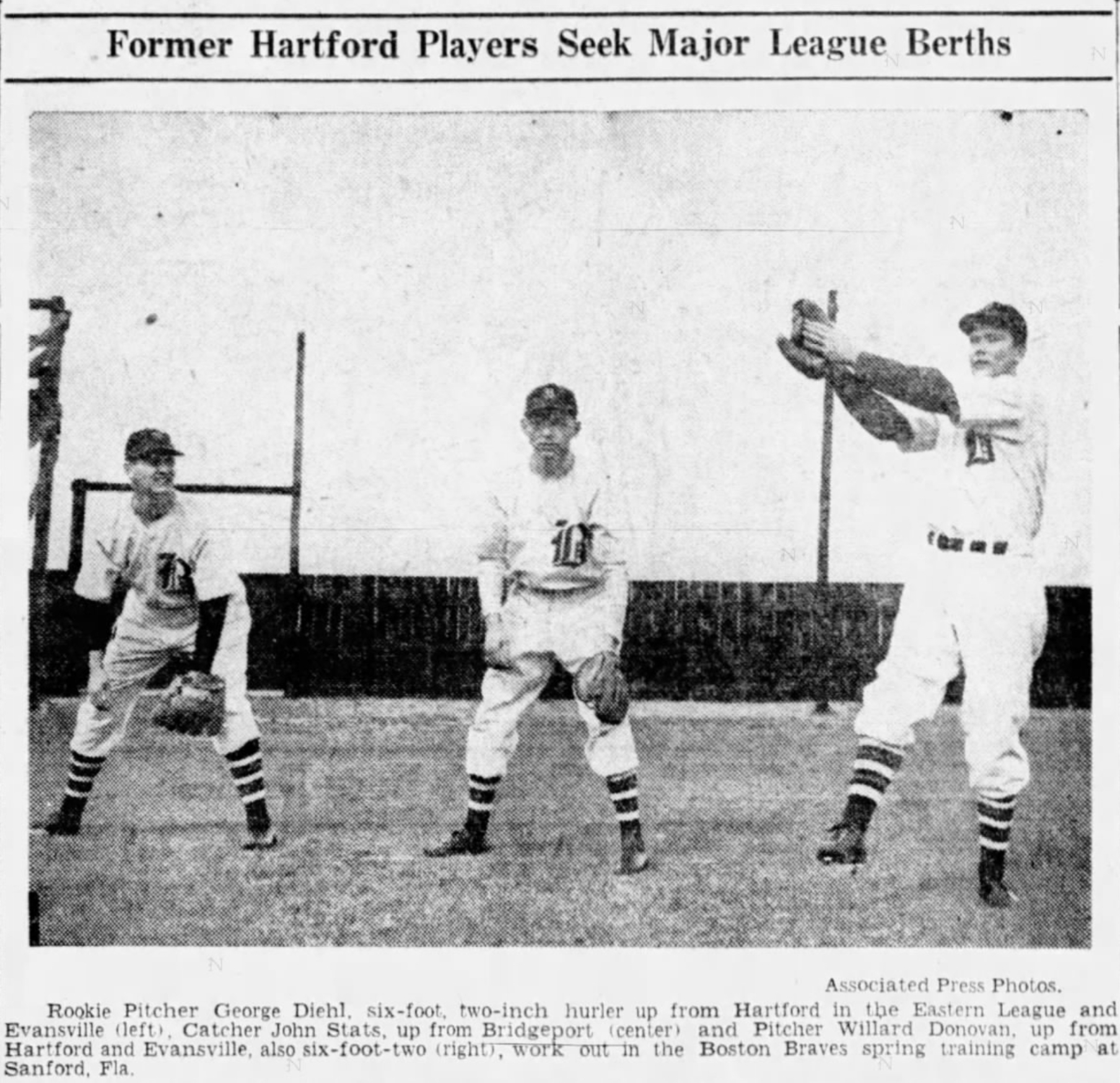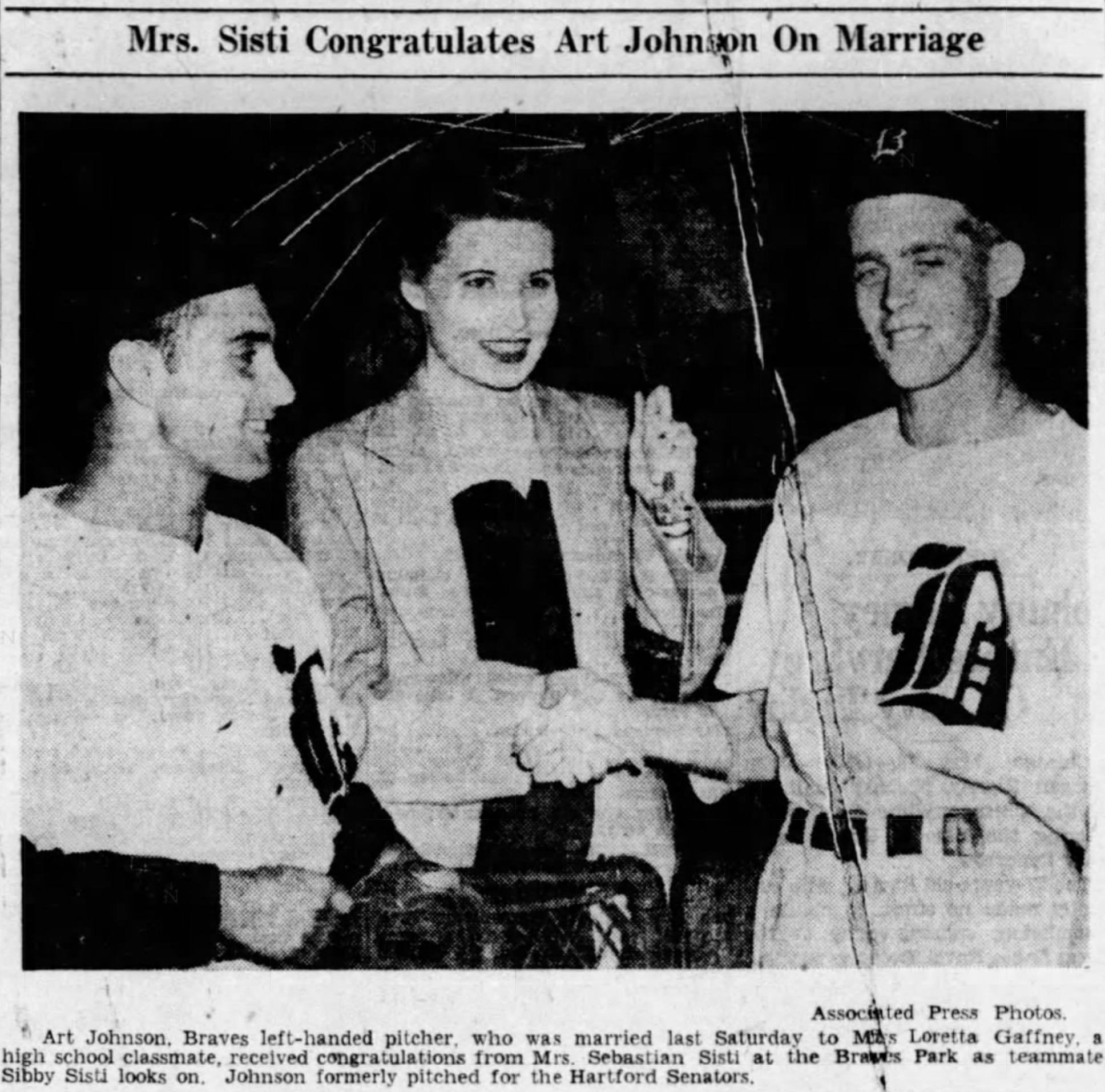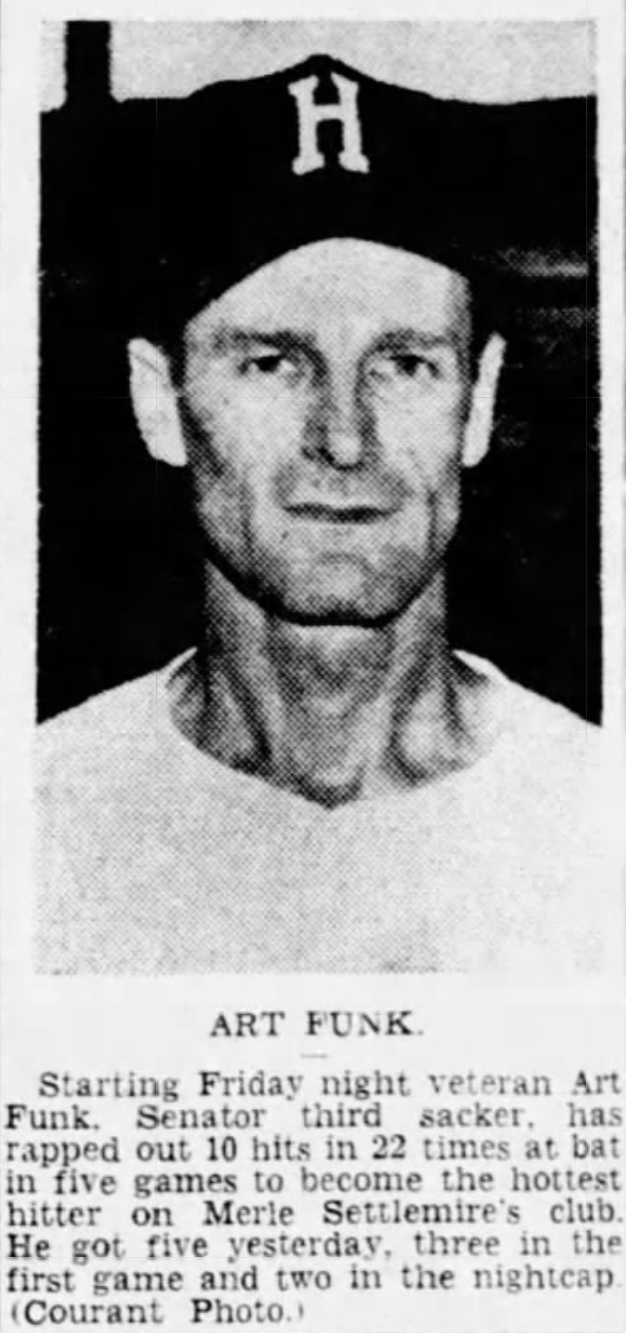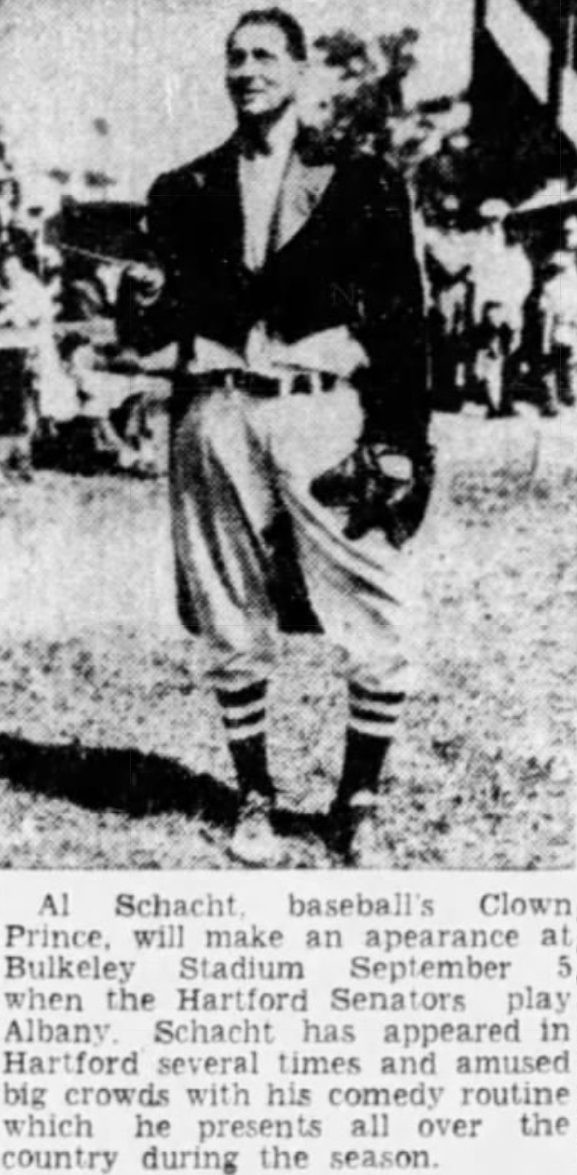 About thirty years before his induction into the Baseball Hall of Fame, a 21 year old Warren Spahn took the mound for the Hartford Bees. When the outstanding southpaw arrived in Hartford, Spahn's talents were well known due to his performance in the Illinois-Indiana-Iowa League. He became the only Bees player named to the 1942 Eastern League All-Star team. Spahn had a 17-12 record for with a 1.96 earned run average before being called up to the Majors. Like many ballplayers, Spahn enlisted in the United States Army and earned a Purple Heart in combat.
With a few exceptions, the Hartford Bees of 1943 were made up of Boston's latest signings looking to reach the big leagues. During Spring Training the new Baby Bees set up an exhibition game against J.O. Christian's baseball club at University of Connecticut. The day game at Storrs was well documented in the Hartford Courant. Hartford defeated the Huskies 8-1. These vivid photos captured the action: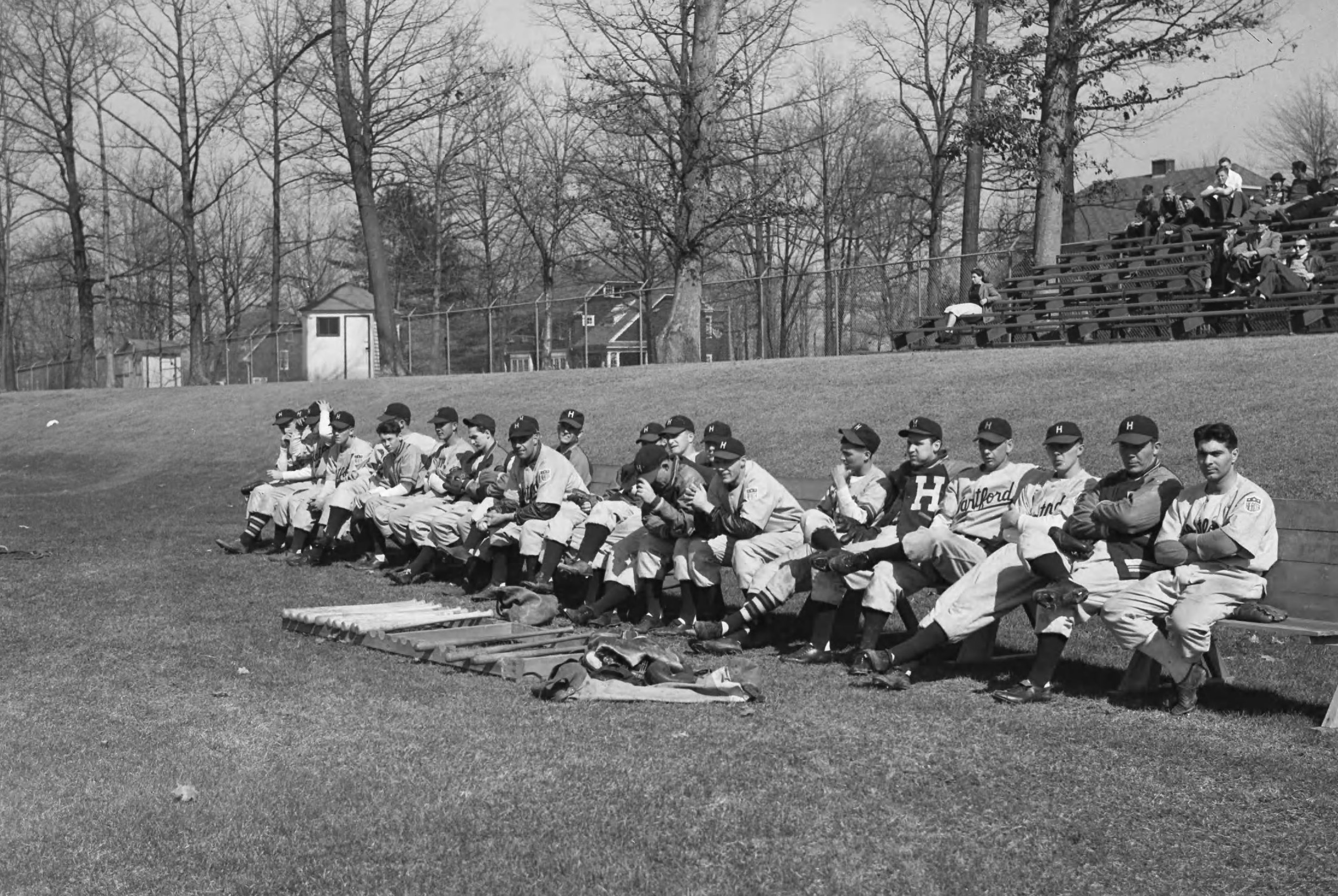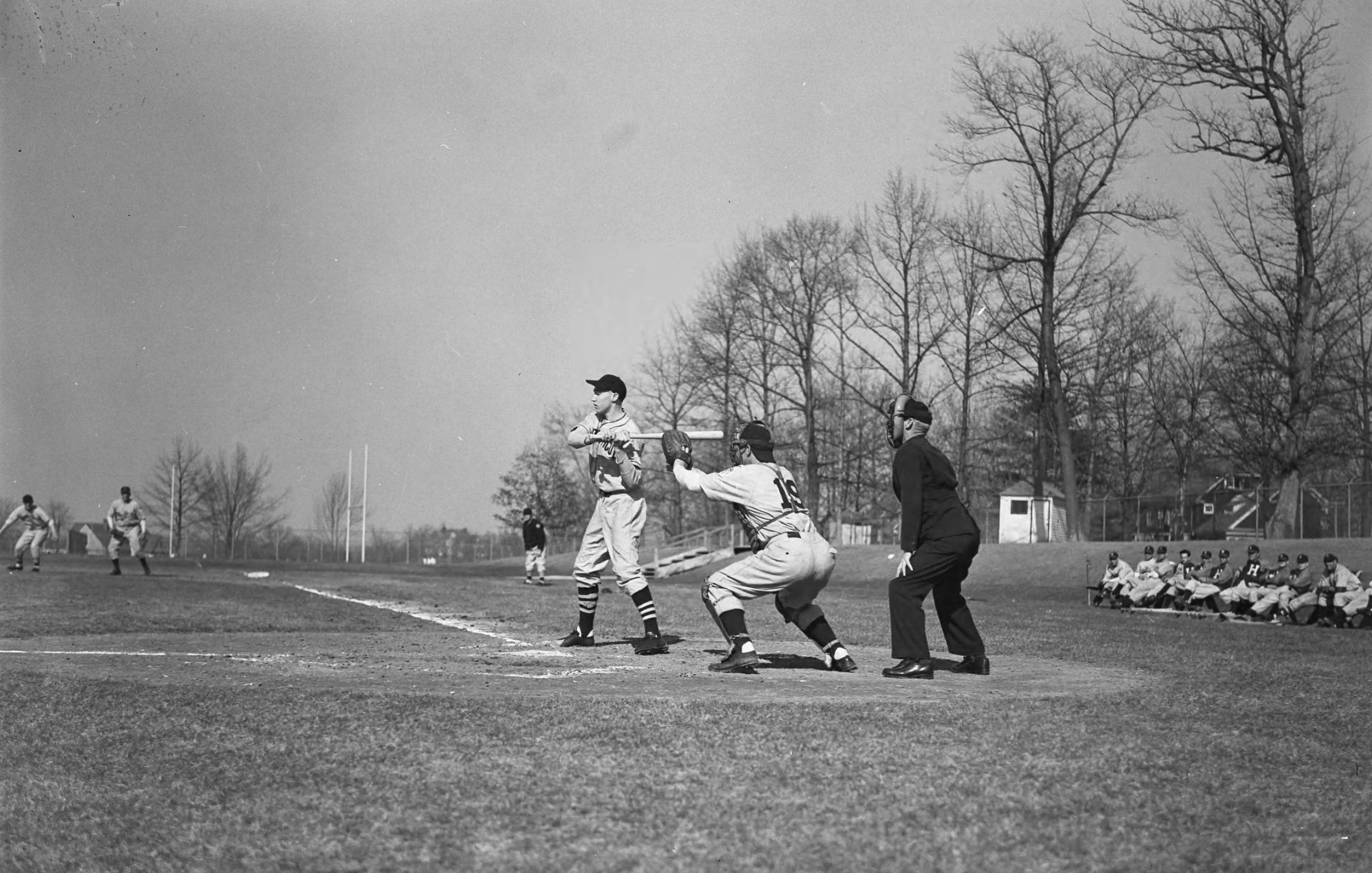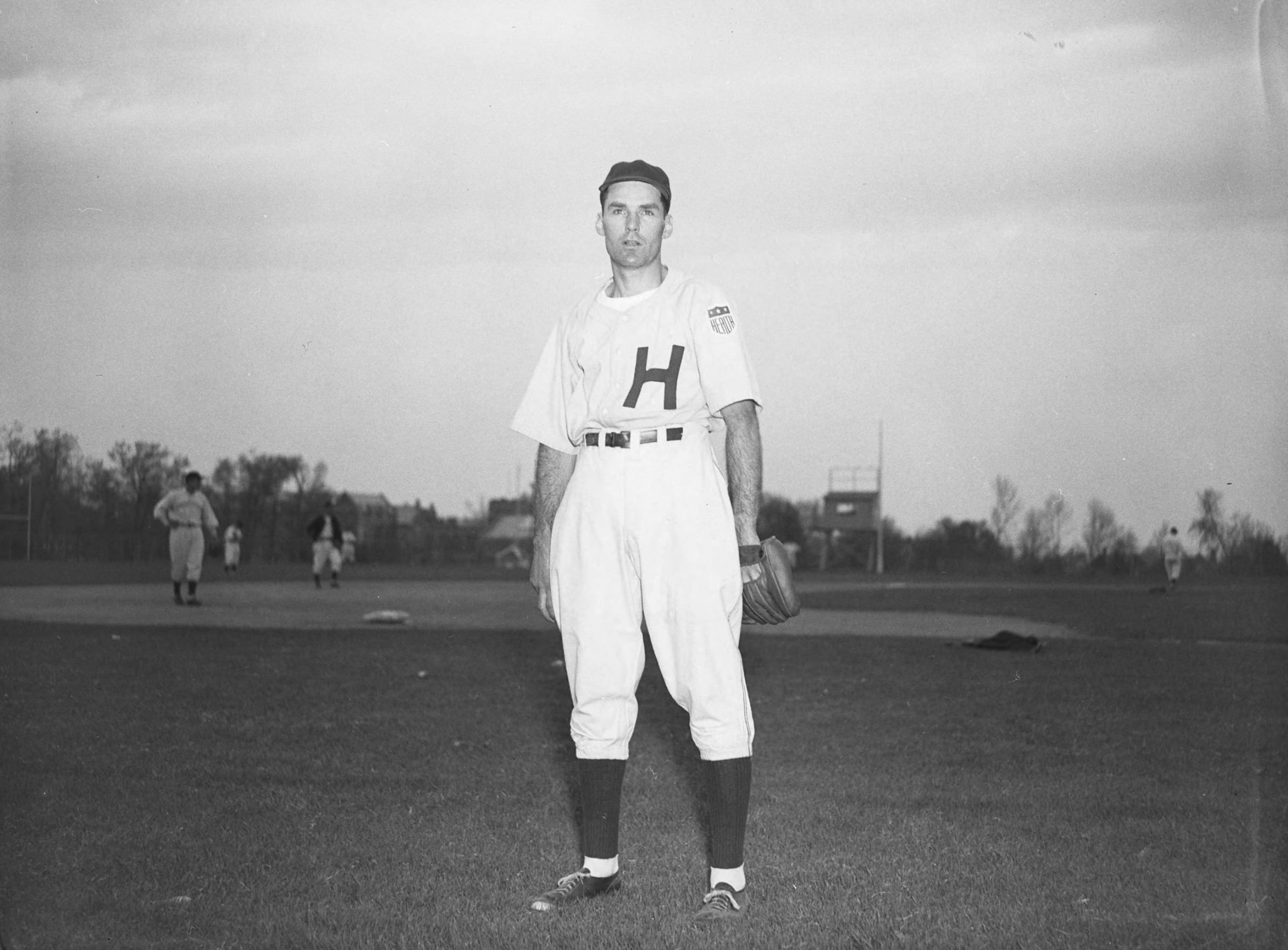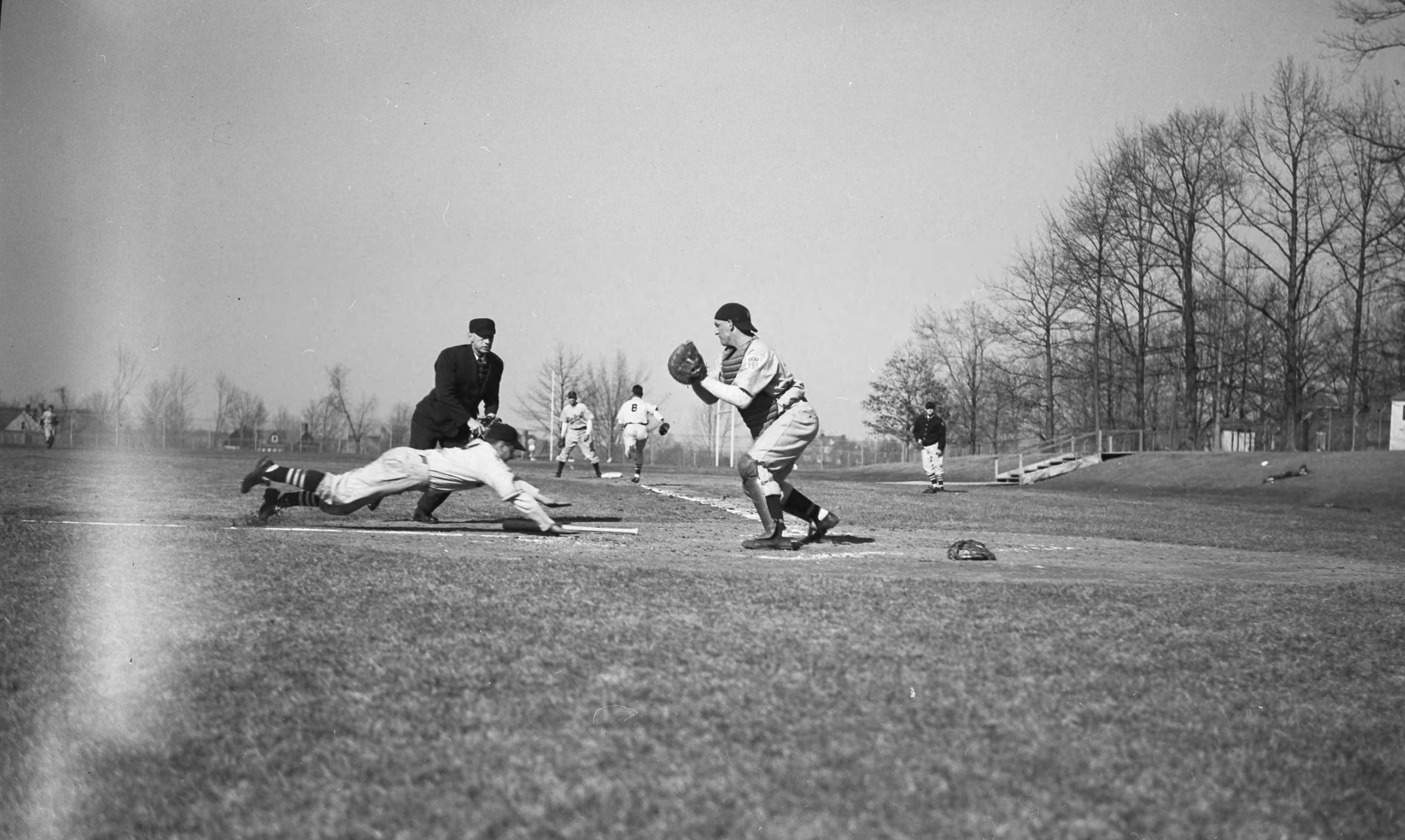 During the Regular Season, Del Bissonette's Baby Bees had reliable starters in John Dagenhard and Carl Lindquist. Stan Wetzel, Tommy Neill and Don Manno were the team's big bats. Three homegrown players from the Hartford Twilight League – pitchers Peter Naktenis and Sam Hyman of Hartford and infielder Jimmy Francoline of East Windsor – joined the Bees for their first of consecutive three seasons. Hartford's team at Bulkeley Stadium ended up in third place.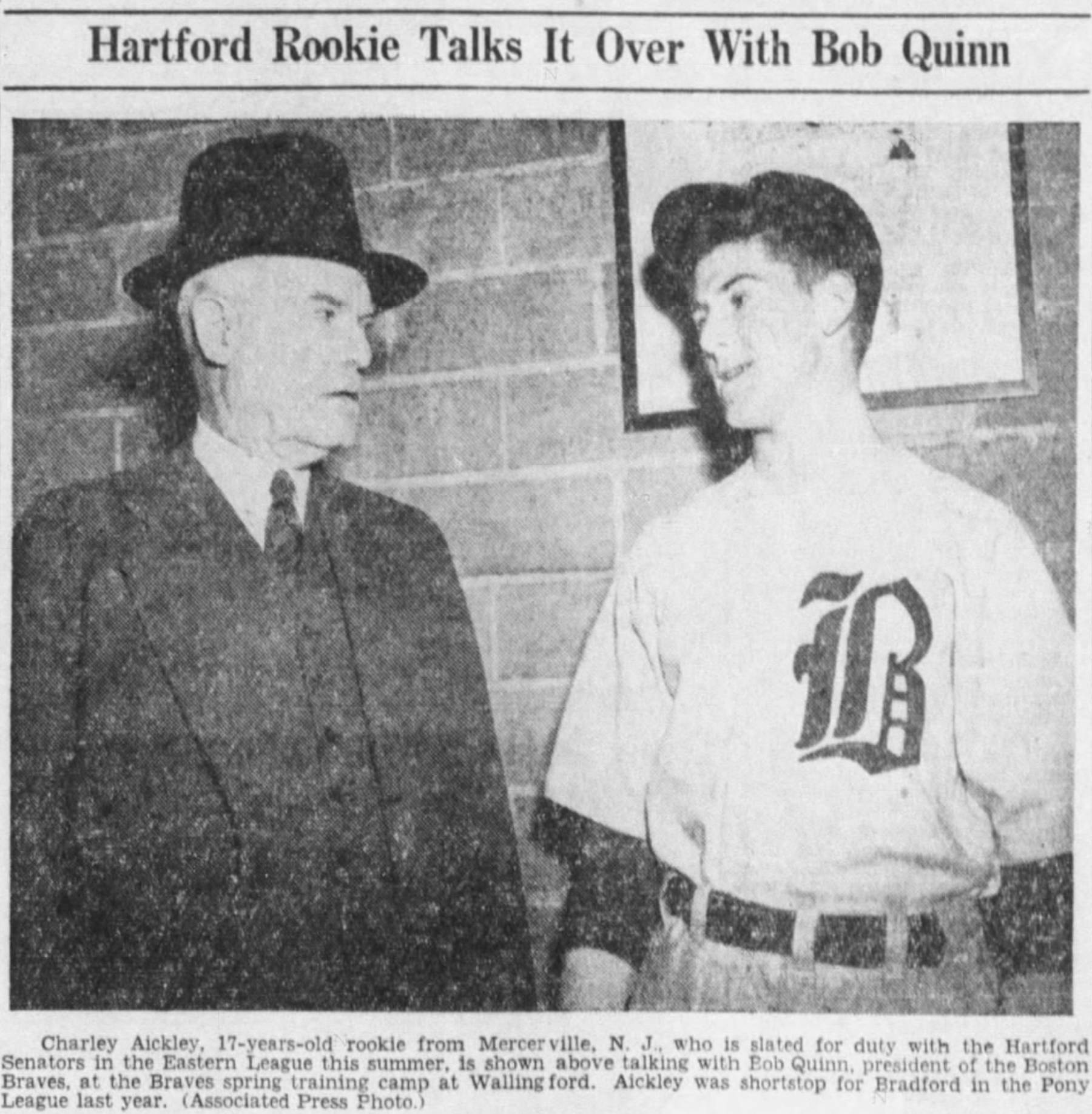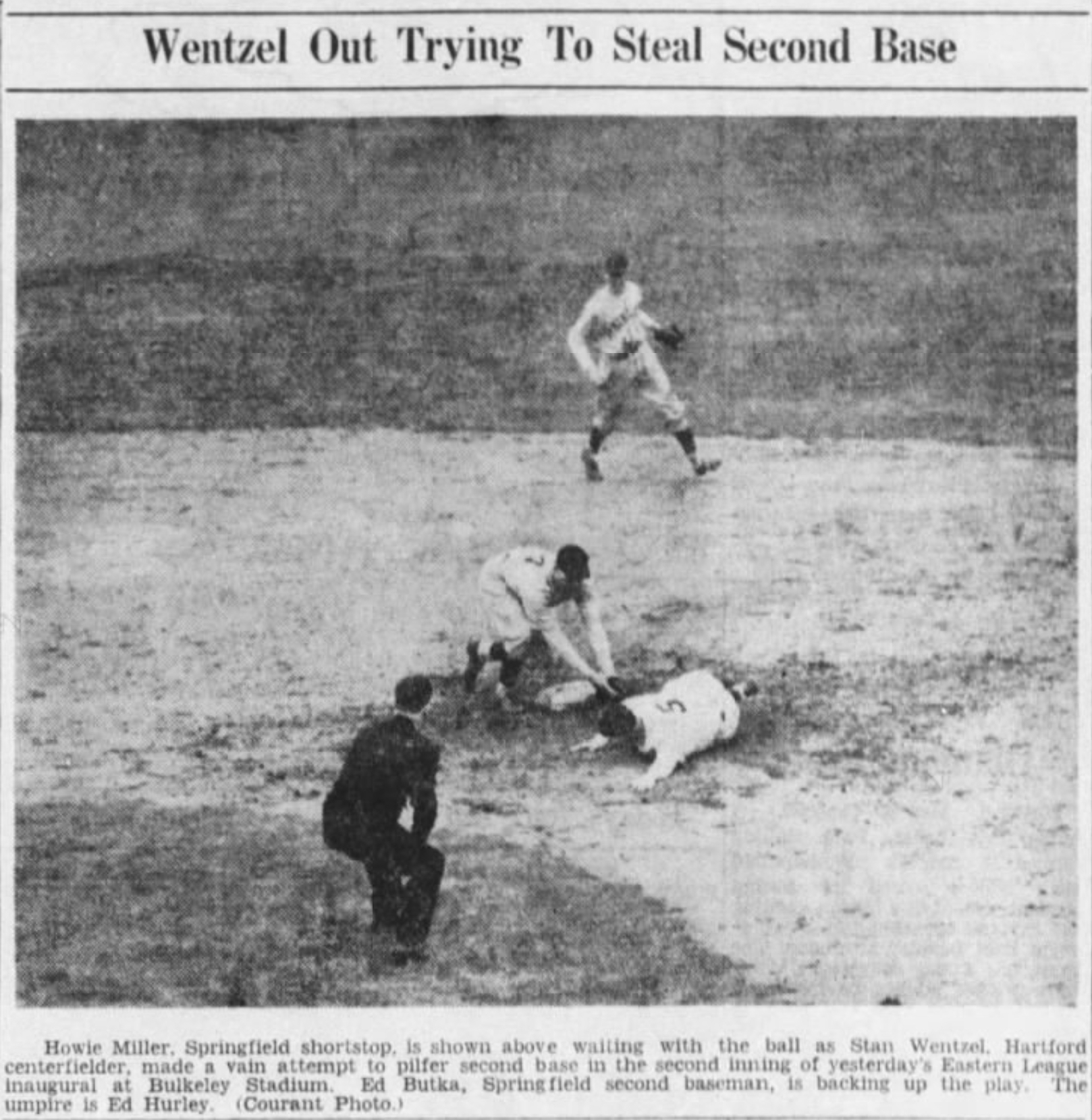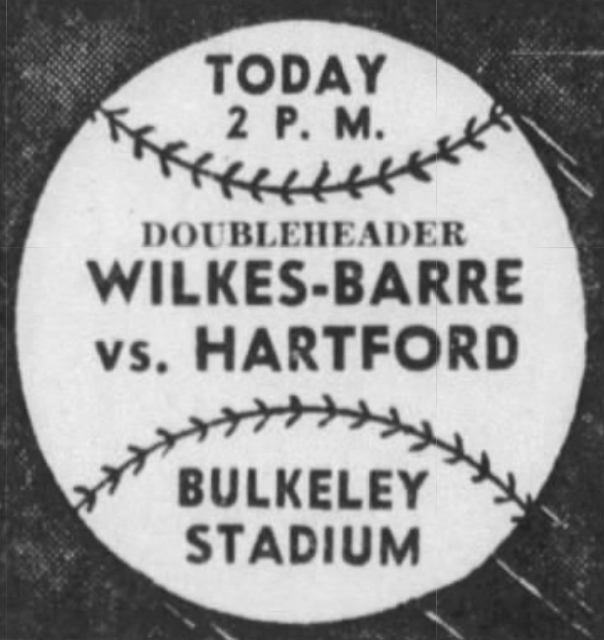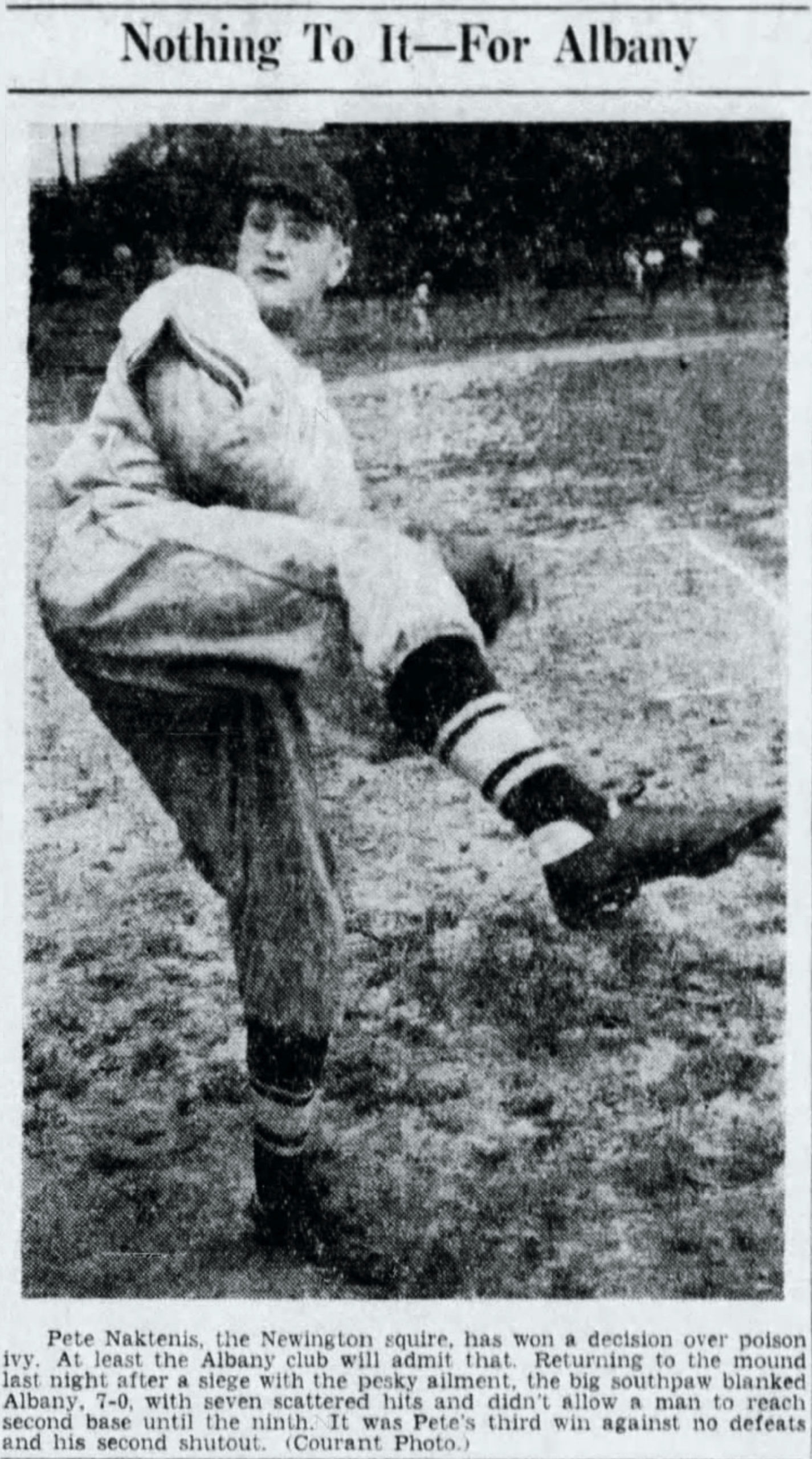 The success and popularity of the Bees finally culminated into a championship run in 1944. Opposing pitchers were no match for Hartford's heavy hitters. Vince Shupe, Bob Brady, Roland Gladu and Stan Wetzel were everyday players hitting above .300. Pete Naktenis led the pitching staff in strikeouts with 139 – though he could only pitch at home games because of his engineering job at Colt's Manufacturing. Two relatively unknown starting pitchers, William Marshall and Warren Mueller had also had marvelous seasons. Hartford outclassed the Eastern League to win the Regular Season title eight wins ahead of Albany.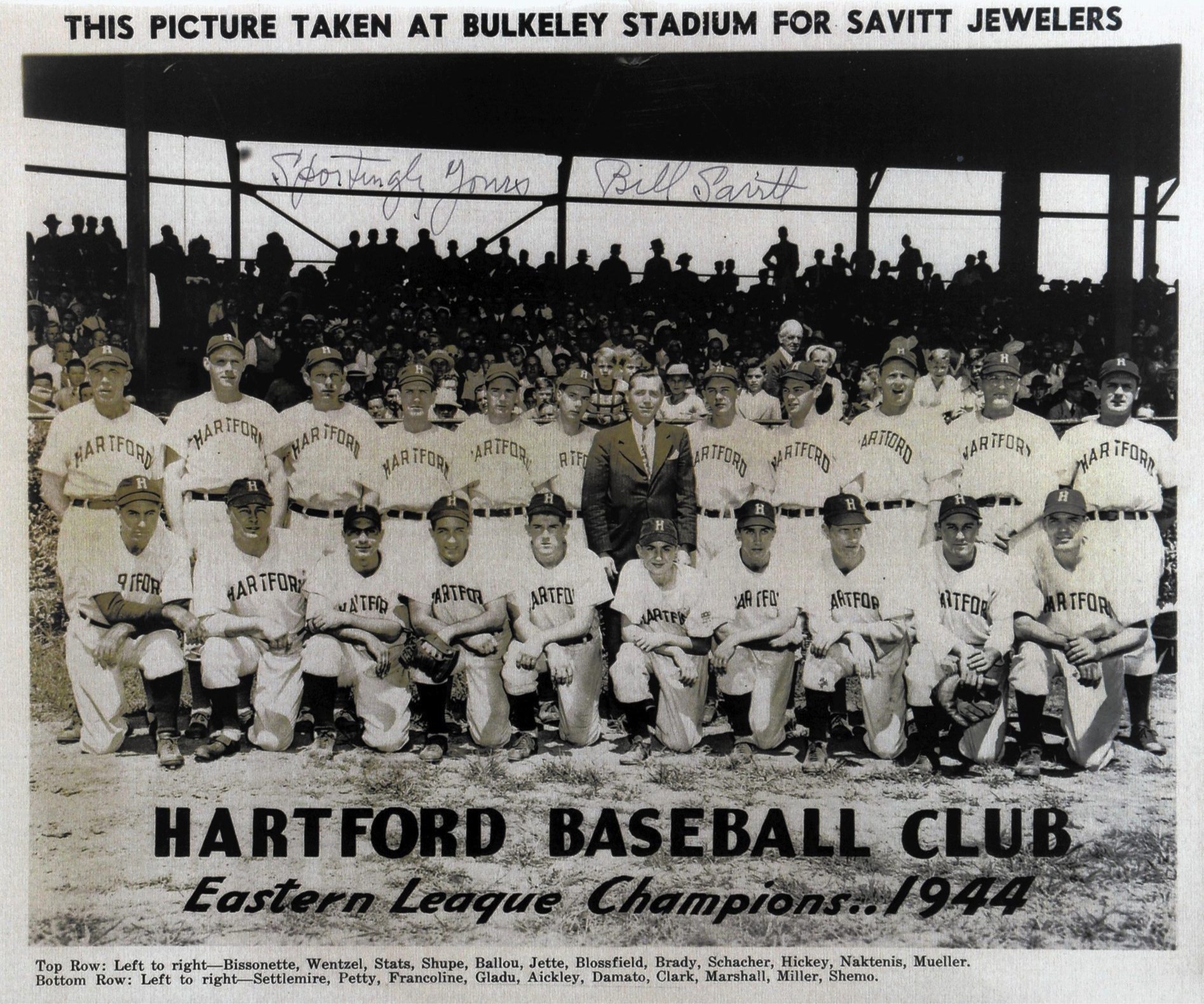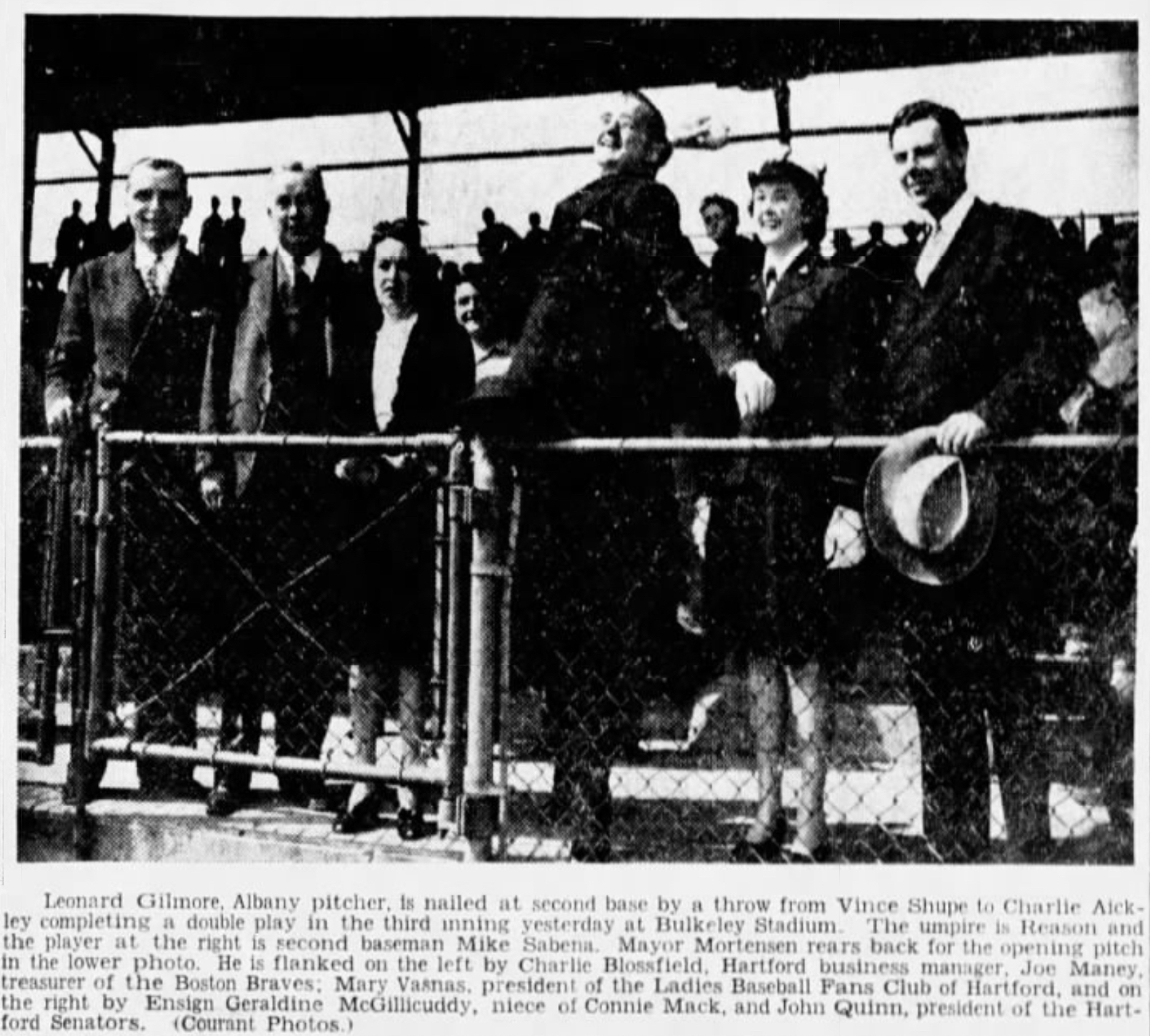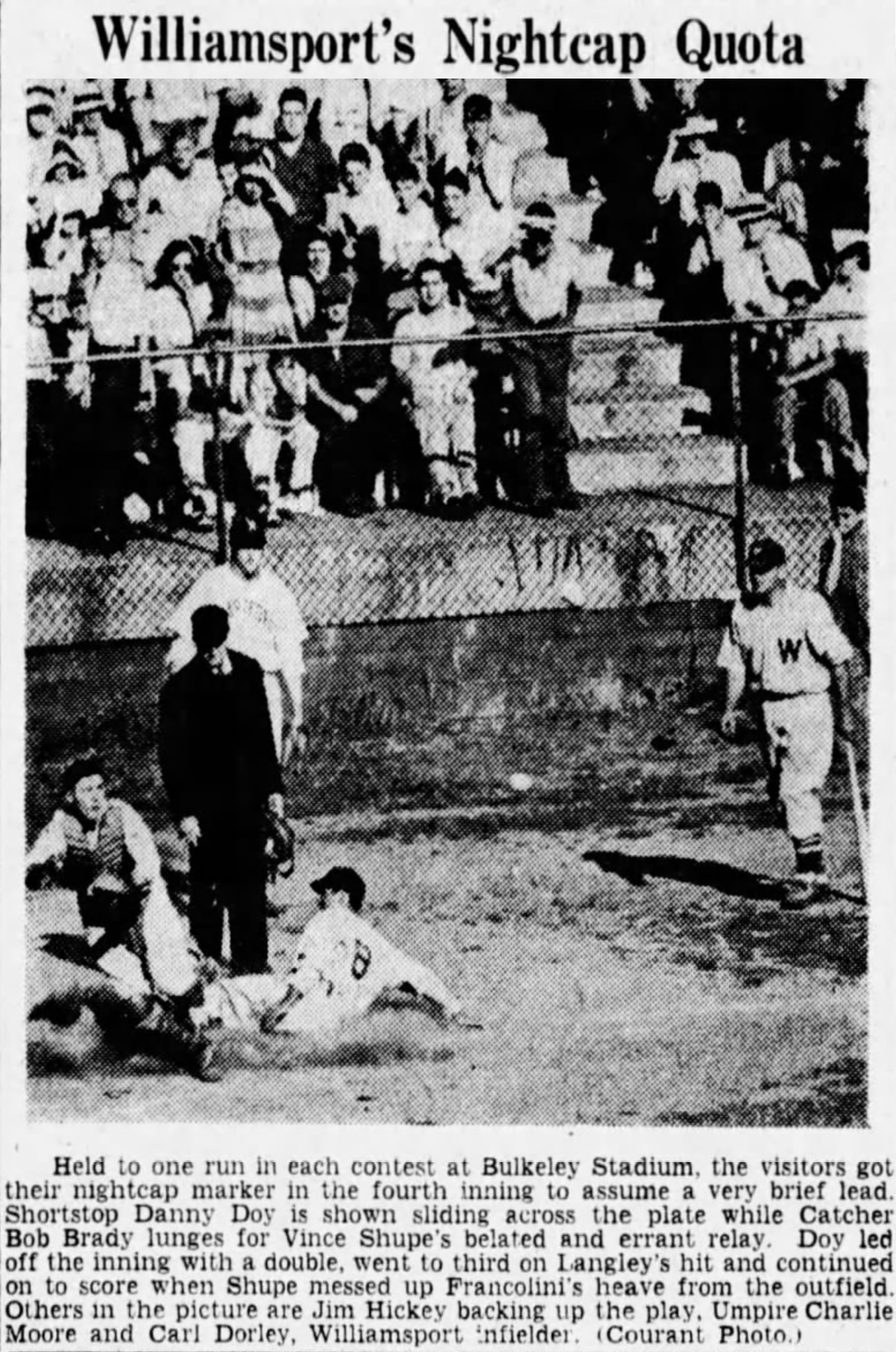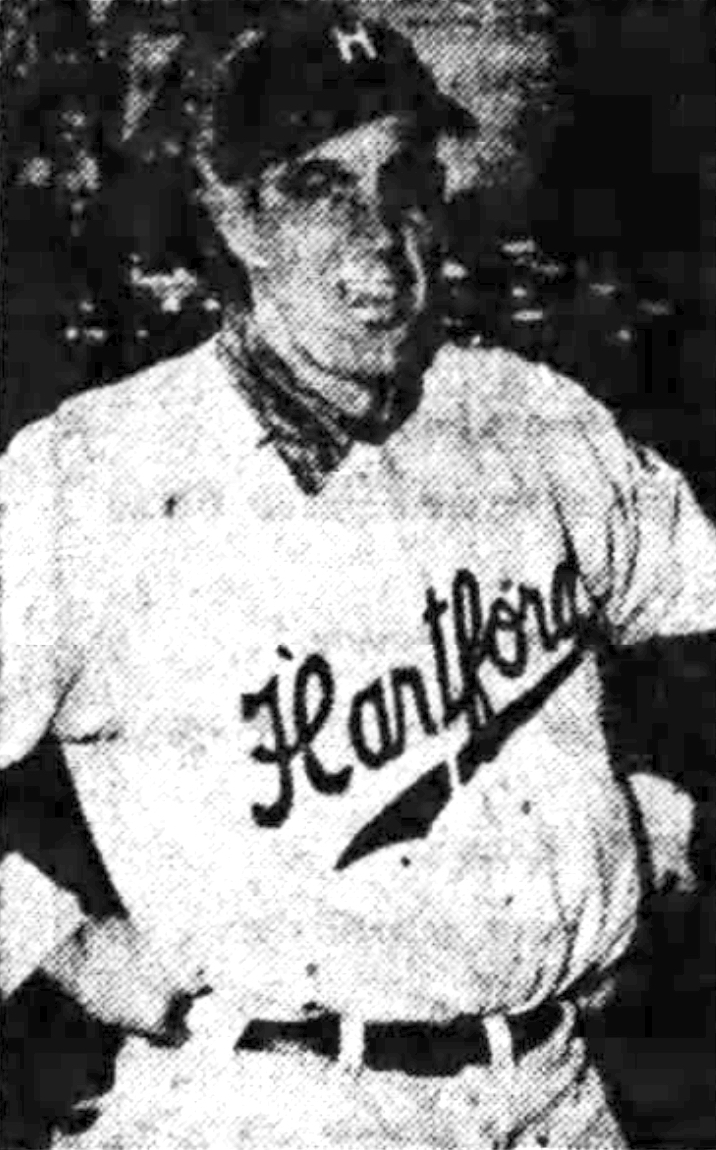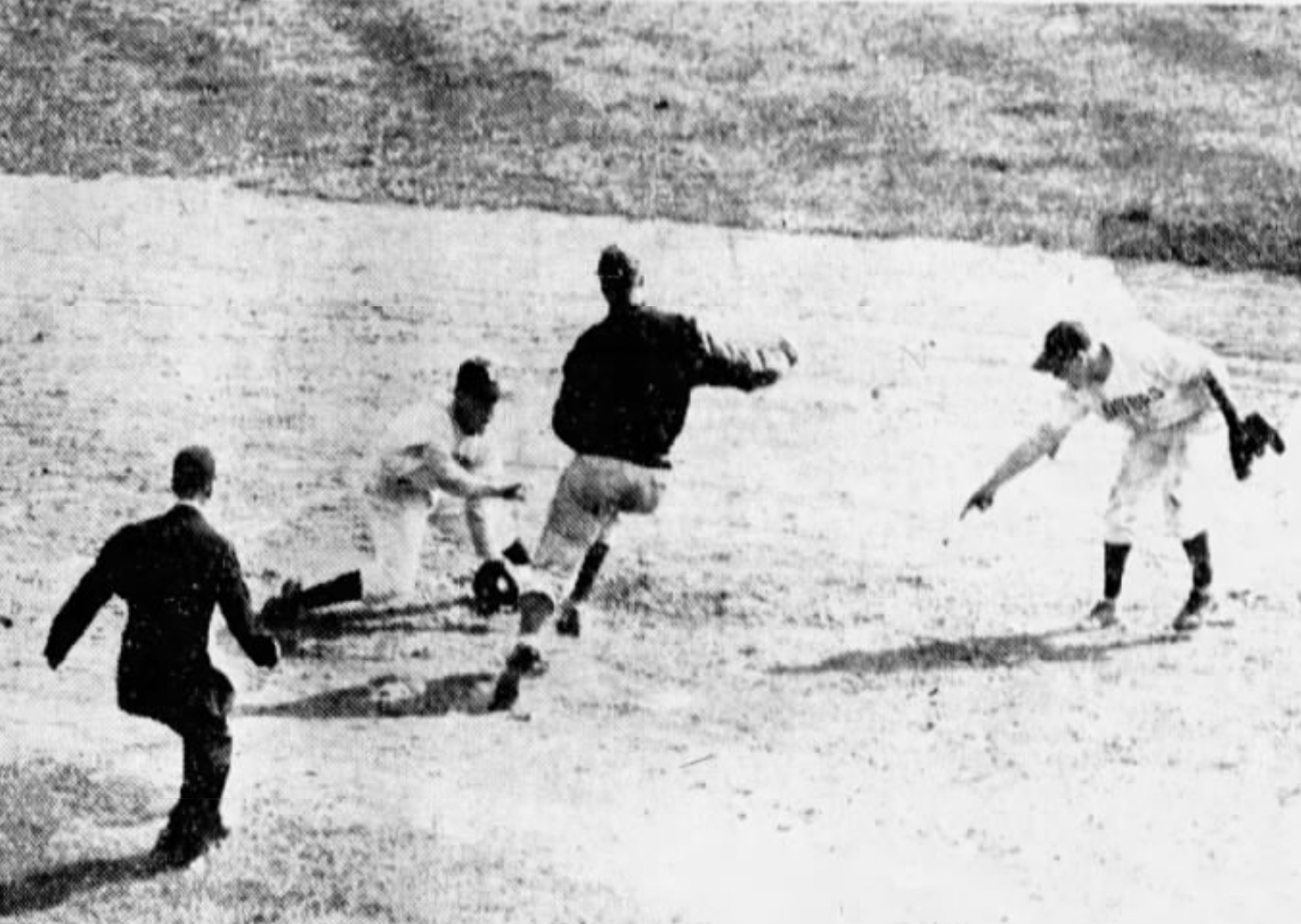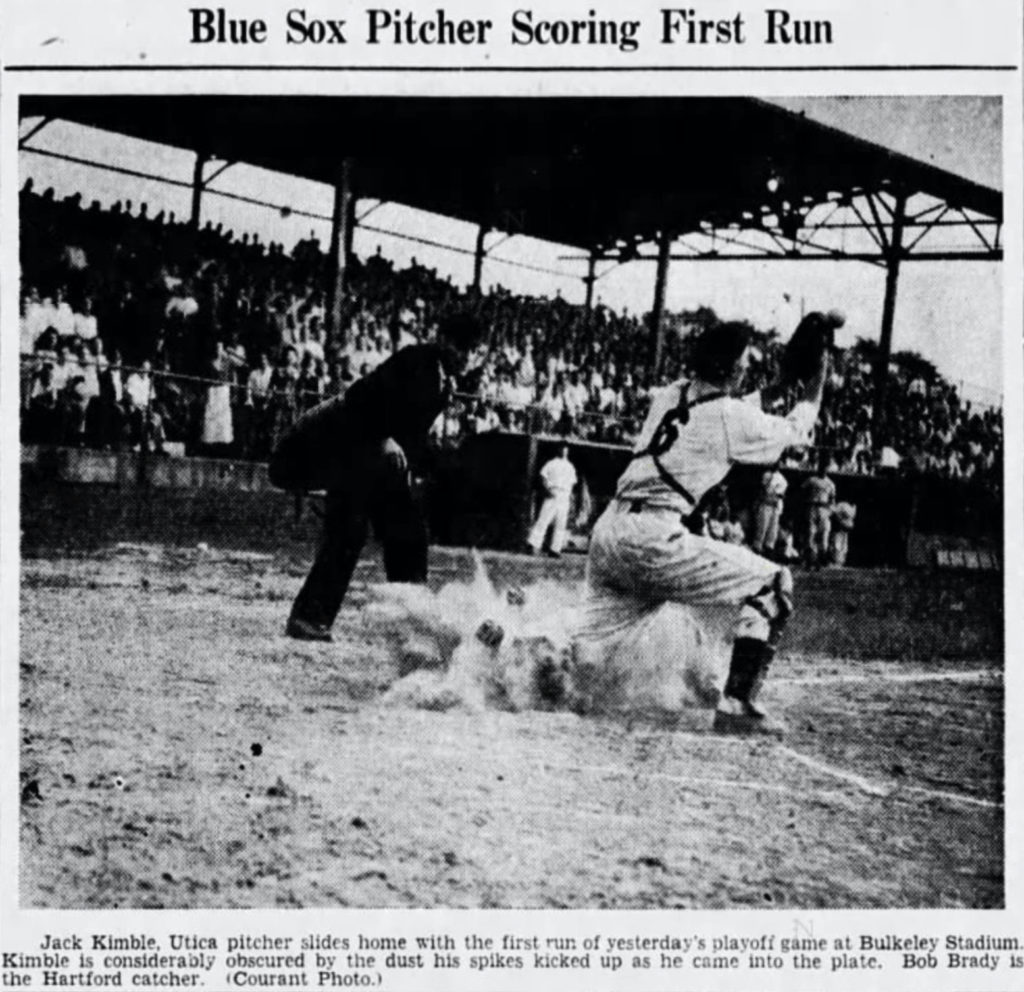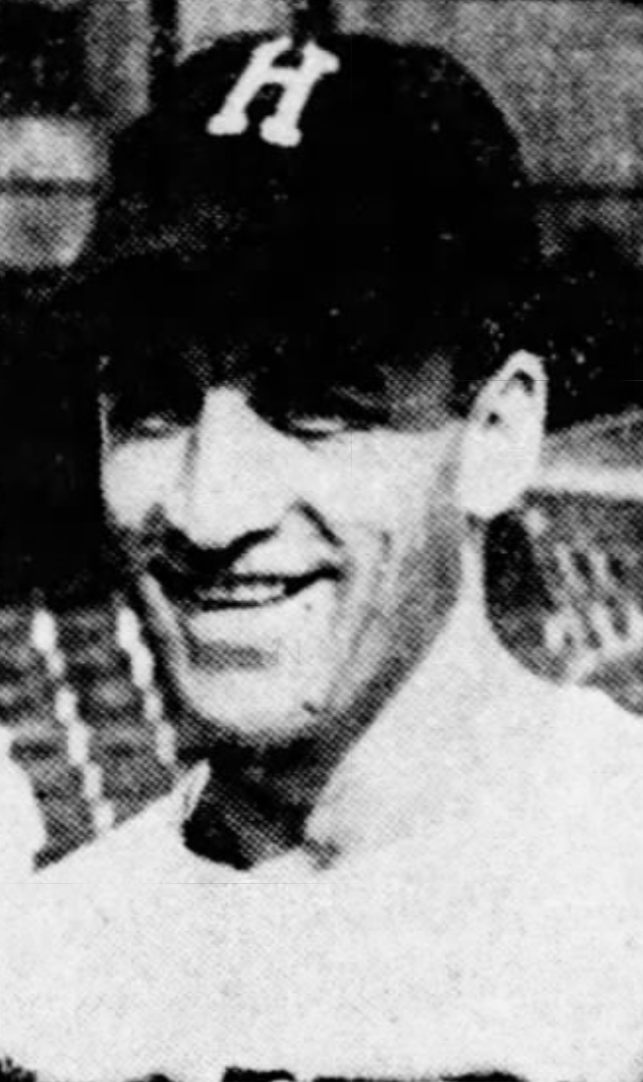 In 1945, Del Bissonette was promoted to Boston as Third Base Coach, and eventually Manager of the Braves for part of the season. In place of Bissonette, Hartford employed their lefty pitcher and a pennant winner of the previous year, Merle Settlemire. Pete Naktenis performed admirably again in his final year as a professional. Mickey Katkaveck of Manchester, Connecticut, and a member of the Savitt Gems, played 30 games as a backup catcher. Hartford's fourth place finish went down in obscurity and the club known as the Bees, Senators and Laurels finally came to an end when, the following year, the club was renamed the Hartford Chiefs.