Yahn, a professional infielder in the Baltimore Orioles organization has written a great blog on recent baseball experiences in amateur and professional leagues. Here's what he wrote about his time on People's United Bank:
"Back on June 25th, the day of our first game at Dunkin' Donuts Park, a man approached me after the contest and asked if I wanted to play for his team in the Greater Hartford Twilight Baseball League (GHTBL). The GHTBL was established in 1929 and is one of the oldest baseball leagues in the U.S. That man turned out to be Tom Abbruzzese, the manager of the People's United Bank team out of Wethersfield. Tom and I stayed in contact and I was also in touch with Justin Morhardt, former Atlanta Braves minor leaguer and two-way player for People's United Bank. I hashed out dates that I could work around Gator games and sent them to Tom. On July 21, Lindsey made the trek over with me to Riverfront Park in Glastonbury as I made my Banker debut."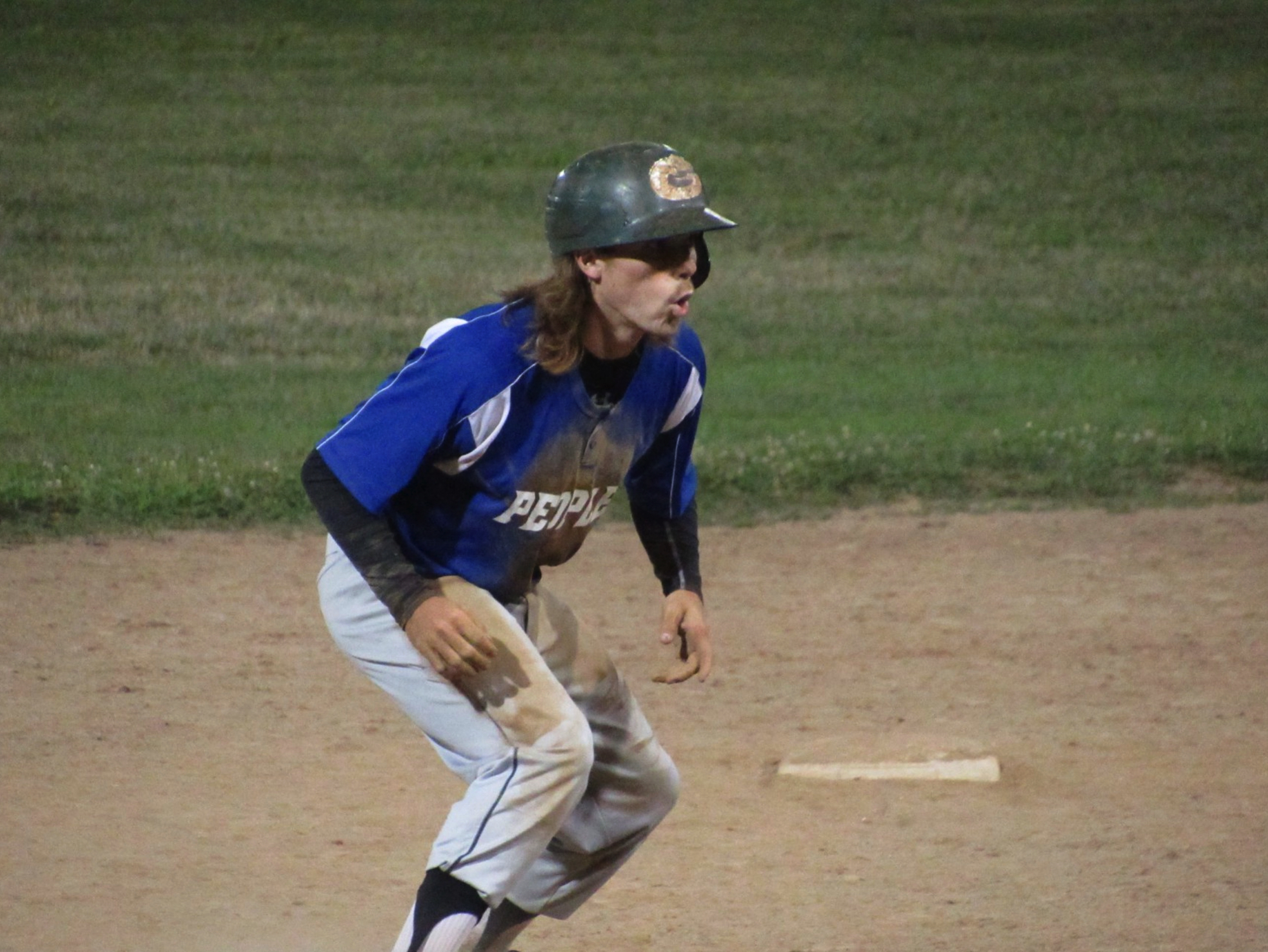 "I did not make a glowing first impression with the bat, as I went 0 for 4. But Justin started that game on the mound and I remember converting on about a dozen plays at shortstop en route to a close victory over Rainbow Graphics out of Manchester. I quickly began to enjoy playing for People's Bank for a few reasons. For starters, I always find it fun getting to know a new group of teammates and showing proving that no matter who I played for I wanted to win badly and that I had my eye on two league rings that summer.
Second, I was a touch more anonymous in the GHTBL, or at least I felt like that was the case (correct me if I'm wrong people). But with the Gators everyone generally knew 'that's Willy's team that he made', I would do the coaches meetings a lot of games, I stuck out like a sore thumb. But with People's Bank I could sneak into our dugout with a plain t-shirt and the team hat that resembled that of the Philadelphia Phillies, and I could surprise the opponent at least for my first at-bat from the leadoff spot. I say that because after my first game as a Banker, many of my first at-bats I received fastballs that caught a lot of plate early in the count, as pitchers were trying to establish their fastball early in the game to the leadoff hitter. AB number one would go: knock, swipe second base, then third, another Banker drives me in for an early lead. It was at this point I felt like teams thought "oooooh it's that long hair schmuck from UConn who belly flops everywhere" and they remember for the next at-bat.
It was about to be playoff time for the GHTBL as well, as I needed to get into one more regular season game to qualify myself for the playoffs with People United Bank. We were playing the East Hartford Jets at Wethersfield High School after I had finally received my custom Dove Tail Bat in the mail earlier in the day. It had a natural finish with the DTB and Willy Yahn in Gator green. She was beautiful. I wanted to use her that day because she was fresh out of the box in which it was shipped. I was the lead off hitter and the first pitch of the bottom of the first with the new weapon, I smashed a line drive into center for a single. A good sign for the new bat headed into the playoffs. Then a new pitcher came in for the Jets in the 3rd innings, throwing pretty hard from a funky angle. I learned after the game that it was Lief Bigelow, former UConn sidearmer who transferred to University of Maine. I faced off against him my second at bat, first pitch was a hard runner fastball on the corner inside. I took a hack at it and the barrel of my brand new bat explodes off the handle. I watched the beautiful green label saucer away in disgust. My running so fast in anger and the infielders being distracted by a flying wooden knife allowed me to reach on an infield single. But at what cost, folks? I jokingly called out to Lief (at this point was still trying to remember who he was) saying he owed me a new Dove Tail."
"I finished the game with three knocks and three swiped bags, the Bankers came out on top 4-2. We were able to win all five regular season games for which I made the trip, as we had a pretty solid team. About the same average age as the Gators, with a lot of solid hitters throughout the line up and a few college pitchers who knew what they were doing. Justin Morhardt contributed highly on both sides of the ball. On top of hitting some bombs out of the clean-up spot, he is a competitive pitcher who induces a lot of ground balls, which as a shortstop makes him a guy that is fun to play behind. People's United Bank finished 6-6 as we would face off against the GHTBL powerhouse the Vernon Orioles."
Stay tuned to Willy Yahn's baseball blog – Chapter 6: The Gator was also a Banker
Yahn is expected to play for the Bowie Baysox of the Eastern League in 2021.