The Greater Hartford Twilight League inducted a dozen into the Hall of Fame on Saturday, November, 19, 2023 at Indian Hill Country Club in Newington. Among the inductees were GHTBL President, Bill Holowaty as well as Kevin Beaudoin, Steve Cannata, Jack Champagne, Scott Jeamel, Tom Kirby, Walt Nakonechny, Adam Peters, Bunty Ray, Dave Sacco, Bobby Stefanik and Mike Susi. GHTBL Hall of Fame President, Steve Krajewski was the master of ceremonies.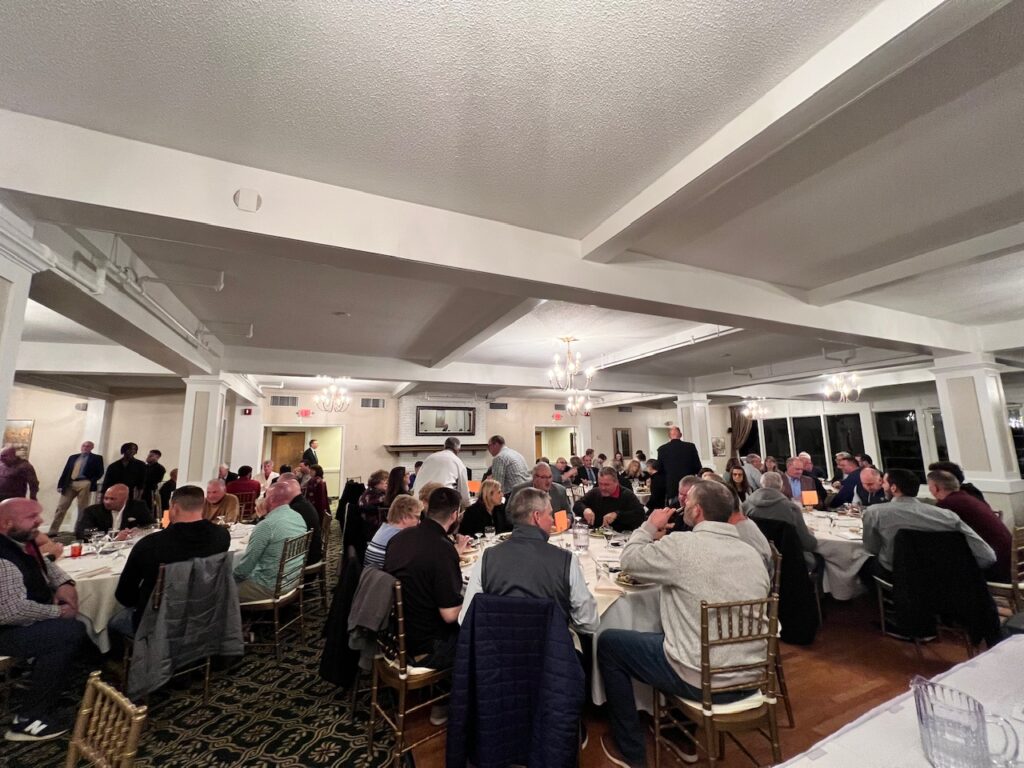 Congratulations to all coaches and ballplayers! This class represents some of the top baseball names in the Greater Hartford area from the 1960's to 2000's. The event brochure, written by GHTBL Hall of Fame Committee Member Jack Hurley, will be posted at a later date. Here's the presenting words given by the League Secretary inducting Bill Holowaty:
I'm proud to present the induction of our President, Bill Holowaty to the Executive Committee, recognizing league officials. Coach Holowaty is just the 10th person to earn this honor and the first since Jim Gallagher. What people might not realize about Bill is that he's one of Connecticut's all-time amateur sports figures.

He played basketball at UConn starting in 1964 – not too long ago. While in college he appeared in the Hartford Twilight League with Hamilton Standard. His teammates were fellow Hall of Fame inductees, Wally Widholm, Hal Lewis and Bill Risley. Holowaty only played for a few summers before graduating and embarking on a coaching career at Eastern – a fledgling college at the time.

He built up the program by installing an attitude of toughness and hard work. His demands for excellence were unparalleled. Bill won his 1000th game at Eastern in the year 2000. The Warriors went to 39 postseasons in 45 years under Holowaty, who won 4 National Titles and a total of 1,412 games – more than any coach in New England.

He led the project to build a baseball stadium at Eastern and it really should be called Bill Holowaty Stadium if you consider all that he achieved. Though he did help start the NECBL, Coach sent hundreds of players to the Twilight League. For example, one of his former players, Jim Schult has helped the East Hartford Jets win the last 4 championships.

After retiring from coaching, he agreed to be Twilight President in 2017. Everyone continued to call him Coach Holowaty and he immediately made us more competitive. He gave veteran players and longtime managers new energy. He started a golf tournament/fundraiser with Marc Levin. With Bill at the helm, the league has raised over $25,000 for charities with benefit games at Dunkin' Park. A lot of his contributions have also been thanks to his wife Jan.

Bill has has seen many obstacles for a guy born in 1945 from Little Falls, New York. He has fought through controversy and illness, and has won again and again. His sports career is rivaled by few. Before our state had Geno Auriemma, Jim Calhoun or Dan Hurley, we had Coach Holowaty winning National Championships. The Greater Hartford Twilight League is grateful for his leadership. We are in the best financial position we've even been in and he hasn't asked for anything in return.

Coach, you're now one of the Hall of Fame's most well-known "baseball guys" – right up there with Phil Rizzuto an Honorary Member. Let's put it this way; you're one of two people in this room with a Wikipedia page. You are highly regarded, even today in this forgetful world. You're a friend and a great role model. You're one of a kind. Congratulations on the induction.

Bill Holowaty inducted to GHTBL Hall of Fame by Weston Ulbrich, League Secretary, 11/18/23.