More than a hundred years ago, Tyrus "Ty" Cobb, center fielder of the Detroit Tigers visited Hartford on three separate occasions. Like many players of baseball's Golden Age, Cobb made appearances in cities and towns across the United States for additional income. Before Cobb's first visit to Hartford in the fall of 1916, he was already known as the game's best hitter. He had won the batting title nine times in a row and was named Most Valuable Player of the American League in 1911. Nicknamed "The Georgia Peach" by sportswriter, Grantland Rice as an ode to Cobb's home state, Cobb was a ferocious competitor with a short temper, great speed, hitting ability and a split-handed batting style.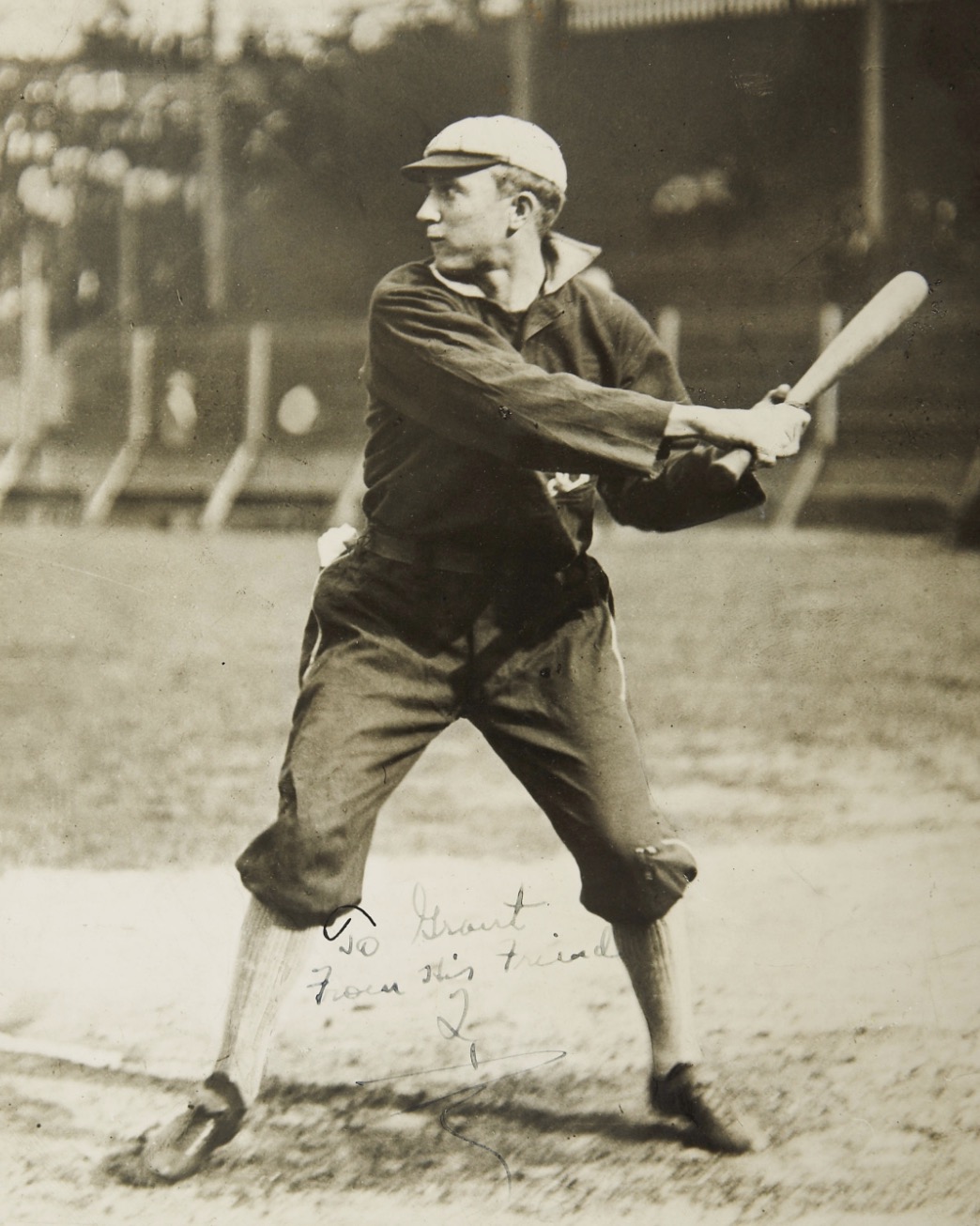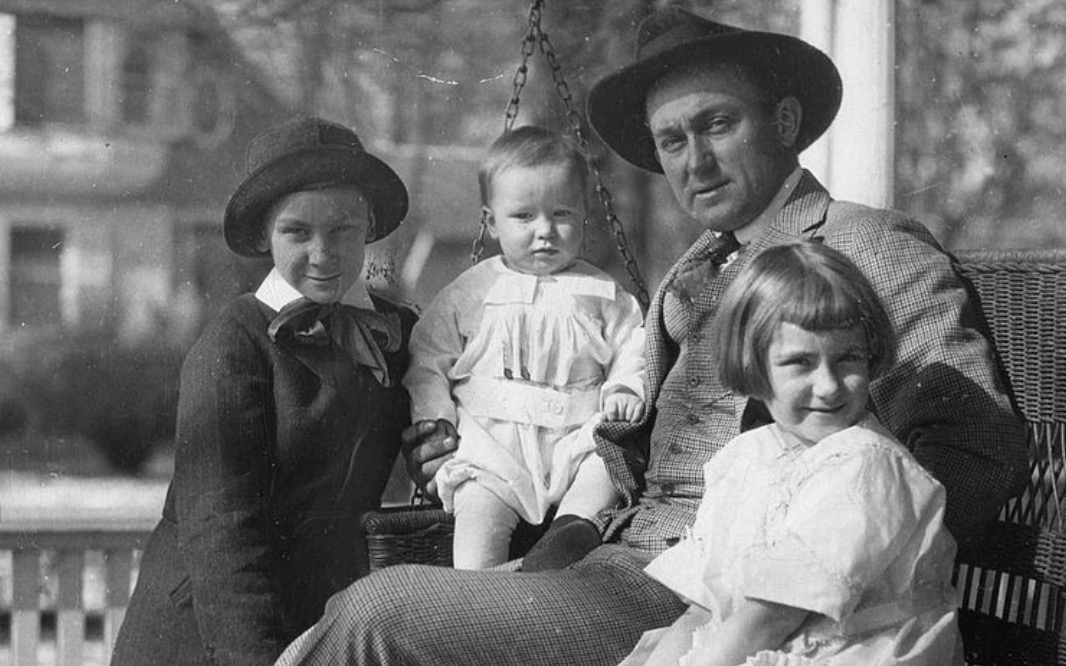 Prior to Cobb's arrival in 1916, the America was preparing for what would become World War I. Hartford held its largest public gathering to date – a Preparedness Parade in response to heightened conflict in Europe. The city had 100,000 residents as well as the nation's top insurance, banking and manufacturing firms. Per capita, Hartford was one of the wealthiest cities in the United States, and baseball was by far Hartford's most popular sport. There were more baseball fields in Hartford than any other city in New England. This included Wethersfield Avenue Grounds, where the Hartford Senators of the Eastern League hosted games, and where a new grandstand was constructed in 1912.
When a 30 year old Ty Cobb first came to Hartford, it was after his dominating 1916 campaign. Cobb's .370 batting average, 68 stolen bases and 113 runs scored led the Majors. The Detroit Tigers won 87 games and lost 67 under manager Hughie Jennings, finishing third in the American League. After the season, Cobb began to barnstorm New England with independent clubs like the New Haven Colonials for a guarantee of $300 per appearance. Alongside Cobb on the Colonials side were former New York Yankees pitcher, Ray Keating and Philadelphia Athletics shortstop and Torrington High School alumnus, Joe Dugan.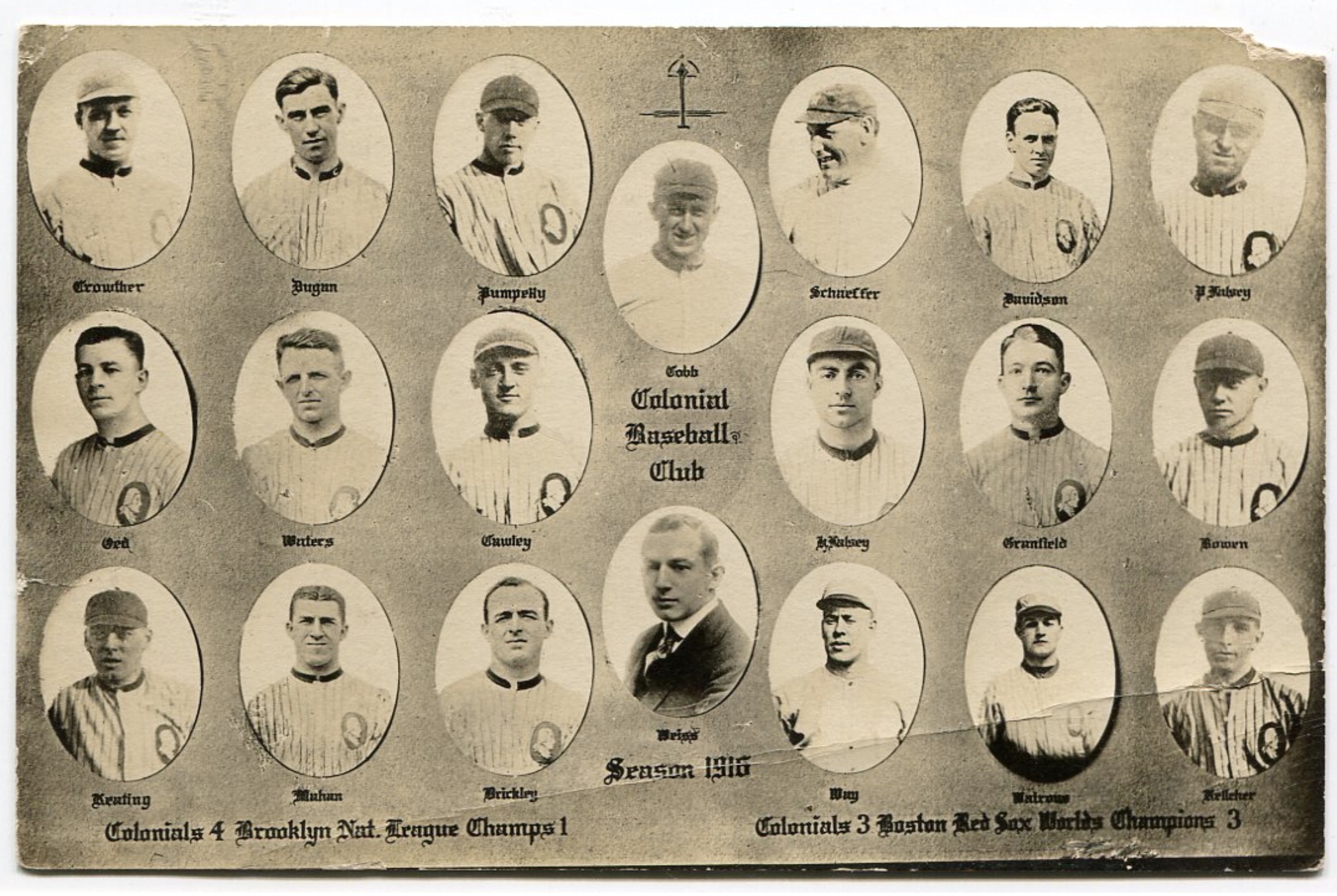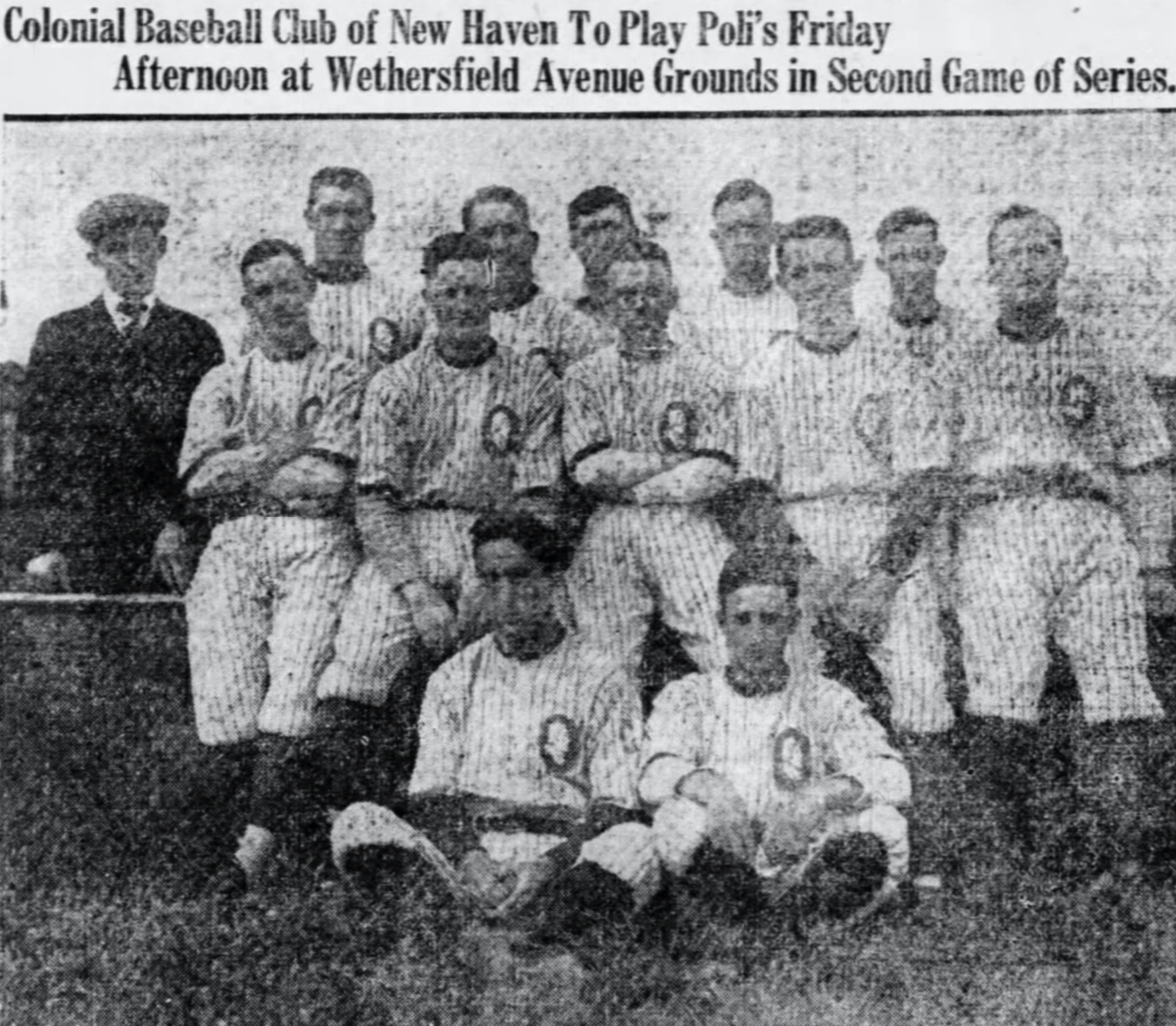 On Tuesday, October 24, 1916, Ty Cobb delighted a small crowd of 800 fans at Wethersfield Avenue Grounds. The game was not well publicized in advance but onlookers would not be disappointed. Cobb and the New Haven Colonials faced off against the city's best semi-professional club, the Hartford Poli's. He played center field, first base and served as relief pitcher. Cobb had two hits, showed off his speed in a run-down and pitched 3 innings of one-hit ball. He gave up a double to the Poli's catcher, John Muldoon, a future professional from Hartford who had three hits on the day. Cobb and Colonials shut out the Hartford Poli's by a score of 7 to 0.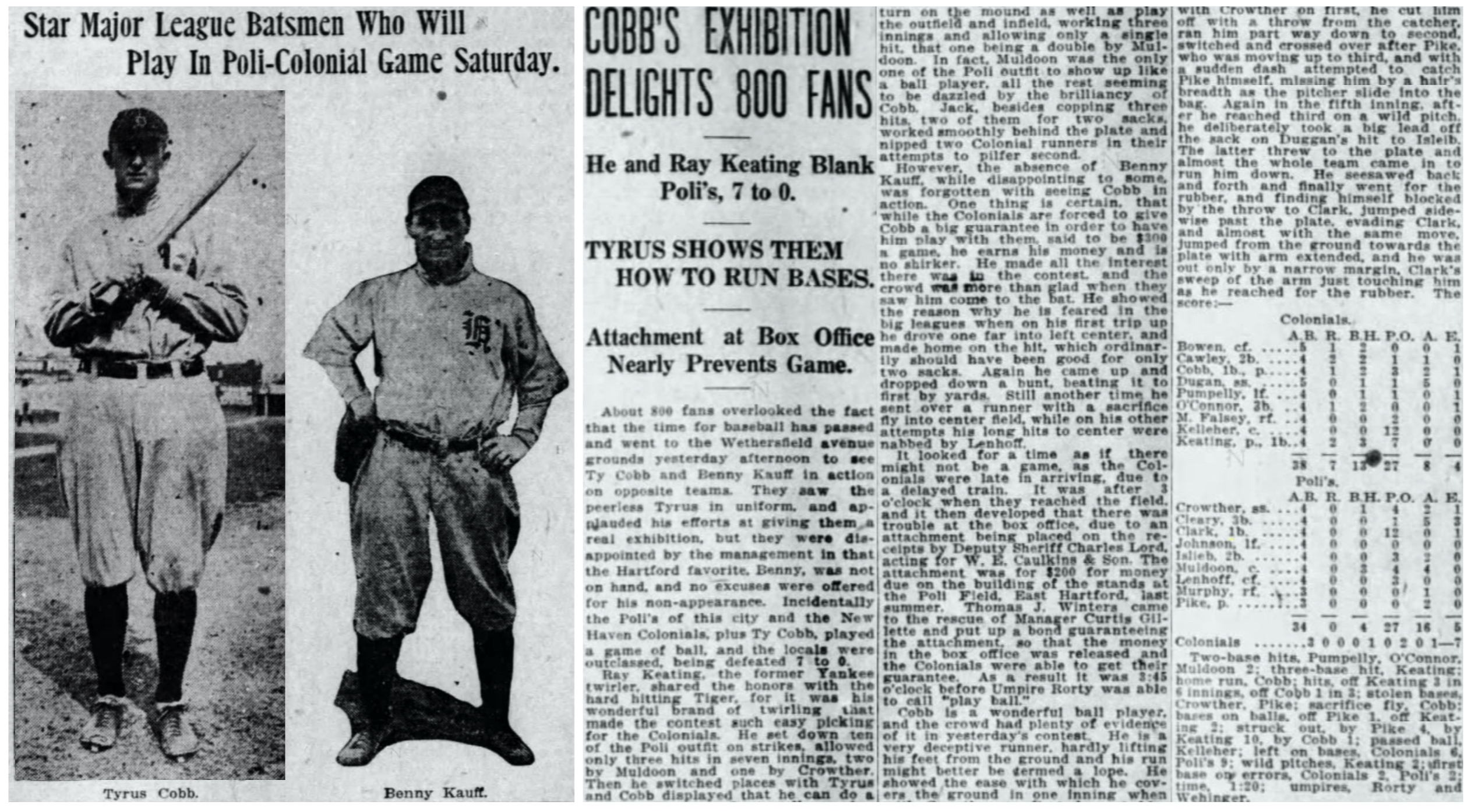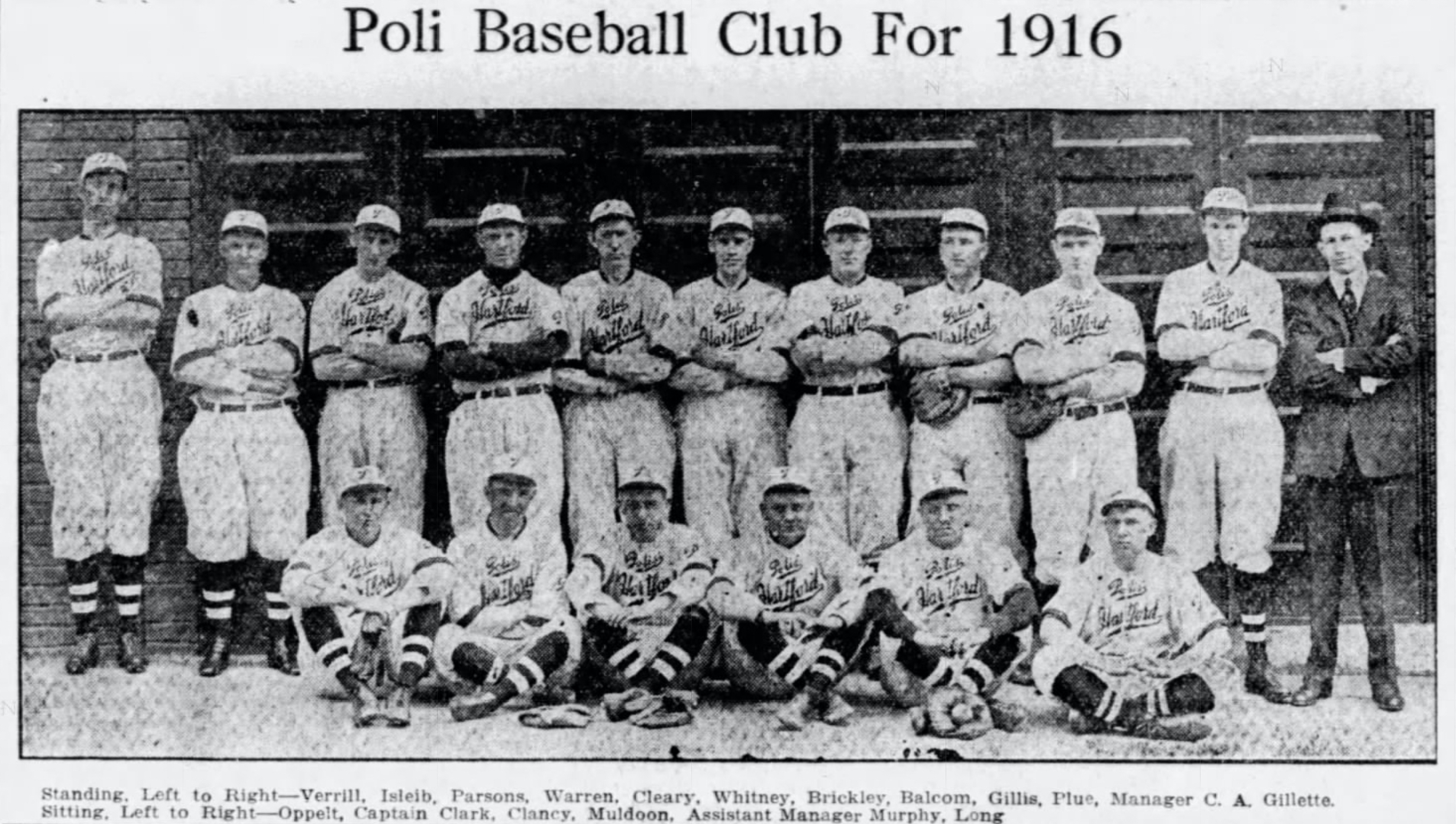 When the United States entered the Great War in April of 1917, baseball clubs began drilling as if they were military units, including Ty Cobb's Tigers. He became eligible for military service earlier than most professional ballplayers when he applied to the Augusta, Georgia Draft Board on May 23, 1917. Baseball was played throughout the war and Cobb went on to win two more batting titles with the Tigers before being drafted into the United States Army in late 1918. That year, he won his 11th batting title, hitting .382 in a shortened season due to hostilities in Europe between the Allies and the Axis Powers.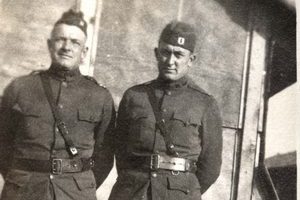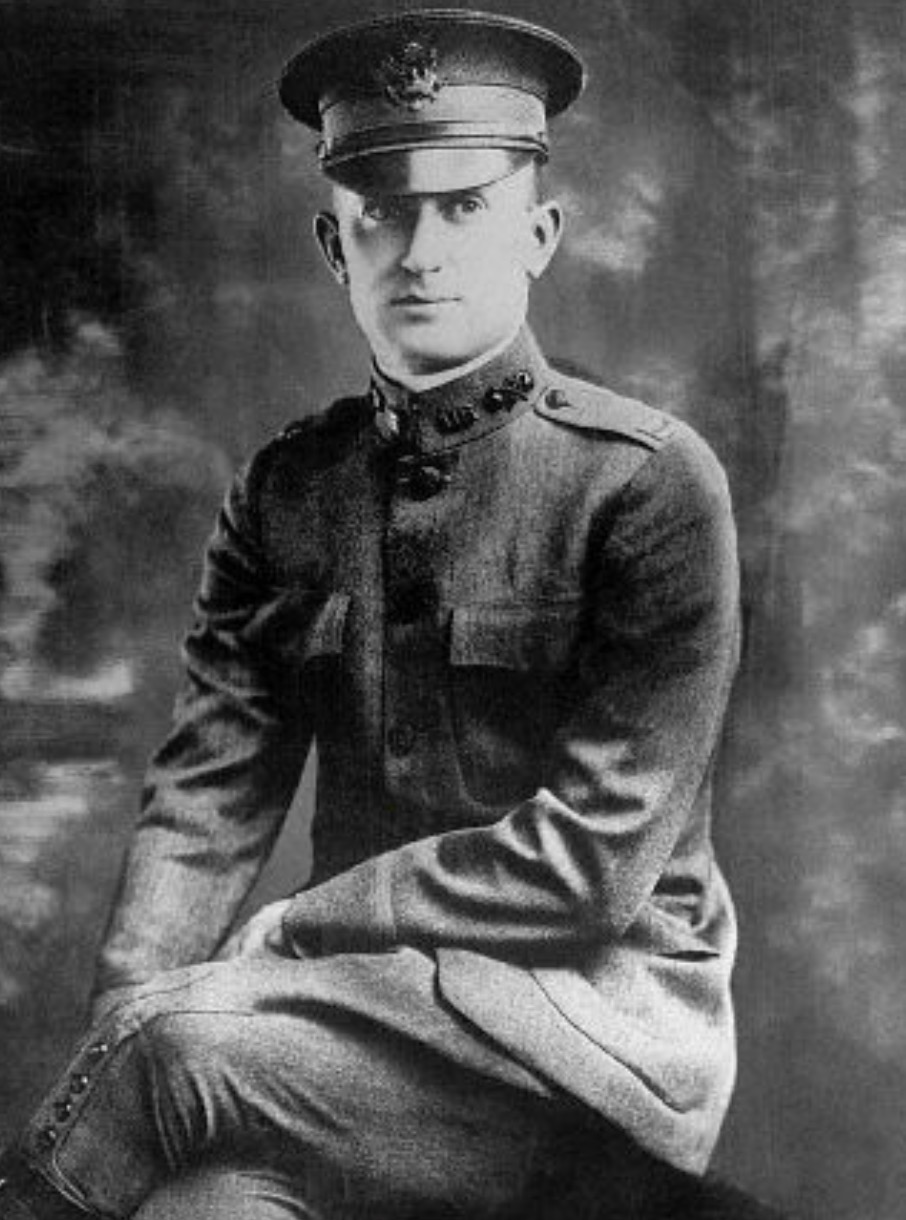 A week before the 1918 season ended, Cobb made his second cameo in Hartford. On August 25th, the Detroit Tigers and the St. Louis Browns staged a benefit game to support American Expeditionary Forces who were deployed on the Western Front. The Tigers and the Browns arrived in Hartford by train. The Browns featured their first baseman George Sisler, a gifted batsman and a Hall of Fame player in the making. Sisler was seven years younger than Cobb and he revered the Georgia Peach. "The greatness of Ty Cobb is something that had to be seen," Sisler said, "and to see him was to remember him forever."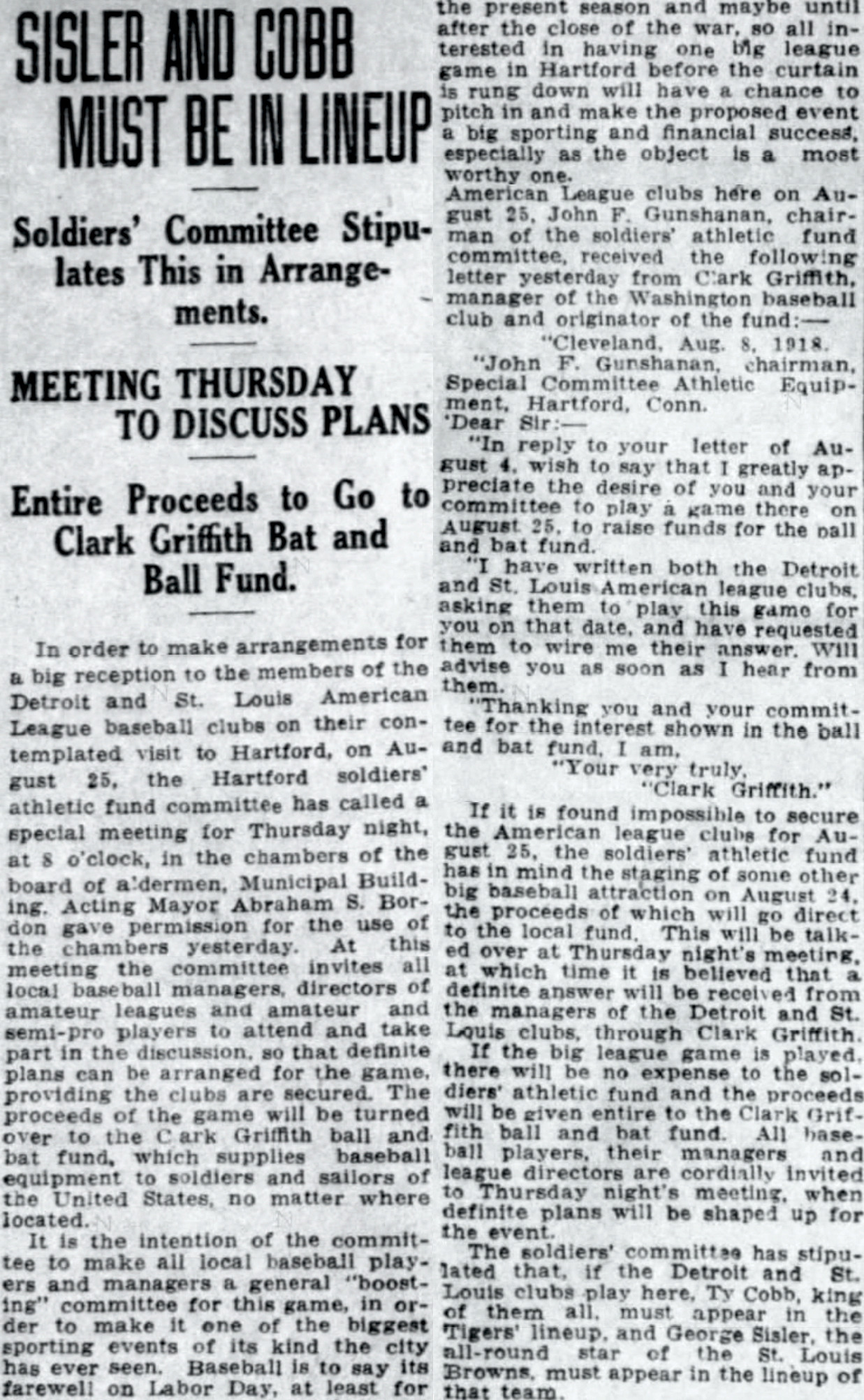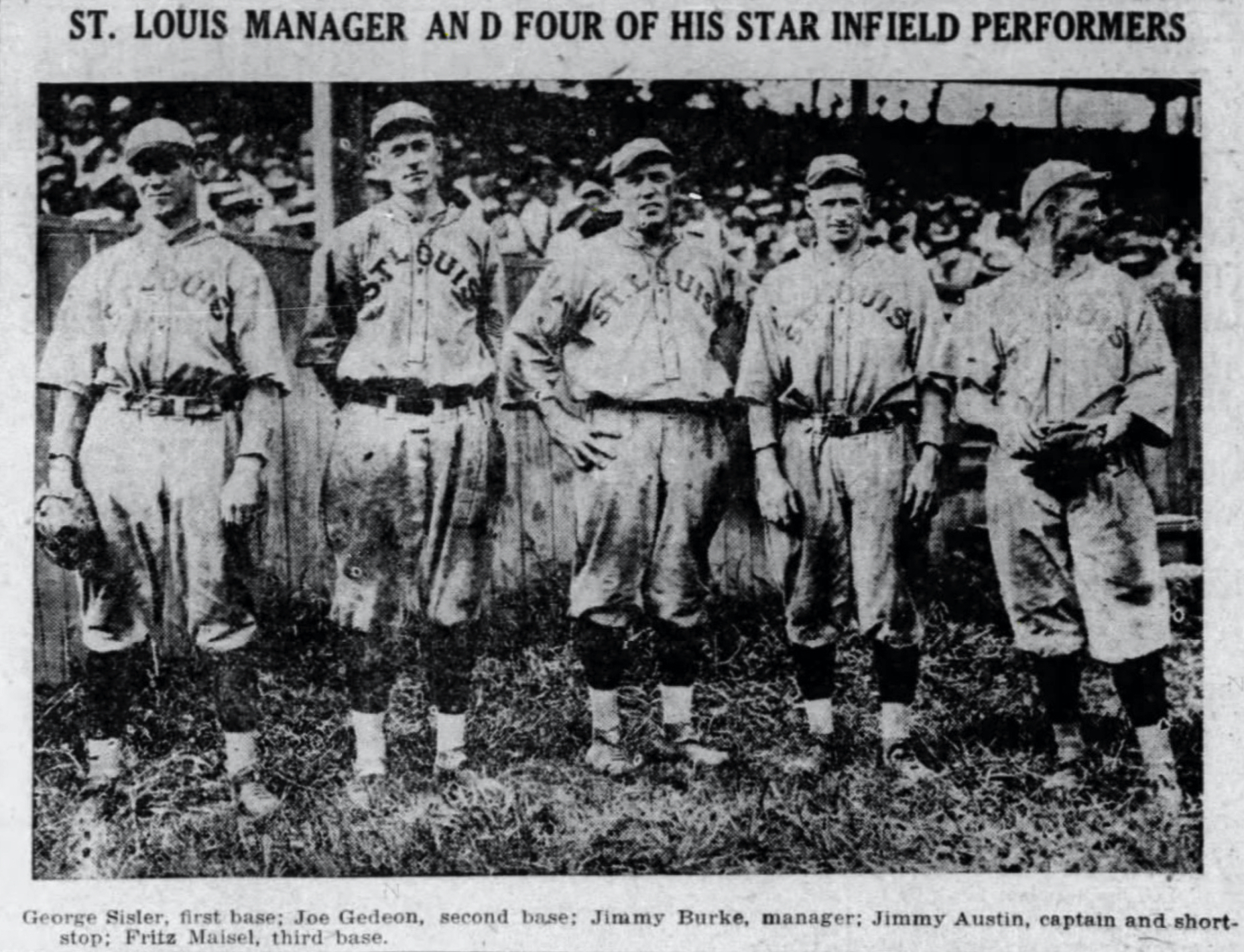 The benefit game drew more than 6,000 fans who filled the grandstand and lined the perimeter of Hartford's Wethersfield Avenue Grounds. Ty Cobb wore a Cornell College baseball uniform because the team's luggage was accidentally left at Union Station. Cobb's play on the field was described as resplendent. He cracked two hits and made a one-handed catch in center field to save two runs. George Sisler had a ground rule double to left field and led his team in putouts. By the end of nine innings, Sisler and the Browns beat Cobb and the Tigers, 3 runs to 1.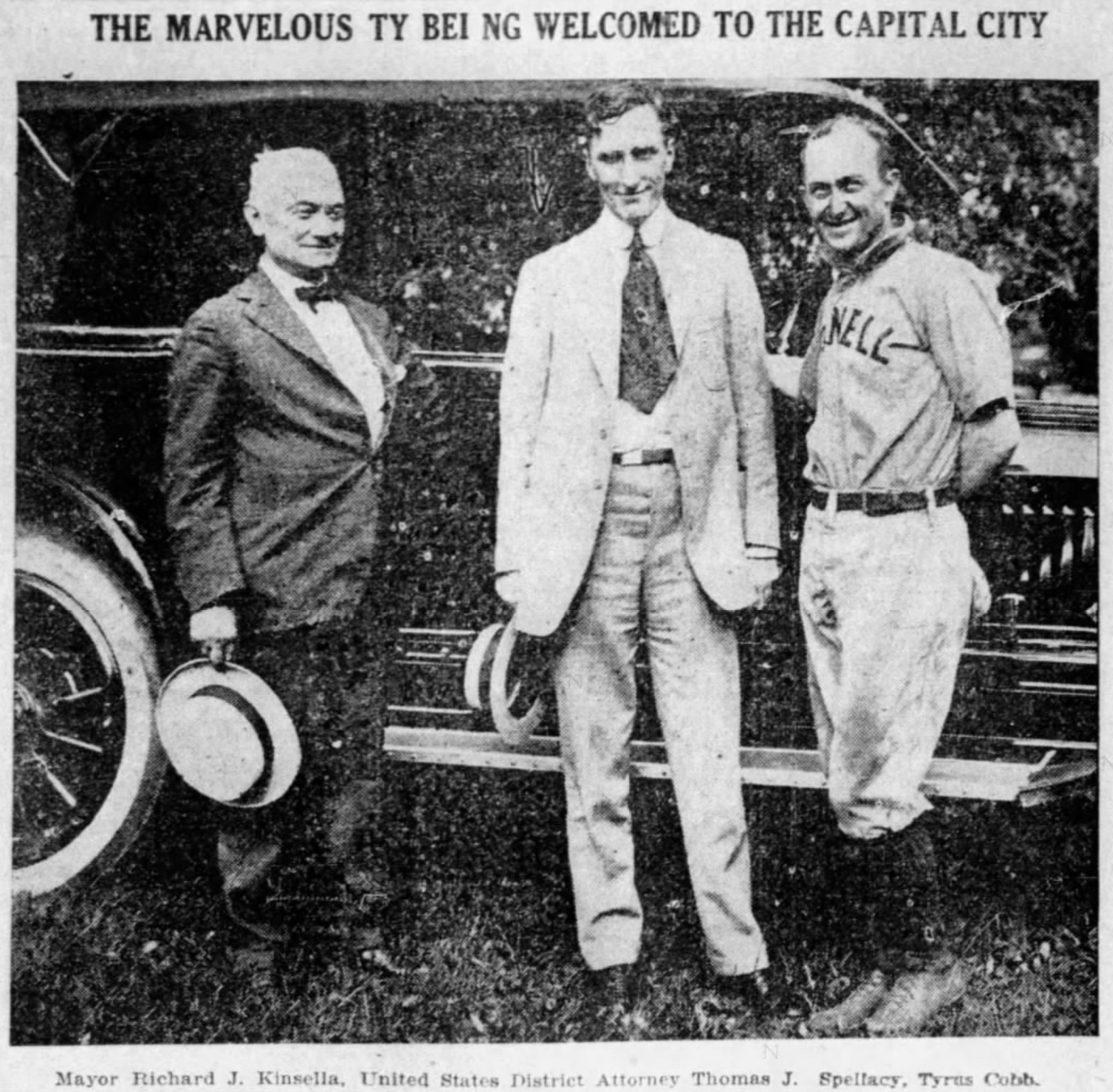 In October of 1918, Cobb was drafted and assigned to the Army's Chemical Warfare Services division. He simultaneously announced his retirement from baseball even though Cobb continued to play in benefit games. Before shipping out to France for 67 days, he made his final visit to Hartford on October 5, 1918. He returned as a member of the New Haven Colonials to play for the "semi-pro state championship" against Hartford's top company team from Pratt & Whitney. Before the game, Cobb gave a speech in front of Hartford's Liberty Loan Cottage encouraging people to buy war bonds. Pratt & Whitney ended up winning the contest 5 to 3 in windy weather over Cobb and the Colonials.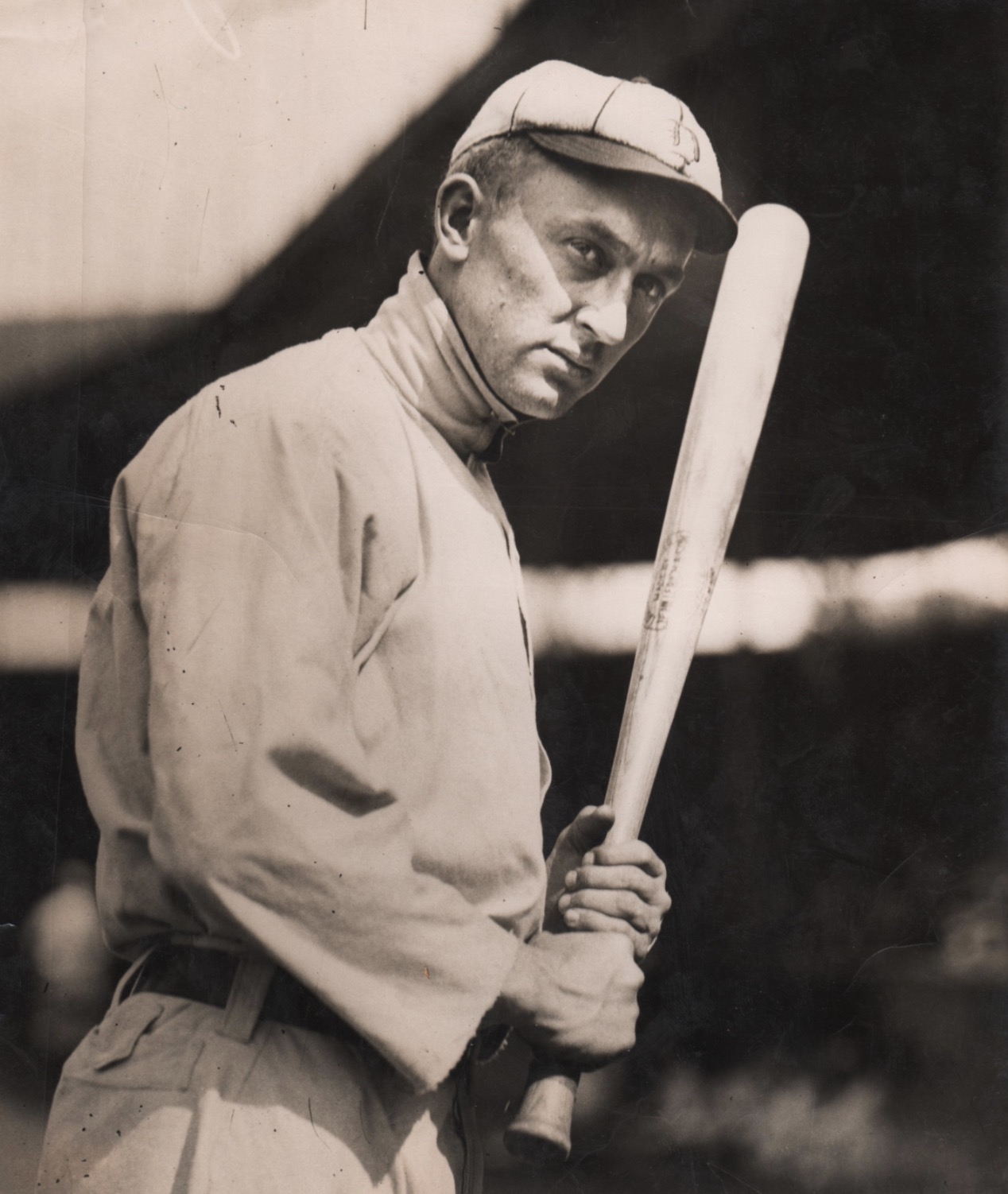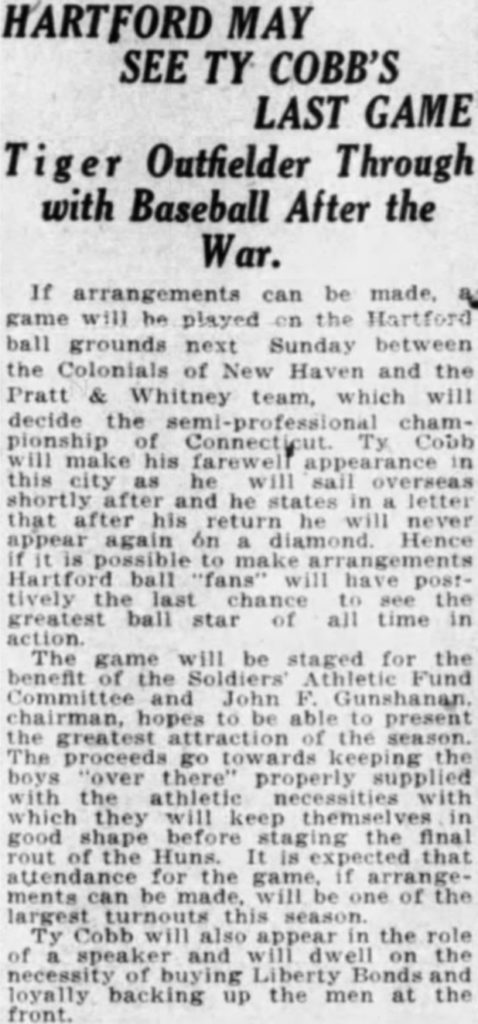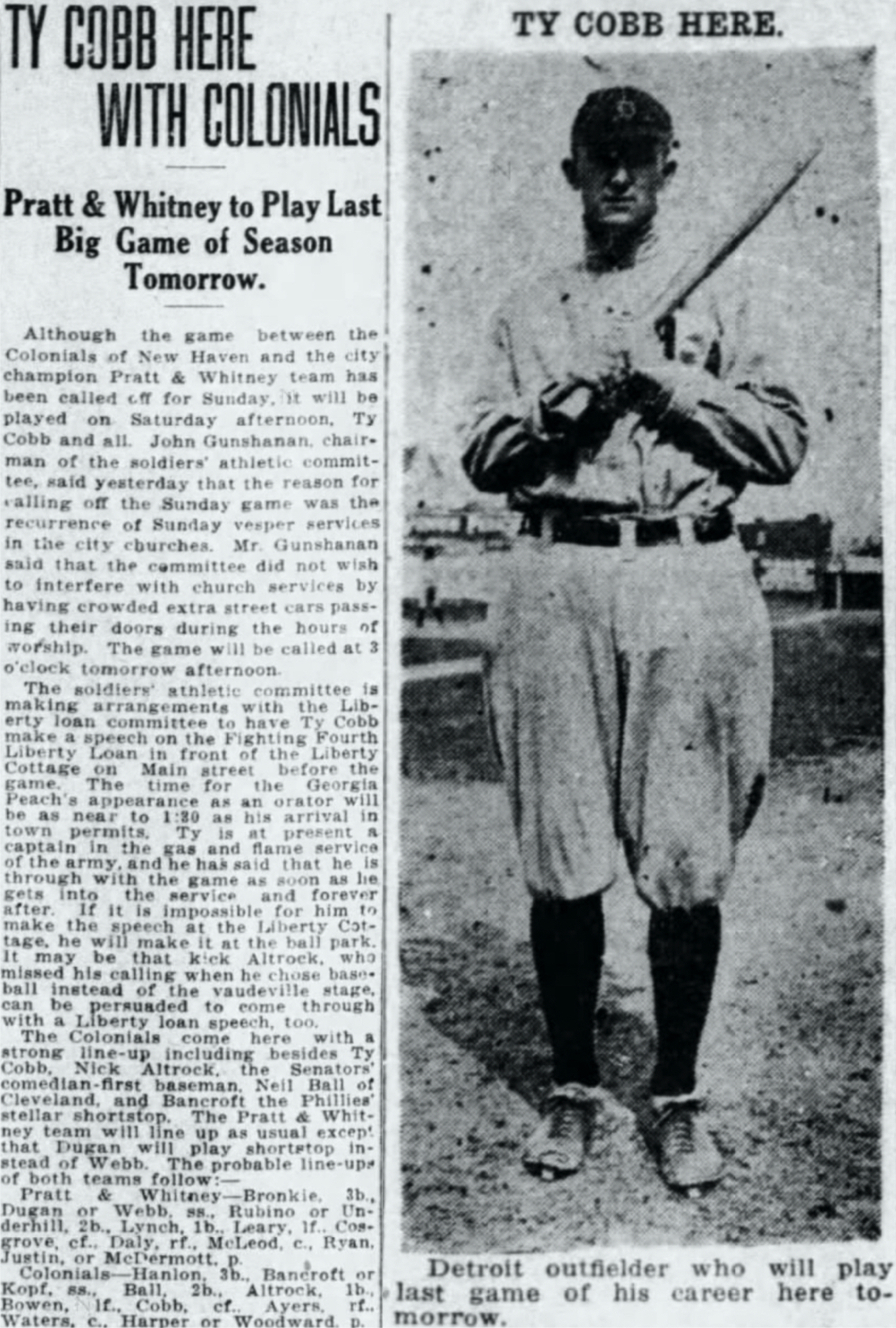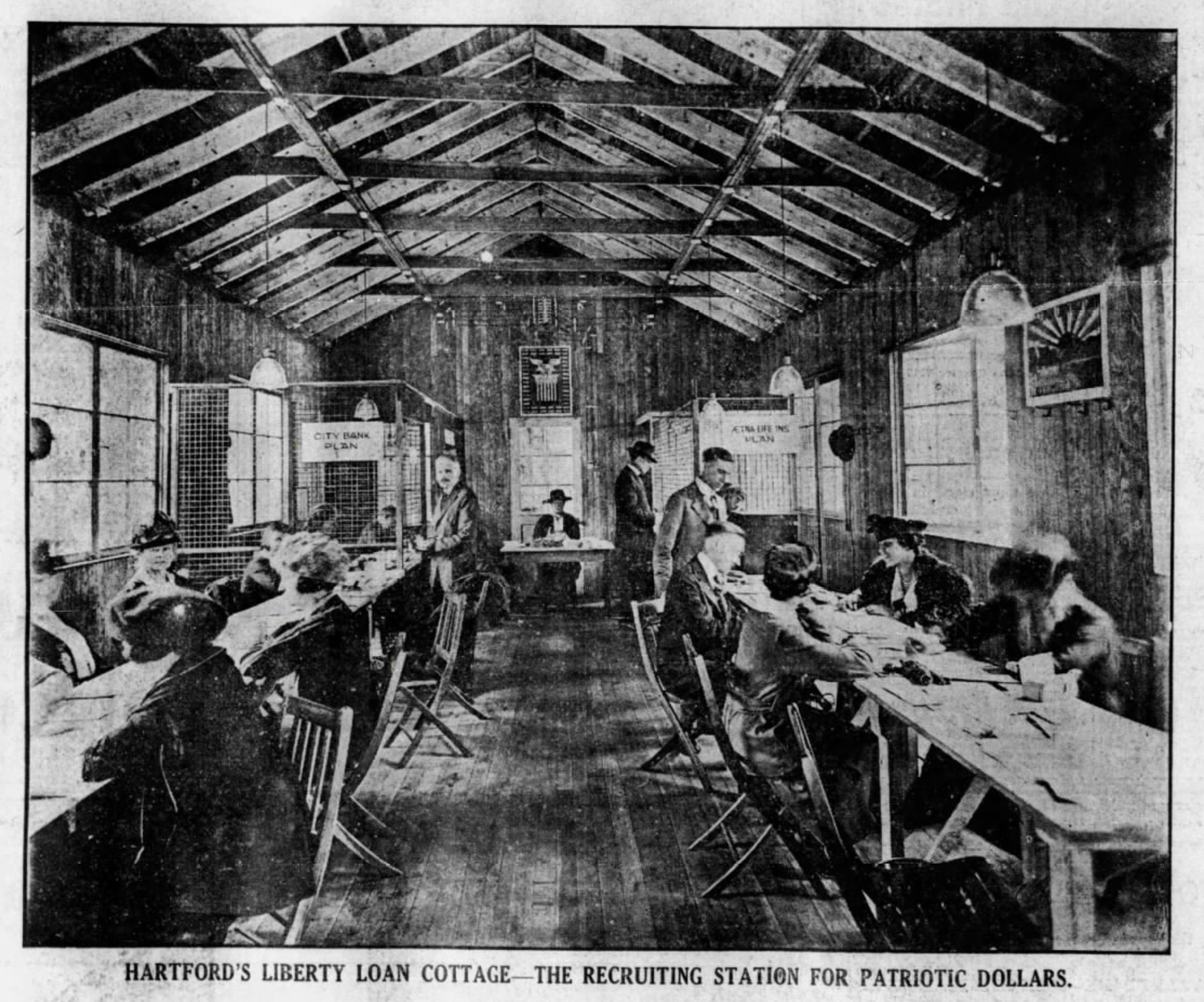 Ty Cobb's second and third game in Hartford raised over $3,000 for the Bat and Ball Fund headed up by Clark Griffith, Manager of the Washington Senators. The fund supplied active United States soldiers of World War I with baseball uniforms and equipment. Hartford Soldiers Athletic Committee Chair and former professional ballplayer, John F. Gunshanan corresponded with Griffith to organize the Tigers versus Browns matchup. As the end of the war neared, the baseball goods were gifted to American soldiers in France and Italy. When Armistice Day arrived, people flooded Main Street for the greatest parade the city ever saw. As for the veteran Cobb, he returned home from military service wouldn't officially retire until 10 years later as a member of Connie Mack's Philadelphia Athletics.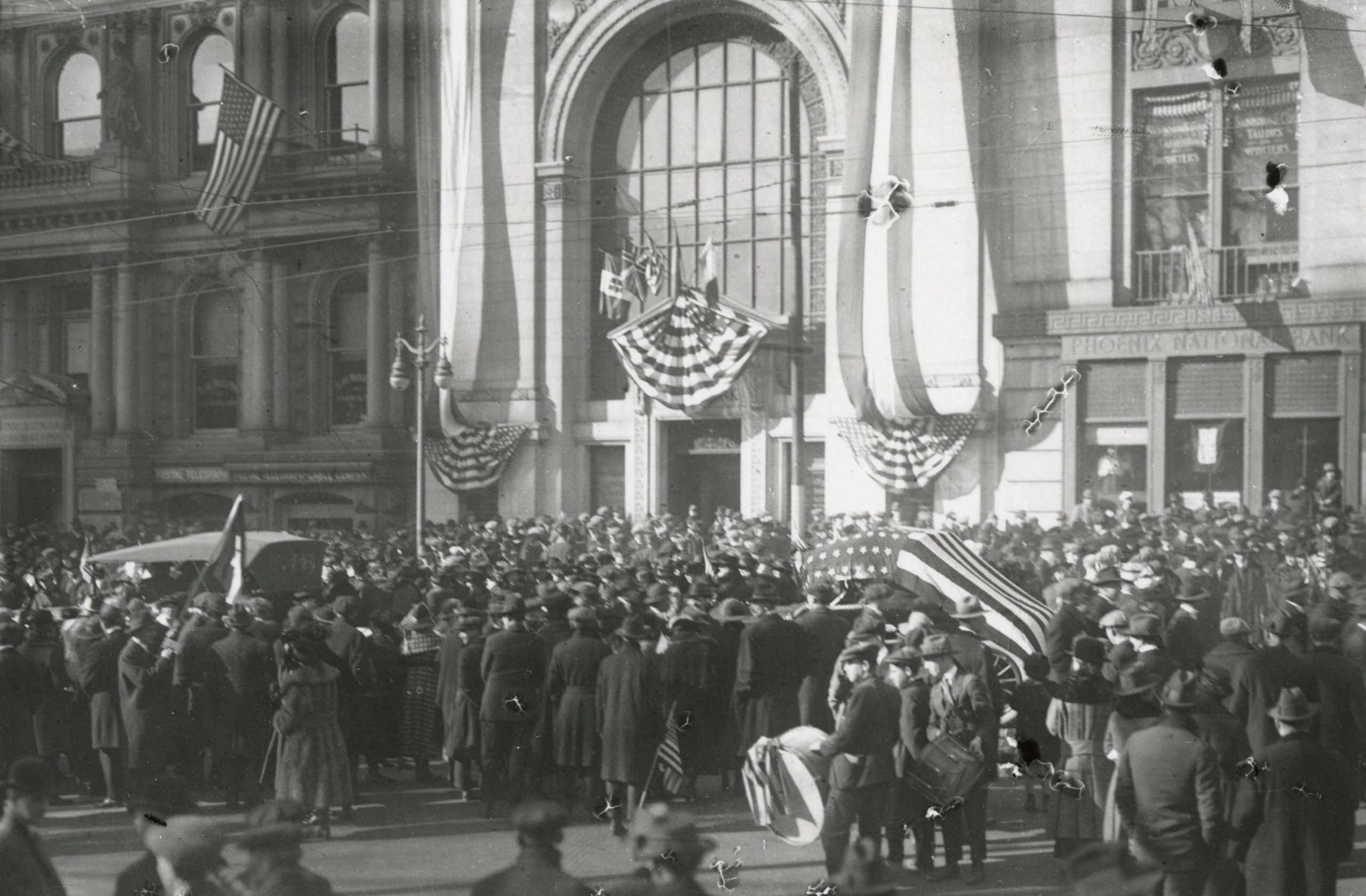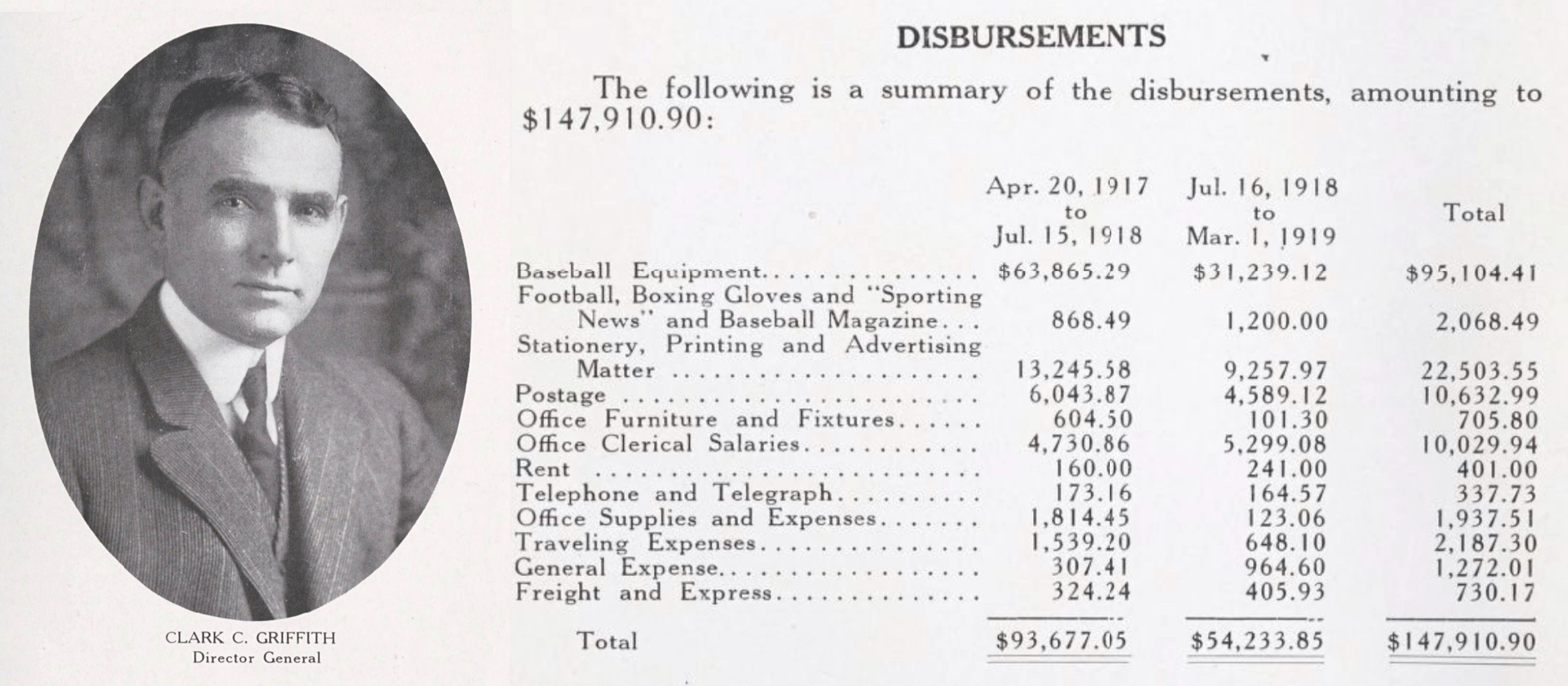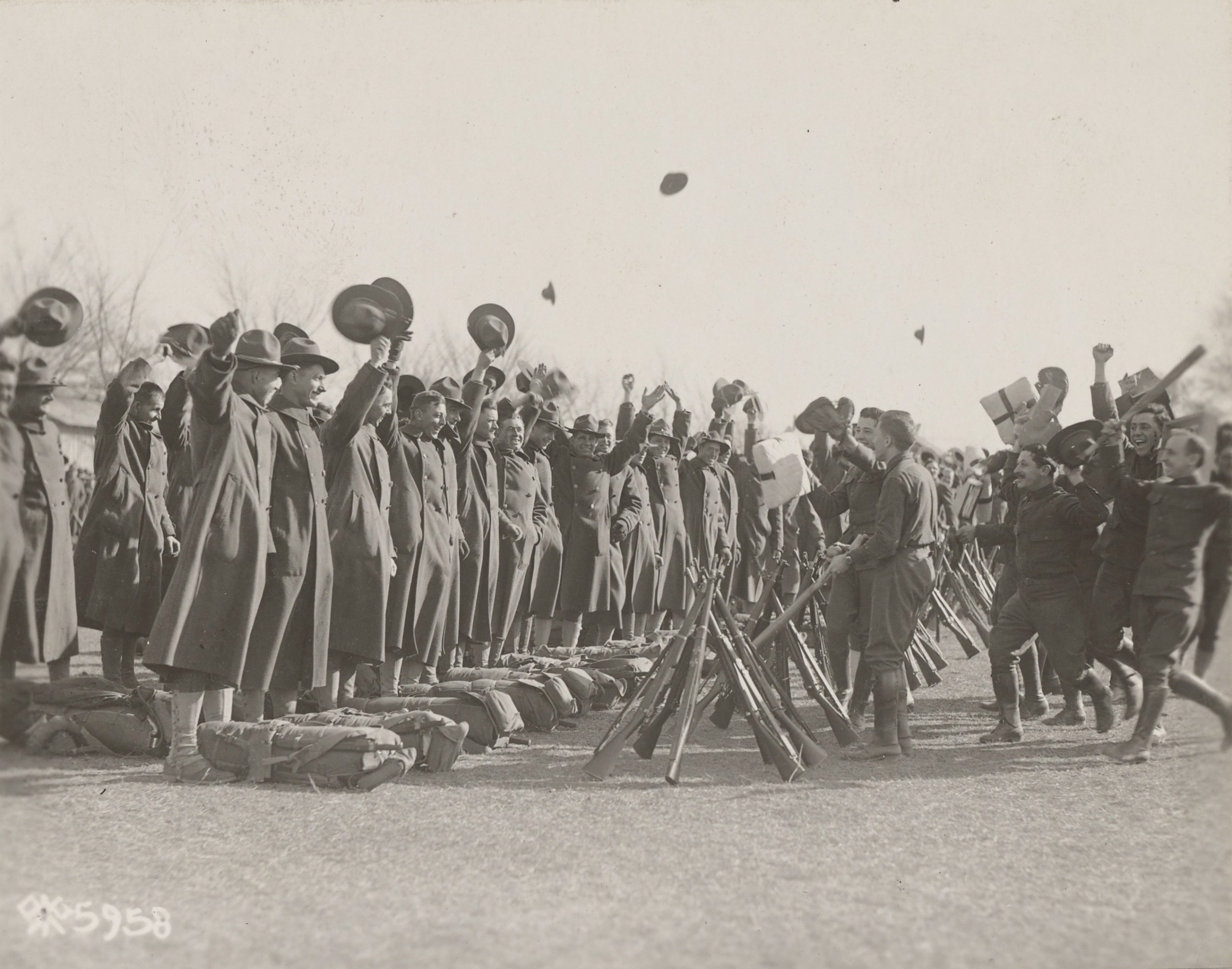 After 22 Major League seasons, Ty Cobb set 90 statistical records. These included highest career batting average (.367) and most career batting titles with 12. He held many of these records for almost a half century or more, including most career hits (4,191) until 1985 most career runs (2,246) until 2001, most career games played (3,035), at bats (11,434) until 1974 and the modern record for most career stolen bases (892) until 1977. Not surprisingly, Cobb has retained the career record for stealing home (54 times) and for stealing second base, third base, and home in succession (5 times). He ranks fifth all-time in games played and first in errors committed by an American League outfielder with 271. In 1936, Cobb received the most votes of any player on the inaugural Baseball Hall of Fame ballot with 222 out of 226 votes.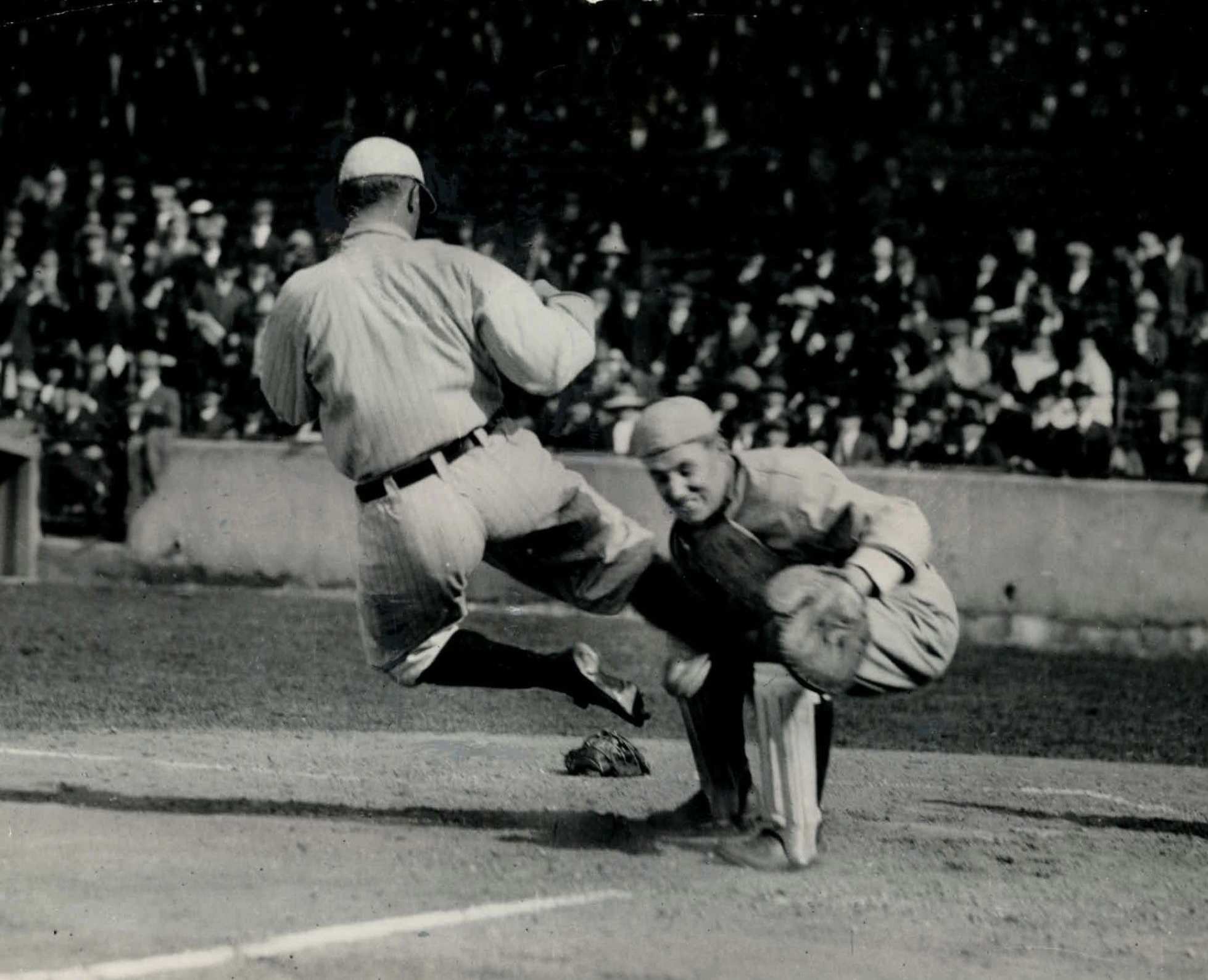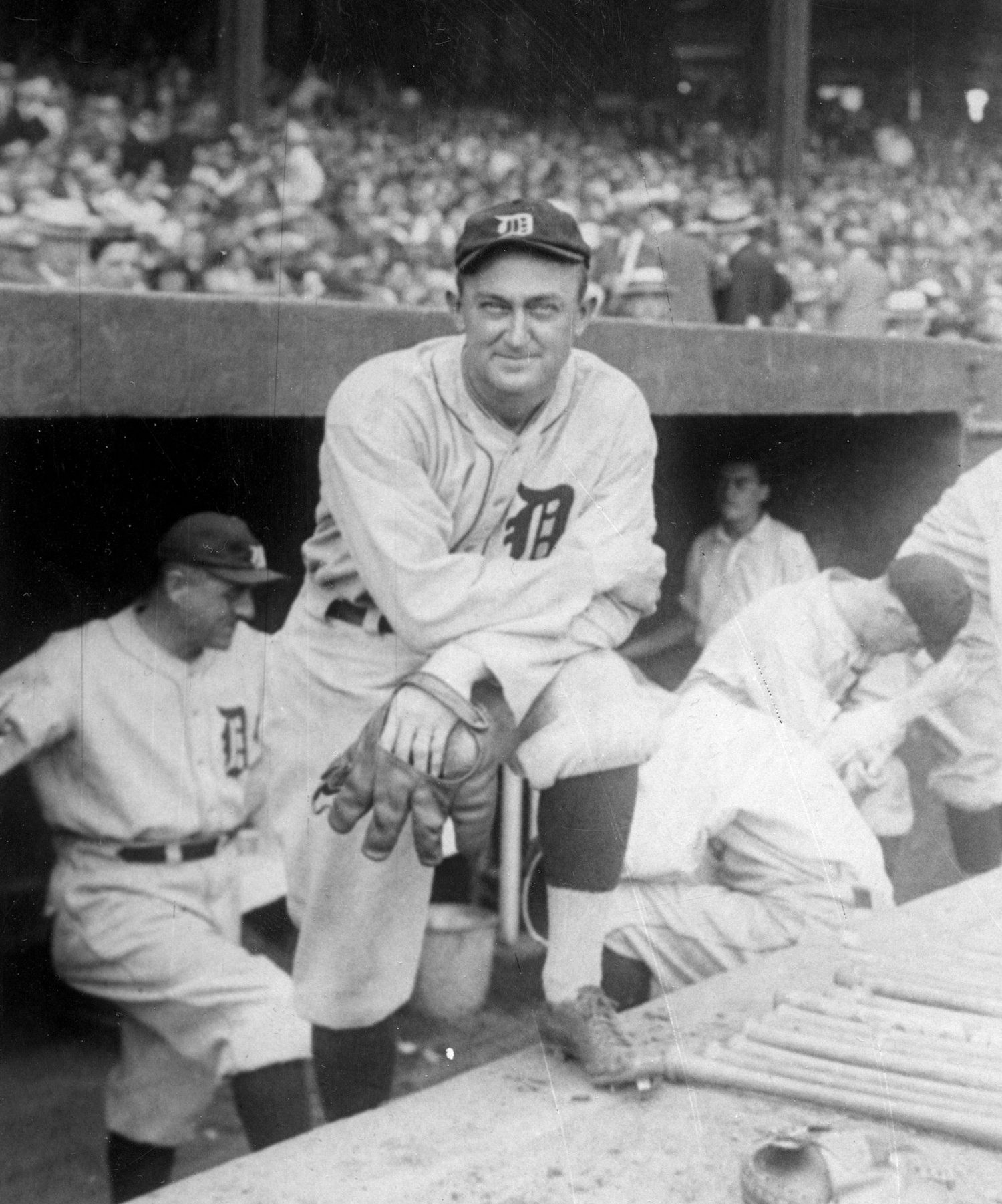 Sources:
Hartford Courant on Newspapers.com
Learn more about Cobb from Charles Leerhsen's
"Ty Cobb's Character: What We Know That's Wrong" on YouTube: