When Hartford was known as the Queen City of New England, the kingpin of its sports scene was Harry N. Anderson. He was a promoter of athletics and a member of the United States Olympic Committee. Anderson established dozens of baseball leagues including the Hartford Twilight League in 1929. Most notably, he arranged the first amateur game played on foreign soil, a feat that landed his Hartford-based team in the National Baseball Hall of Fame.
Born on February 5, 1885, Harry Anderson was the son of Danish immigrants. His father, Jeef H. "Dave" Anderson was an engineer at Underwood Typewriter. His mother, Mary C. Smedgaard died at 27, before young Harry's first birthday. He came of age in the working class neighborhood of Frog Hollow where baseball was immensely popular. In 1899, Anderson earned his high school degree from the Brown School on Market Street in Hartford.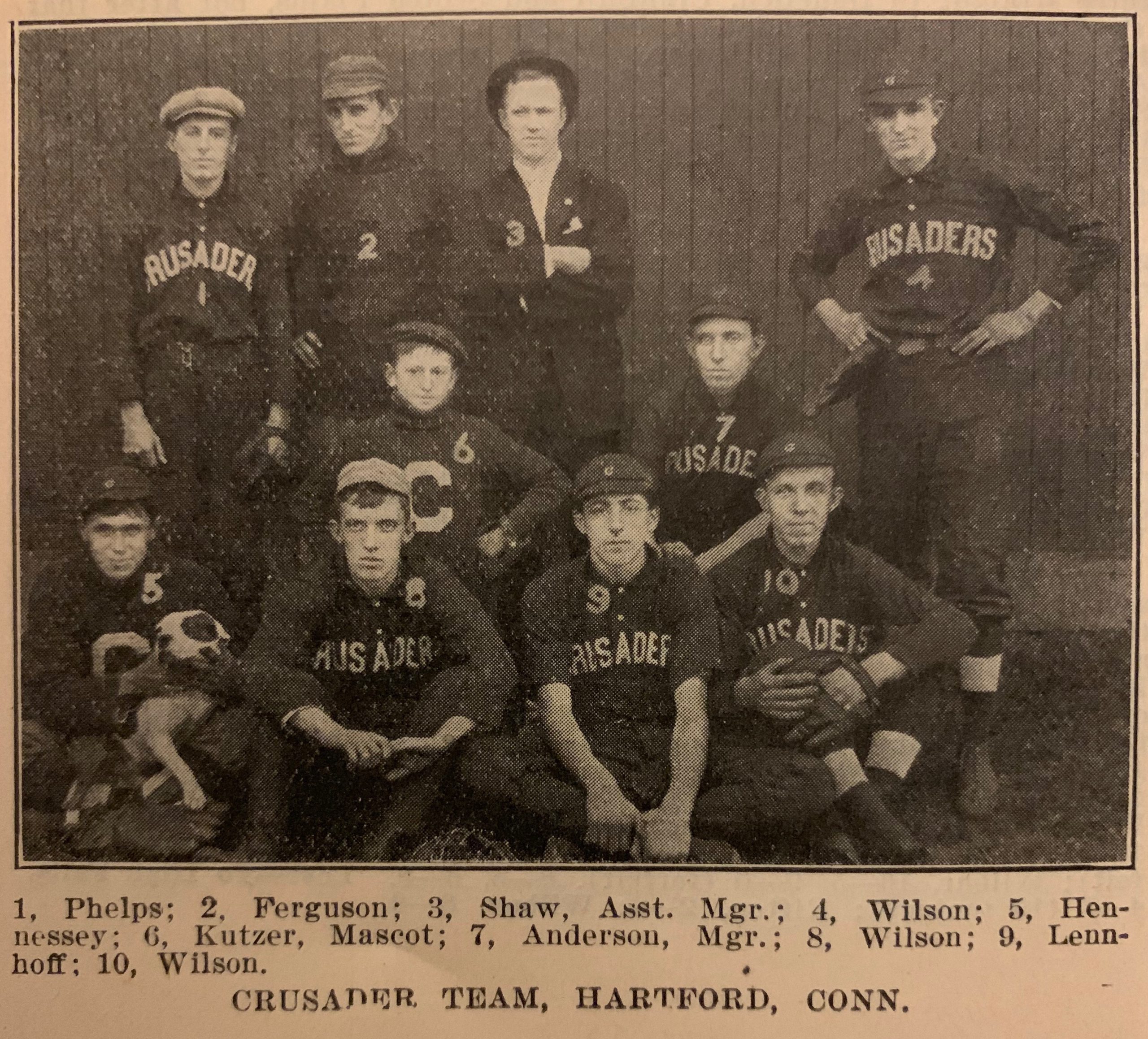 Anderson organized his first baseball league, Hartford's Church League, in the summer of 1904. Teams came from Church of the Good Shepherd, Trinity Church, St. John's Episcopal and Christ Church. He was Church League president and player-manager of the Christ Church Crusaders. The league hosted annual awards banquet at Caldwell Hart Colt Memorial Parish House, frequently attended by Mayor William F. Henney and Gustave Fischer, organizer of the Factory League. Fischer owned a department store in Hartford, where Anderson gained employment selling sporting goods.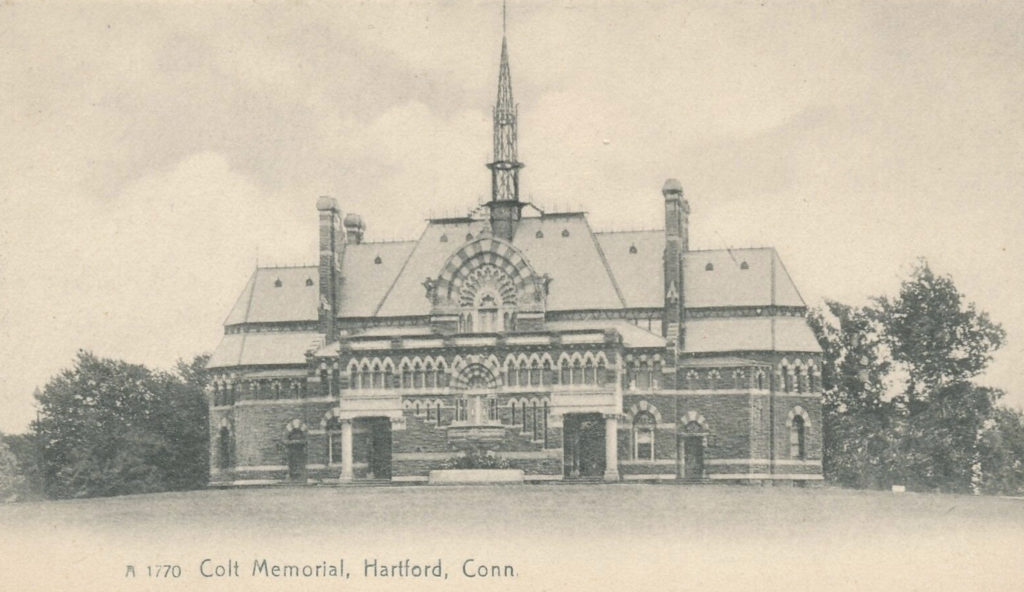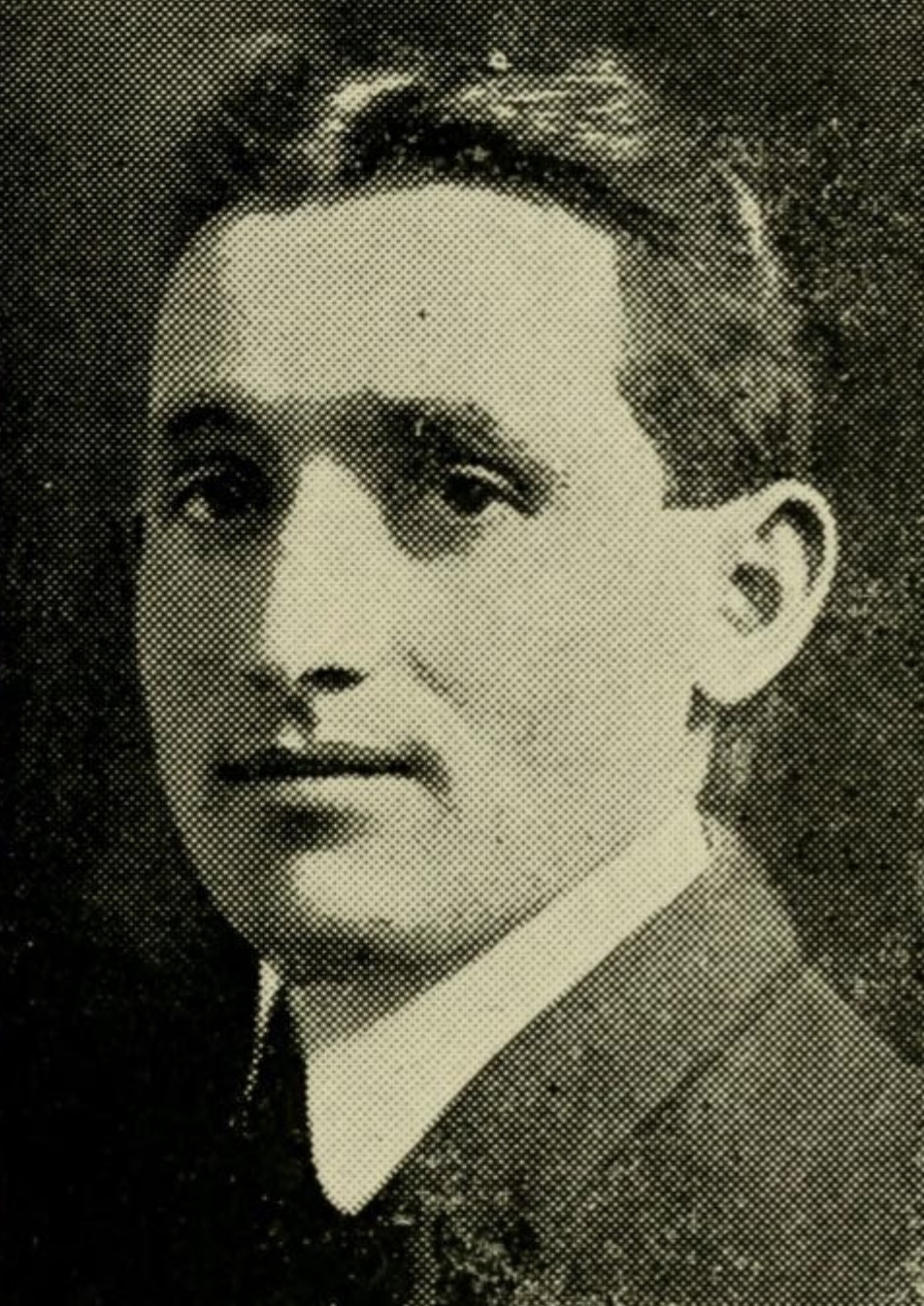 While in charge of the Church League, Anderson began a new entity called the Fraternal Baseball League in 1907. The loop had eight entries: YMCA, Masons, Elks, Moose, Red Men, Royal Arcanum, Knights of Columbus, Oddfellows and Pythias. Anderson was league president and part-time umpire. Games were played at the baseball field at Trinity College and on the newly established skin diamonds at Colt Park. When summer ended, he coordinated the Fraternal Bowling League made up of the same benevolent organizations.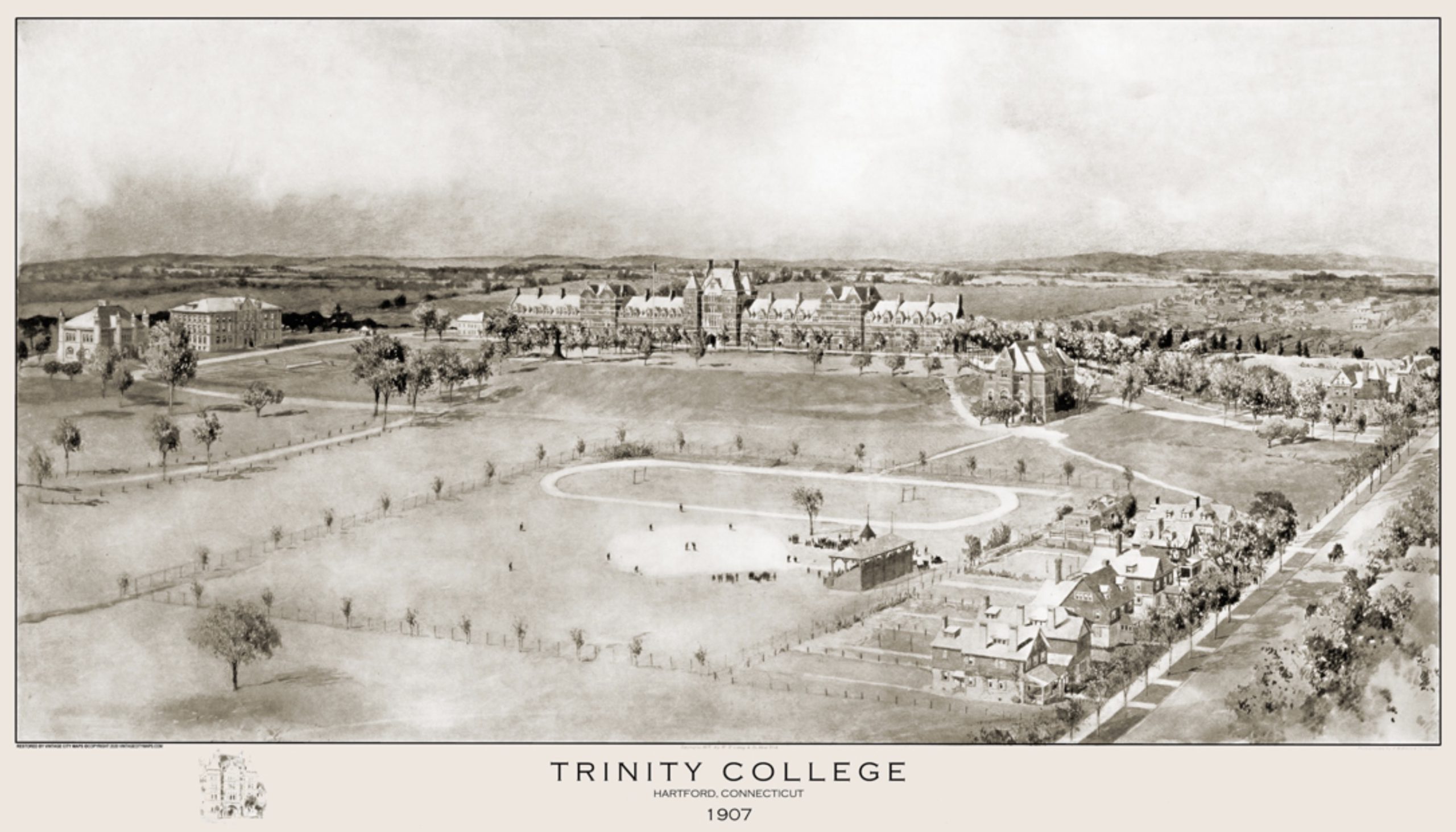 Harry Anderson was a man of many talents, personal connections and fraternal organizations. He obtained memberships with the Freemasons, the International Order of Odd Fellows and the Modern Woodman. Anderson was a charter member of Hartford's Young Men's Christian Association (YMCA) and president of the Laymen's Association at Christ Church. He often directed and starred in musical performances in Hartford and East Hartford. Anderson gave singing performances and could play the cornet. In 1909, he was nominated for City Council of Hartford's Ninth Ward by Republican electors, but he declined the nomination.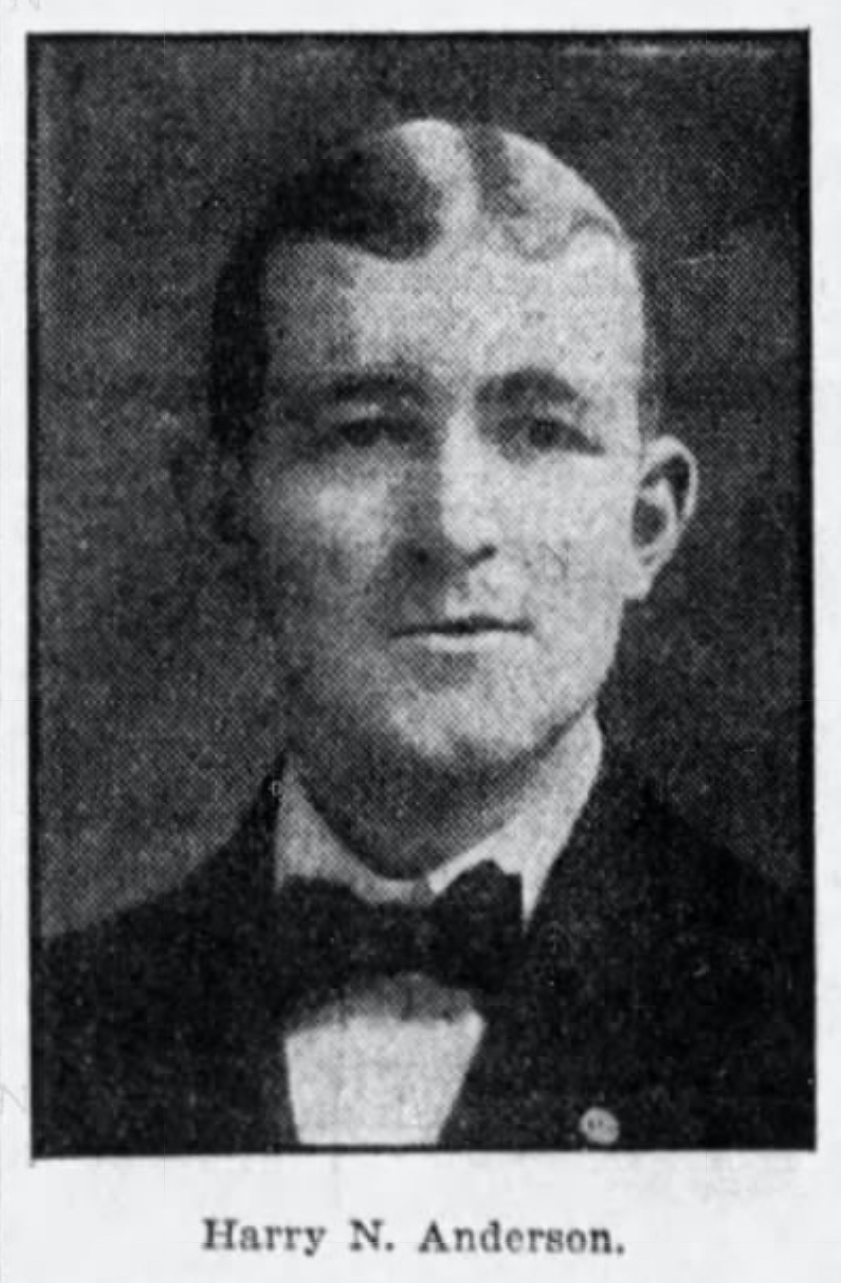 Instead, Anderson dutifully joined the City Guard and the Governor's Foot Guard. At a meeting at the State Armory In 1909, he formed Hartford's Military Baseball League. Delegates from the First Infantry, Second Division, Naval Militia and Connecticut National Guard were in attendance. Lieutenant R. J. Goodman was elected league president and Romie B. Kuehns was made secretary. The Military Baseball League played every Saturday at Colt Park. Company H won the pennant and later accepted a championship trophy in a ceremony at the State Armory.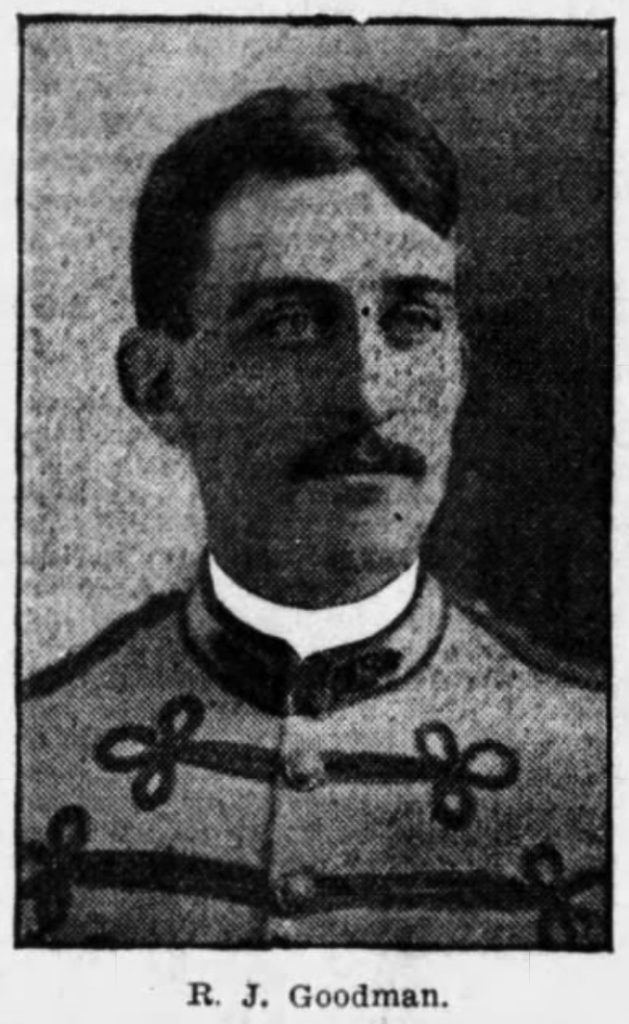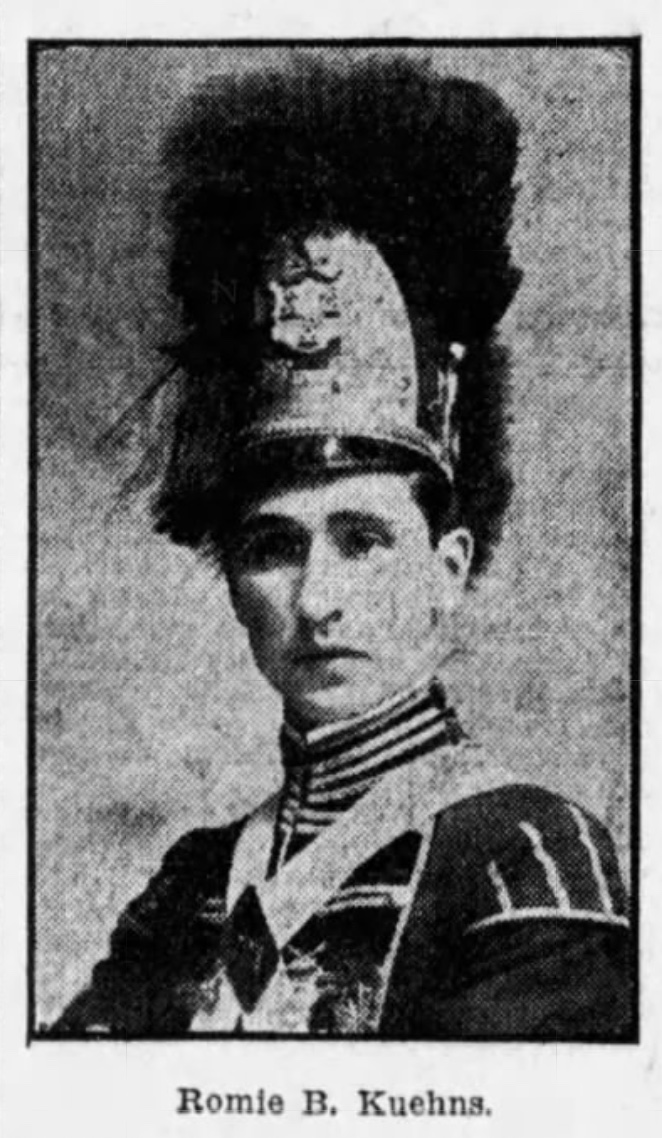 Anderson was a constant in Hartford's Republican Party for more than forty years. In 1910, he was master of ceremonies for Charles A. Goodwin's gubernatorial campaign. However, Anderson spent more time pursuing athletics over politics. That same year, a local pitcher named Mike Sherman wrote an open letter in the Hartford Courant demanding a league to determine a city champion amongst the amateurs. Subsequently, the City Amateur Baseball League took shape. John Gunshanan, a former minor leaguer, was appointed president. Anderson was vice president. Hartford's top players competed for the first City Amateur League title in 1911.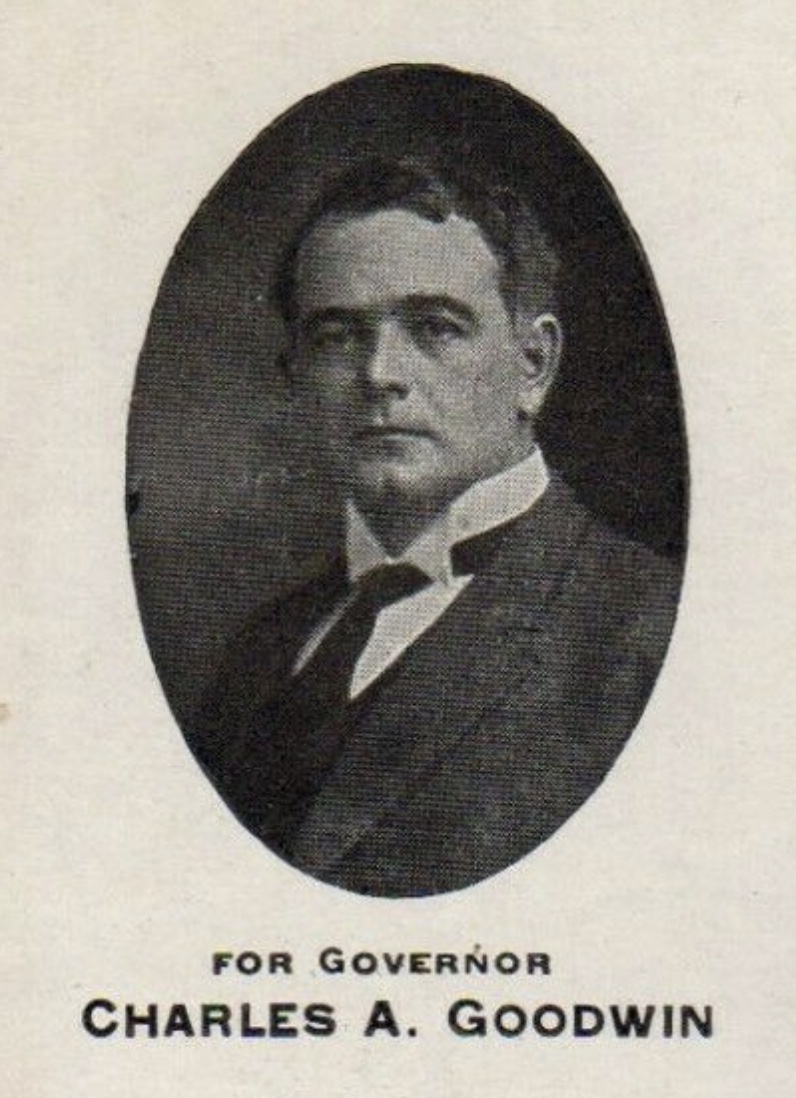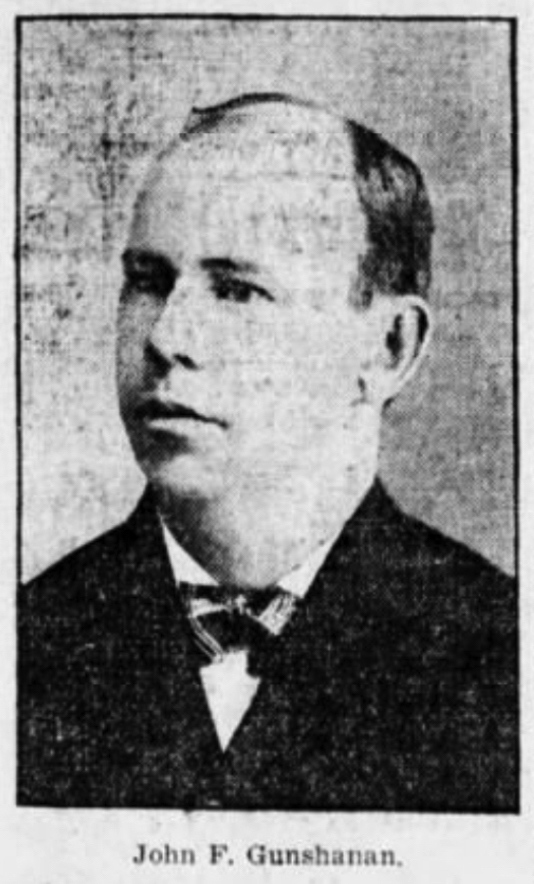 On July 4, 1911, thousands of Hartford residents celebrated Independence Day by flocking to Colt Park and Pope Park for City Amateur League games. At season's end, Anderson planned a grand banquet at Hotel Vendome, featuring dignitaries like Mayor Edward L. Smith. The Hartford mayor reported that 1,431 permits were issued for baseball games in the city parks and that 100,000 people attended the games. Senators Edward W. Hooker presented Manager O'Connor of the Laurels with the City Amateur League trophy. Congressman Tom Reilly, owner of the Hartford Senators, James H. Clarkin and major leaguer "Big Ed" Walsh were expected but were unable to attend.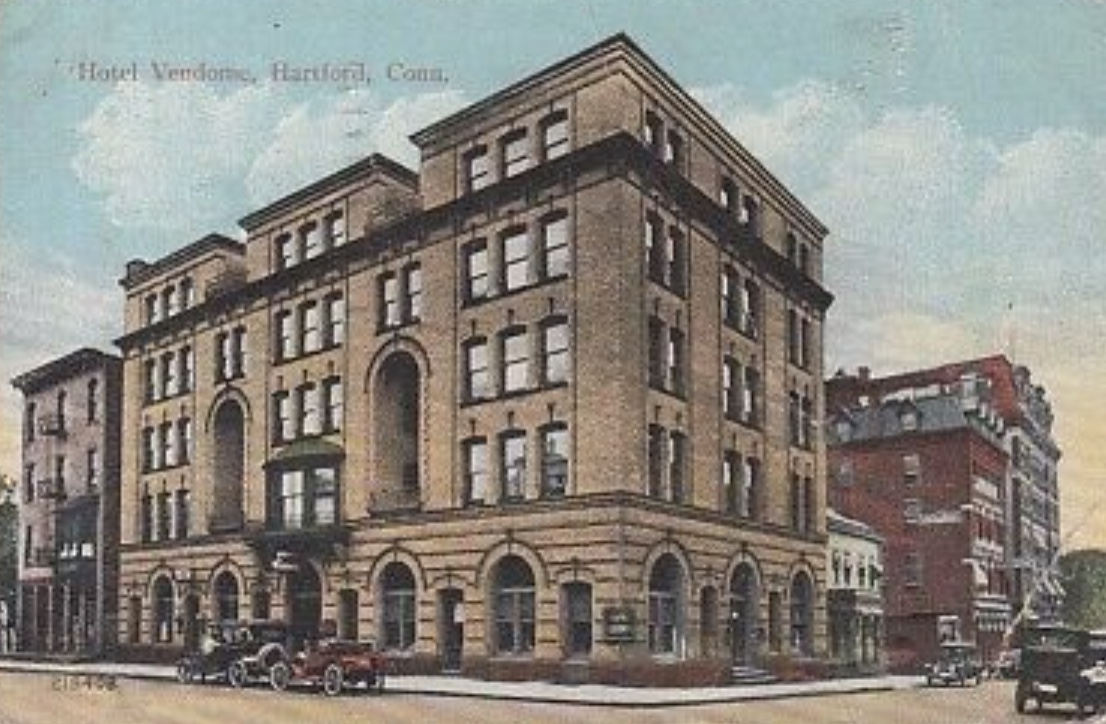 Early in 1912, Anderson was busy as president of the Hartford Amateur Basketball League and the Fraternal Bowling League. Then, to the surprise of many, he chartered a trip for Bermuda to promote tourism and amateur baseball. He first traveled alone via the Steam Ship Oceana from New York City to Bermuda's capital of Hamilton. When he arrived, Anderson sent postcards to his sponsors: Gustave Fischer and a travel agent named H. R. Gridley. Anderson hatched plans for a series between Bermudans and an all-star team from Hartford.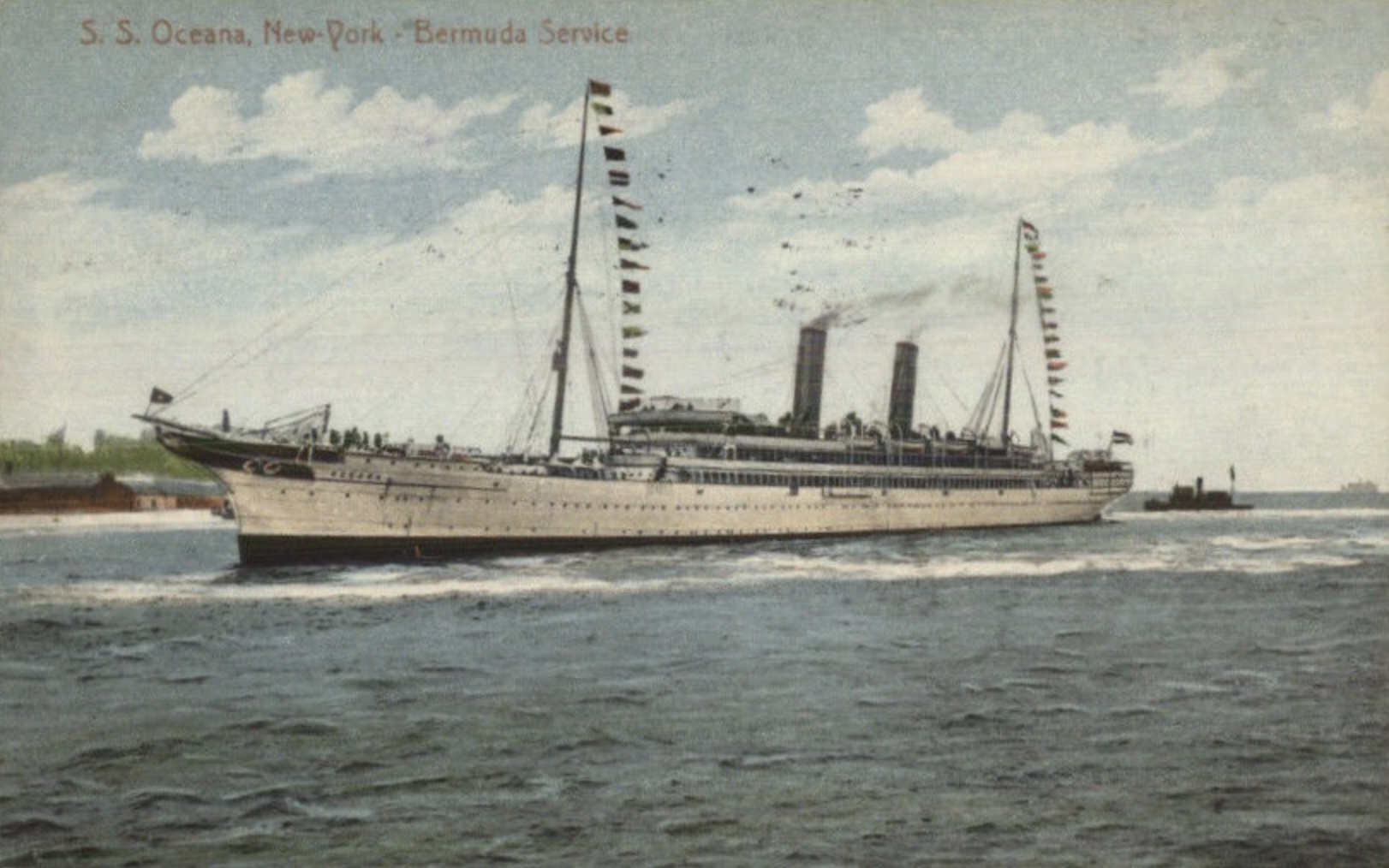 When a reporter learned of the Bermuda excursion, he quipped that Anderson had probably organized an island police force because, "He regards as lost each week that he does not organize something." Anderson came back to Hartford and described Bermuda as having a fine venue for baseball. According to his boss Gustave Fischer, Anderson was the most popular man in the city because his telephone was inundated by players seeking a trip to Bermuda. Anderson and manager Luke J. Crowe recruited Hartford's best available amateurs to what was called the All-City League team. In the wintry weeks before their departure, the players conditioned and stretched their limbs at the State Armory.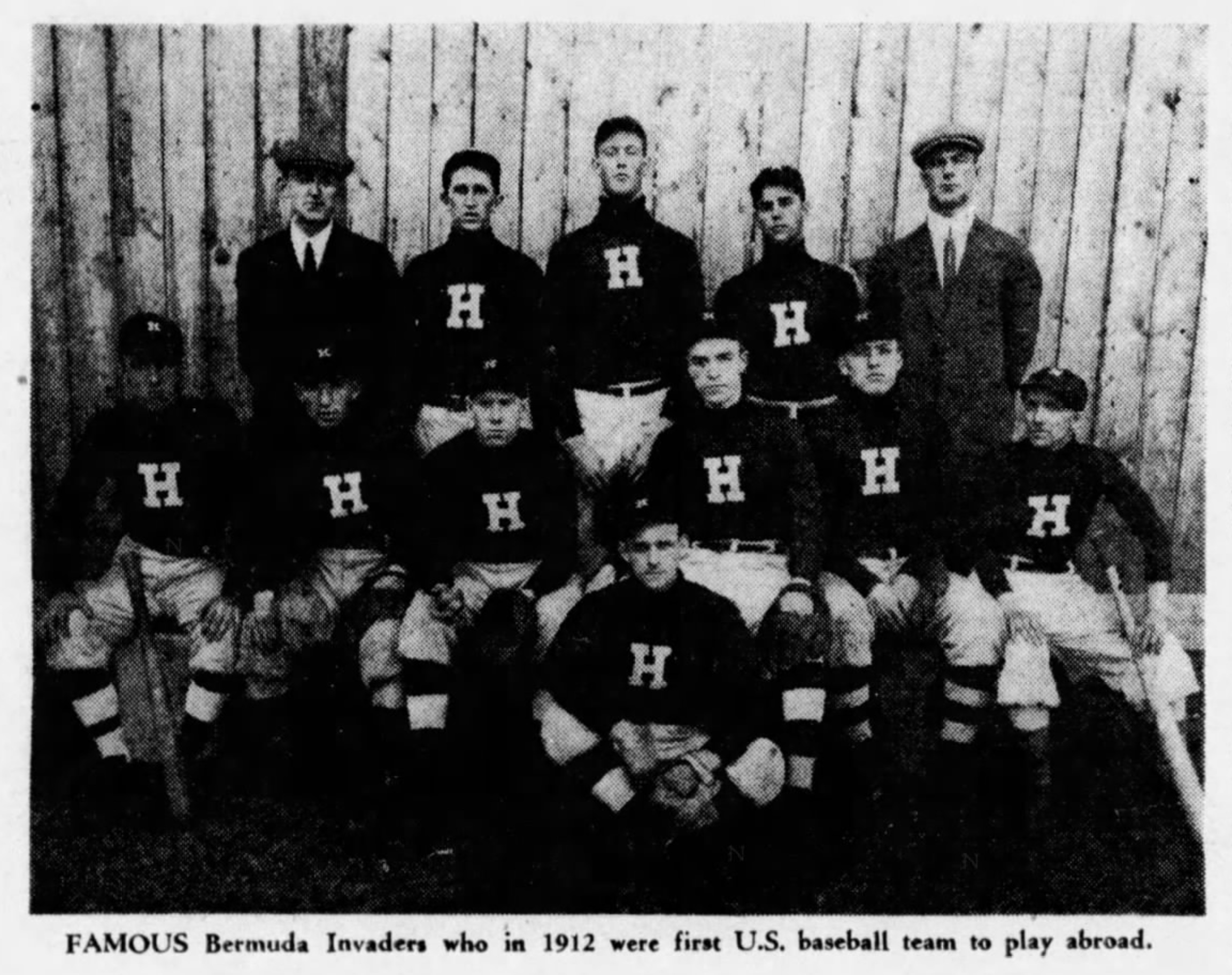 On a snowy morning, Anderson and a group of twelve young men left Hartford's Union Station en route for New York. Workers at Royal Typewriter waved and shouted goodbye from their factory windows. The team boarded the S. S. Oceana for a 48-hour voyage to Bermuda on March 8, 1912. To entertain players and passengers, Anderson orchestrated musical performances on the ship. When they reached the island, the Hartford men checked into the Imperial Hotel and strolled to the Hamilton Grounds—a cricket pitch that would double as a baseball field.
Hartford's All City League team opposed a club comprised of native Bermudans, hotel staff and ex-professionals of the International League. The initial matchup of the series became the first baseball game played by American amateurs outside of the United States. Hartford lost four of seven games to the Bermudans, but the team returned home as celebrities. Anderson's all-star team became known as the "Bermuda Invaders" and their expedition encouraged the New York Yankees to host spring training there the following year.
A well-traveled Harry Anderson reorganized the City Amateur League in 1912. At a meeting at the Workingmen's Club Rooms on Affleck Street, the loop was split into two divisions; senior and junior. Eight clubs vied for the title including the Imperials who had several players from the Bermuda Invaders. Mayor Louis R. Cheney was appointed president and Anderson was vice president. Anderson was made marshal of the league's Opening Day parade wherein fans cheered on managers, players and umpires who rode in automobiles to the field at Trinity College.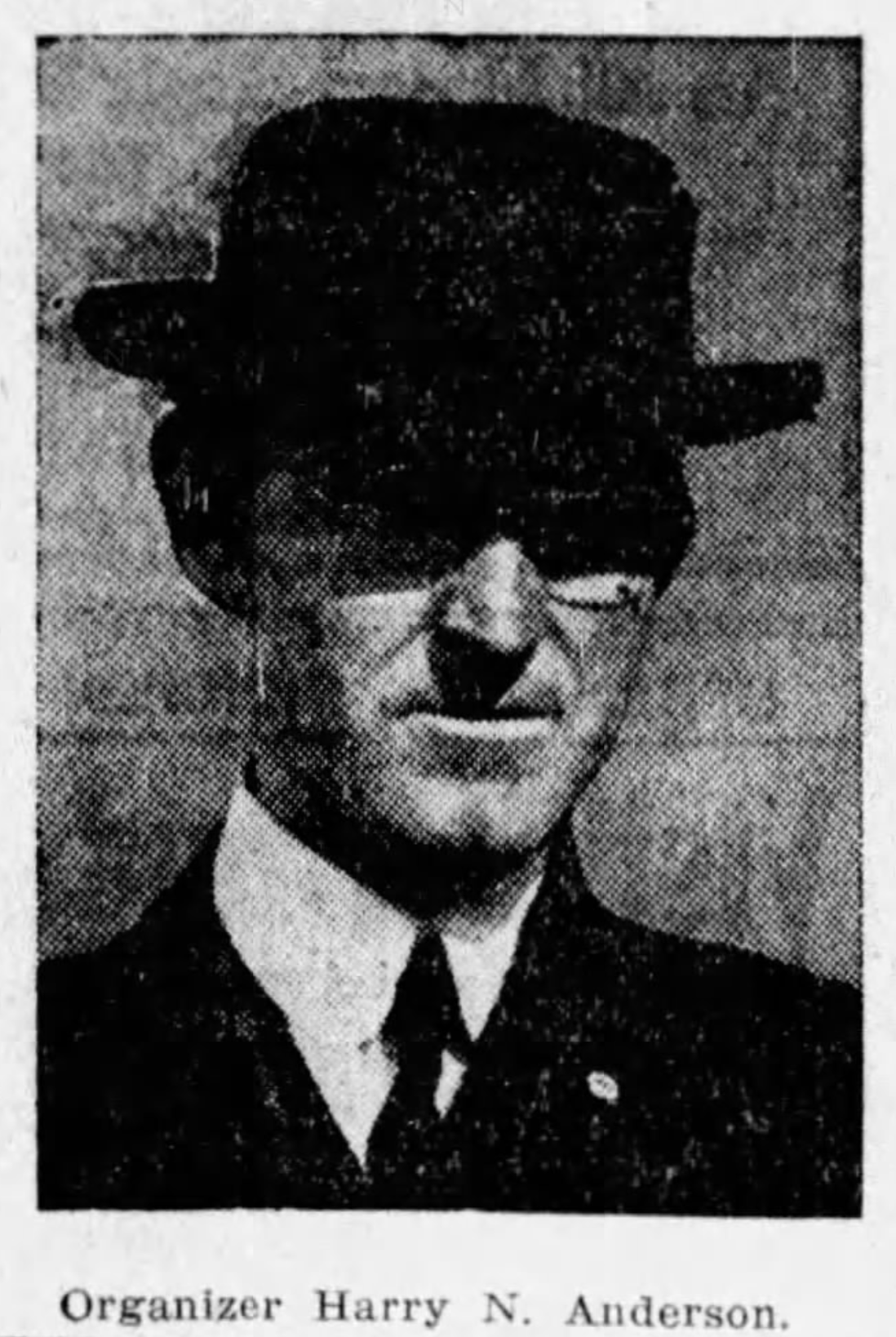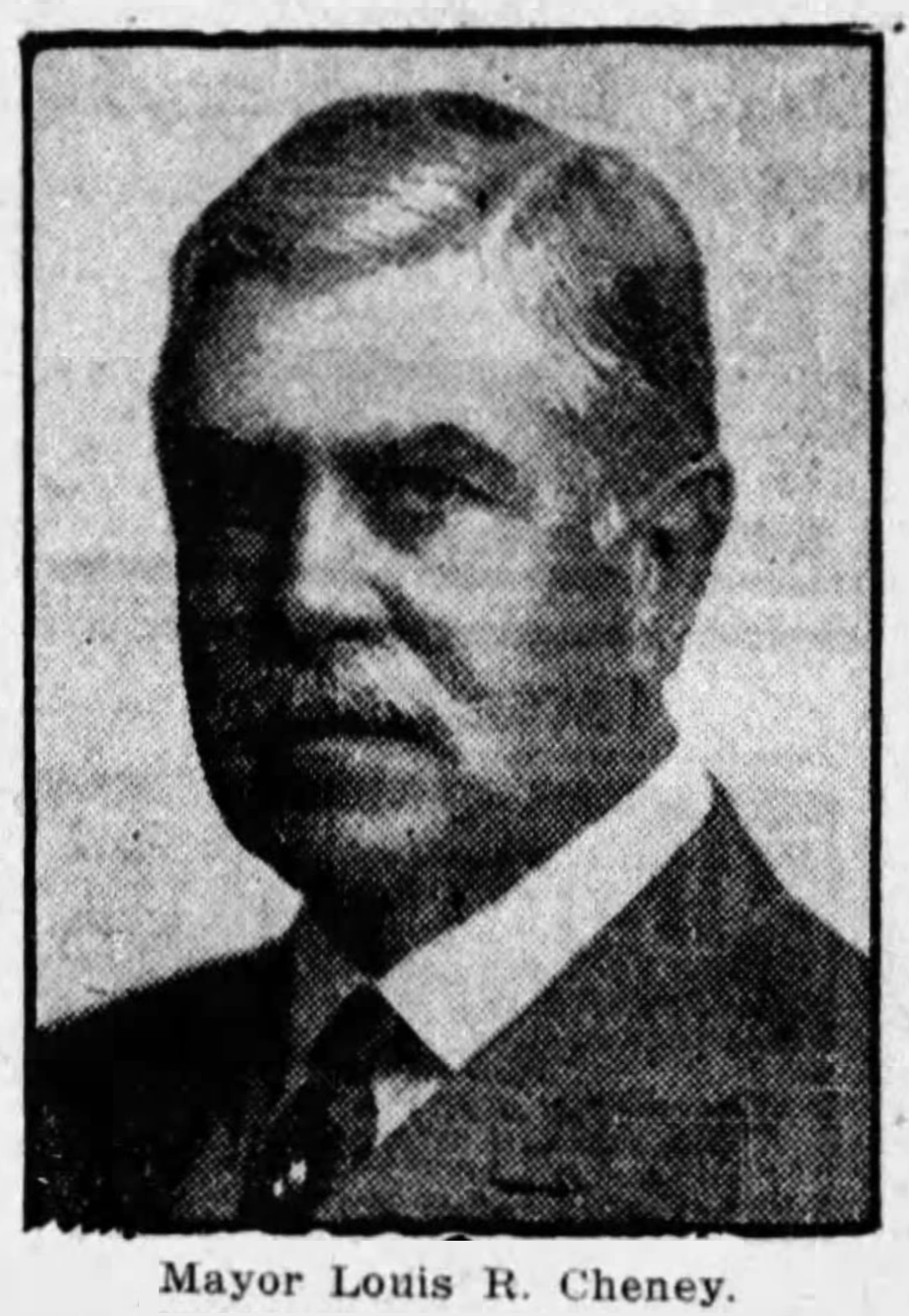 Before throwing out the ceremonial first pitch, Mayor Cheney bestowed upon Anderson a set of resolutions commending his successful journey to Bermuda. By the end of the City Amateur League season, the Imperials seized first place in the Senior division, while the Campfields won the Junior division. A league-wide banquet at Harry Bond's Cafe featured music by Bond's Orchestra, introductory remarks by Anderson and a toast from State Senator Edward W. Hooker. The following year, Anderson installed Senator Hooker as honorary league president.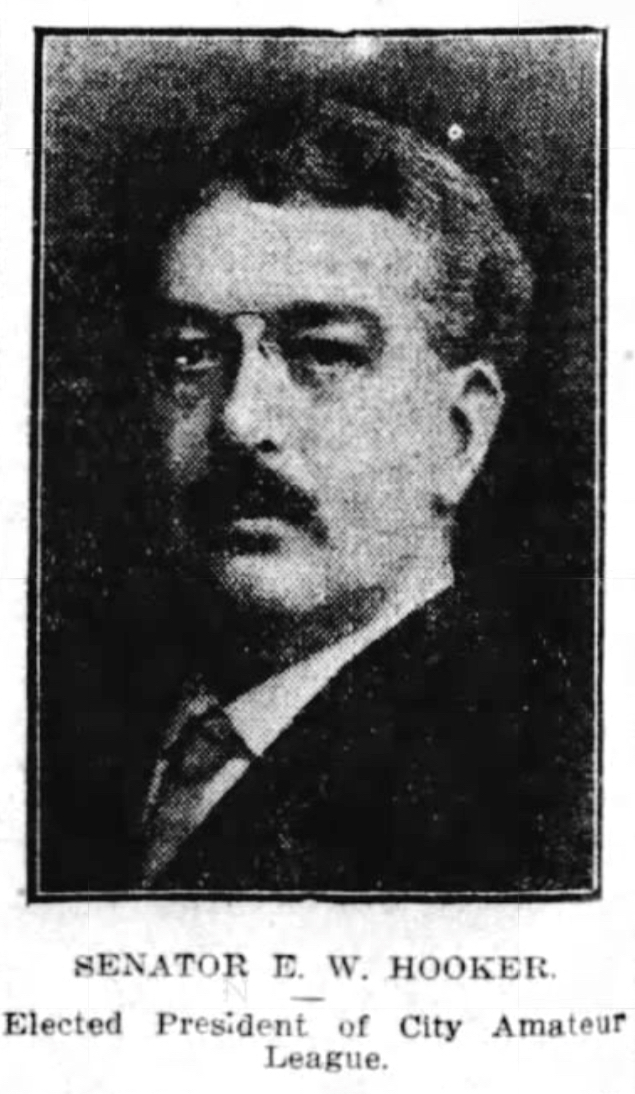 In 1913, Anderson and the Bermuda Invaders were featured in Spalding's Official Metropolitan Base Ball Book. By then, Anderson was a beloved figure in Hartford and Connecticut's most accomplished sports promoter. Therefore, when the Connecticut State League was organized, he was unanimously voted in as president. Unlike previous professional iterations of the Connecticut State League, this version was considered a semi-professional league. Seven contending clubs hailed from Hartford, New Britain, Manchester, Wallingford, Windsor Locks and Winsted. Wallingford captured the league's inaugural pennant.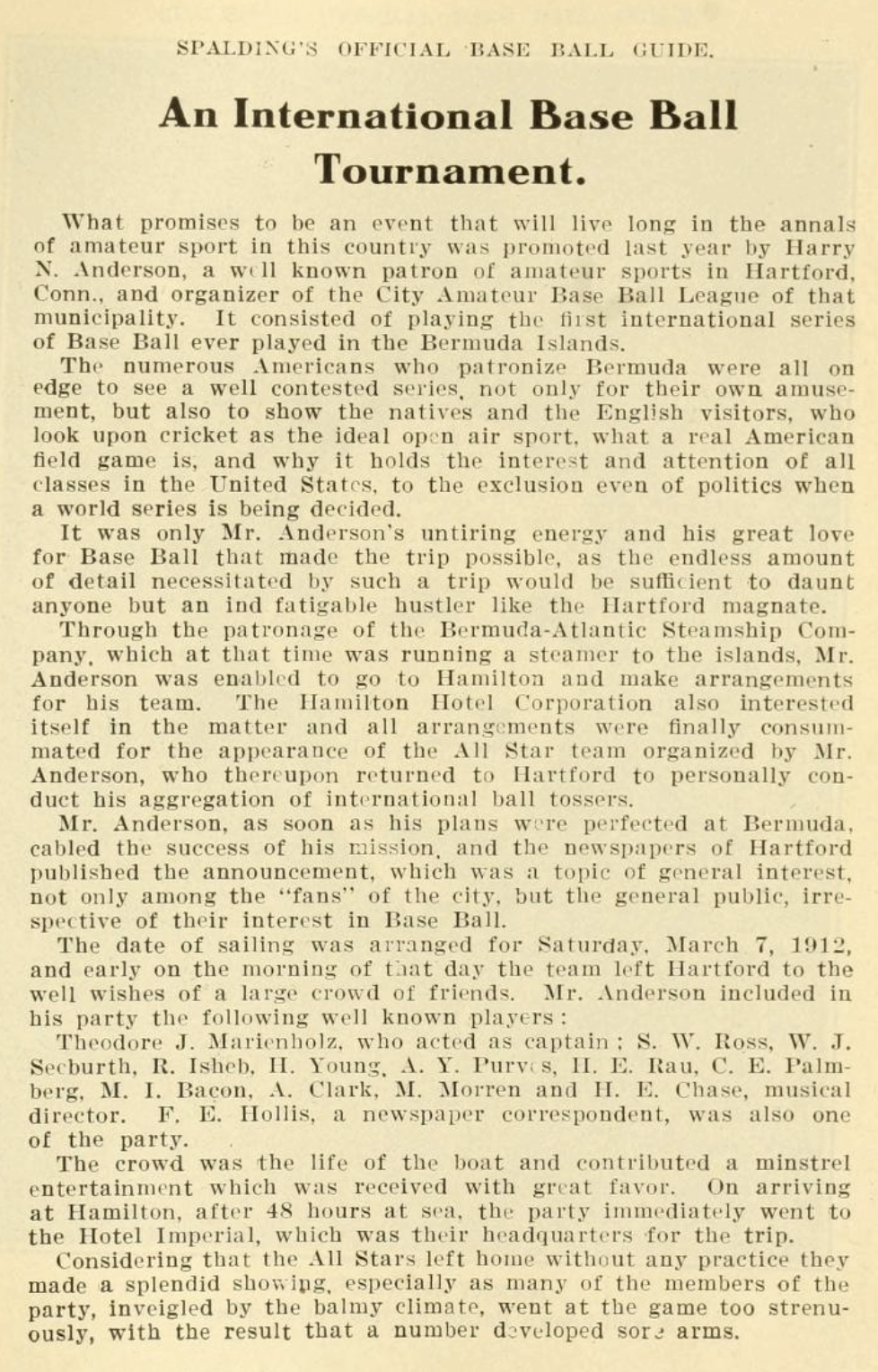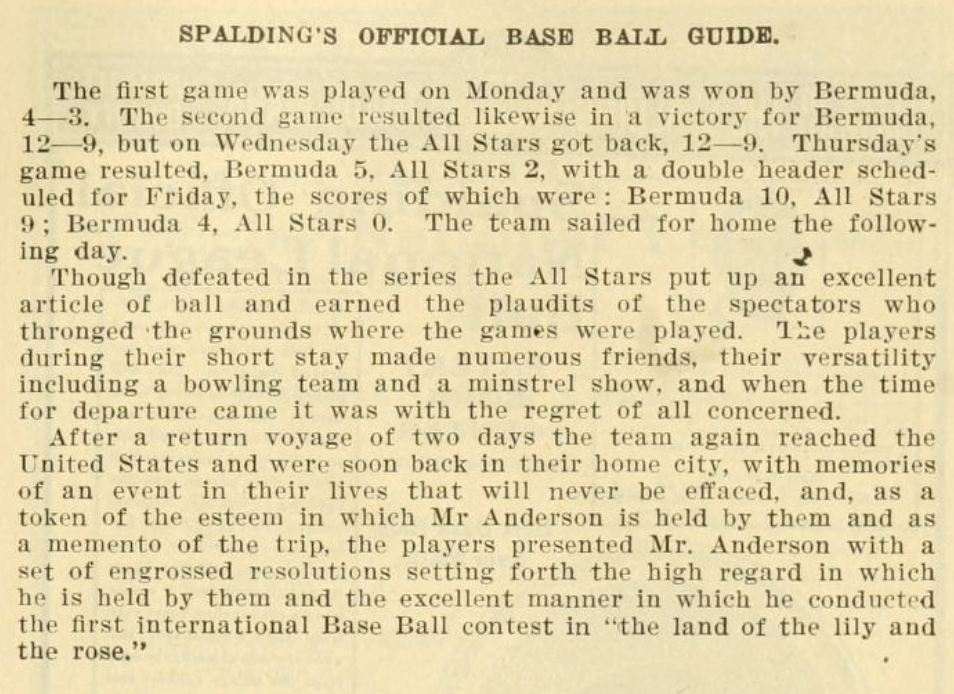 Anderson assembled another extravagant banquet for the Hartford's amateur baseball community on October 30, 1913. Players and managers attended a night to remember at Bond's Cafe where each table was decorated by electric light. Distinguished guests like former governor, Morgan G. Bulkeley and curveball pioneer, Candy Cummings gave accounts of their baseball careers. Mayor Louis R. Cheney welcomed special guest Danny Murphy, captain catcher of Connie Mack's Philadelphia Athletics. After dinner, speakers noted Hartford's great vigor for the national game and championship clubs were presented with loving cups (trophies).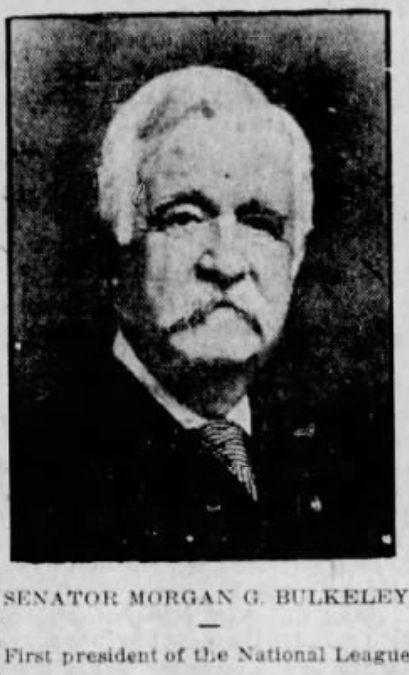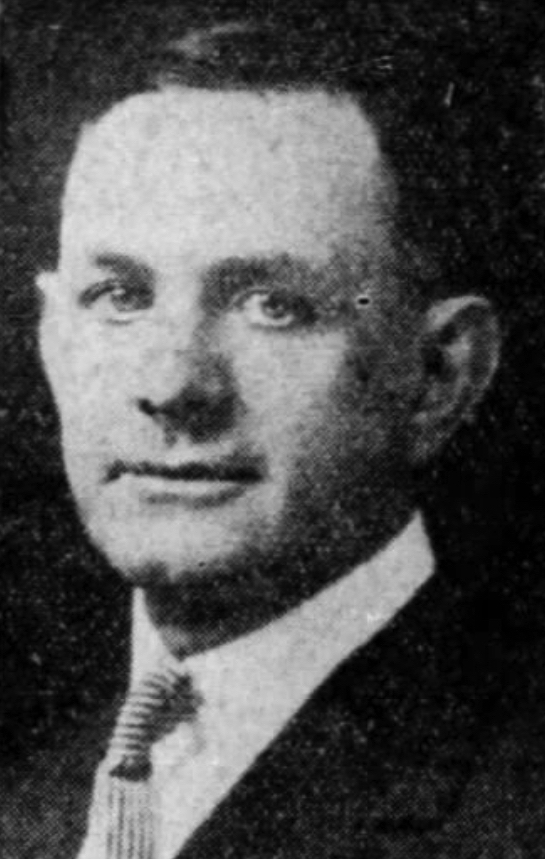 The City Amateur League and the Connecticut State League were operated simultaneously by Harry Anderson in 1914, though his annual banquet stole headlines. At Hotel Garde, the United Baseball Leagues of Hartford celebrated their seasons. Cups were presented to the pennant winners of the Fraternal League, Insurance League, Public Schools, City Amateur and Junior City leagues. The Franklin club, led by Manager Crowe and other members of the Bermuda Invaders won the City Amateur League title. The banquet was described at length in the Hartford Courant which adulated Anderson for his energy, "…in promoting the amateur leagues of the city, Chairman Anderson has a warm spot in the hearts of all the followers of the game in Hartford."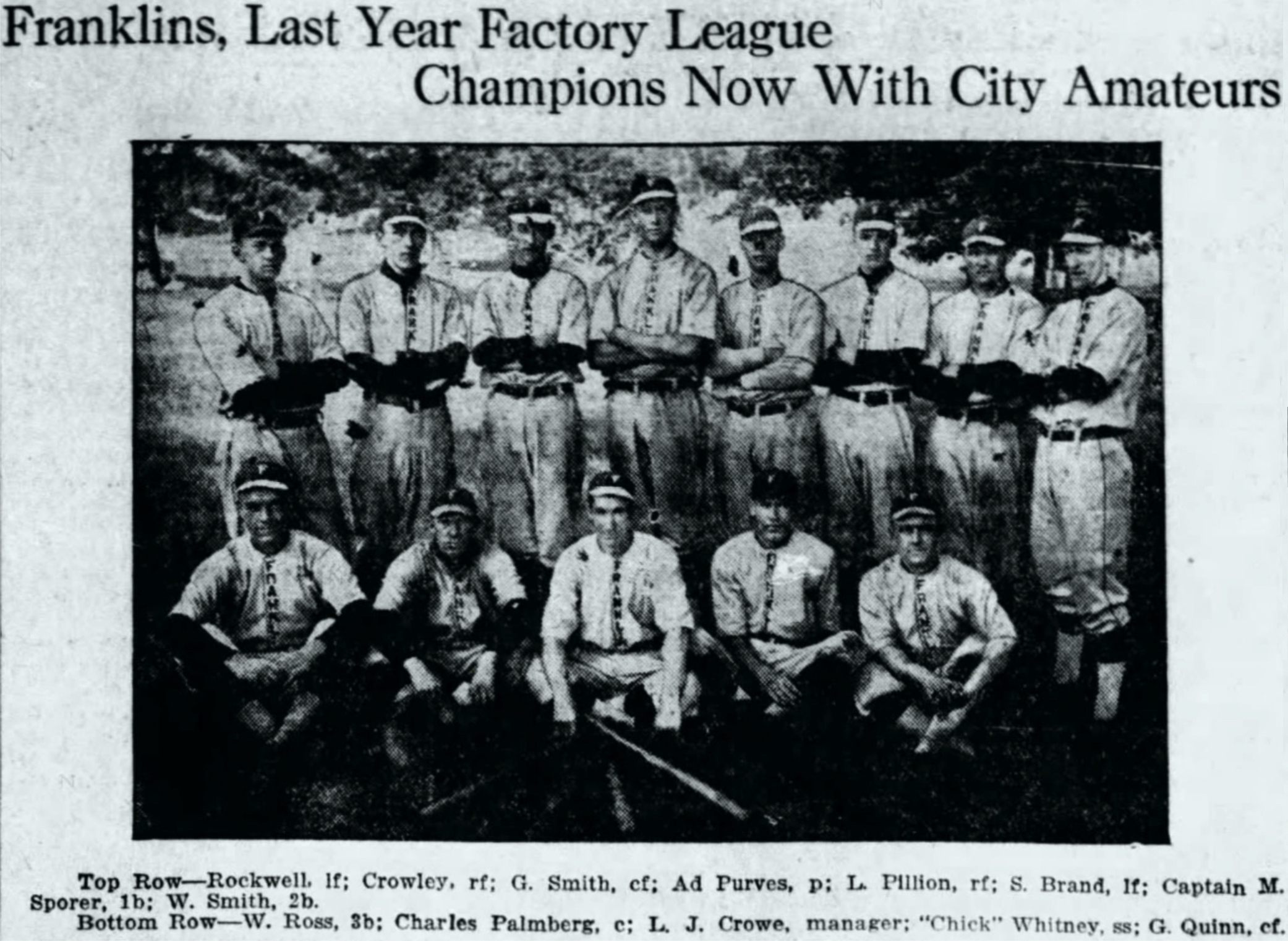 In 1915, the Connecticut State League and President Anderson faced a crisis. First place Meriden and second place Torrington were dissatisfied with road game attendance. To draw more ticket sales, the two clubs withdrew from the league and planned a series of games with Winsted. Despite his efforts, Anderson was unable to hold the league together and the State League disbanded on August 29, 1915. Remaining team managers voted for Winsted as State League champions. A few weeks later, Anderson presented Winsted with the Gustave Fischer trophy at Gilbert Field.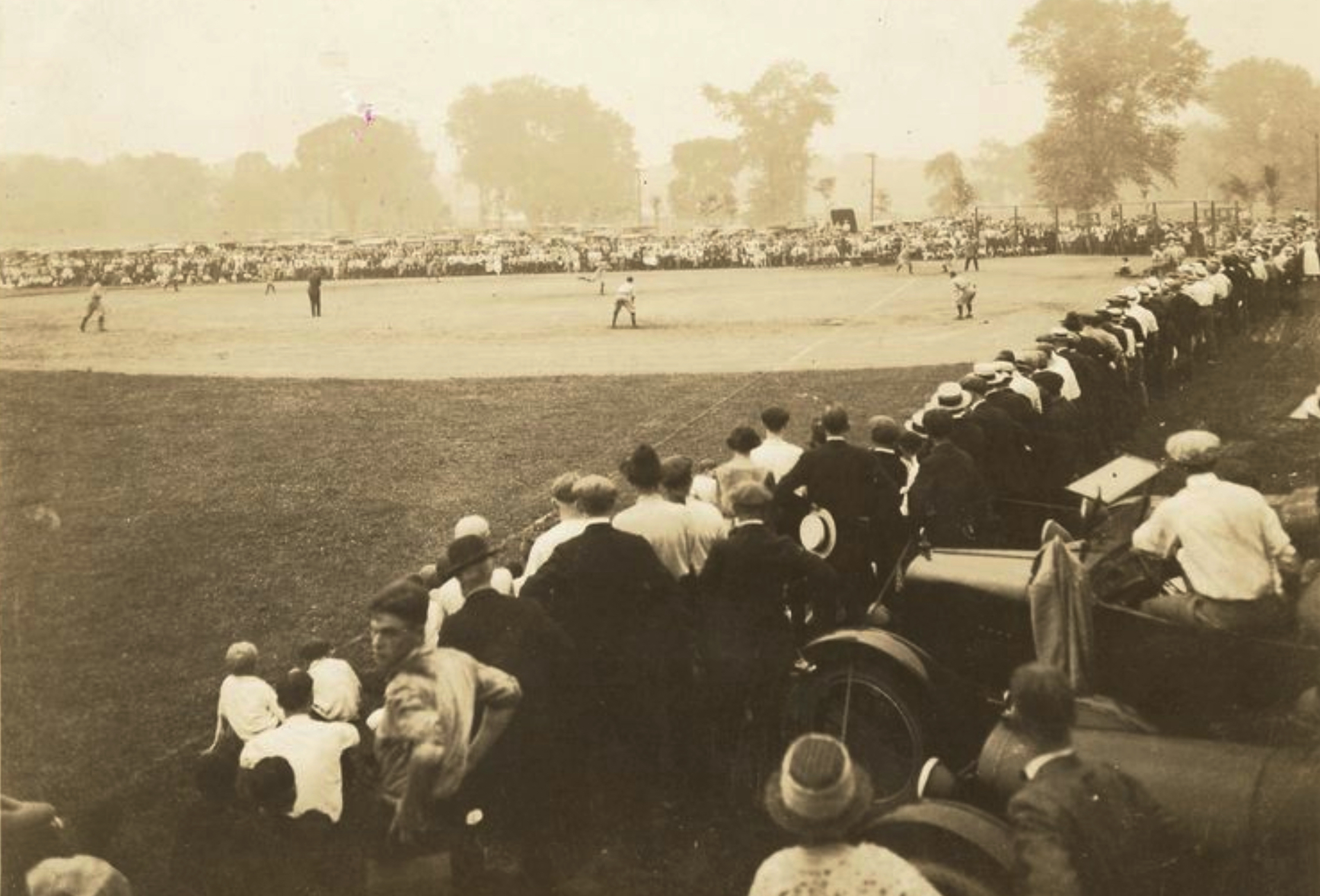 During baseball's offseason, Anderson continued to organize and compete in the Fraternal Bowling League. He also arranged a boxing match for Hartford's welterweight title. Anderson had become synonymous with Hartford sporting events, and his popularity reached new heights when Courant Cigars used his name in advertisements. The following year, he would be re-elected president of the Connecticut State League while remaining vice president of the City Amateur League.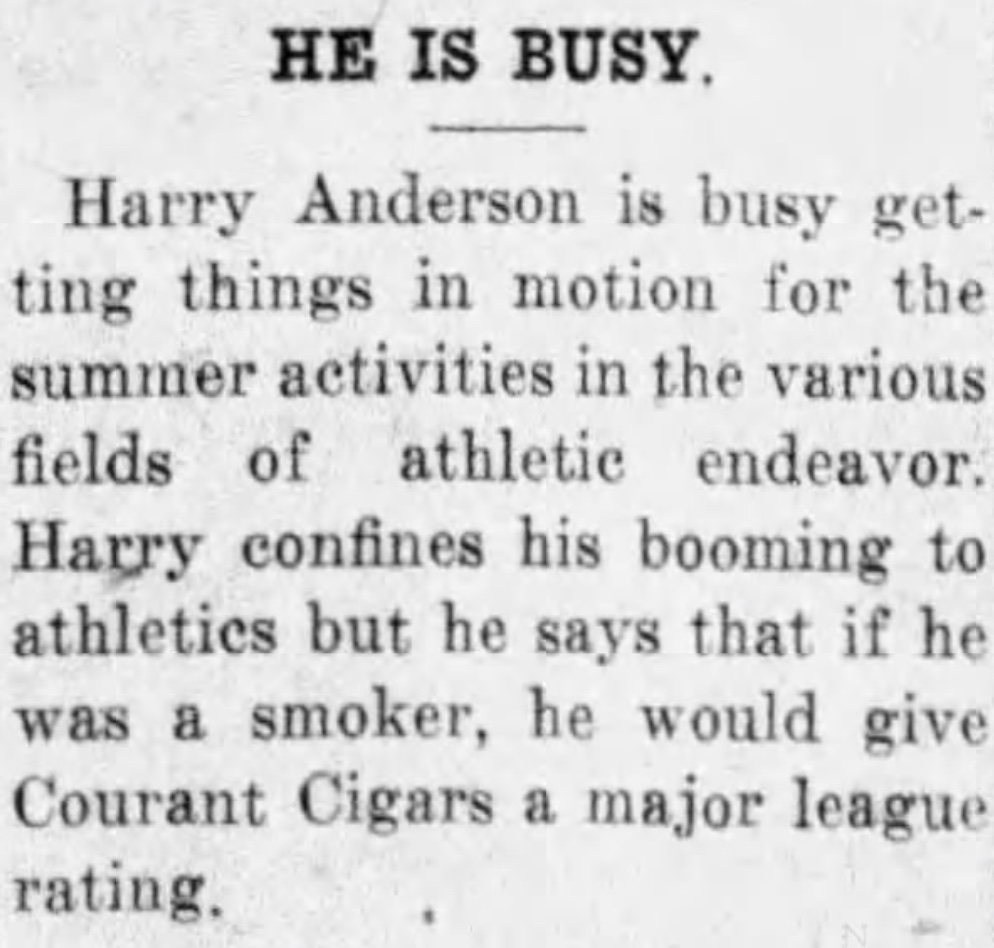 In April of 1916, Anderson and members of the Bermuda Invaders celebrated the fifth anniversary of their expedition. The group officially formed the Original Bermuda Invaders Last Man's Brotherhood to commemorate the feat. An article in the Hartford Courant stated: "The organization is probably the most unique in the annals of amateur sports. The sporting event was one of the greatest attempted by amateurs in the promotion of the great national game." At that time, a trip to Bermuda was still considered a rarity.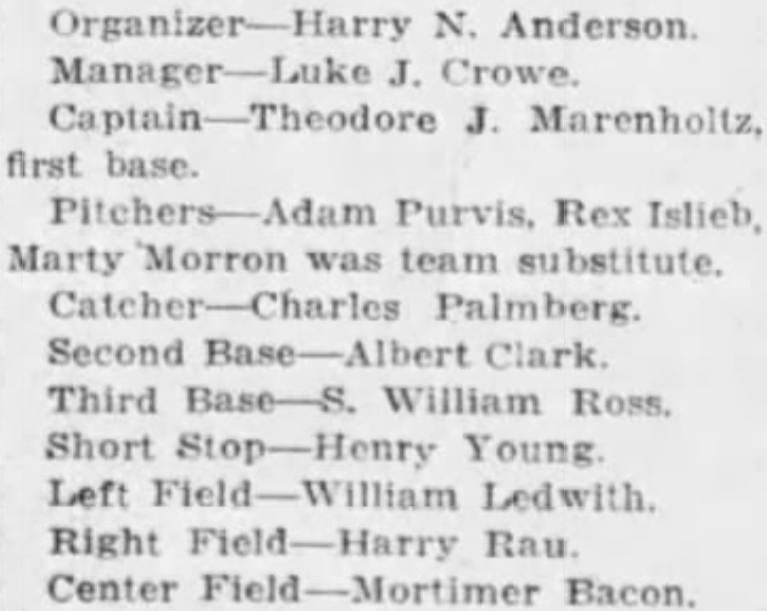 Harry Anderson was a voracious supporter of fraternal organizations and in summer of 1916, he created the Masonic Baseball League. The circuit was composed of Masonic lodges throughout Connecticut. As for his duties in Hartford, he was chairman of Hartford's new Fourth of July Baseball Committee. His legwork led to well-attended benefit games in Colt Park aiding American troops in the Mexican Border War. The round robin series culminated with the Hartford Tigers beating Pratt & Whitney Company for the cup.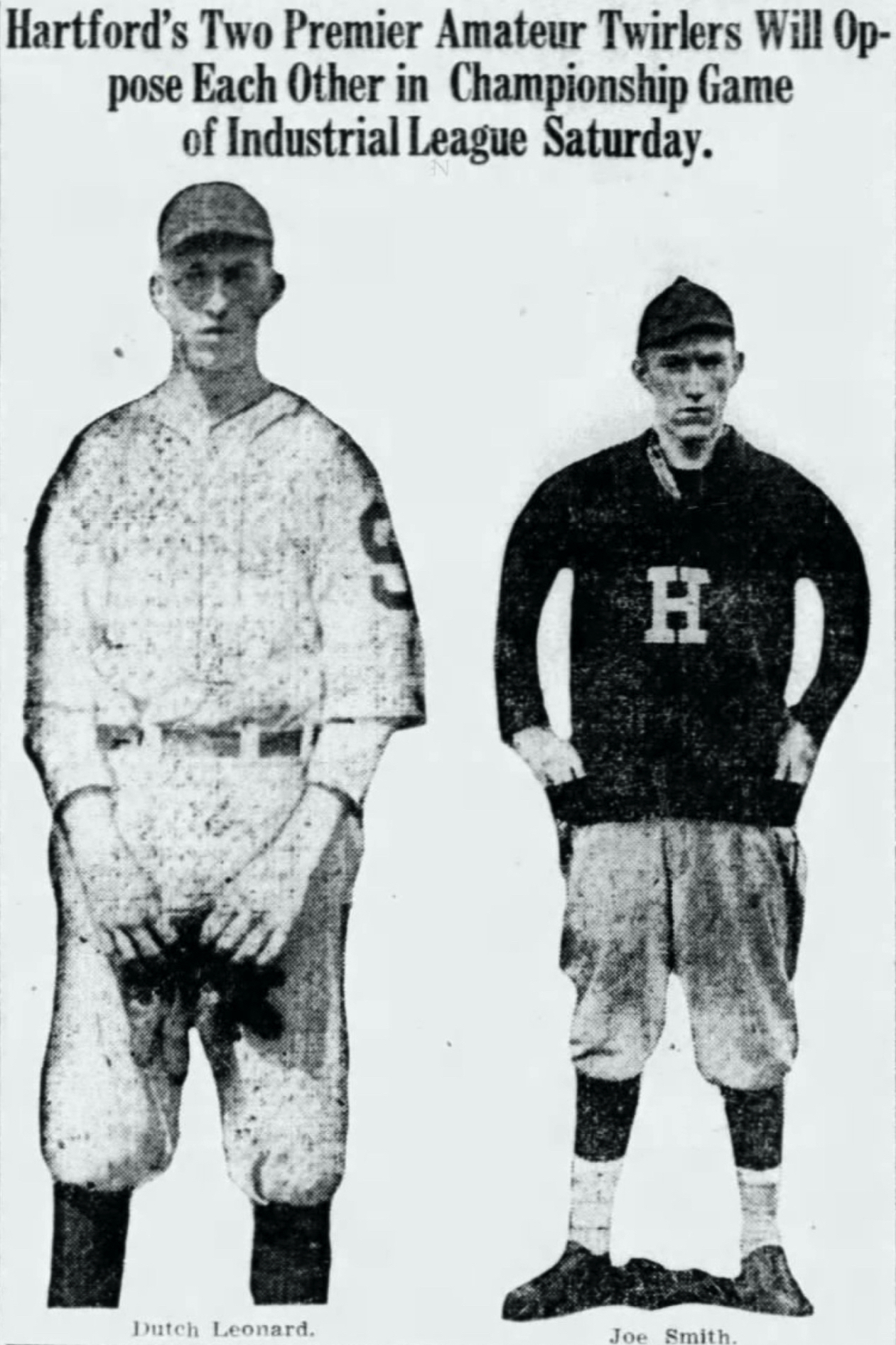 While manufacturing boomed in Hartford due to World War I, the city's Industrial Baseball League became immensely popular. As the loop's part-time promoter, Anderson penned an article for Spalding's Official Base Ball Guide of 1917 featuring four pages on the Industrial League amateurs. After the United States entered the war on April 6, 1917, Anderson hosted benefit games for Clark Griffith's Bat and Ball Fund. The national campaign gifted baseball equipment to soldiers of the American Expeditionary Forces (AEF) in Europe.
At the amateur banquet of 1917, Anderson, for his conscientious work in the success of Hartford baseball, was gifted a box seat ticket to each World Series game held in New York. As the Chicago White Sox defeated the New York Giants at Brush Stadium, Anderson met with Clark Griffith to donate Hartford's $30 check to the Bat and Ball Fund. Griffith later sent a letter addressed to the "Amateur Baseball Fraternity" of Hartford, and expressed his thanks writing, "I assure you it is appreciated and will be put to good use."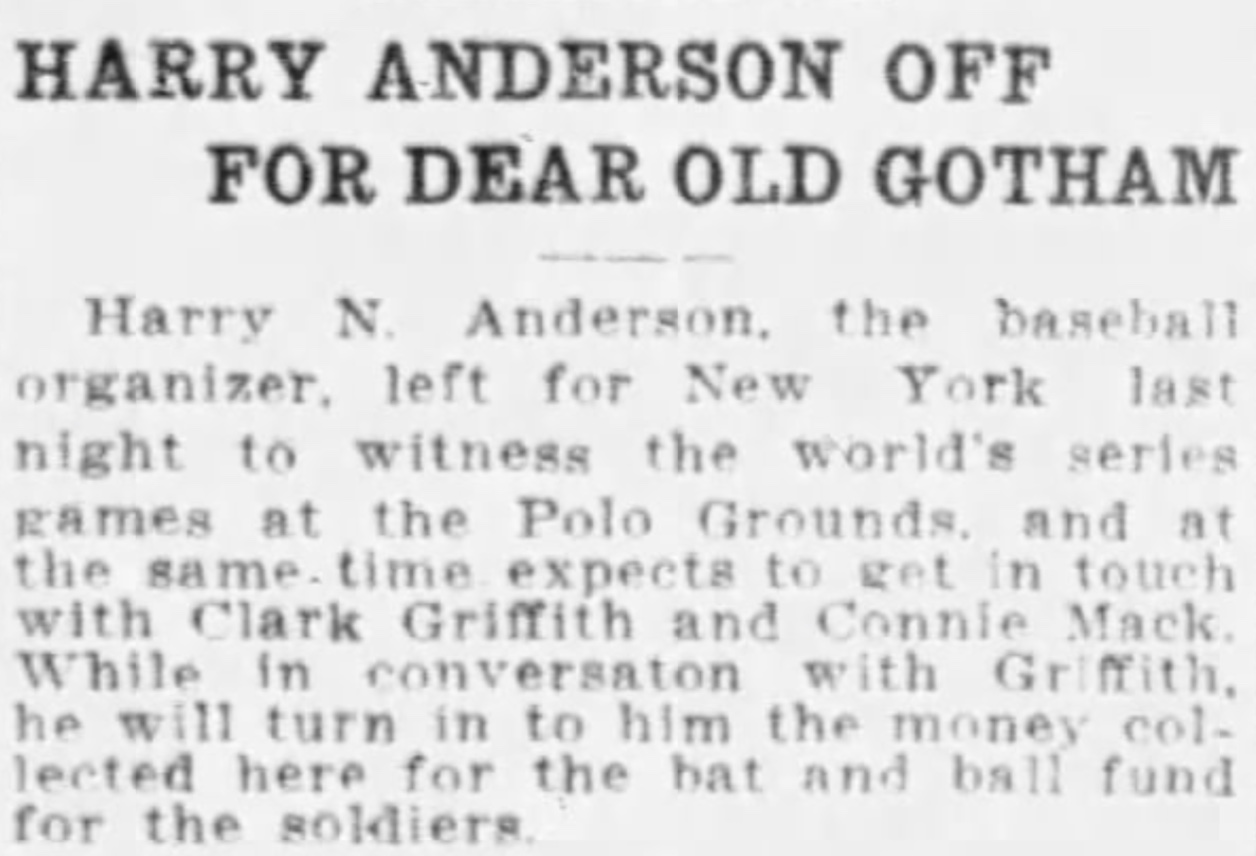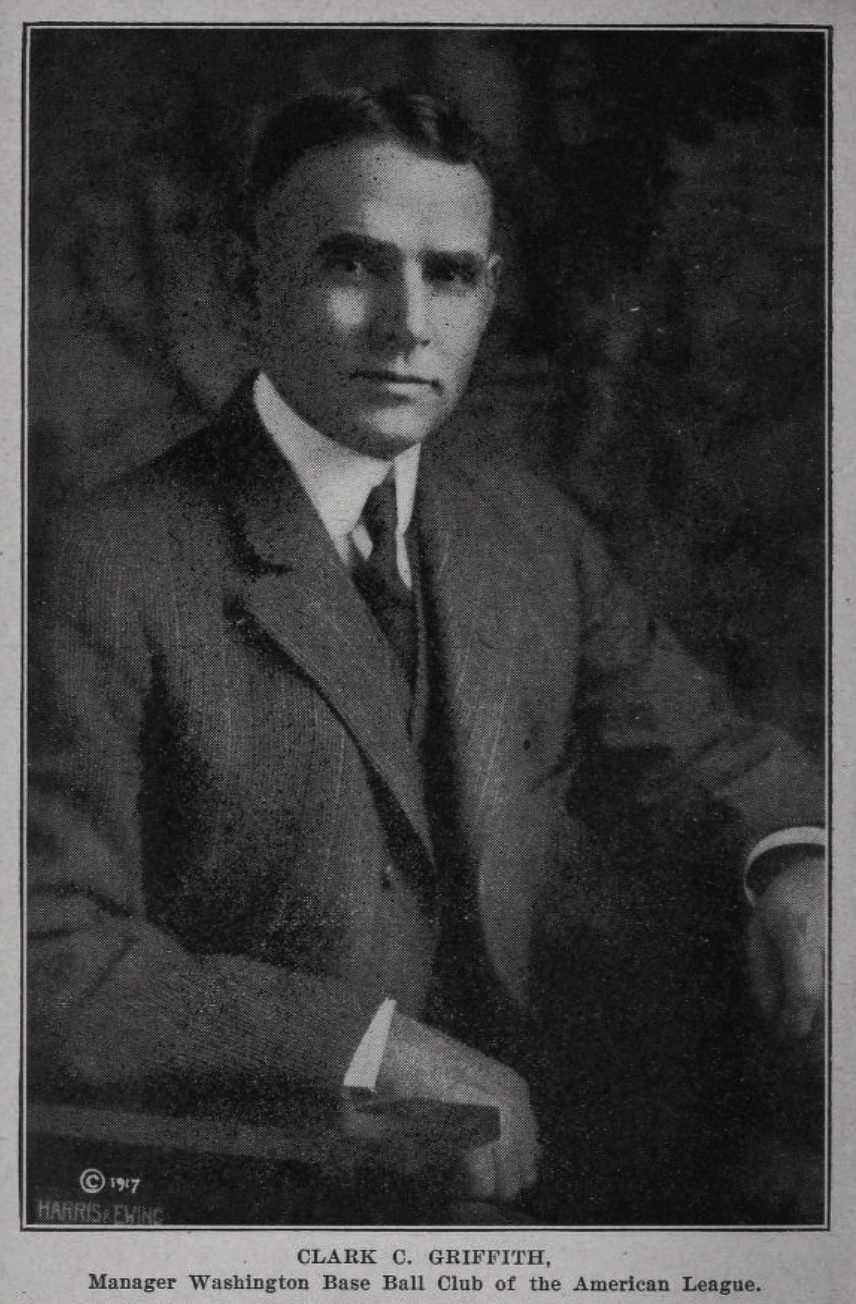 That winter, Anderson became president of the Industrial Bowling League, vice president of the Church Bowling League and captain of the Freemasons team in the Fraternal Bowling League. Sports of all kinds were interrupted in 1918, and Anderson prepared to support the allied war effort. He was recruited by Christopher Scaife of the YMCA to be a recreation supervisor in England and France. Anderson was to serve thousands of American troops in an auxiliary capacity by staging athletic competitions and live entertainment. Even though an armistice was reached on November 11, 1918, many Americans participated in military activities in Europe until 1923.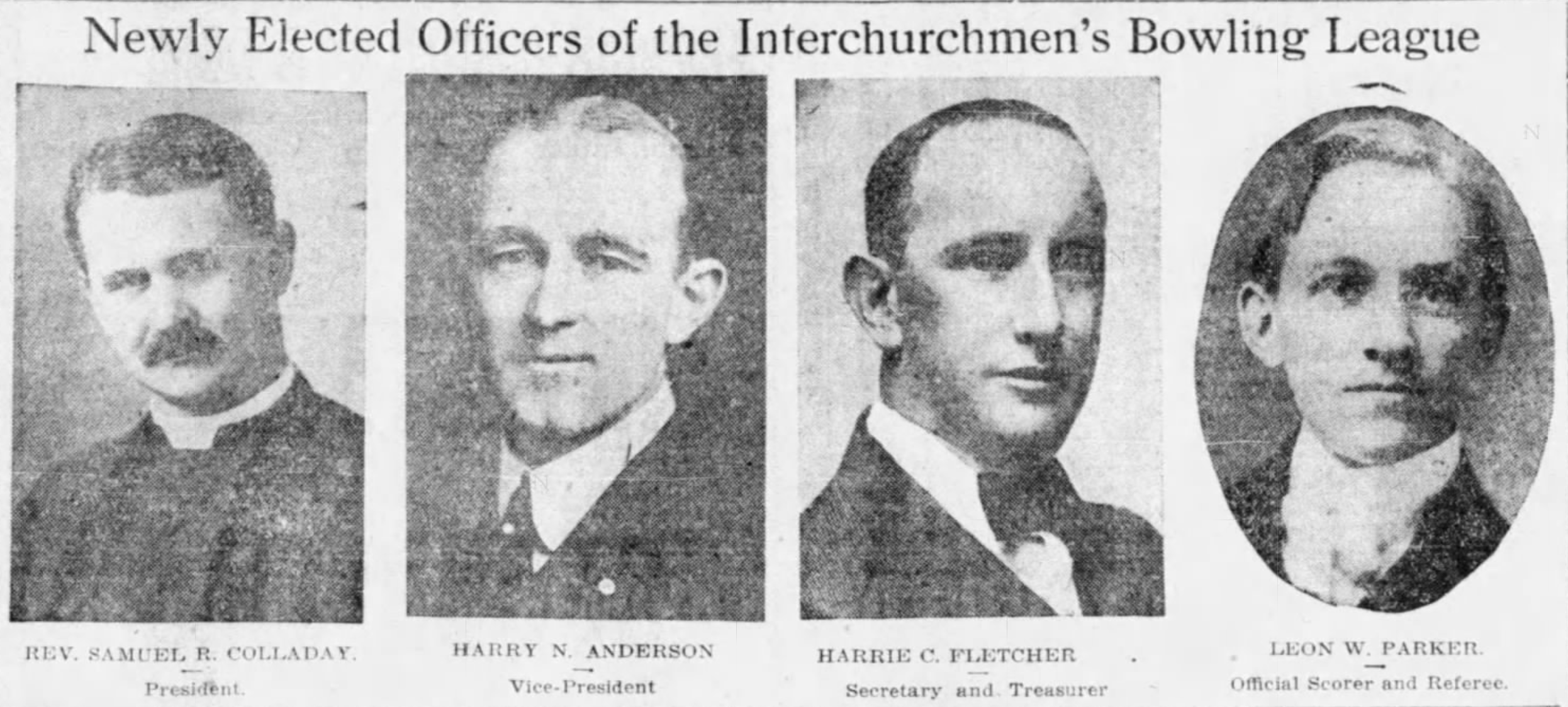 Before active duty with the YMCA, Anderson hosted another Fourth of July celebration at Colt Park starring a team of Navy sailors from Hartford. Then, Anderson completed training courses in Springfield, Massachusetts, and French classes at Columbia University. He shipped out to Europe in December of 1918, sending greetings from Winchester, England, upon his arrival. In Winchester, he was stationed at Morn Hill Troop Transit Camp, a 50,000-man base near the port of Southhampton. Here, Anderson facilitated athletic contests, comedic routines and musical performances to boost morale of deploying troops and those returning from the Western Front.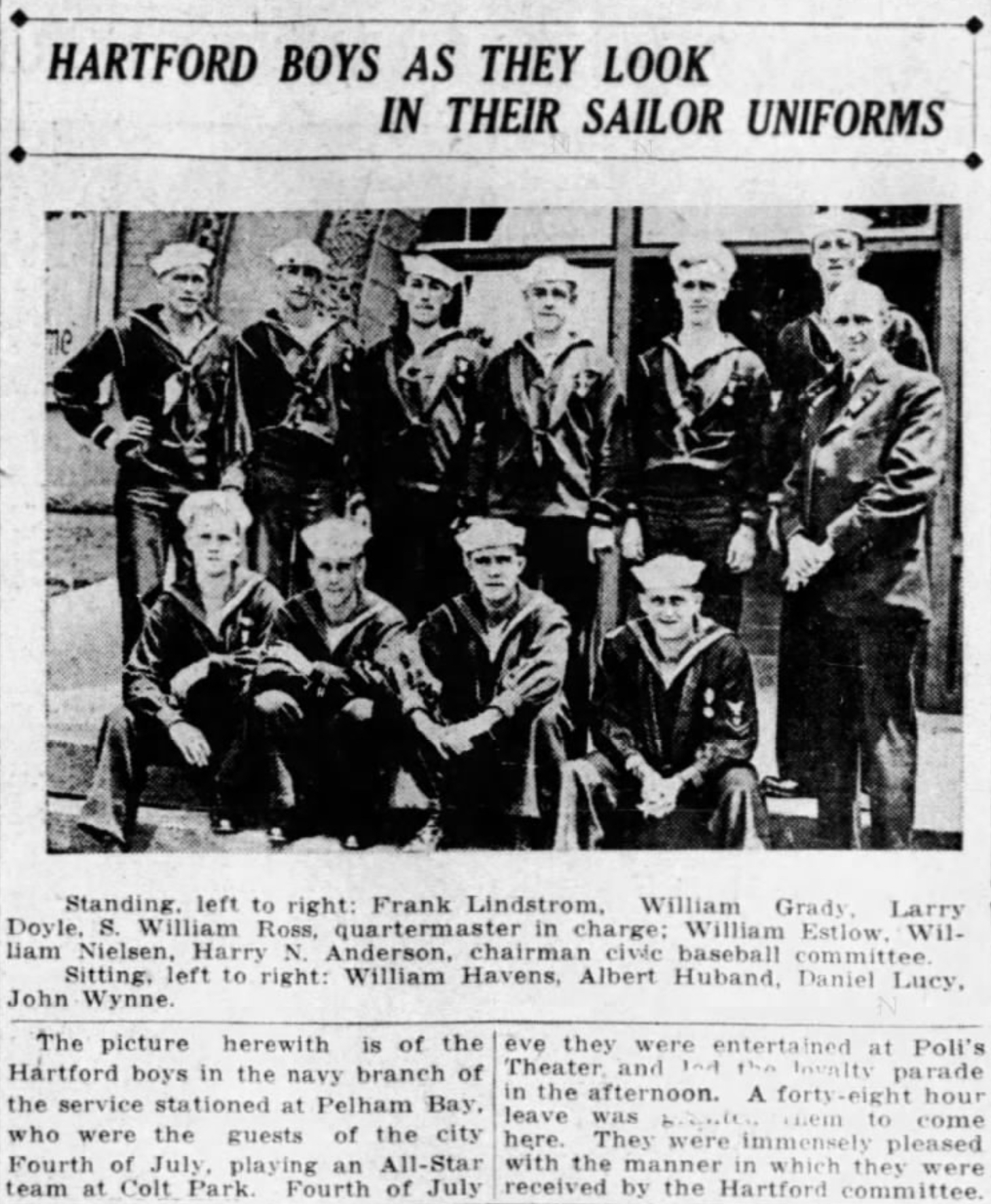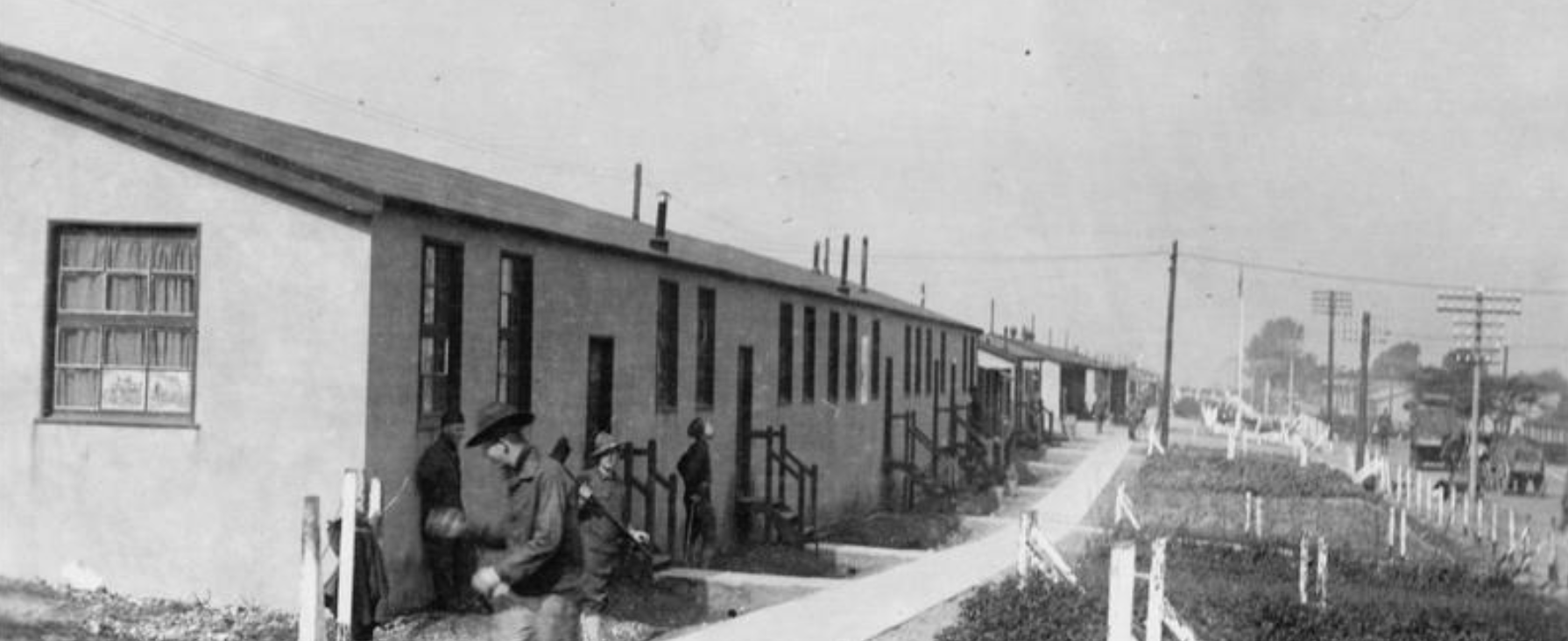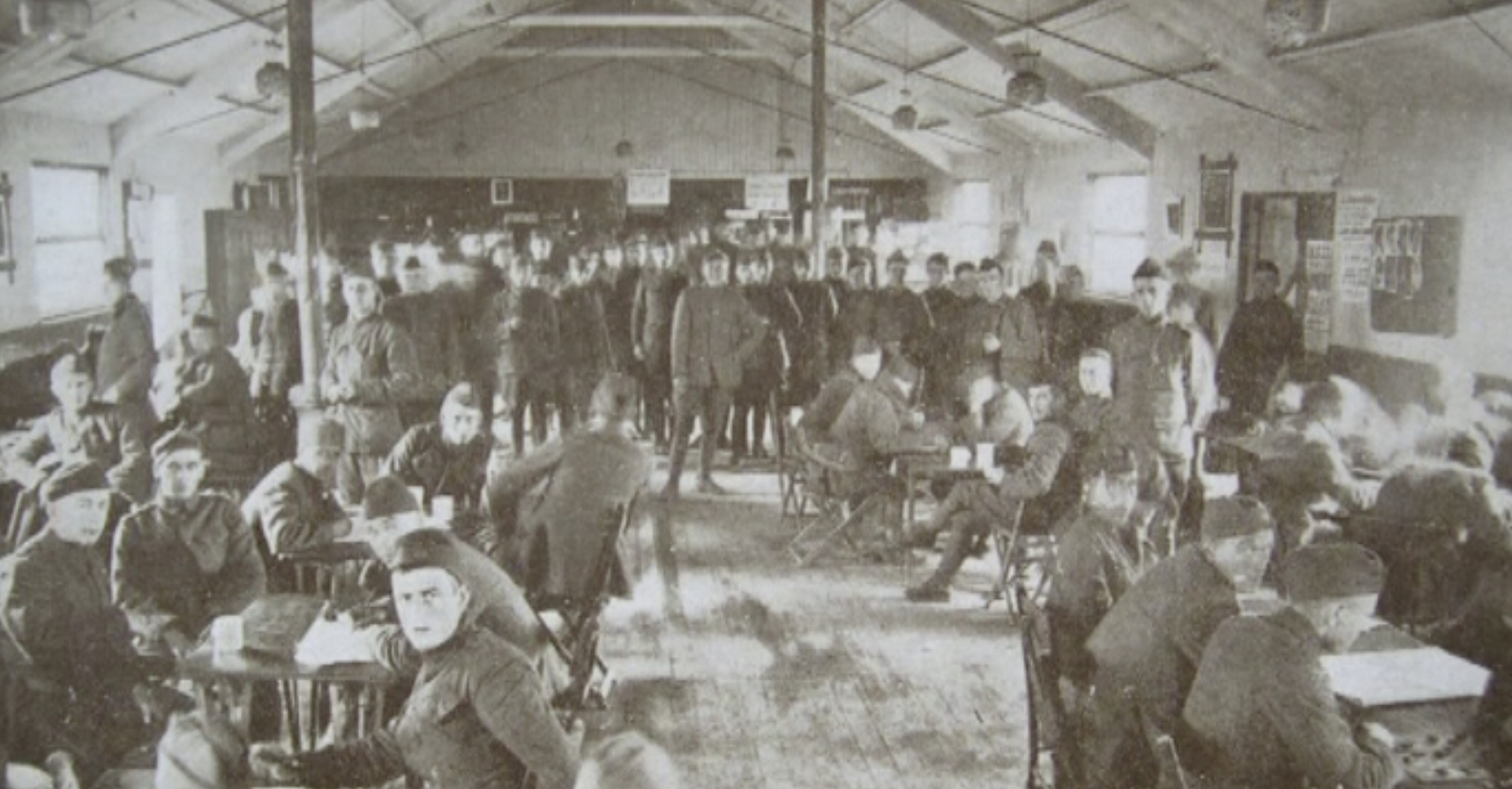 On New Years Day, 1919, Anderson was in Paris, France, to meet friends from home and unintentionally began a long-lasting tradition. He reserved a lavish dinner at Hotel Regina for twelve civilians from Hartford serving as attachés to the AEF. Among the guests was Daniel D. Bidwell, a war correspondent who held the record for circumventing the globe in less than 47 days. The group adopted the name "Hartford Exiles" because of their auxiliary status. The Exiles pledged to hold annual New Years reunions back home, where the group became a prominent fraternal order into which qualified members were initiated each year.
While in France, Anderson spent most of his time stationed in the province of Brittany at the coastal town of Dinard. It was a place of rest and relaxation for weary soldiers and sailors. Anderson arrived in Dinard during February of 1919, and he quickly became known for his continuous program of baseball games on the beach, boxing bouts, stunt nights, concerts and comedy routines promoted on the bulletin of the Grand Casino. Anderson mailed a game-used baseball back to Hartford from a contest won by the 26th Infantry "Yankee Division." In his letter, Anderson wrote that the ball would be "ammunition" for Hartford's part in the United States Victory Loan campaign.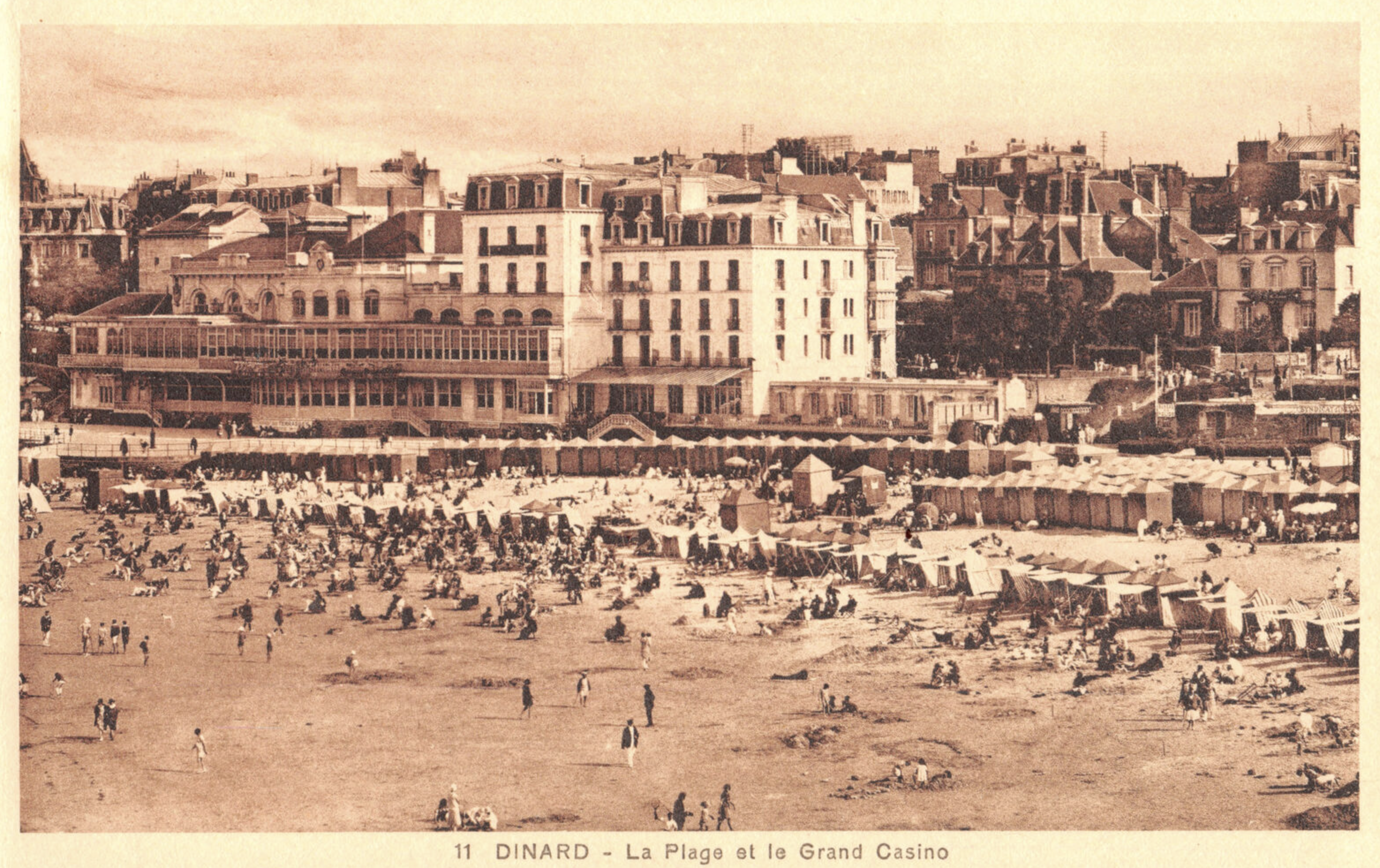 Anderson received praise and letters of appreciation for his exemplary service as recreation supervisor in France. When he put together a final track meet between American and French soldiers, the French Commander of Dinard, Colonel Garson presented Anderson with a gold medallion. Before leaving Dinard for the port city of Brest, the Mayor of Dinard awarded Anderson with a citation for "promoting Franco-American relations." Towards the end of his duties in France, Anderson represented the State of Connecticut while visiting several military cemeteries near the front lines of the war.

One of Anderson's greatest accomplishments came at the Inter-Allied Games. The multi-sport event commenced on June 22, 1919, at the newly constructed Pershing Stadium on the outskirts of Paris, France. Anderson collaborated with YMCA, AEF and French officials to arrange and promote the games. Competitions included track and field, swimming, soccer, baseball, wrestling, hand-grenade throwing and others. The games were open solely to men who served in the war. Around 1,500 athletes participated from 18 different countries. Following the games, Pershing Stadium, a 25,000-seat facility was gifted to the people of France by the United States.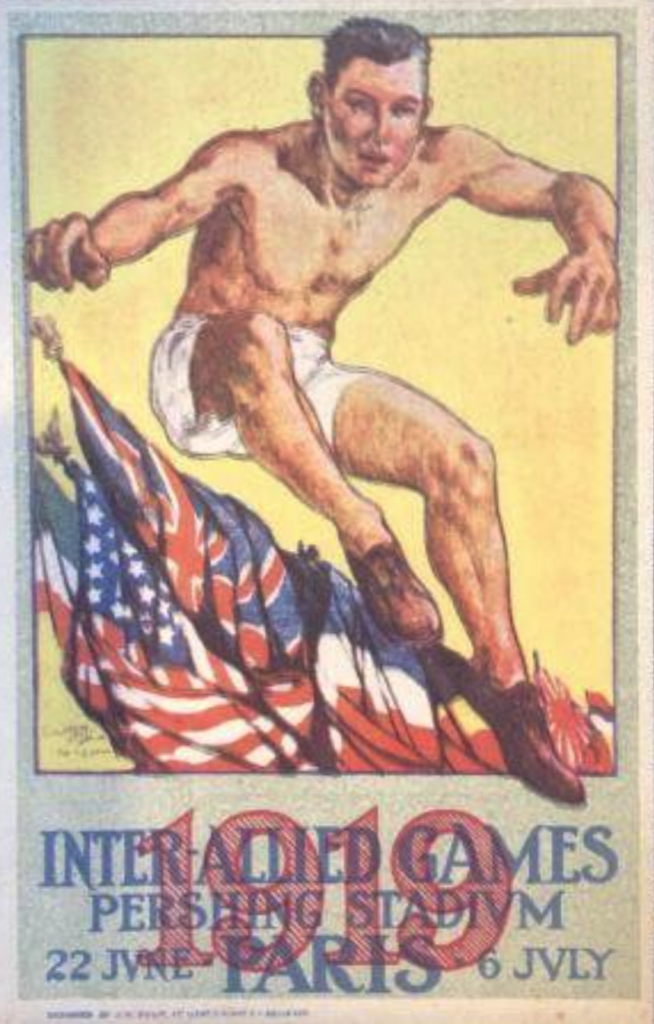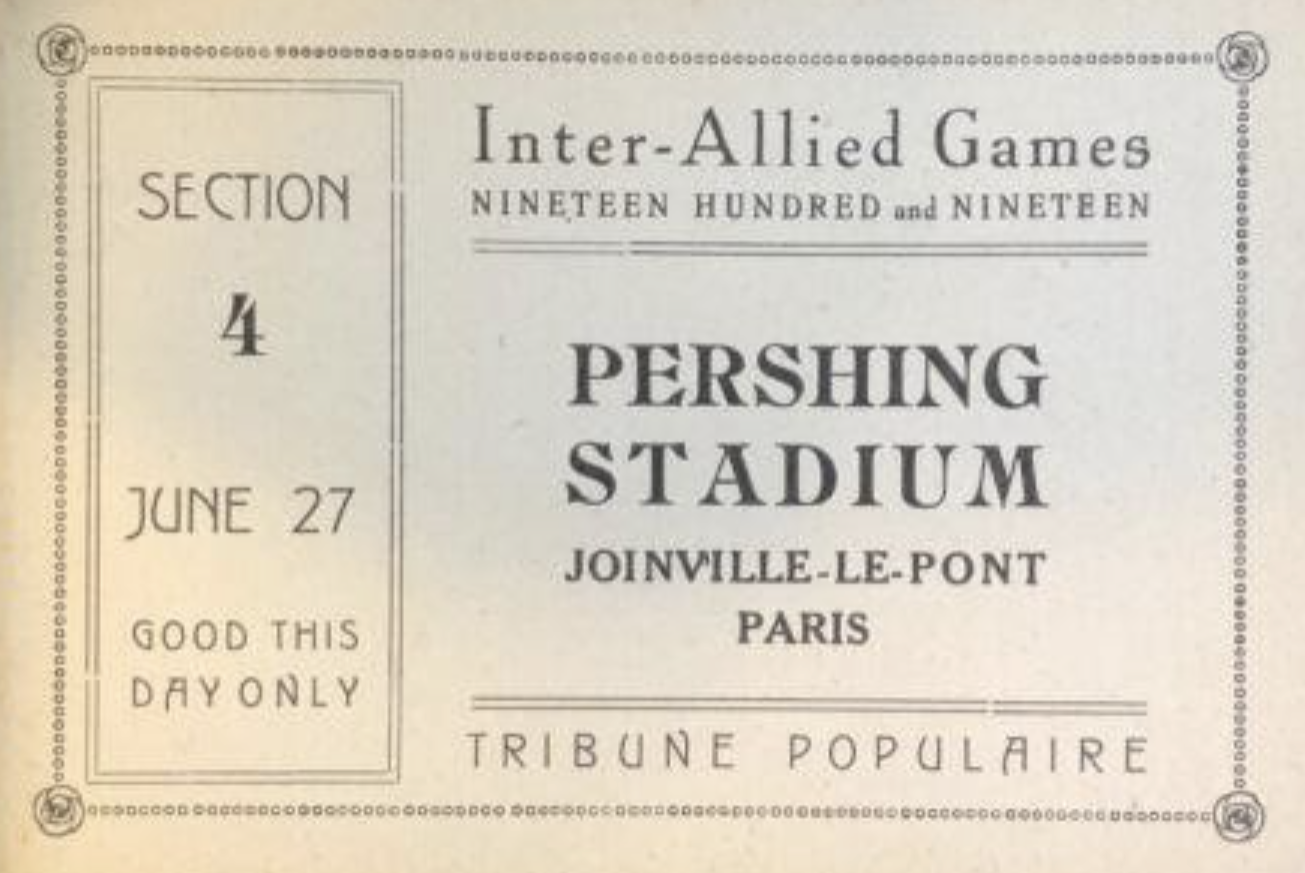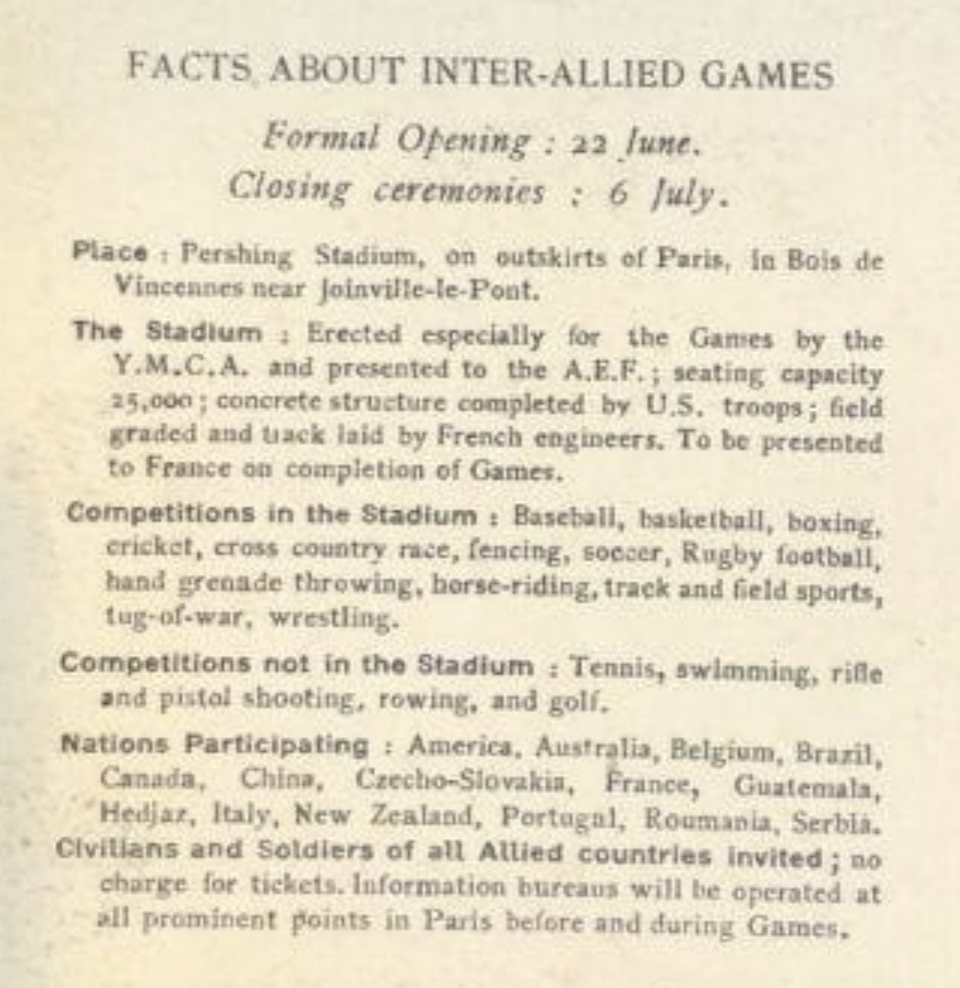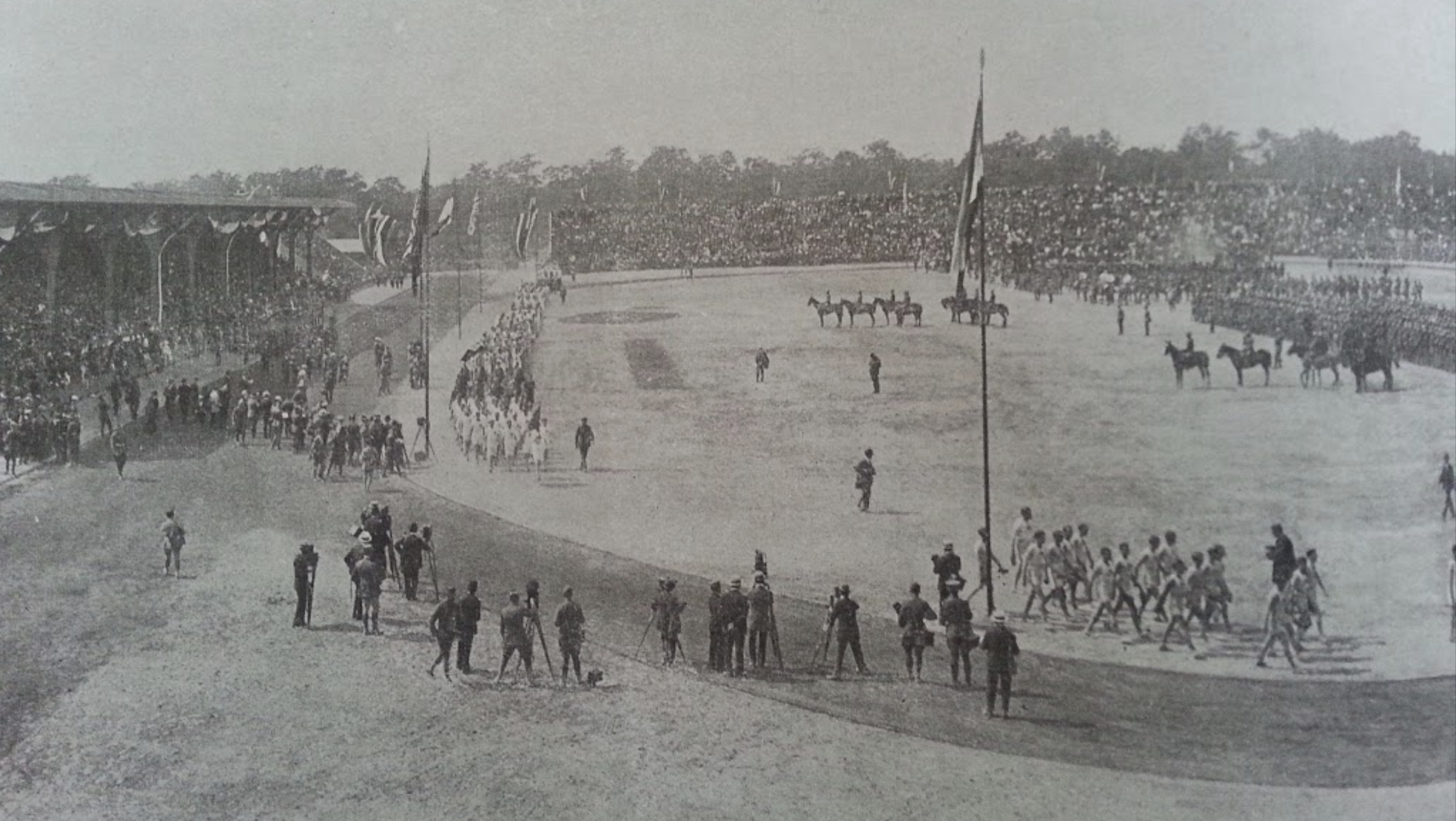 Anderson came home to Hartford in August of 1919. When he resumed civilian life, he gave talks to Hartford audiences about his experiences in Europe. Next, he was invited to Washington D.C. by Congressman Augustine Lonergan where Anderson advocated for and witnessed the passage of a bill incorporating the American Legion. Then, he was offered a position in Poland by the YMCA, but Anderson had other plans. An affection for Hartford and a fervor for sports promotion led him to establish the Anderson Sporting Goods Company at 721 Main Street—a business that would last until the 1940's.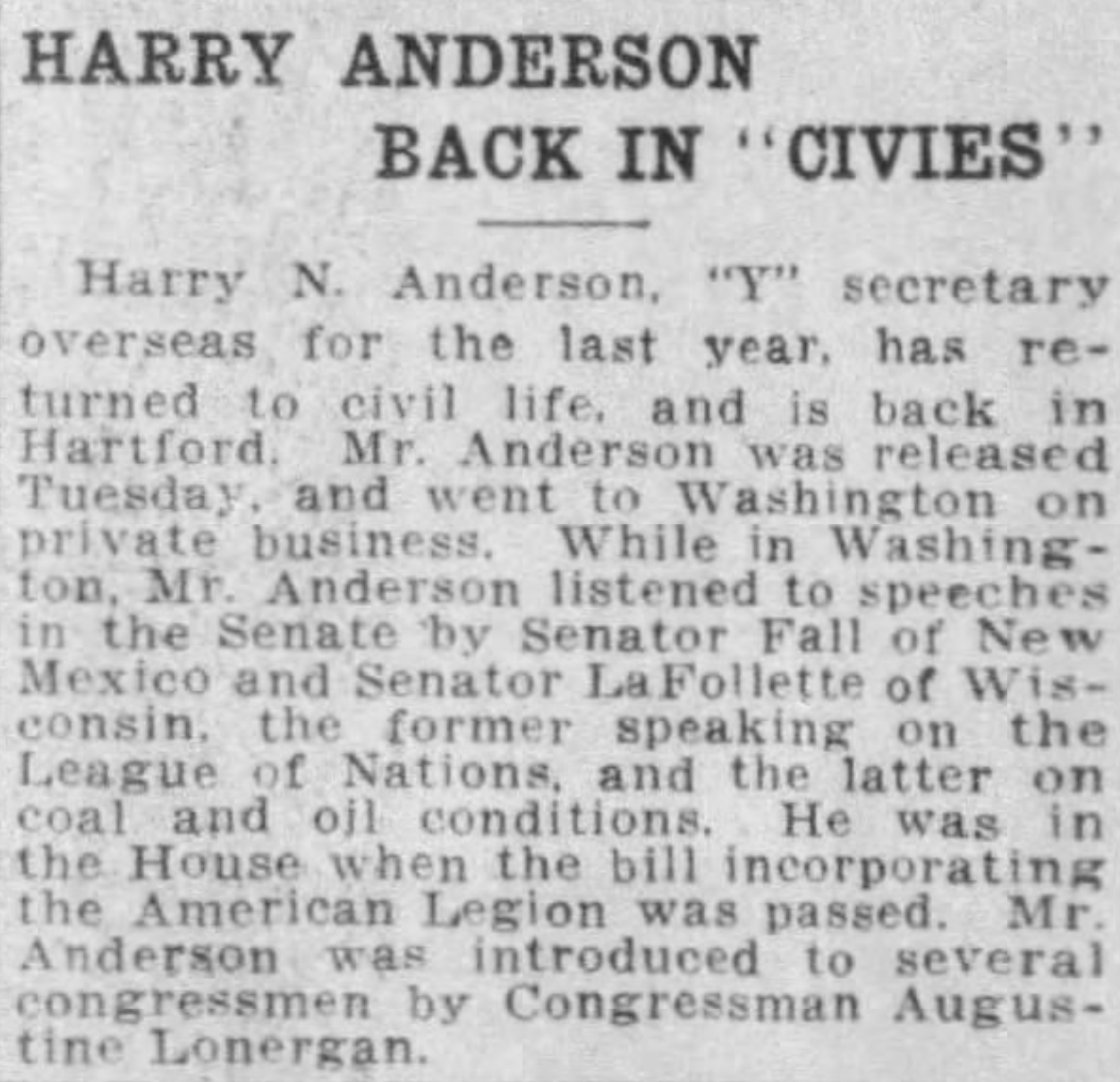 On New Years Day of 1920, the Hartford Exiles commemorated their Paris dinner with the same four-course meal at Hotel Garde on Asylum Street. Anderson was affectionately appointed "Commandant" of the Exiles and Governor of Connecticut Everett J. Lake was initiated as an honorary member. Around that time, Anderson also served as business manager of the Christ Church newsletter, the "Evangelist" and was vice president of the Inter-church Basketball League. He then introduced the Hartford County Baseball League in the springtime. The new loop fielded teams from Hartford, Bloomfield, Glastonbury, Wethersfield, Windsor and Simsbury, who won the inaugural title.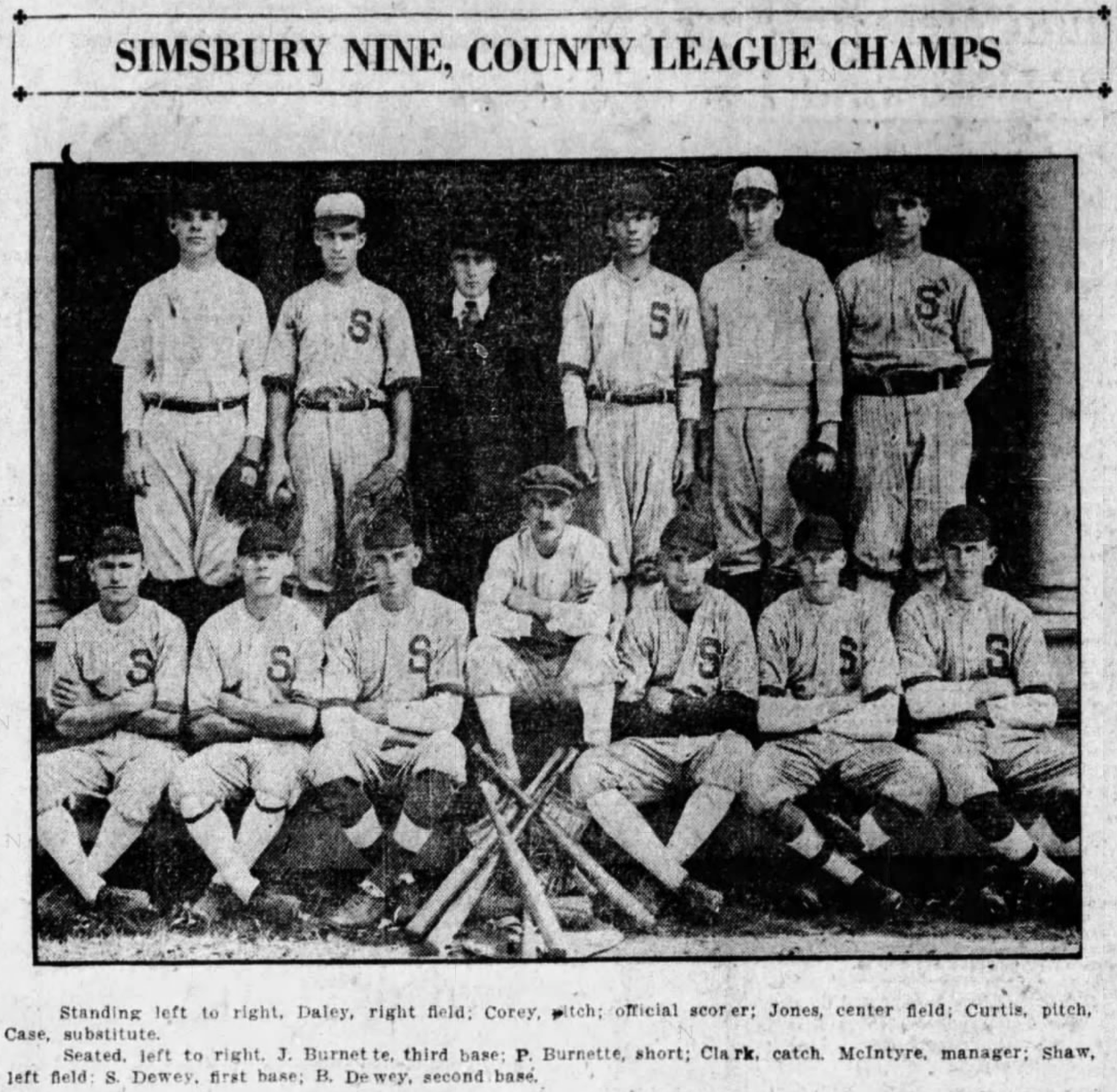 At the end of the summer of 1920, Anderson plotted a best-of-three charity baseball series at Trinity College. He persuaded the Hartford Police Department and the Hartford Fire Department to matchup against each other. The municipal bodies played to benefit Camp Courant, Times Farm and the Home for Crippled Children in Newington, Connecticut. Sergeant John M. Henry, a former outfielder for John McGraw's New York Giants, was player-manager for the Hartford Police. Hartford Fire earned two wins to take the series. In the winter of 1920, Anderson also experimented with a short-lived roller polo league (similar to hockey) based in Hartford.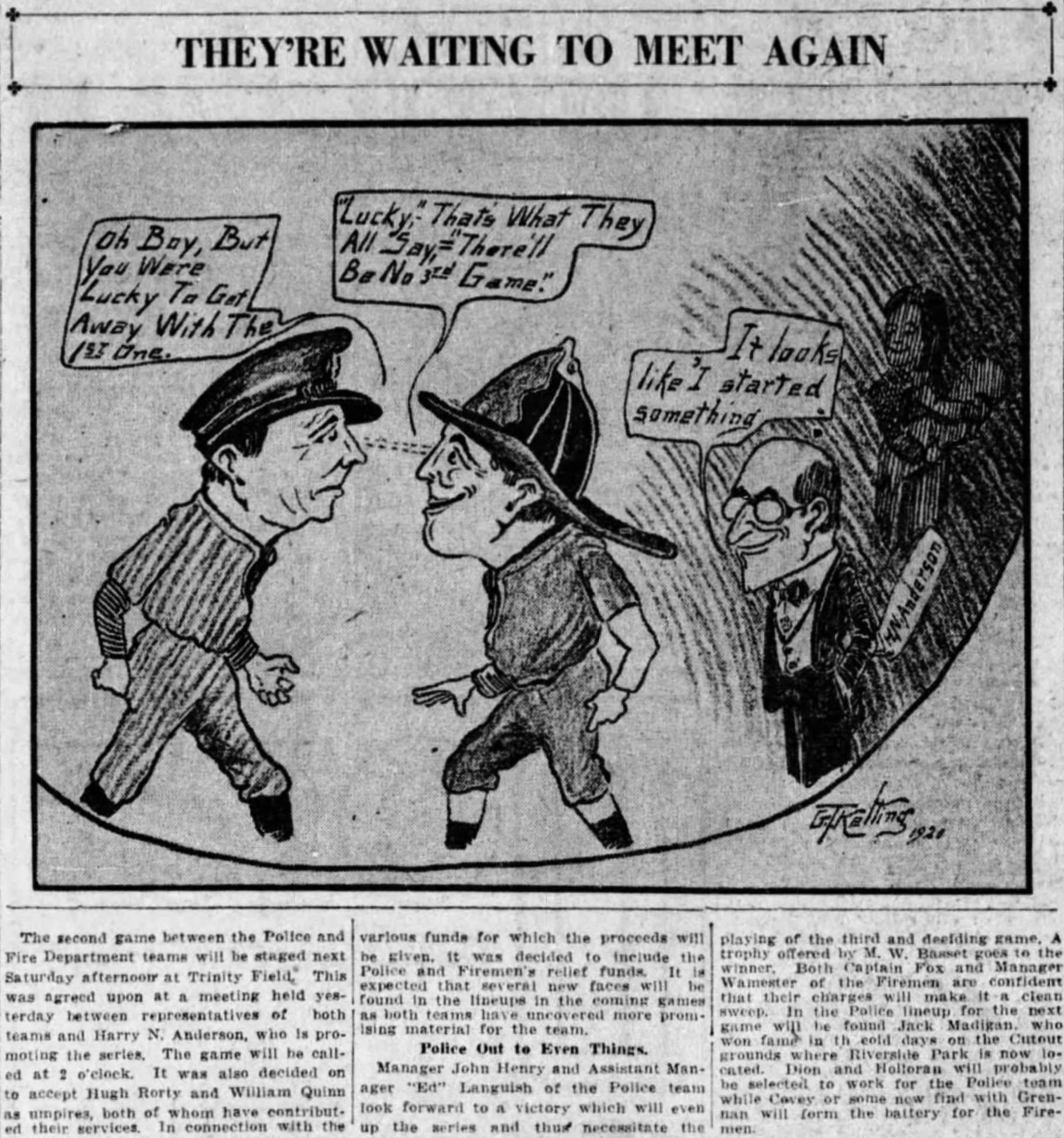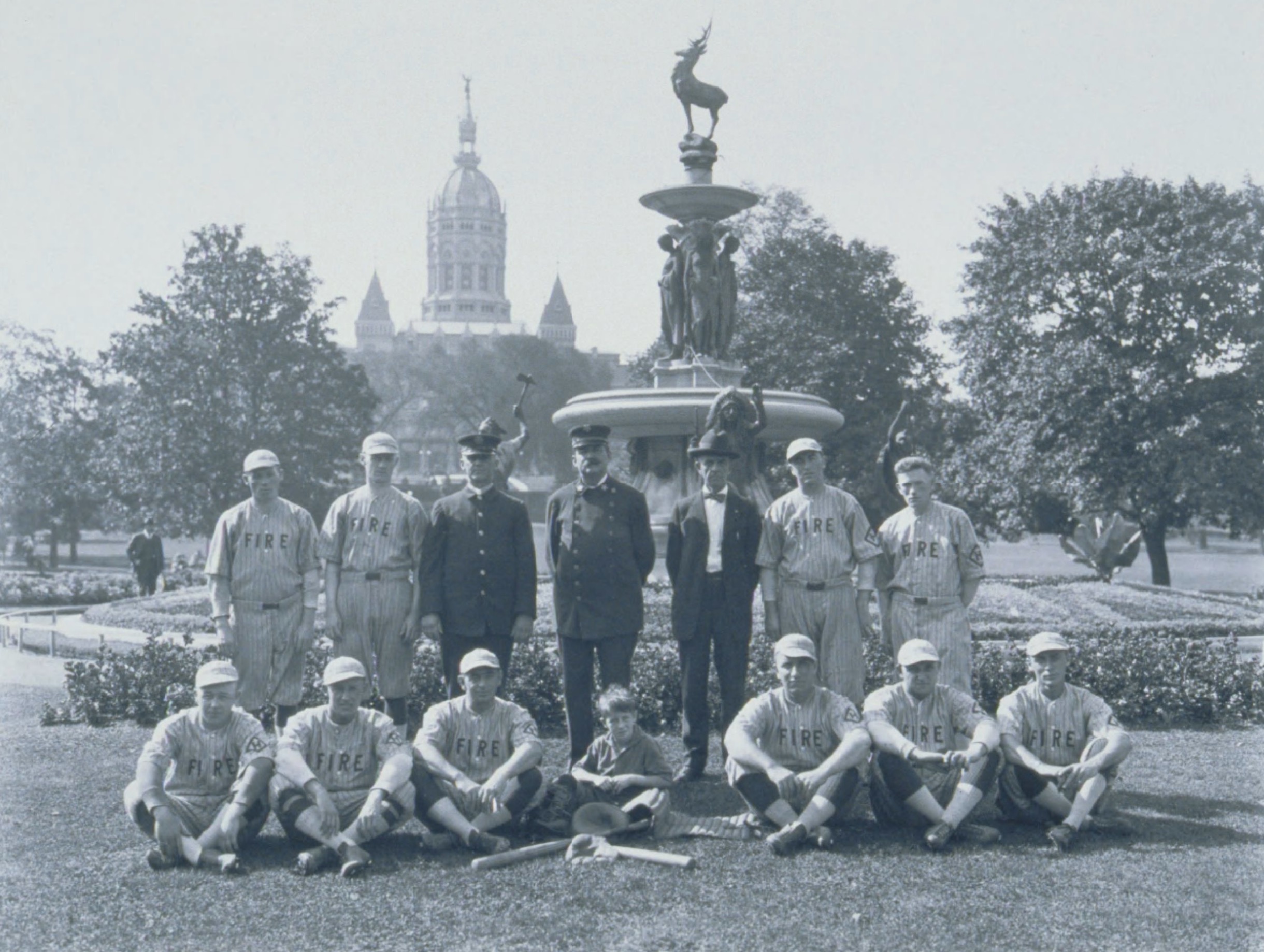 In 1921, Anderson opted for regional sports as head of the Hartford County Basketball League and the Hartford County Baseball League. He also became president of the Municipal Service Baseball League while assisting other amateur loops like the City Independent League and the Allied Insurance and Bankers League. In November, Anderson was invited back to Washington D.C. to represent Hartford at the burial of the Unknown Soldier at Arlington National Cemetery. Around the holidays, he attended a Christmas dinner at the State Armory dressed as Santa Claus, amusing over seven hundred military veterans.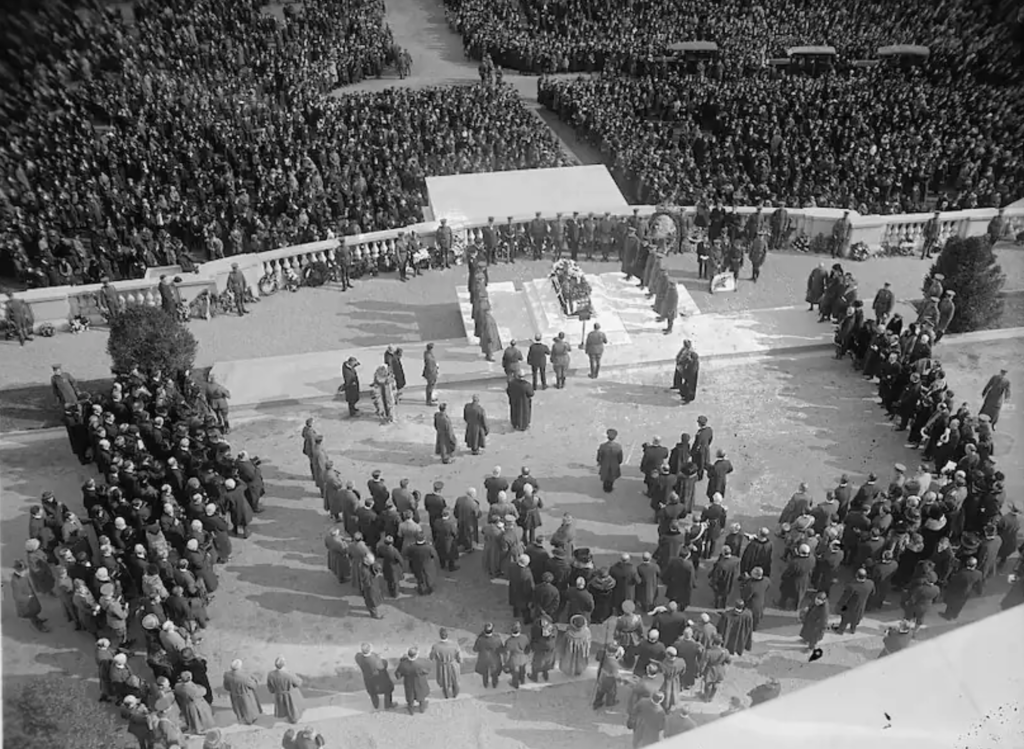 The following year, Anderson once again played a critical part in Hartford's Independence Day celebrations. This time, he helped to organize a relay race dubbed the Courant Marathon. The footrace started at Duke of Cumberland Inn (John Robbins House) on Old Main Street in Rocky Hill where George Washington had stayed during the American Revolution. The finish line was set in front of Connecticut's Old State House. Anderson and Mayor Richard J. Kinsella were judges of Hartford's first large-scale footrace.
In 1923, Anderson served as general chairman of Hartford's annual Bowling Carnival, an event he had begun two years prior. Hundreds of bowlers competed from morning to midnight at Casino Alley on Asylum Street. The carnival honored George Washington's birthday and amassed $420 for Camp Courant, Times Farm and the Newington Home for Crippled Children. In May, Anderson appeared in city court only to lose a lawsuit against the Connecticut Boulevard Amusement Company over a complete set of baseball equipment worth $187. When summer arrived, he presided over the Insurance-Bankers League and sat on the committee of the next Courant Marathon.
Harry Anderson's Danish-born father, Jeef H. "Dave" Anderson passed away at 80 years old on August 1, 1923. Perhaps to remember his father, Anderson invited to Hartford a renowned gymnastics instructor from Denmark named Niels Bukh and his team of athletes. Once referred to as the "Walter Camp of Europe" Bukh was a Danish national hero for his advancements in physical education. Anderson oversaw Bukh's performance at the State Armory featuring thirty gymnasts stretching and contorting in unison. He praised Bukh for, "…producing a remarkable type of athlete from the most unpromising material as was evidenced at the Antwerp Olympic Games."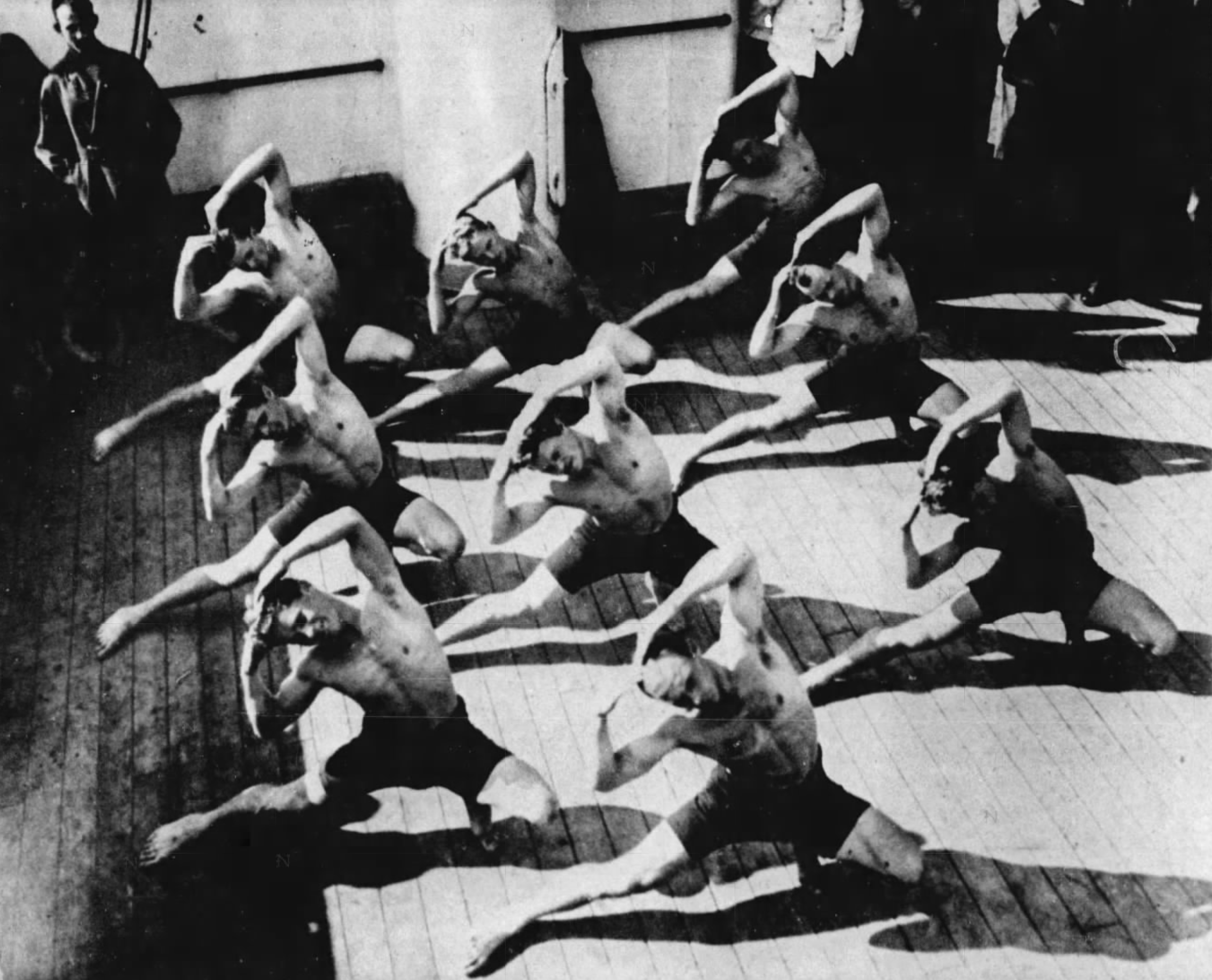 Then, in recognition of Armistice Day, Anderson recited an original poem on the radio entitled "We've Come Back to You." On New Year's Day, 1924, he was toastmaster of the Hartford Exiles' sixth reunion at Hotel Garde. After organizing another profitable Bowling Carnival, Anderson learned of his appointment to the United States Olympic Committee. He graciously accepted and planned to attend the 1924 Olympics in Paris. Anderson witnessed the United States achieve a medal count of 32, nearly twice that of the next country, Finland. While in France, Anderson revisited Dinard, where he received a royal welcome and was awarded the Legion of Honor; France's highest distinction first established by Napoleon Bonaparte in 1802.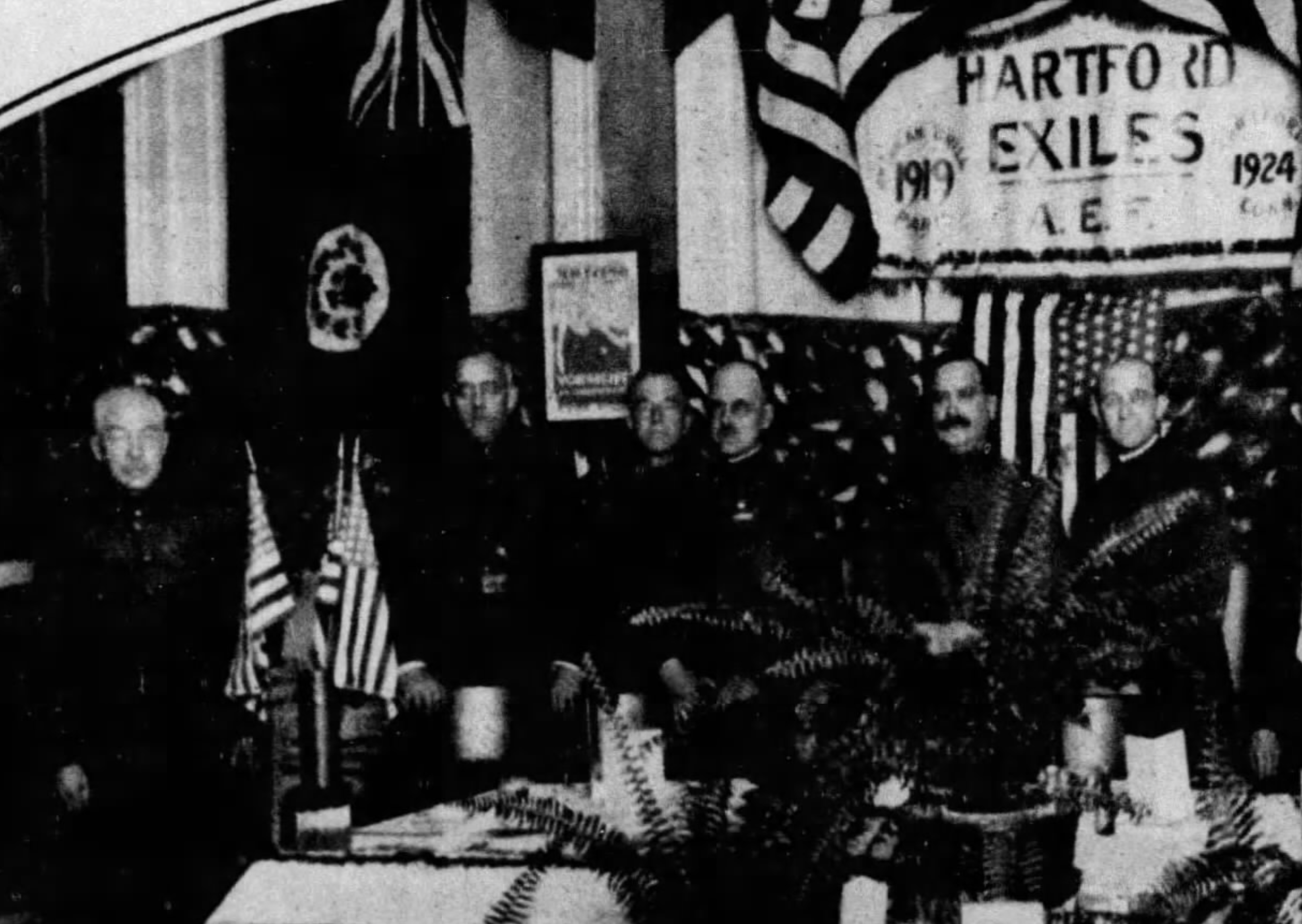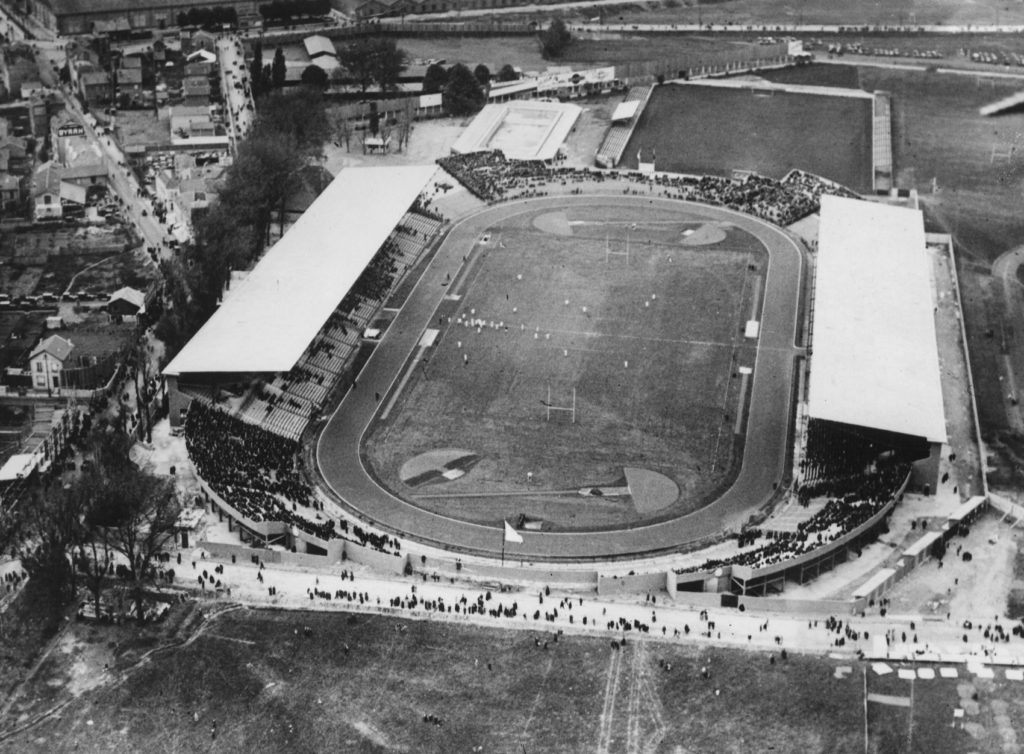 When he returned home, Anderson reported that 45 nations competed with sportsmanship. He predicted international amity among nations would arise from the Olympics. In 1925, Anderson's experience earned him a new role as Hartford County commissioner of the Amateur Athletic Union (AAU). He sent Hartford's Dixie basketball team to a national tournament in Kansas City. However, Anderson was discovered to have broken AAU gifting rules and was fired. His ousting was a rare public embarrassment, but he quickly bounced back as President of the Farmington Valley Baseball League and the Farmington Valley Basketball League.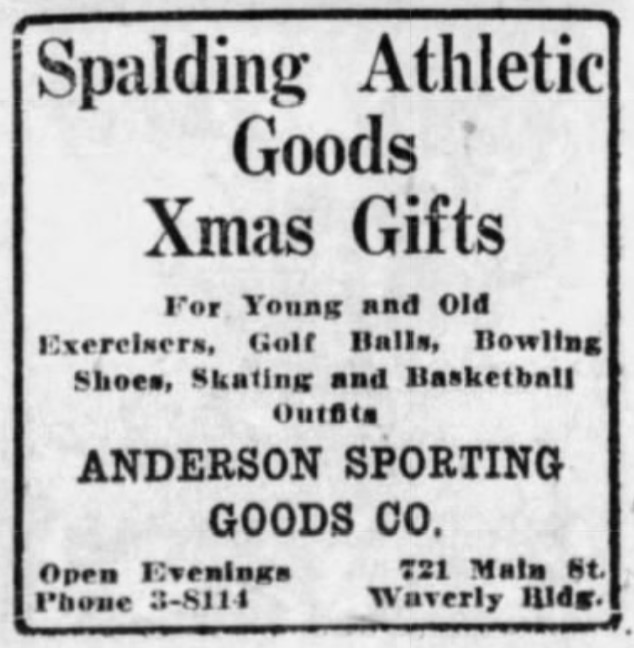 In 1926, a former member of the Bermuda Invaders and associate editor of the Terre Haute Star, Frank A. Hollis offered Anderson a change of scenery as recreation director in Terre Haute, Indiana. However, Anderson stayed loyal to Hartford and dove into recreating the City Independent League. He leaned on league secretary and chief umpire, Walter Elliot to conduct administrative duties. Eight baseball clubs manned by Hartford's top amateurs took to the diamonds in Colt Park. Mayor Norman Stevens tossed the ceremonial first pitch at Opening Day and by the end of the season, the New Departure Endees of Elmwood had won their second straight championship.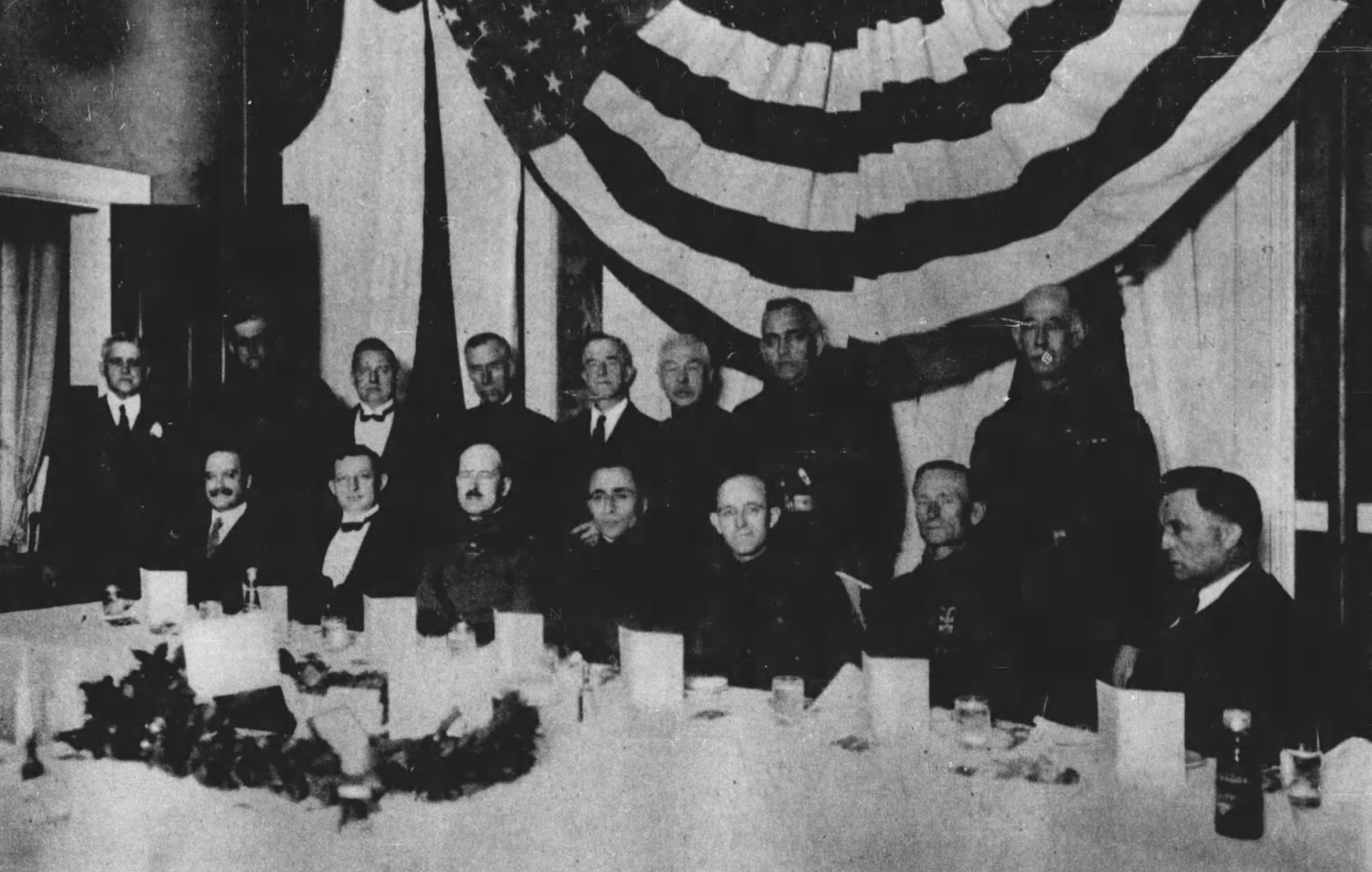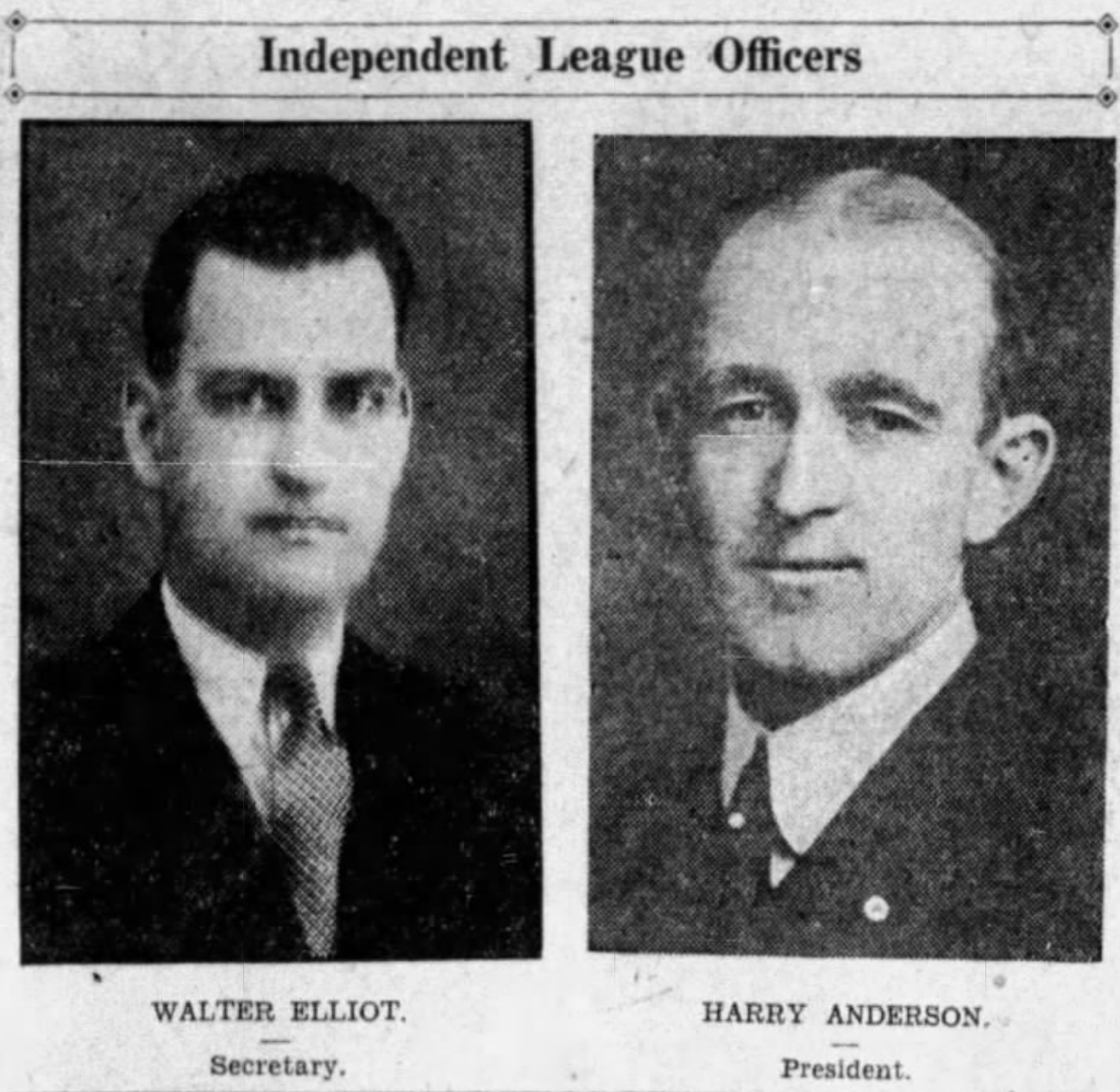 Harry Anderson, a true jack-of-all-trades, was re-elected president of the Syria Grotto Band in 1927. The band was comprised of some of the best jazz musicians in Hartford. Anderson's artistic pursuits, athletic promotions and sporting goods store made him one of the city's most publicized figures. In many respects, Hartford relied on Anderson for his skillful leadership. He was a busy man, but always found time for annual gatherings like the fifteenth anniversary banquet of the Bermuda Invaders and the seventh annual Charity Bowling Carnival at the Hartford YMCA.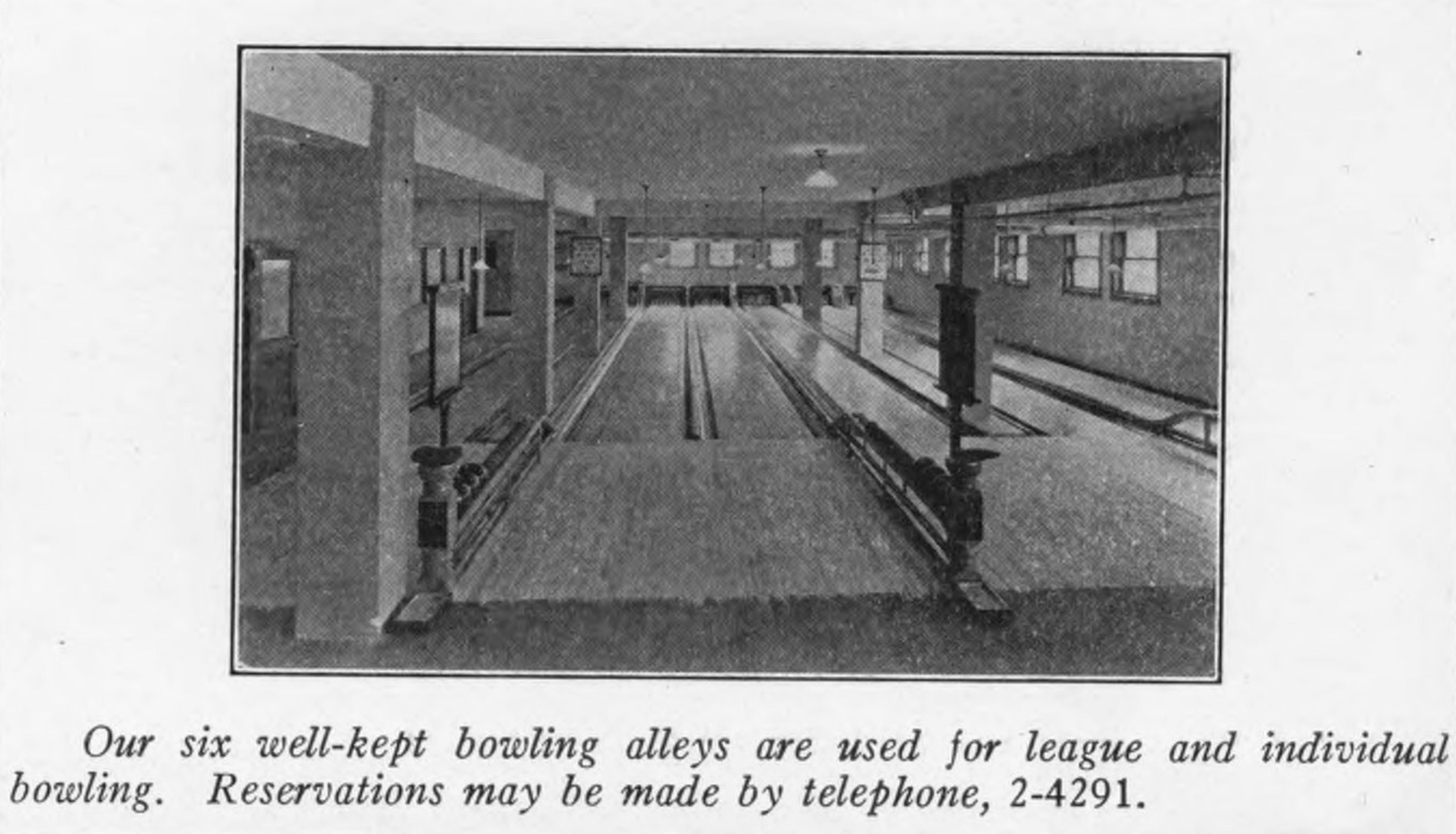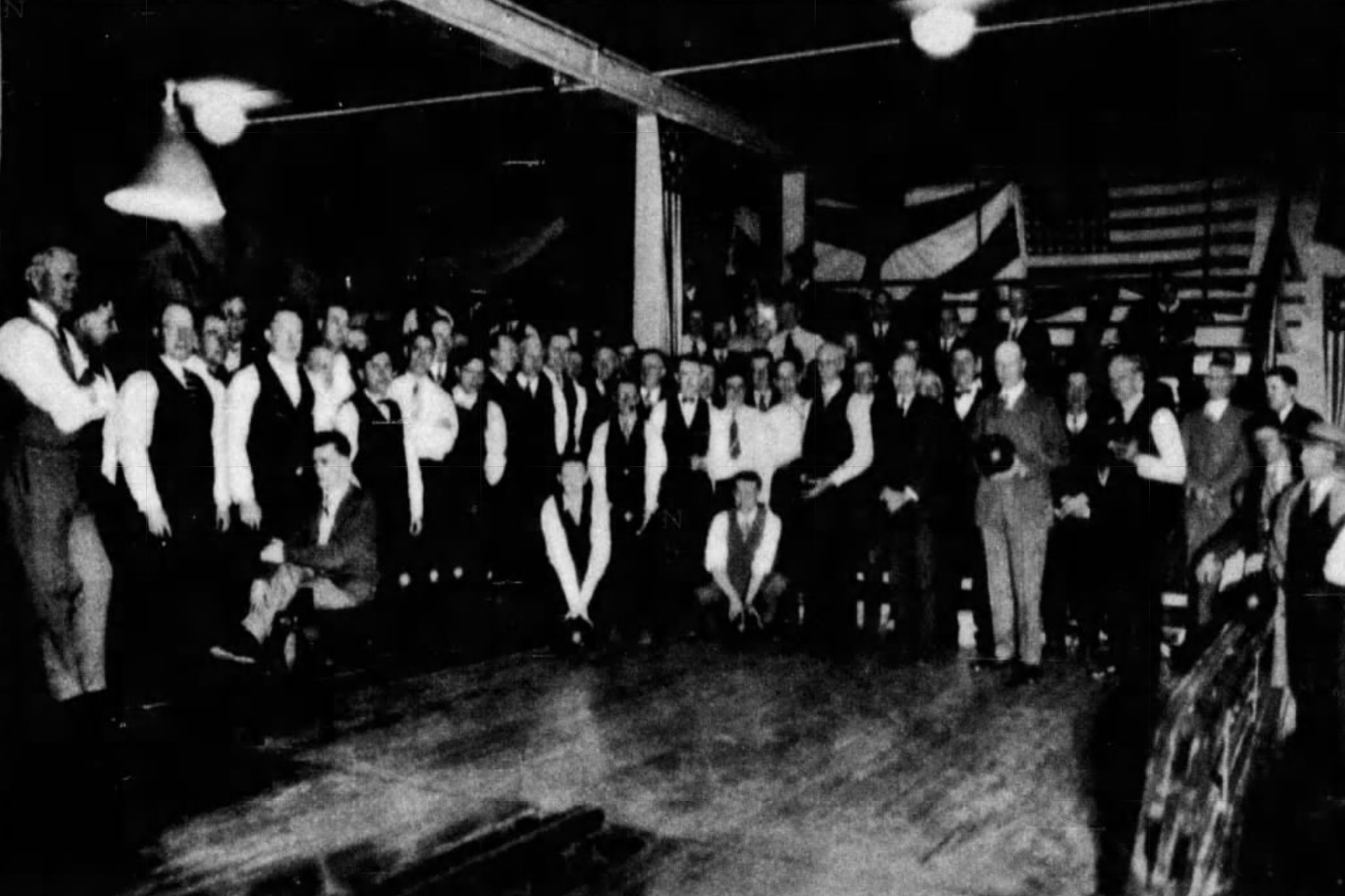 In late May of 1927, Anderson arranged a parade down Main Street to celebrate the national game. The event was known as Hartford Boys' Baseball Day and featured a special guest: Commissioner of Major League Baseball Judge Kenesaw Mountain Landis attended the parade, sat near the finish line at the Hartford Times Building and watched 5,000 marching youngsters. Landis wished the Hartford boys, "…all the luck in the world, but bear in mind, that a good sport plays according to the rules, and to some extent, makes his own luck." Also on hand for the festivities were Mayor Norman Stevens, former ace of the Cincinnati Reds Stockings, George Wright, owner of the Hartford Senators, James H. Clarkin and President of the Eastern League, Herman J. Weisman.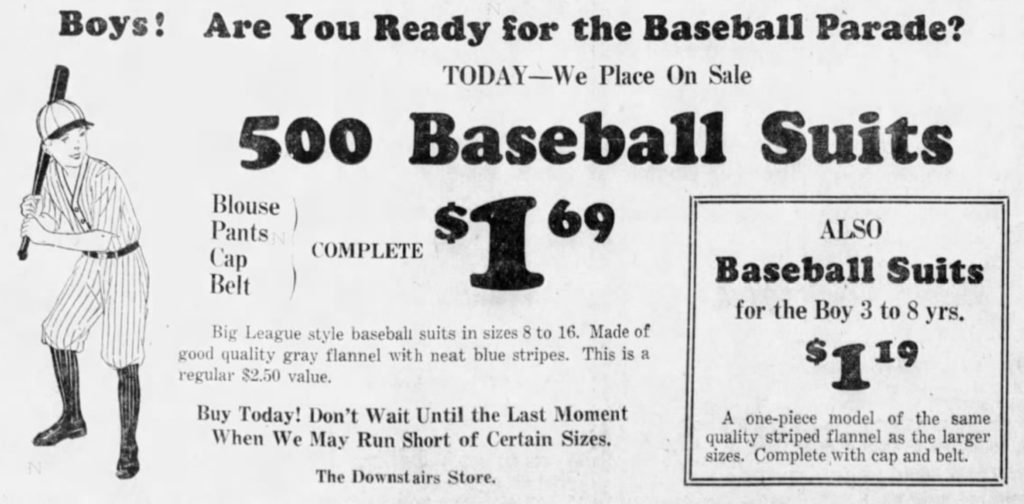 Later that year, Harry Anderson founded the World Series Club, an organization still in operation today. Anderson was an avid attendee of the World Series since 1917. While attending the 1927 series, Anderson and nineteen other Hartford men formed the club at Hotel Knickerbocker in New York City. Membership was open to Hartford residents who had attended at least one World Series. Club members included Mayor Norman Stevens, Art B. McGinley, Hartford Times sports editor, Albert W. Keane, Hartford Courant sports editor and Raymond Rutledge, a former pitcher of the Cleveland Indians. As for the outcome of the World Series, Babe Ruth and Lou Gerhig of "Murderer's Row" swept the Pittsburgh Pirates in four games to propel the Yankees to a world championship.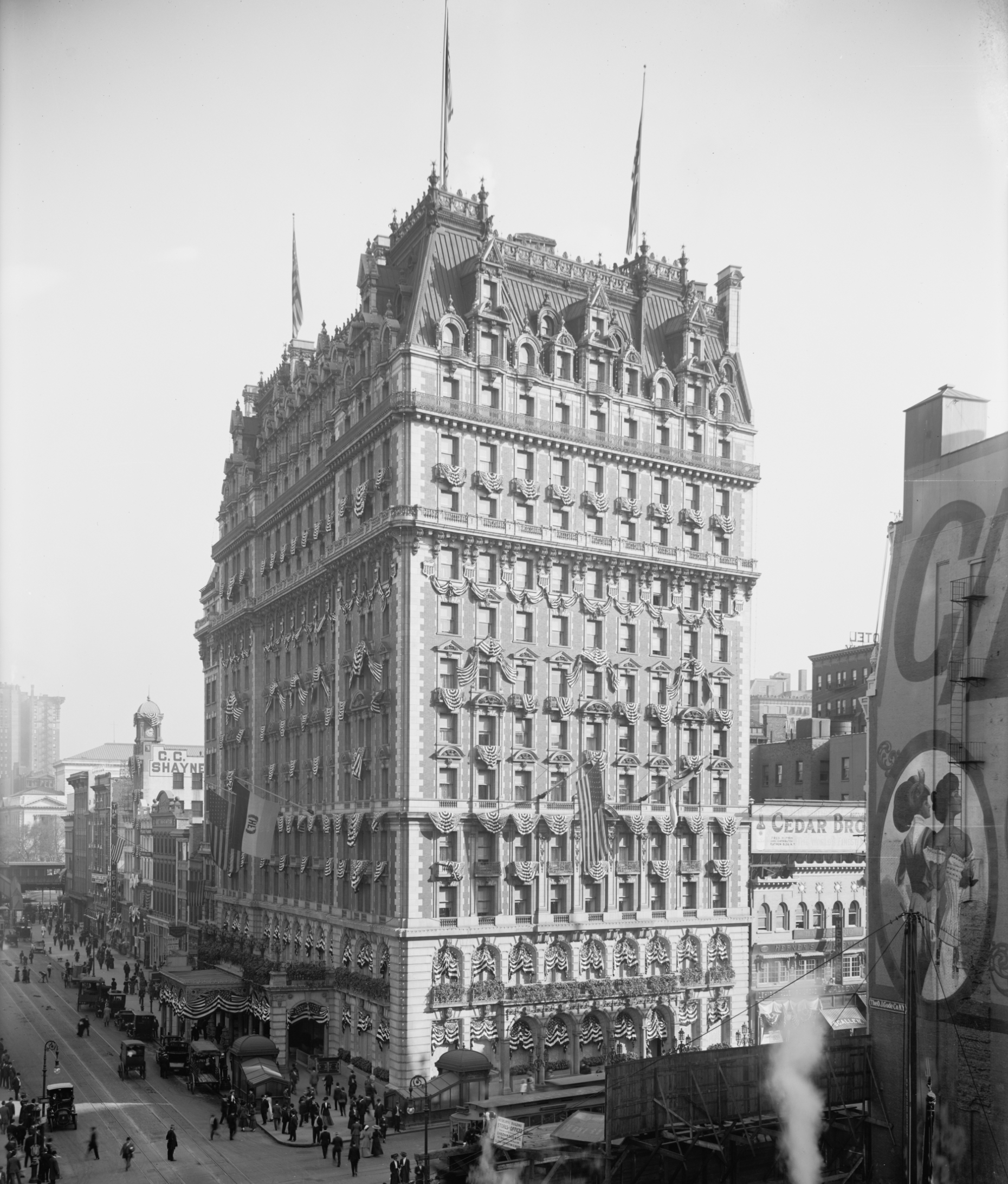 Anderson then became president and part-time referee of the Farmington Valley Basketball League in early 1928. He chaired a committee to bring two hundred track and field athletes to the State Armory in mid-March, for the Massasoit Athletic Club Track Meet. At the event, Olympic sprinter Frank Hussey cracked the World Record for the 70-yard dash. By April, Anderson announced his intentions to direct Hartford's Bankers Baseball League with Walter Elliot as his right-hand man. Arrangements were made at Anderson Sporting Goods and disseminated to the Hartford Courant and Hartford Times.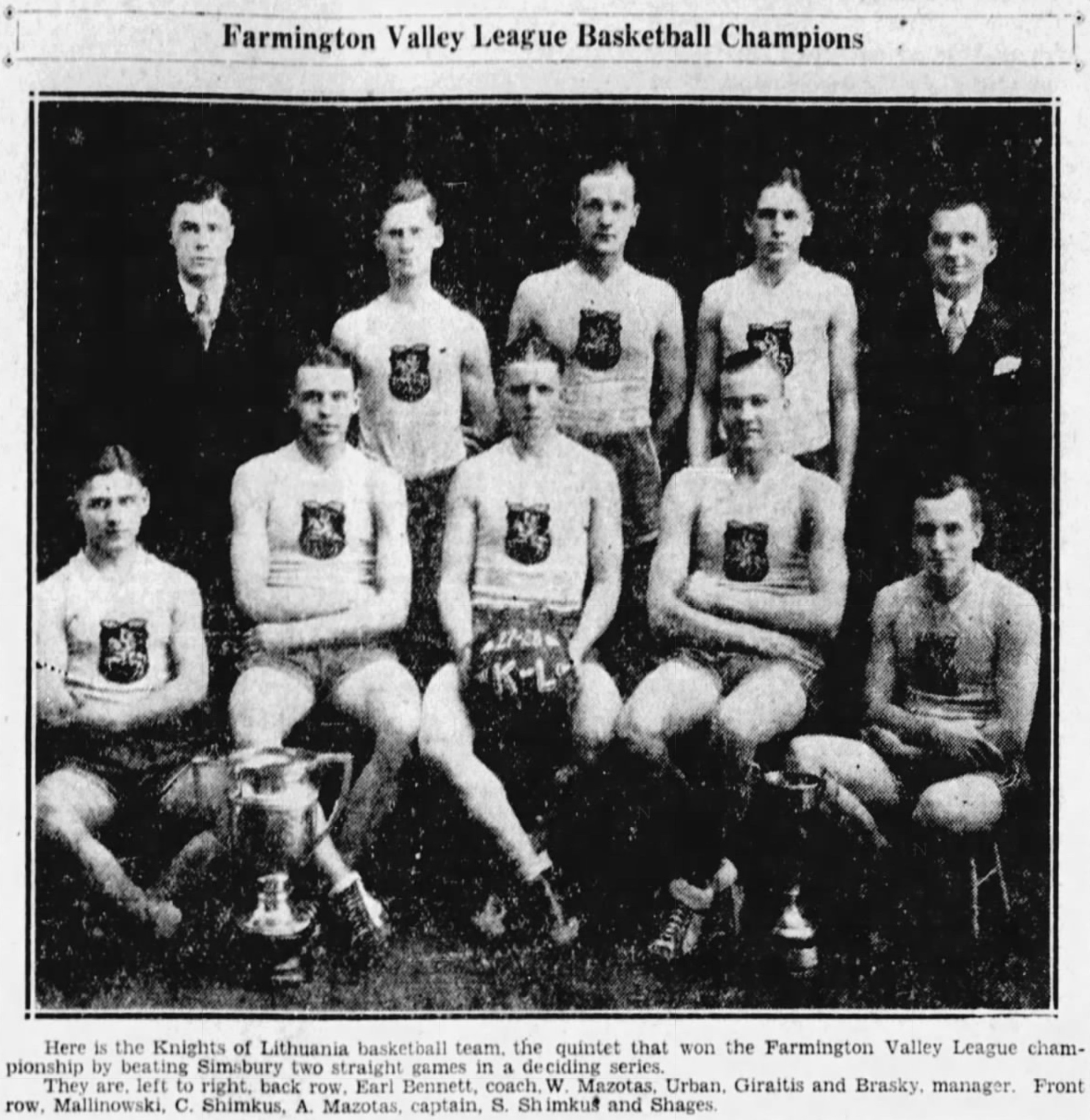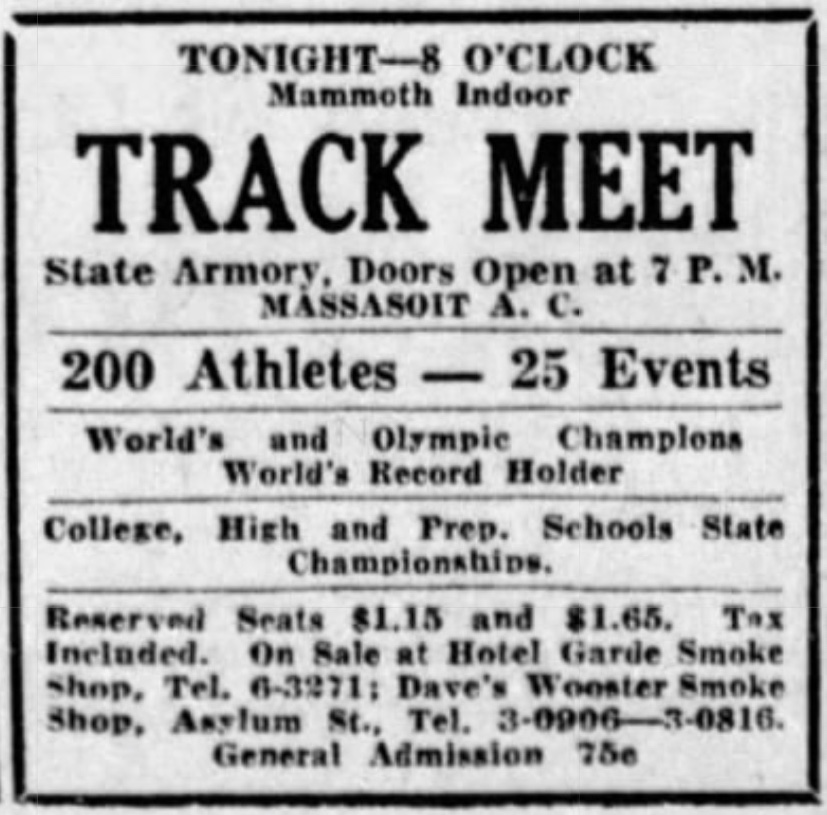 Before baseball season got underway, Anderson and members of the World Series Club welcomed to the city, new owners of the Hartford Senators. On Opening Day, April 18, 1928 at Bulkeley Stadium, Anderson presented the Eastern League club with a horseshoe-shaped floral bouquet. The flowers were thought to have given the Senators good fortune in their win over the Bridgeport Bears. A few weeks later, Anderson arranged the Farmington Valley Baseball League consisting of teams from Simsbury, New Britain, Windsor, East Hartford, East Glastonbury and Thompsonville.
In July of 1928, Harry Anderson was given a post on the American Olympic Committee. Anderson was a key member of the United States team's statistical staff. He traveled from Hoboken, New Jersey aboard the Steam Ship Veendam of the Holland-American line to Amsterdam, Netherlands. He represented Hartford overseas for 16 days at the Summer Games. The 1928 Amsterdam Olympics marked the first continuous lighting of the Olympic Flame. On his return, Anderson received a testimonial dinner at Hotel Garde put on by local luminaries. Mayor Walter E. Batterson presided as toastmaster and lauded Anderson for his 25 years of service to Hartford sports.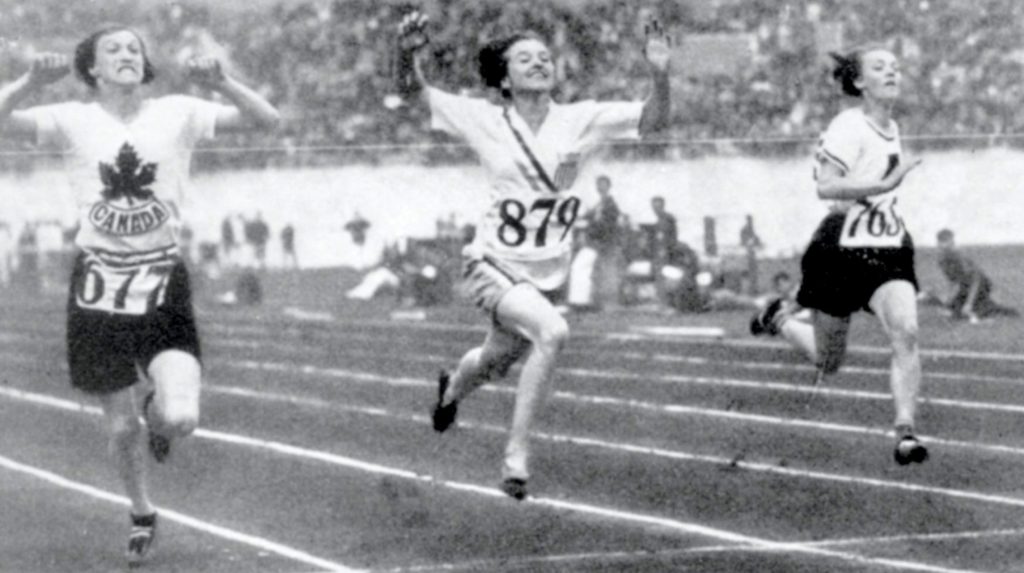 On New Years Day, 1929, Anderson and the Hartford Exiles marked their tenth anniversary at The Hartford Club on Prospect Street. It was the first Exiles dinner at which wives of members were allowed to attend. Perhaps Anderson's most notable accomplishment of 1929 was his participation at the fourteenth National Convention of Disabled American Veterans of War, a cause for which he cared deeply. He also remained chairman of the charity Bowling Carnival benefitting Camp Courant, a day camp for Hartford children.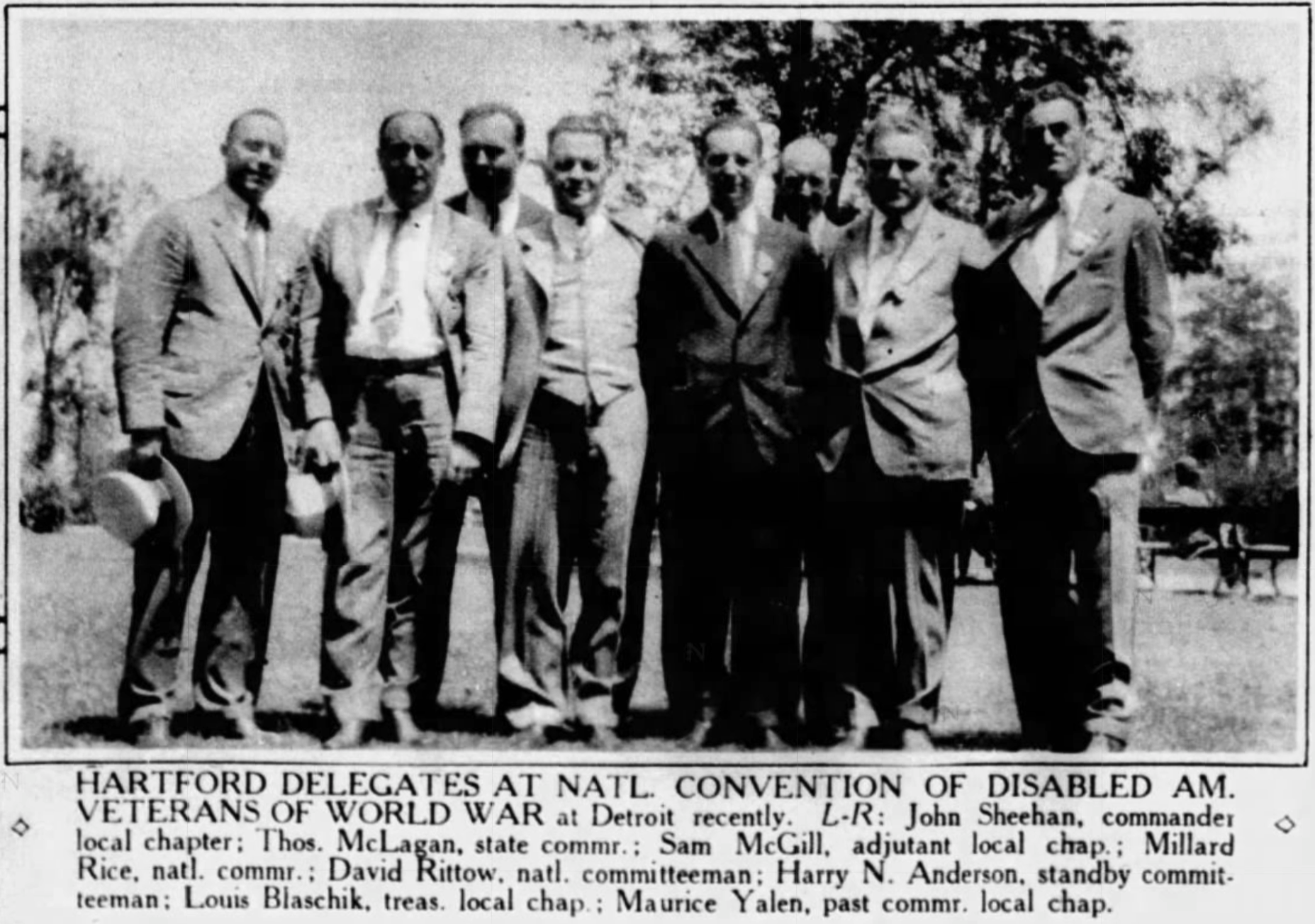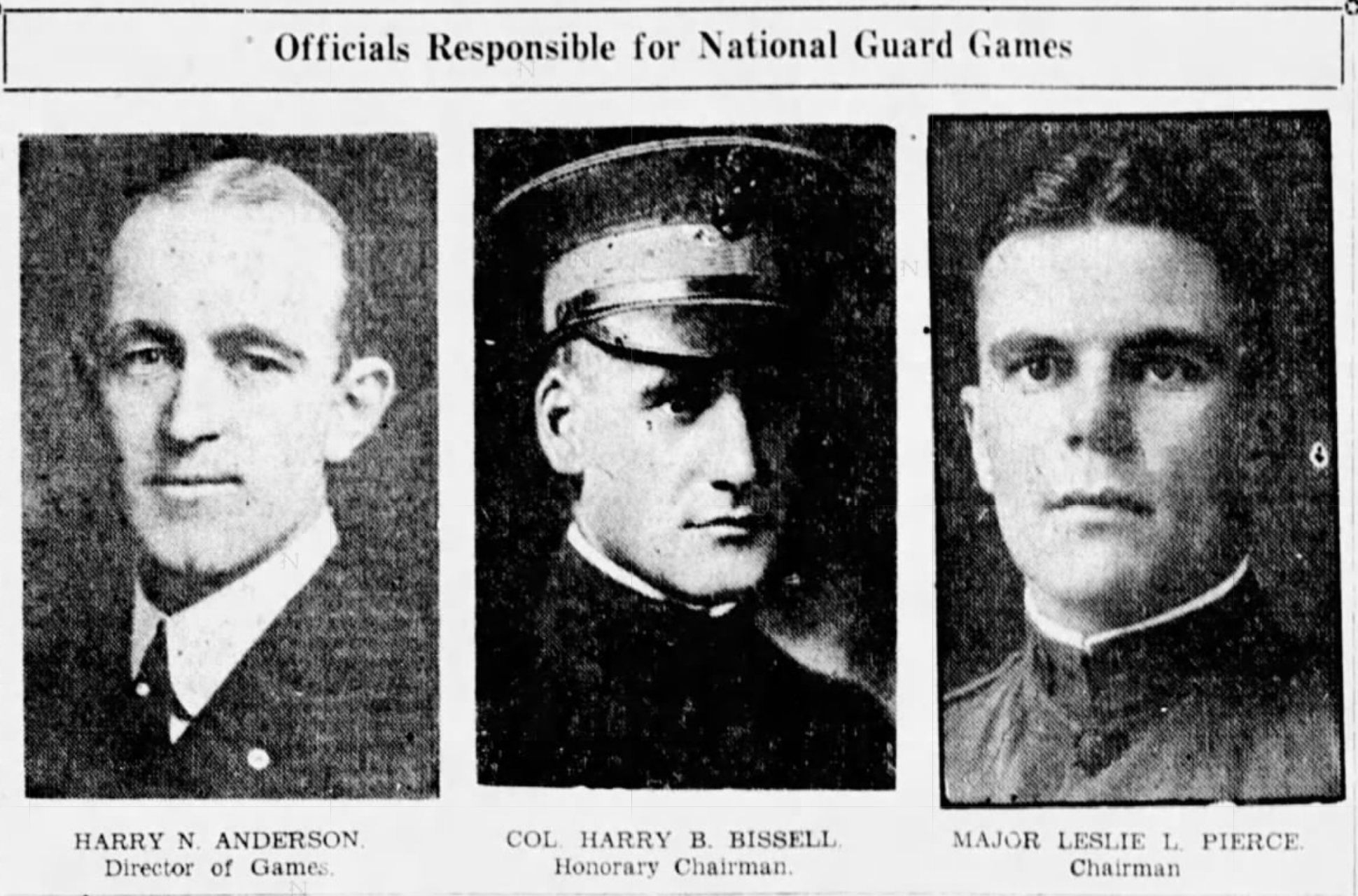 Harry Anderson, Hartford's unofficial patriarch of amateur baseball, took charge of Hartford's Public Service Baseball League in 1929. At the start of July, he formed a new iteration of the City Independent Twilight League in a meeting at Anderson's Sporting Goods. Teams competed at Colt Park on Tuesdays and Thursdays using "Spalding official rules" to govern the league. Hartford's best teams participated such as: the Wolverines, McKinley Athletics, Holy Name, Economy Grocery, Bill Battey's Spartans and Cardinal Athletic Club. Anderson was first president of the loop that eventually evolved into today's Greater Hartford Twilight Baseball League.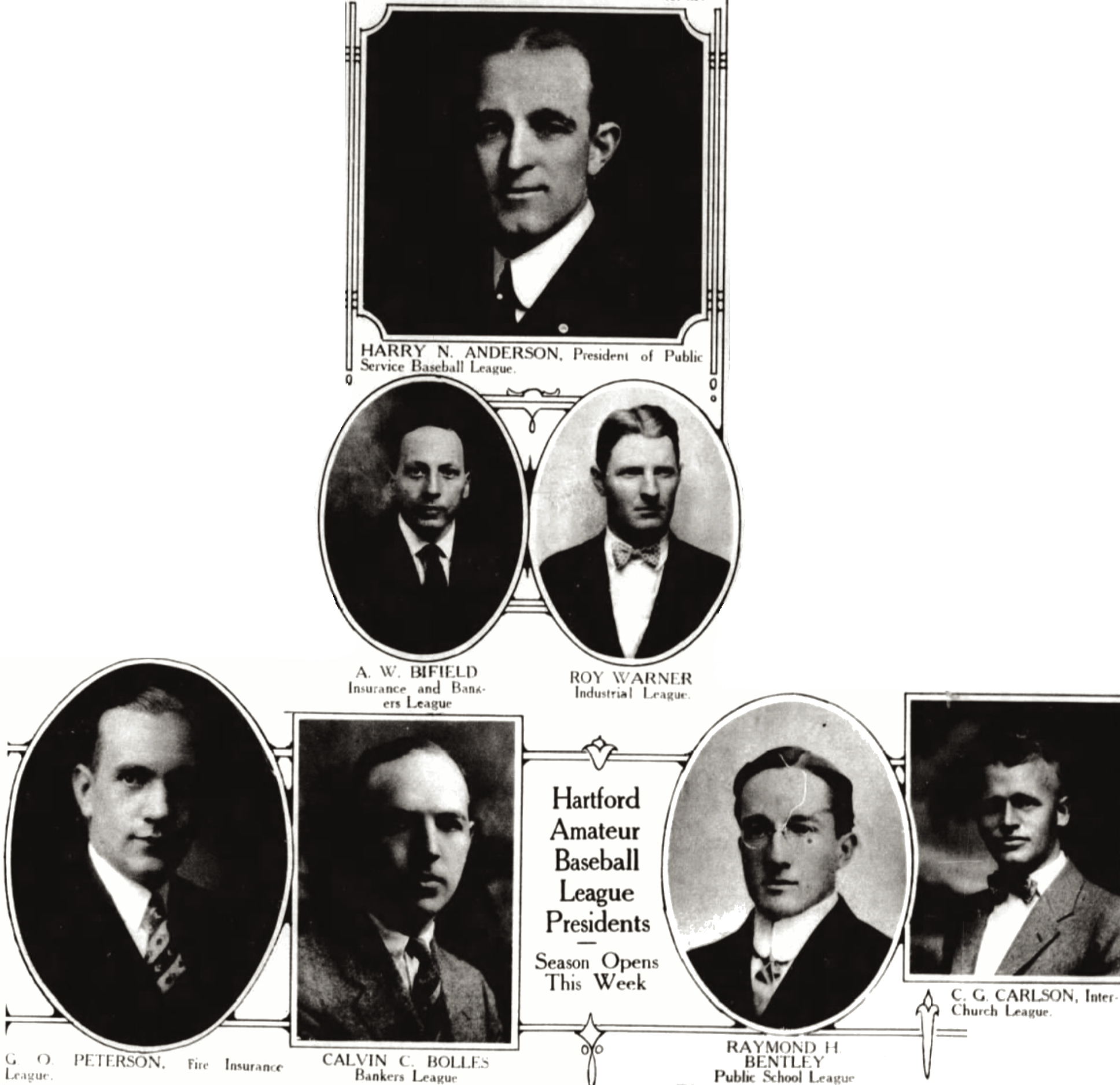 At 45 years old, Anderson was a loyal patriot with enthusiasm for serving his community. In return for his 25 years of dedication to athletics in Hartford, city officials and dignitaries threw Anderson a testimonial dinner at Hotel Garde. On November 18, 1929, seven organized baseball leagues made up for most of the 175 dinner guests. Mayor Walter Batterson acted as toastmaster and famous football official Ed Thorp was keynote speaker. Other attendees included boxing star, Bat Battalino and Hartford Senators outfielder, Skee Watson. Anderson made an address of appreciation, and then handed out official Spalding trophies to the winners of each amateur league.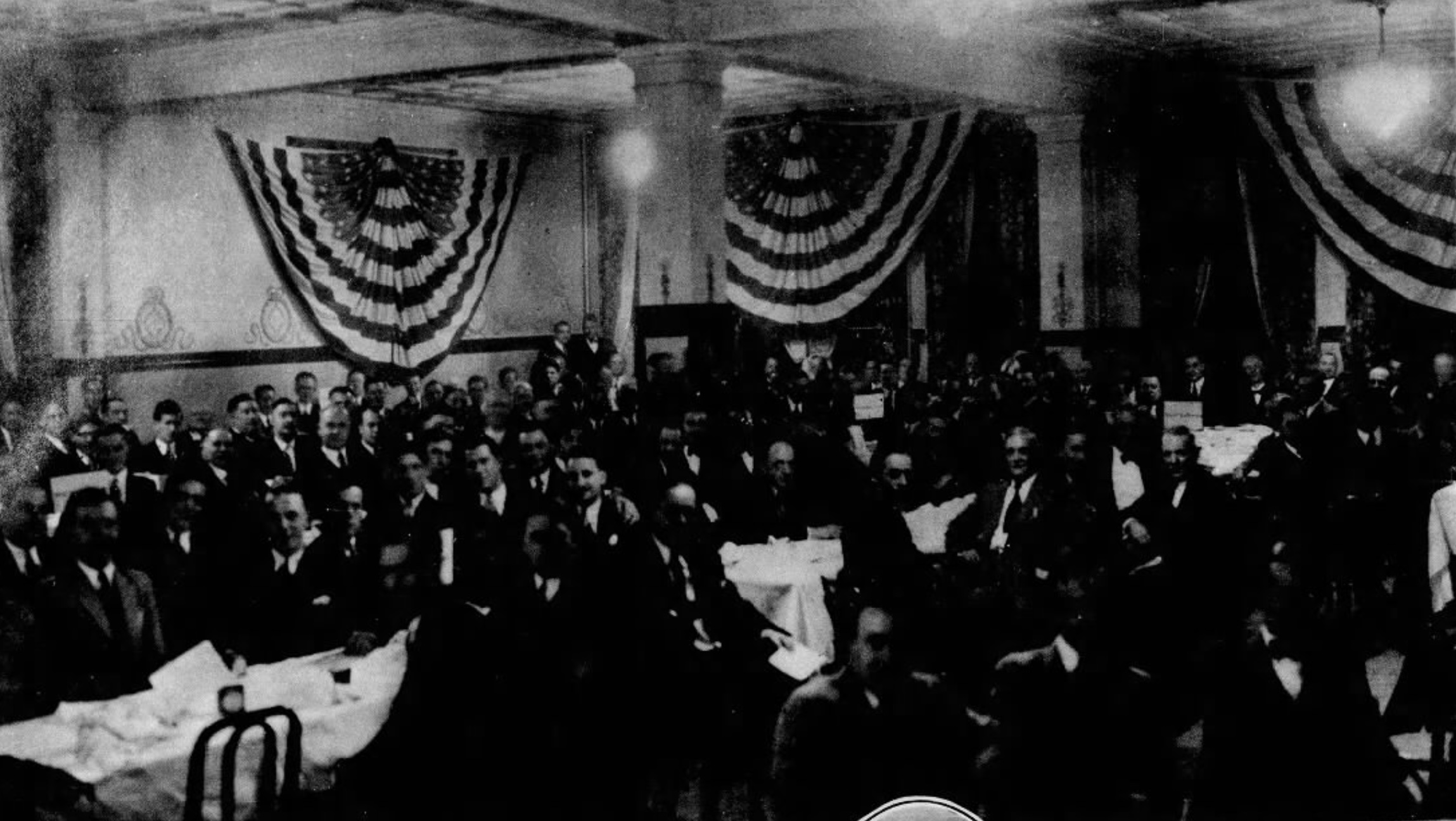 In 1930, Anderson became director of the Camp Courant Fund. Along with athletics and entertainment, fundraising for Camp Courant was Anderson's life's work. Nearly every year from 1920 until his passing in 1954, Anderson served as chairman of the annual Charity Bowling Carnival, directly benefiting the children at Camp Courant. Afterwards, he resumed responsibilities for the United States Olympic Committee. Anderson and committee members convened on Washington D.C. to devise plans for the 1932 Olympics in Los Angeles, California.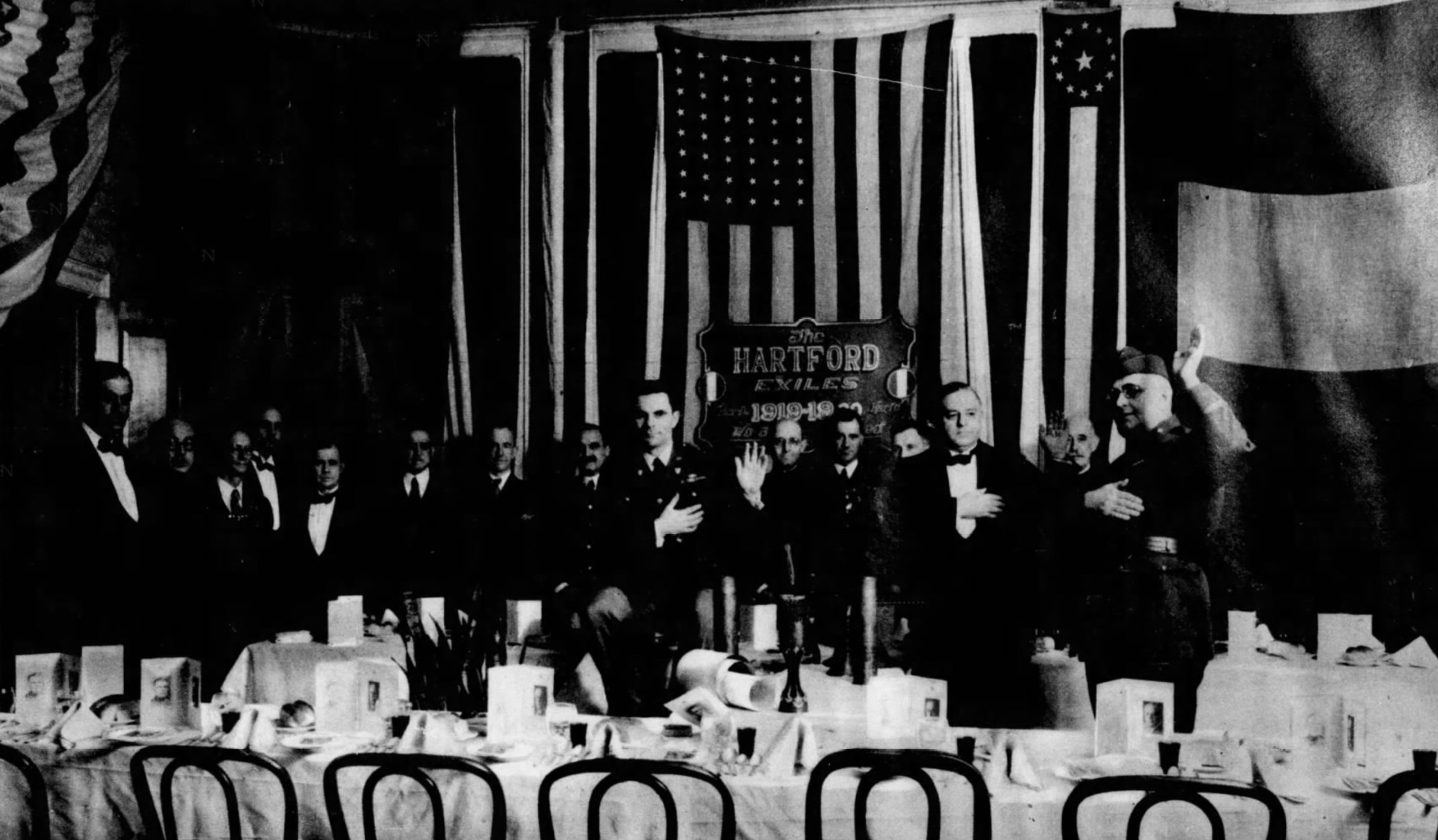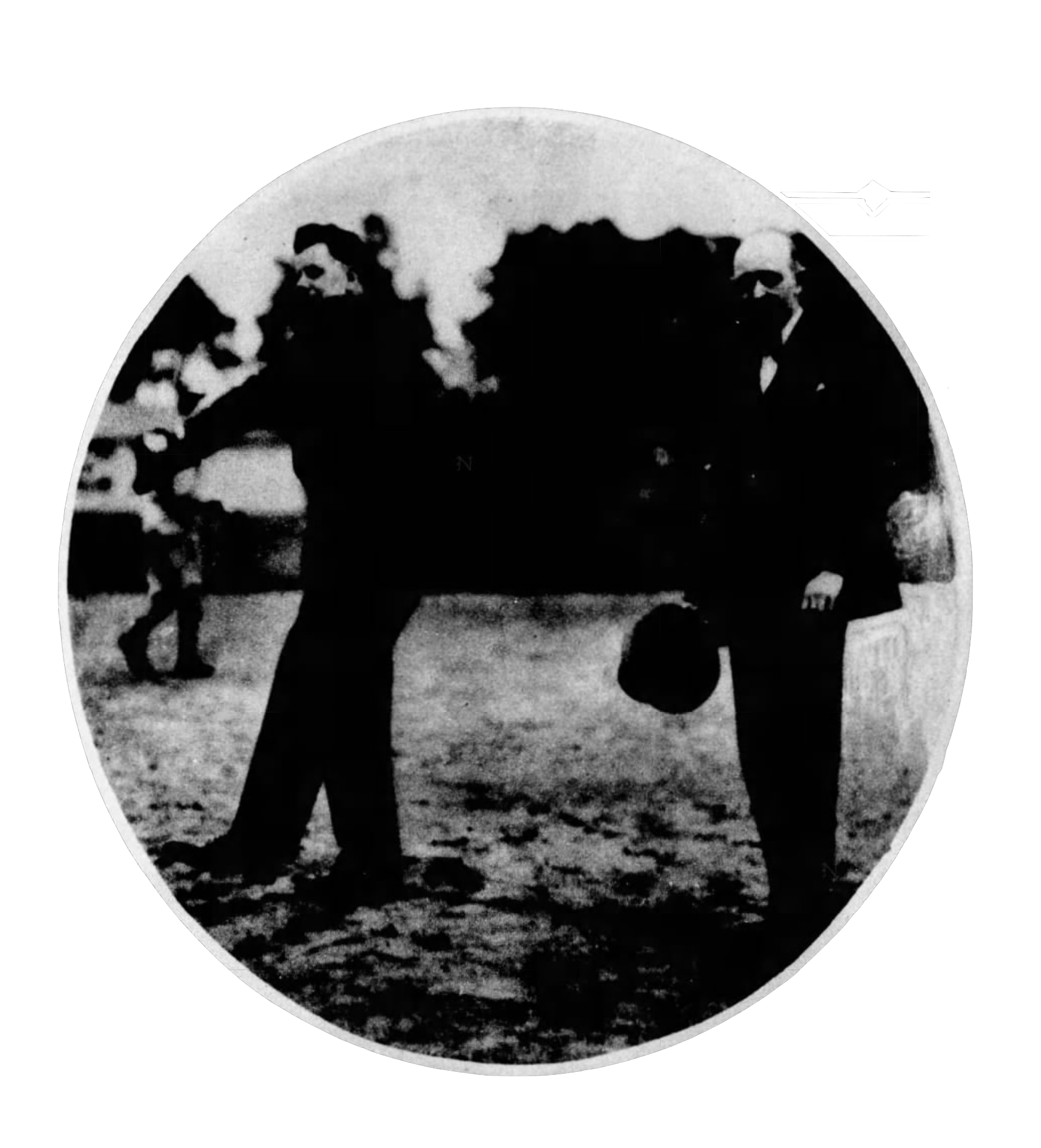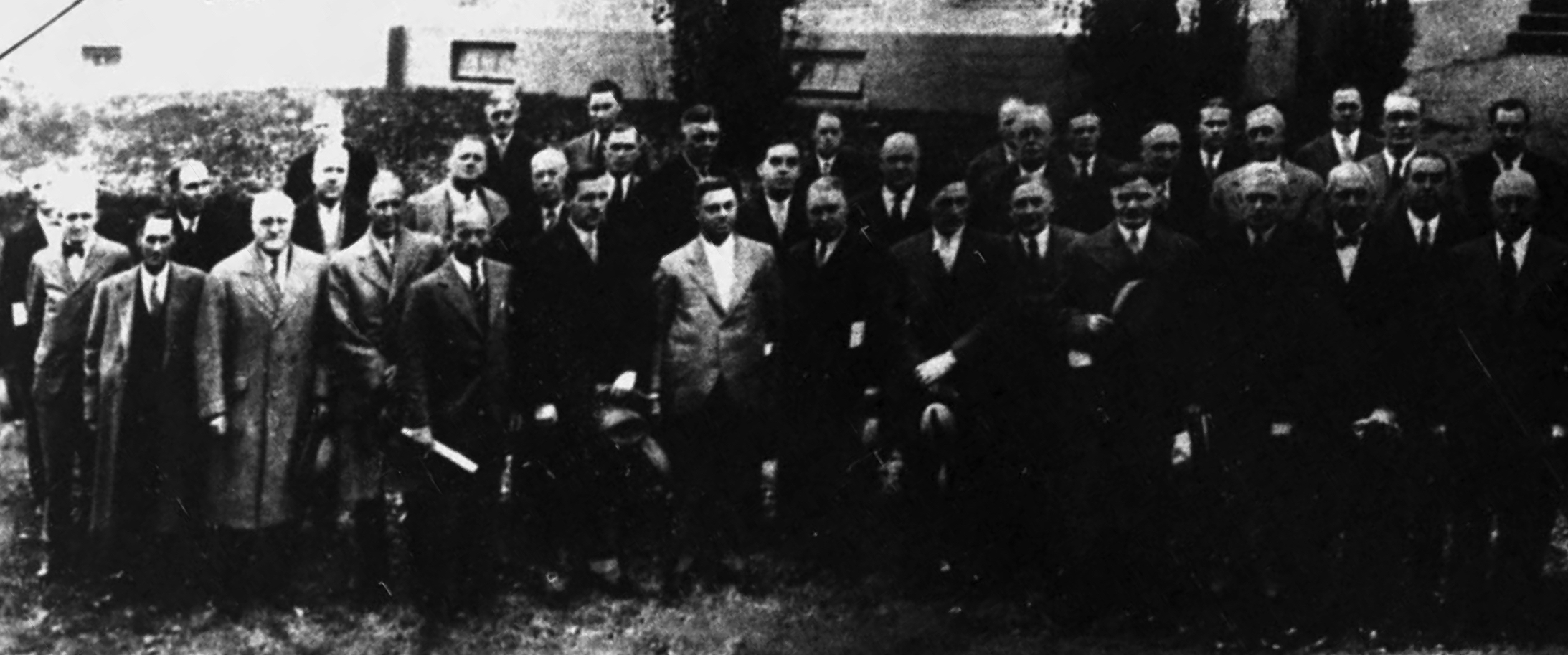 An increasingly busy Anderson turned over president duties role of the Hartford Twilight League to John A. Barrett after one year. The Savitt Gems became city champions of 1930 by defeating Holy Name at Bulkeley Stadium. At the Gems victory banquet, players listened to a congratulatory speech from Anderson while enjoying a lobster dinner. Bill Savitt was awarded with the championship trophy while each player received championship rings. The Gems would go on to become Hartford's most revered semi-professional team until 1945.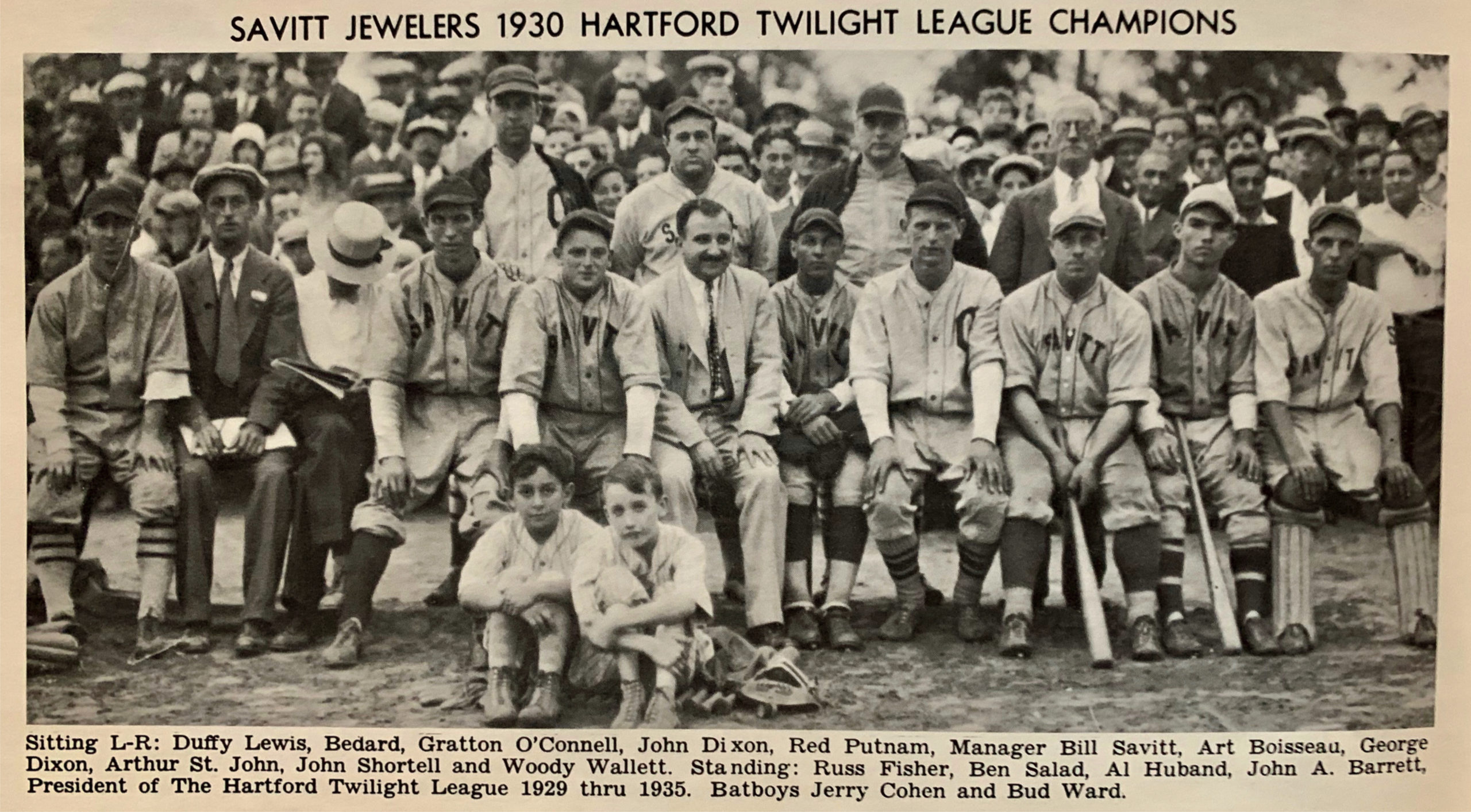 That same summer, Anderson had made arrangements with a previous contact: Washington's owner Clark Griffith. They scheduled a benefit game between the Washington Senators and a team of Eastern League All-Stars on September 23, 1930. Prices were 75 cents for grandstand seating, 50 cents for bleachers and 25 cents for children. Ticket proceeds were donated to the Hartford Chapter of Disabled American Veterans. Famous showmen Al Schacht and Nick Altrock were also on hand to perform comedy routines between innings.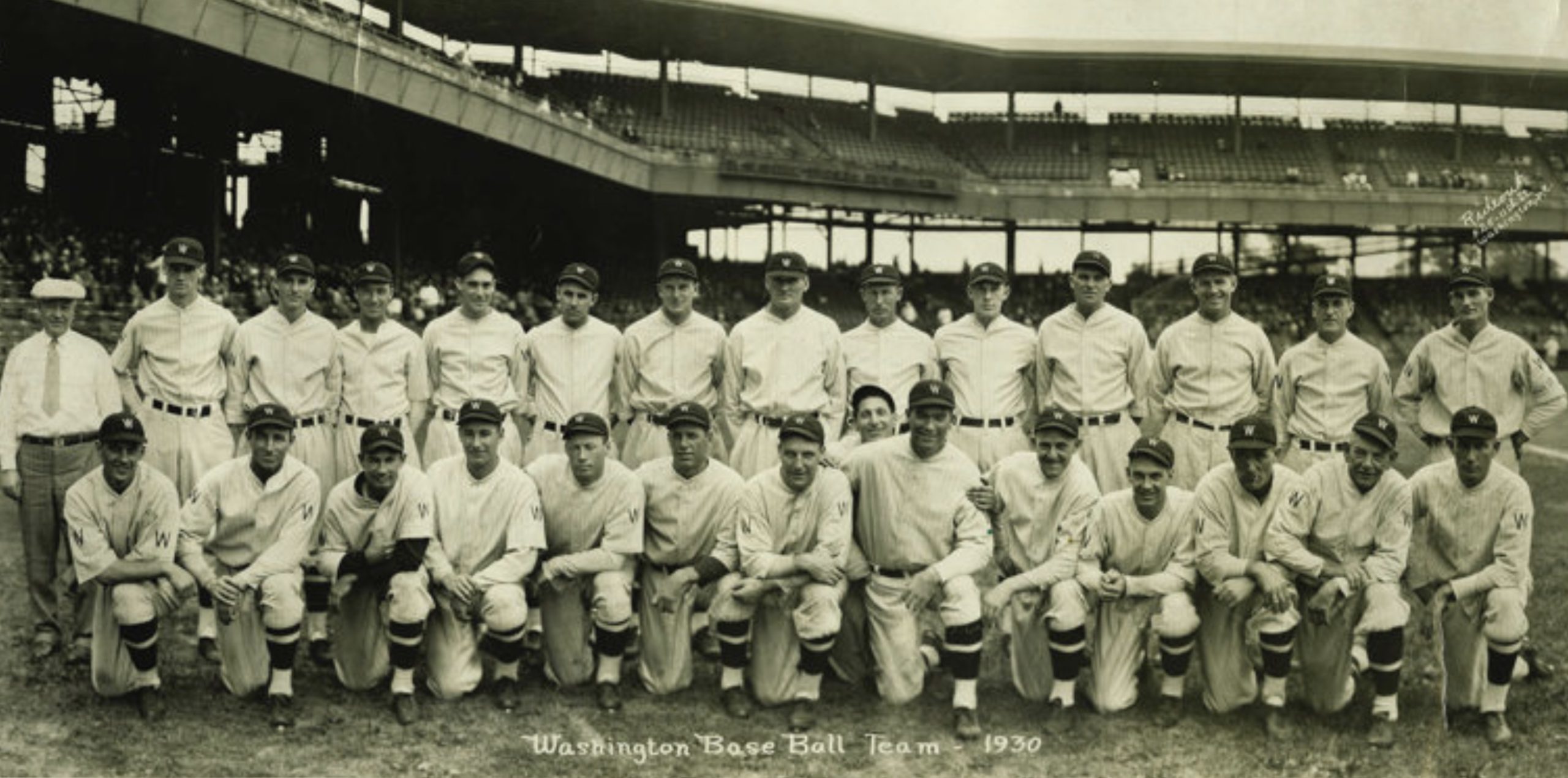 Amid the Great Depression, Anderson' philanthropic attitude persisted in Hartford and beyond. In February of 1931, over 700 bowlers entered Anderson's Charity Blowing Carnival. The biggest attraction of the event was the women's team from Albany, New York, who defeated a picked team of men from the Hartford Big Pin League. The proceeds of the carnival went to the care of underprivileged children of Camp Courant and Time Farm. A few months later, Anderson took part in the Connecticut Delegation at the 11th National Convention of Disabled Veterans of World War in Wilkes-Barre, Pennsylvania.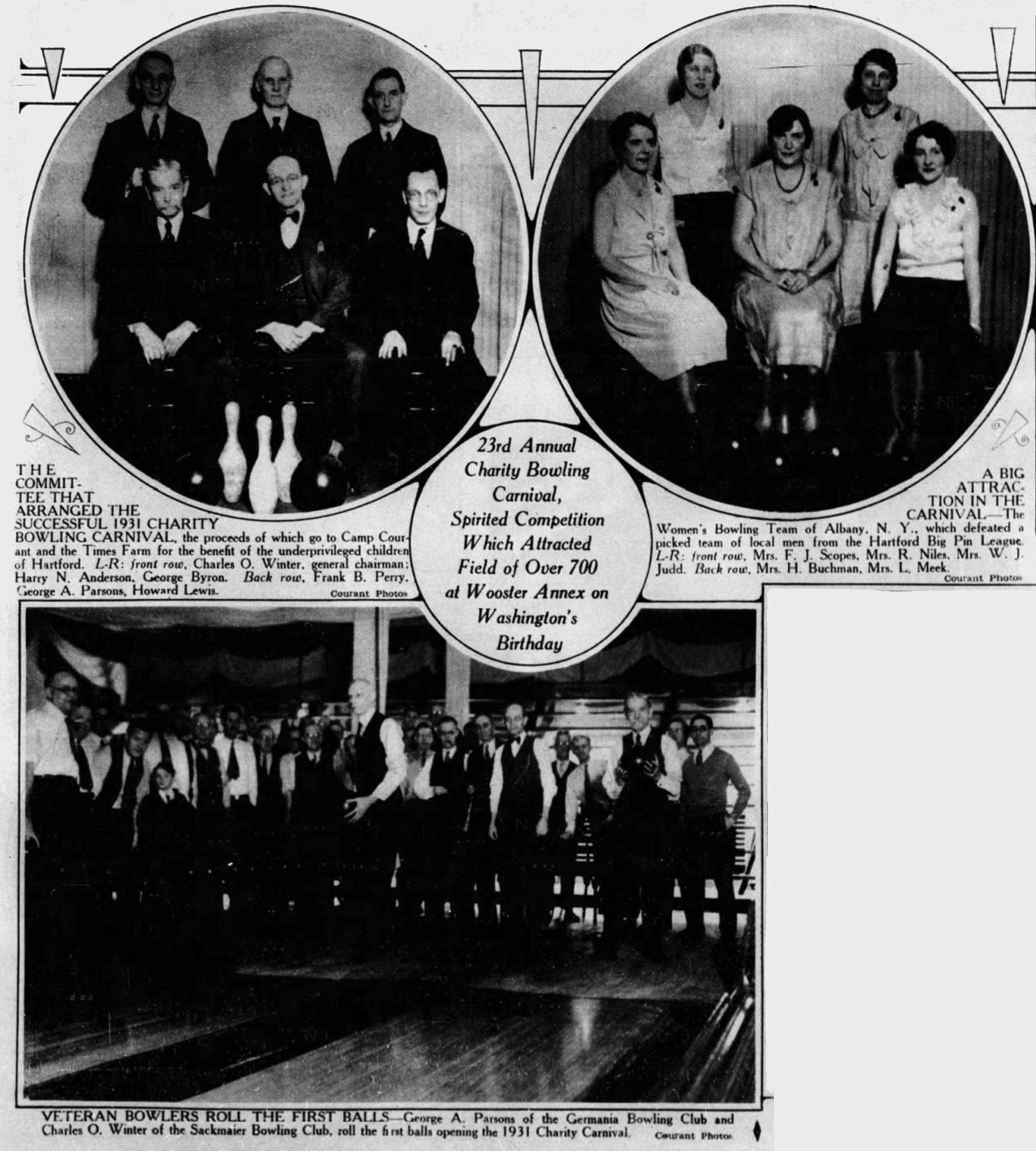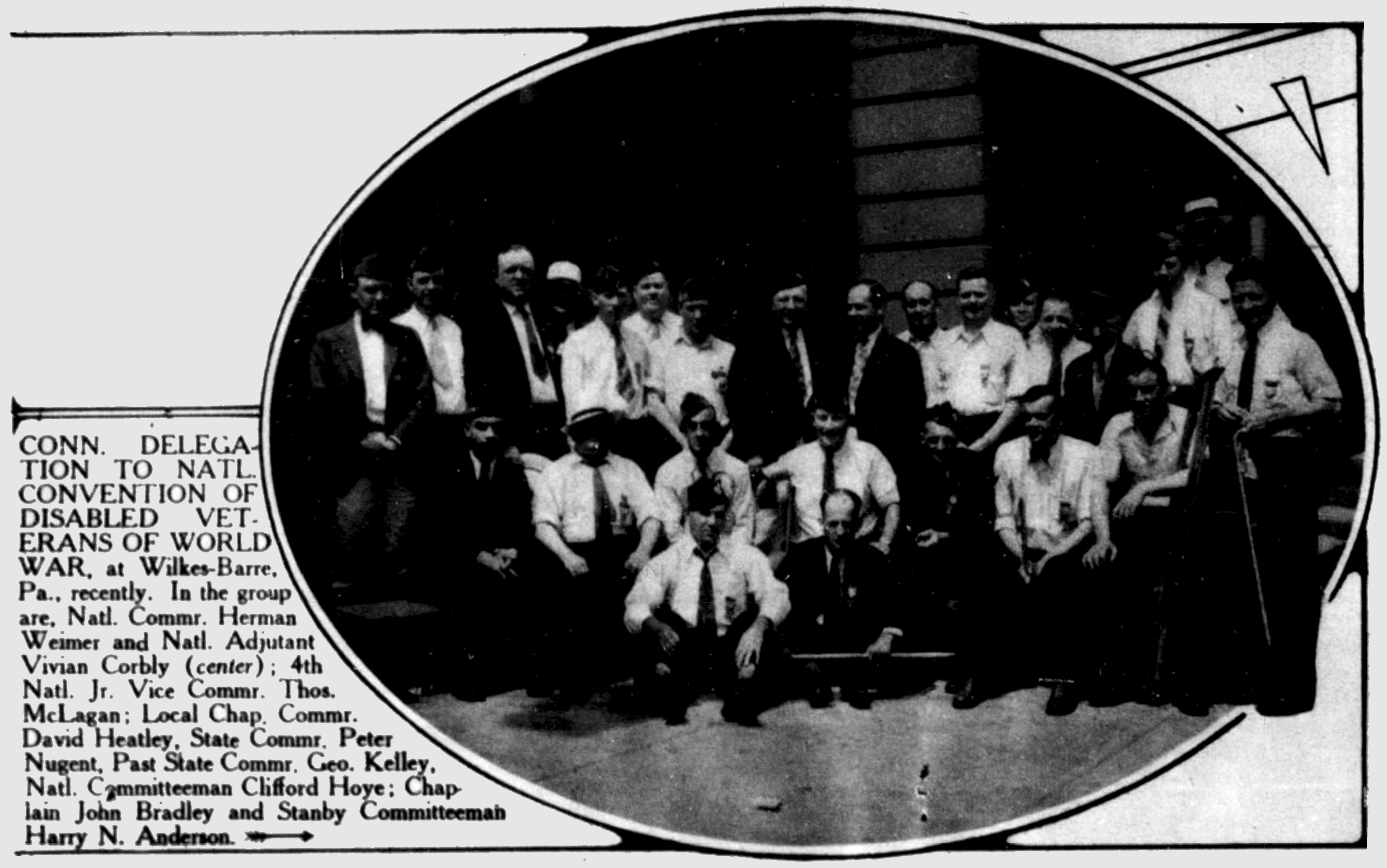 In August of 1931, Anderson showcased two former Olympic swimmers, Aileen Riggin and Helen Wainwright in Hartford. They competed at the pool at Capitol Park, an amusement park off of Wethersfield Avenue. One week later, Anderson accompanied two world champion boxers to meet the kids at Camp Courant; Christopher "Bat" Battalino, reigning world featherweight champion and Sammy Mandell, former lightweight champion. Anderson knew Battalino particularly well because it was Bat's seventh consecutive visit to Camp Courant. The boxing pair awed campers with a boxing demonstration and their words of encouragement were met with loud three cheers.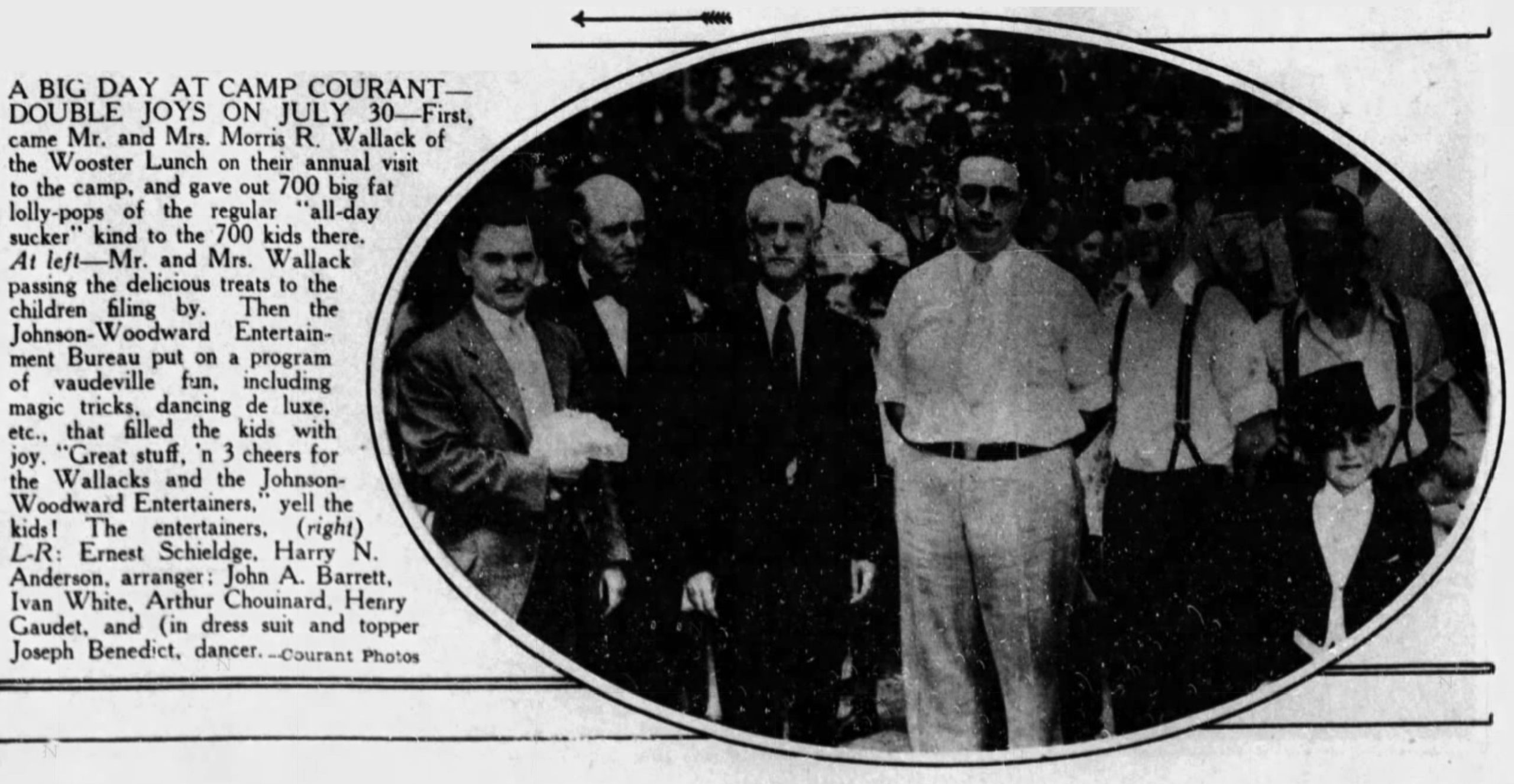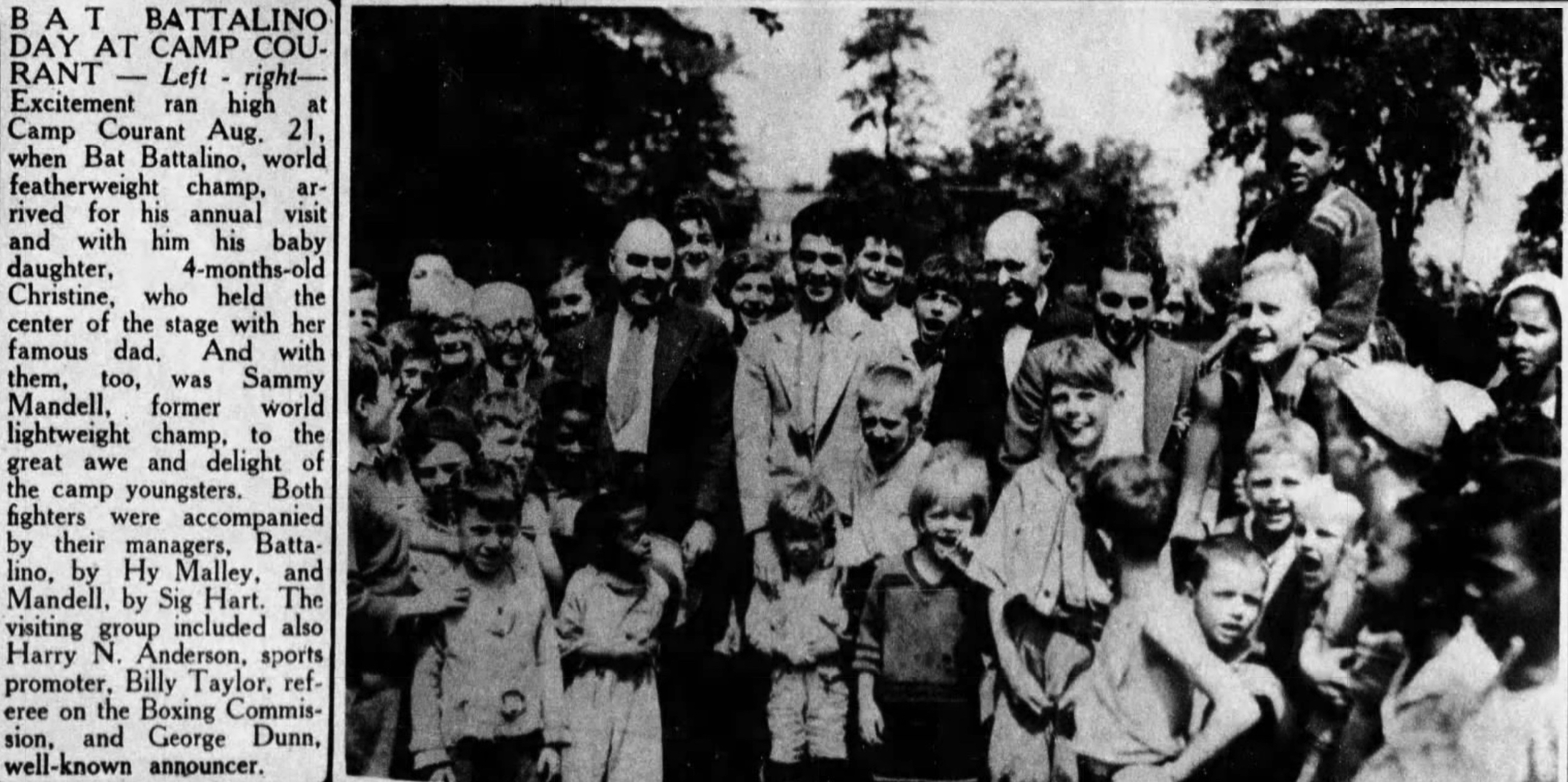 Next, Anderson was selected by former World Series champion Leslie Mann to the board of directors of the new United States Amateur Baseball Association, known today as the American Amateur Baseball Congress. Anderson was charged with determining Connecticut's top amateur team of 1931 for a regional tournament at the Eastern States Exposition in West Springfield, Massachusetts. He directed a four team playoff at Bulkeley Stadium wherein the St. Paul's Lutheran Church baseball club of Hartford were the victors. St. Paul's, led by the Dixon brothers Robert, George and John, then beat an opponent from Stafford Springs to win the state title, but they would lose in the regional tournament.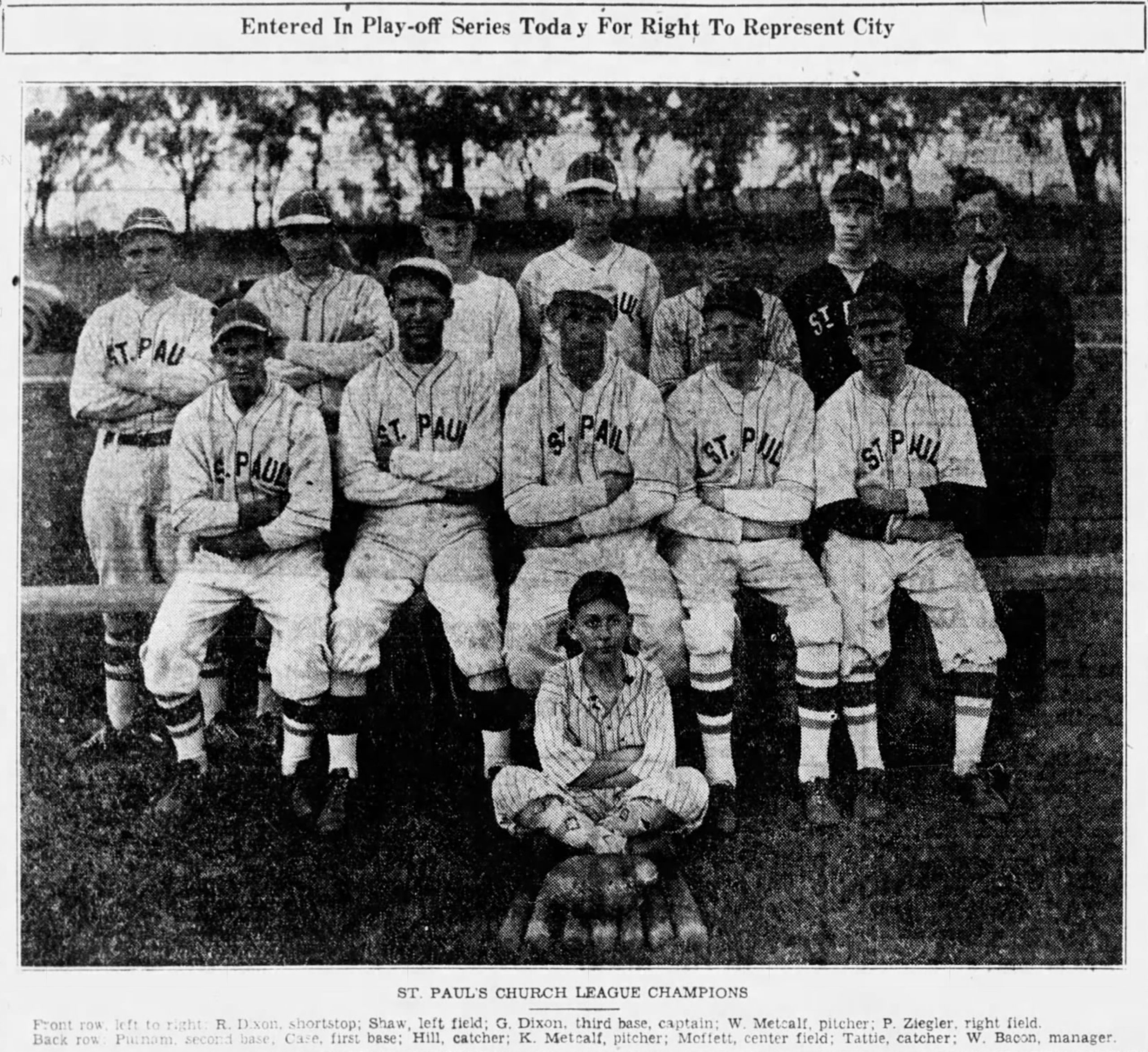 On New Years Day, 1932, the Hartford Exiles celebrated their 13th reunion banquet at Hotel Garde. Soon thereafter, Anderson was planning for the 12th annual Bowling Carnival. In a progressive move, he invited women bowlers to join in on the action. Crack women teams from Albany, New York and Allentown, Pennsylvania, impressed the men. Anderson then named a woman to the Bowling Carnival committee; Mary E. J. Lally of the Hartford Courant. $214 was donated to Camp Courant on behalf of Anderson's Bowling Carnival.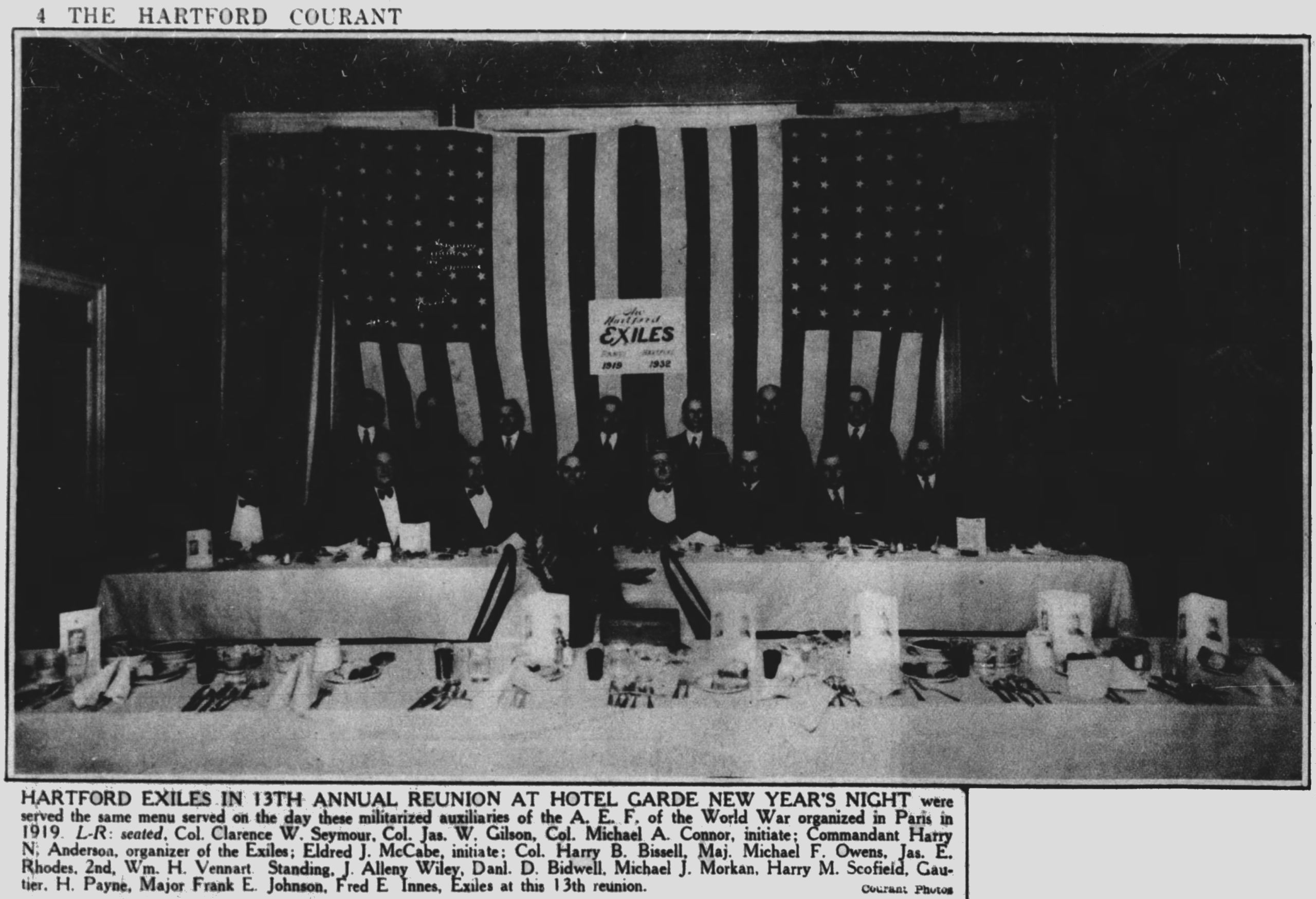 In March of 1932, Anderson and the Bermuda Invaders toasted to their 20th anniversary. Most of the team attended the occasion and Lewis R. Cheney, Mayor of Hartford at the time of the trip, was guest of honor. Then in April, Anderson arranged basketball benefit games, bringing in $164 to the Mayor's Unemployment Relief Fund. In May, Anderson leaned on his contacts with the United States Olympic Committee to expose Hartford to track and field stars of the day. He tapped Paul de Bruyn, a German athlete and the first international winner of the Boston Marathon to make a public appearance for the Travelers Men's Club at "Sports Night" at Foot Guard Hall.
Then, in preparation of the 1932 Summer Games in Los Angeles, Anderson promoted the "Olympic Games Benefit Night" at Capitol Park. The event fundraised for the United States Olympic team and featured multiple state championship boxing matches. Governor of Connecticut Wilbur L. Cross attended as the guest of honor. On July 24, 1932, Anderson left for Los Angeles by train. After departing, he was followed by a contingent of young men traveling in a dilapidated truck. In Anderson, Hartford fans had a direct link to the Olympics.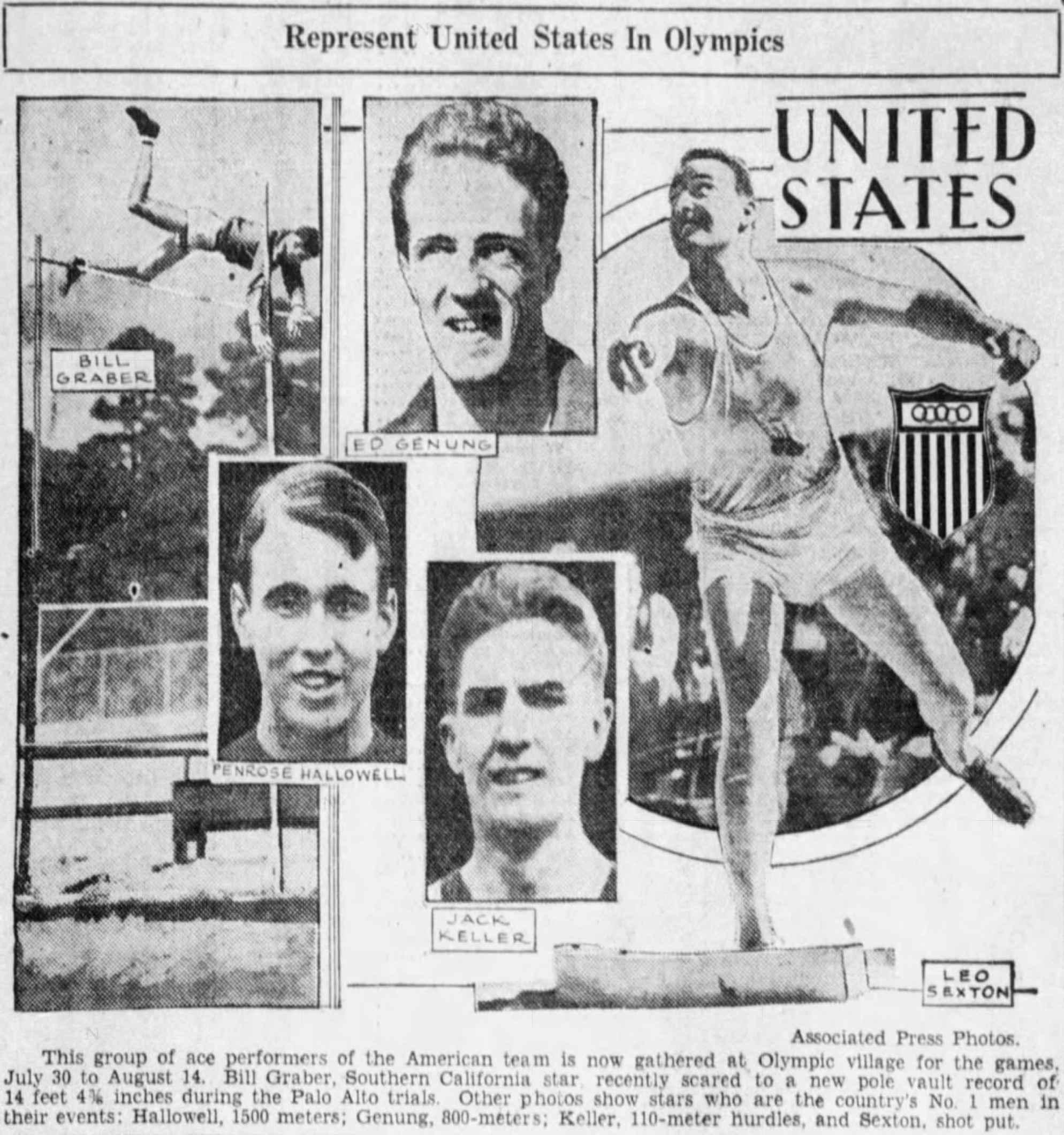 When Harry Anderson returned from Los Angeles, he told various gatherings about his Olympic experiences. He remarked that unexpected victories were the most thrilling of contests. Unanticipated outcomes of came when Helene Madison won three gold medals in swimming, Eddie Tolan earned two gold medals in sprinting and Babe Didrikson wrested two gold medals in javelin and hurdles. Also known as "Games of the X Olympiad" the 1932 Games marked the first Olympic Village built for athletes, which became a model for the future.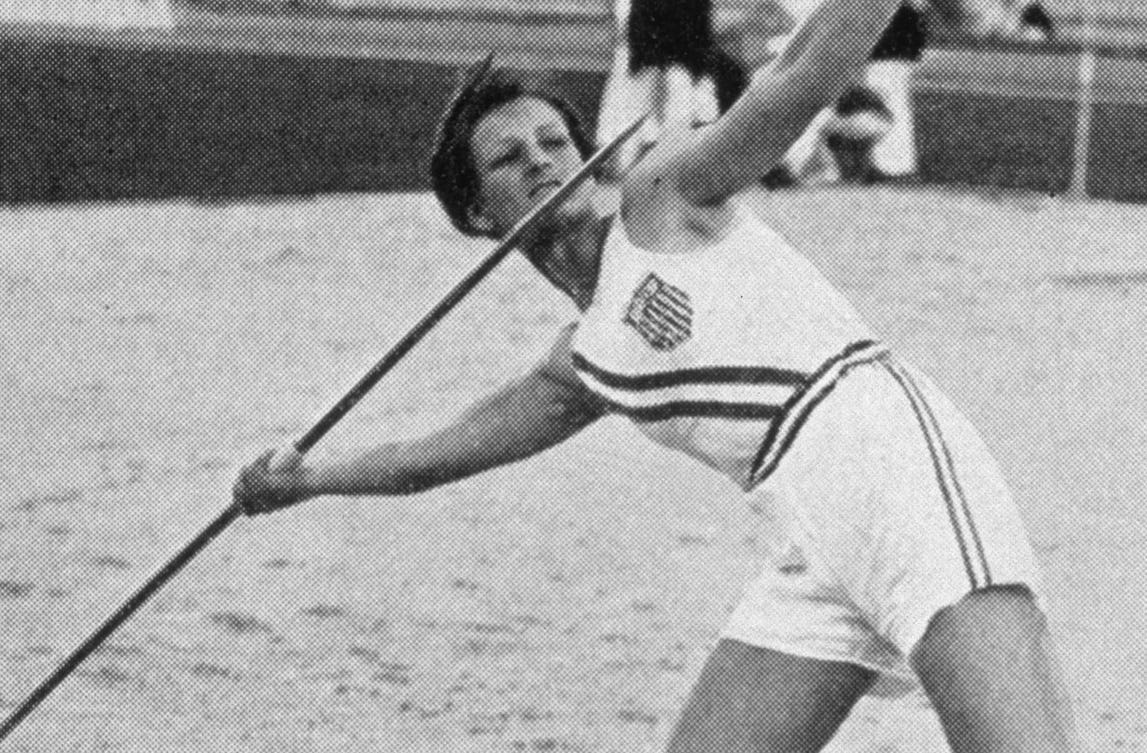 The Summer Games were held from July 30 to August 15, 1932. Motion pictures from the games were distributed throughout the world. Anderson brought one of the films home to Hartford and screened it for clubs and fraternal organizations. Among the scenes depicted in the film was Tolan's photo finish victory. Anderson recounted that the Olympiad turned a profit for the first time since Athens in 1896. During his presentations he also noted that Germany would host the Olympics in 1936, then Japan would bear the torch in 1940.
In April of 1933, Anderson served as a pallbearer for his friend Ted WInis who passed away in a tragic automobile accident. Winis was a well-liked 3 year old Assistant Sports Editor of the Hartford Times. On a lighter note, Anderson was assigned a new task by the mayor a few weeks later. He headed Hartford's welcome committee of an American aviator, Wiley Post; the first pilot to fly solo around the world. Anderson and a few thousand spectators enthusiastically welcomed Post and his plane the "Winnie Mae" at Brainard Field. Before the year's end, Anderson presided over the largest assembly of the World Series Club to date at Hotel Wellington in New York City.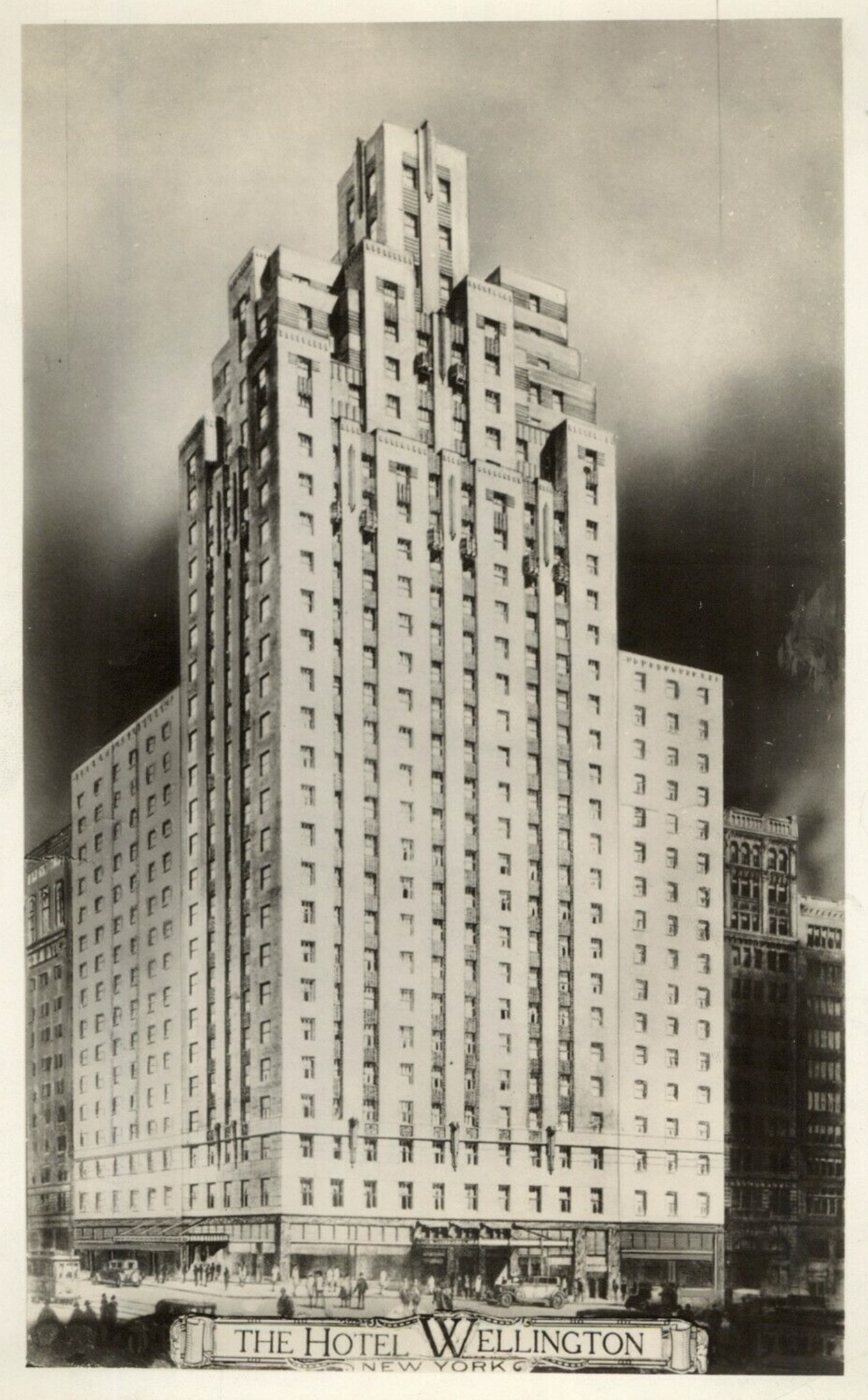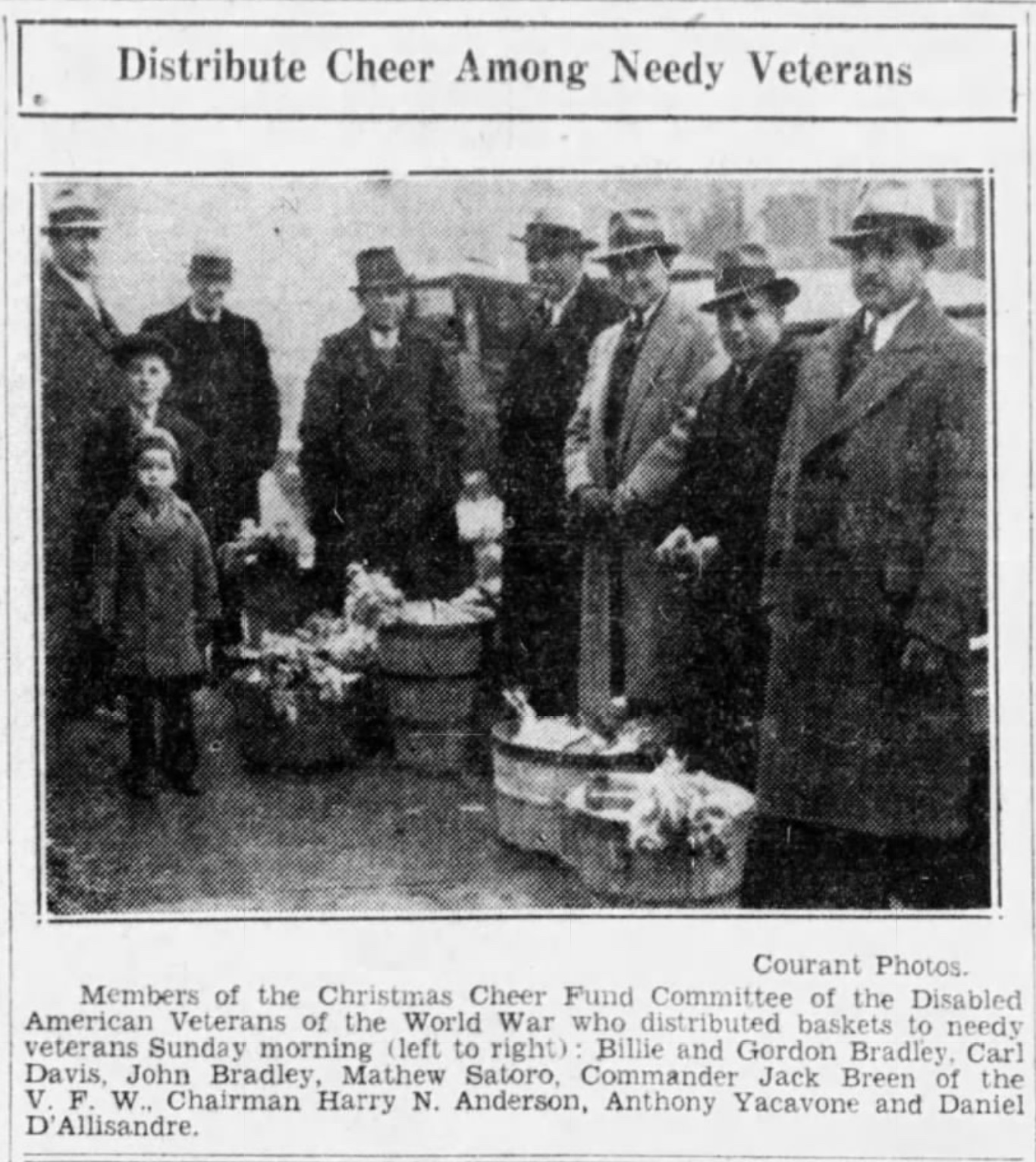 Next, in 1934, Anderson traveled to Hot Springs, Arkansas for spring training. He accompanied Mickey Lambert, a scout from Unionville, Connecticut who often visited Hot Springs with the St. Paul Saints of the American Association owned by former Hartford Senators manager, Bob "Tom" Connery. Lambert was a personal friend of Babe Ruth, who began the concept of Spring Training in Hot Springs. No known record exists of Ruth meeting Anderson, though he would later represent Hartford at Ruth's funeral. That summer, Anderson rallied a new City Independent League and recruited former mayor, Walter Batterson to be honorary president.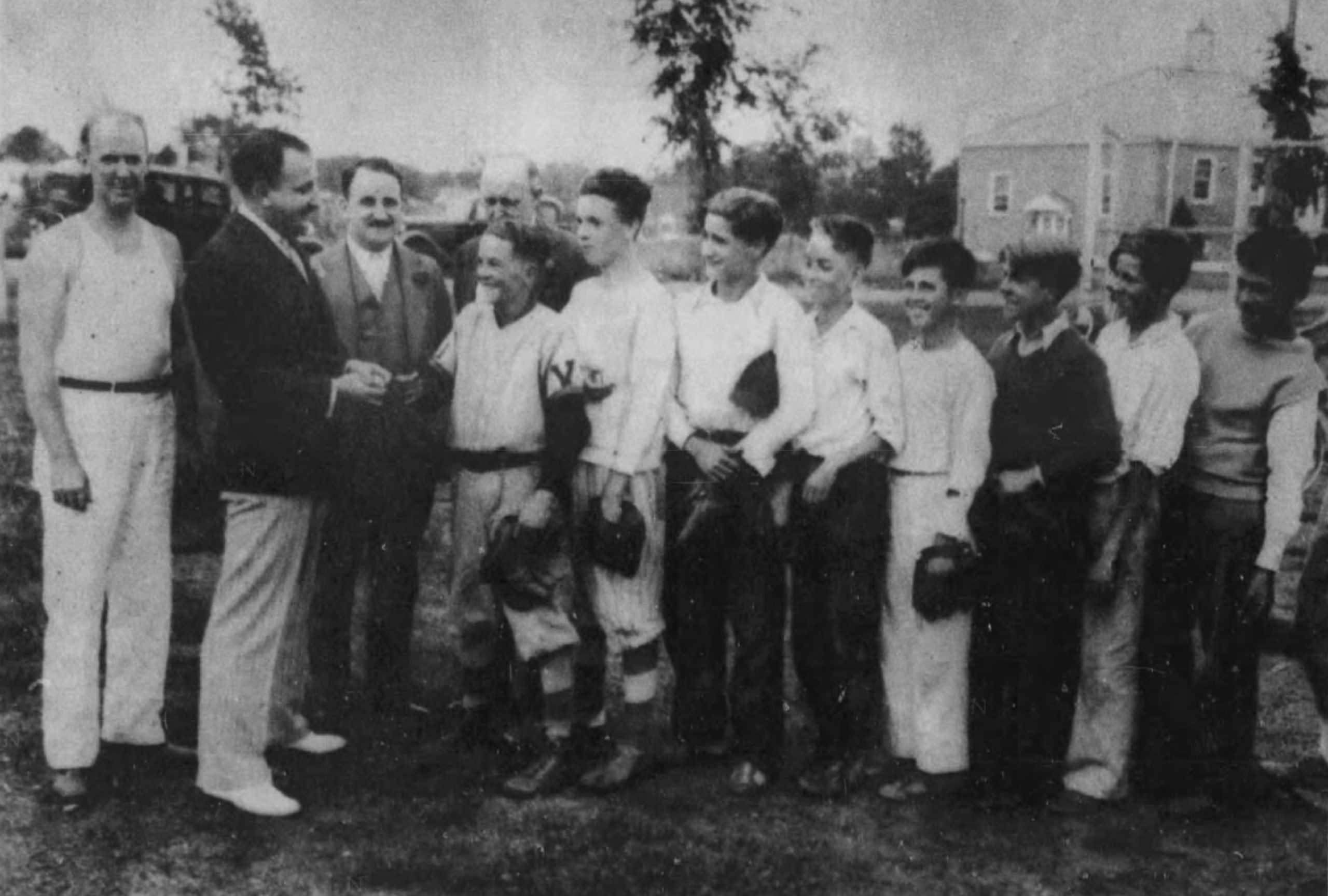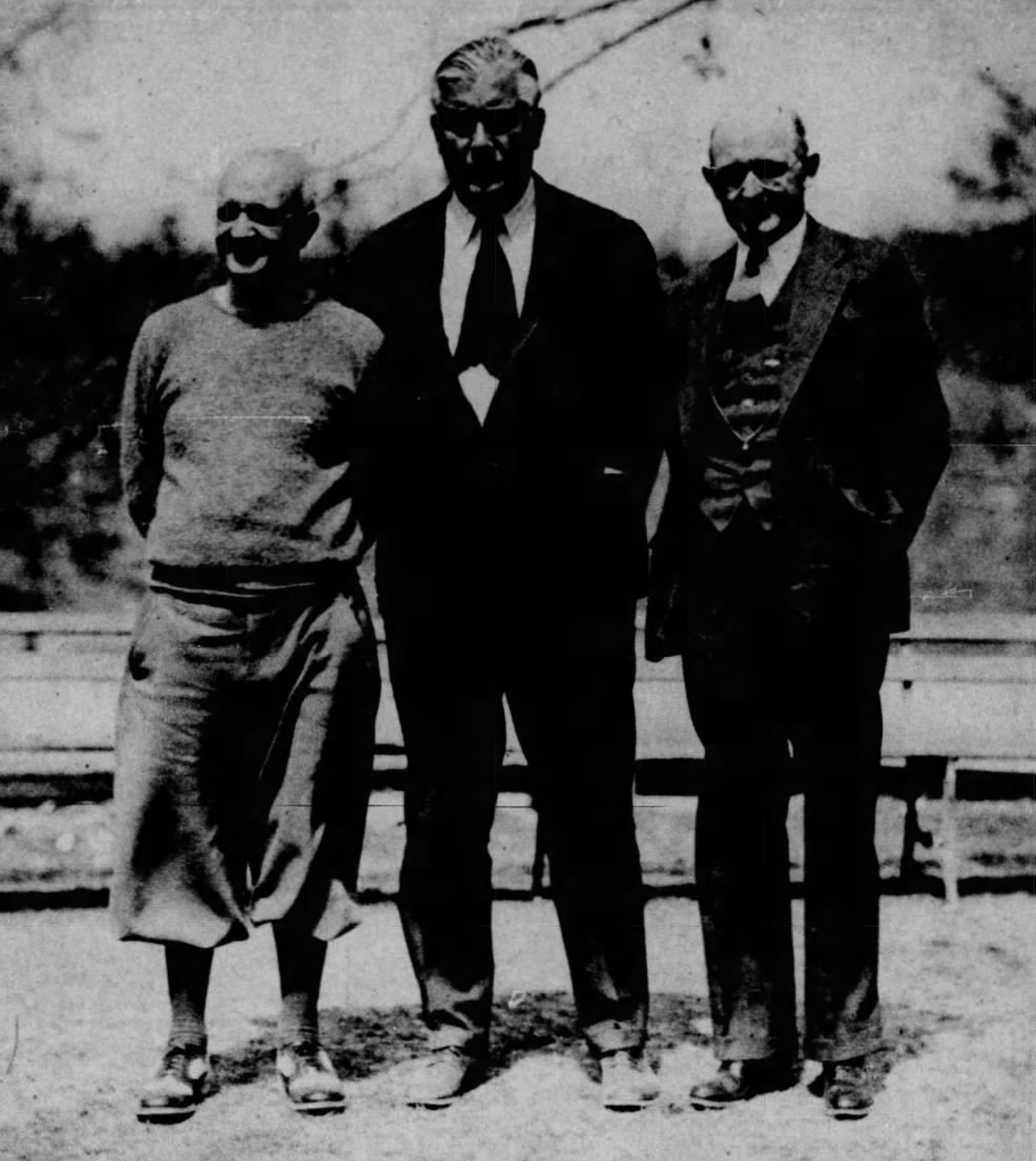 While head of the City Independent League, Anderson acted as part-time umpire for old-timer games put on by Albert G. Kamm and his Yesteryear Stars. Meanwhile, Anderson also pursued improvements at Colt Park including a new baseball stadium. The City of Hartford approved park improvements at the behest of Anderson, police captain John Henry and umpire chief, John A. DeRidder. Construction of the stadium was funded by the New Deal's Federal Emergency Relief Administration and overseen by Recreation Supervisor James H. Dillon. Municipal Stadium was completed in June of 1935 and later became known as Dillon Stadium after renovations in 1956.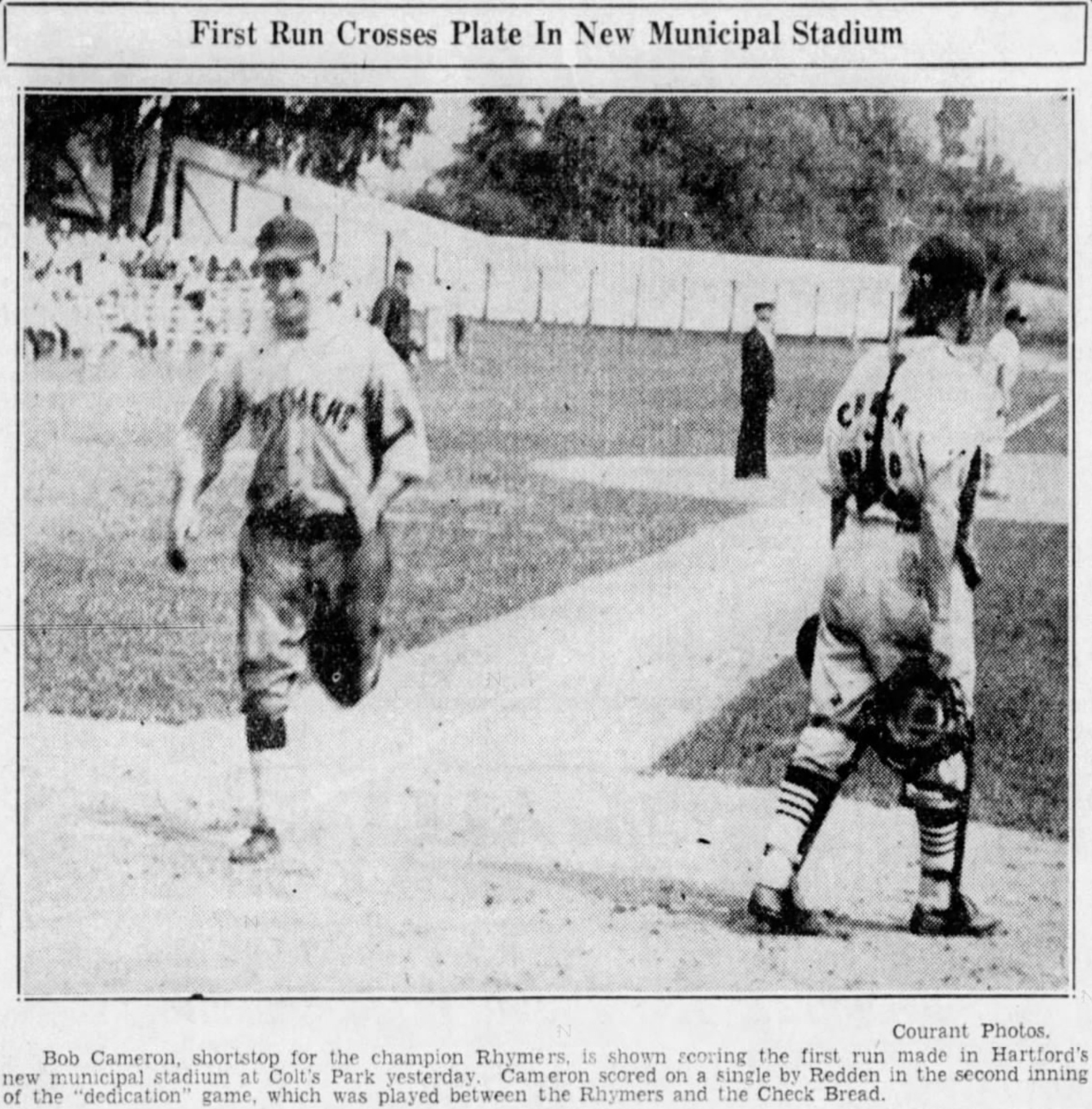 Anderson attended Opening Day at Municipal Stadium on June 29, 1935. Pregame ceremonies began with a parade led by Mayor Joseph W. Beach and Superintendent of Parks, George H. Hollister. Marching bands and ballplayers walked in formation from the new swimming pool to the new stadium where officials hoisted an American flag up a flagpole. Spectators witnessed the first Hartford Twilight League game of the season between the Tuckel Rhymers and Check Bread. The stadium had aprofessional caliber playing surface, large bleachers lining foul territory and high board fencing surrounding the outfield. In addition to baseball, the 5,000-person venue accommodated football games and track and field competitions.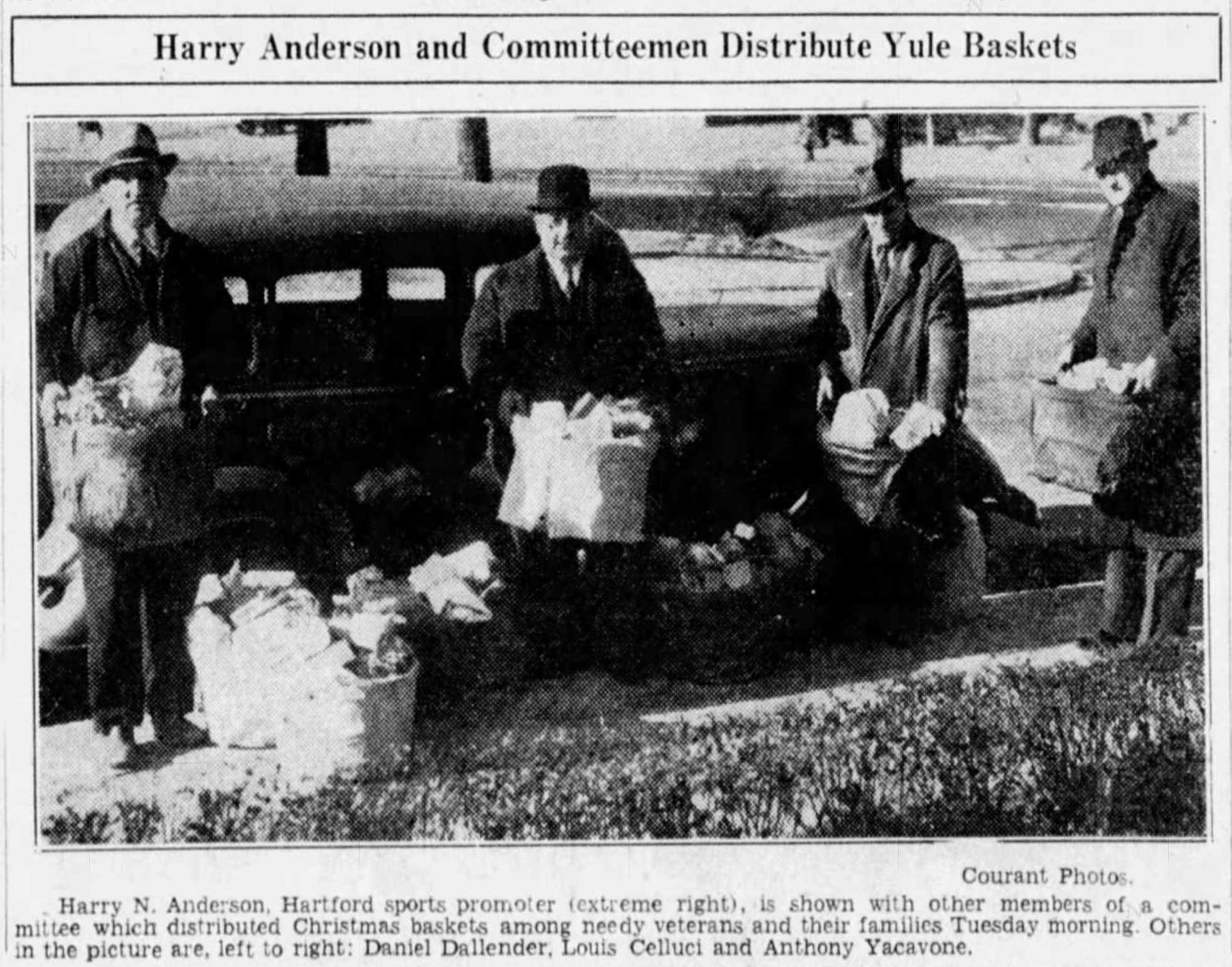 On March 11, 1936, the Connecticut River flooded, devastating Municipal Stadium and the city of Hartford. Anderson, the dean of Hartford sports, sprang into action. He headed a charity basketball tournament backed by Mayor Thomas J. Spellacy to collect donations for the Red Cross. In May, Anderson was named director of the Hartford County YMCA athletic organization. Then in June, he announced a $100 donation to Camp Courant from his annual Charity Bowling Carnival. Anderson fulfilled his many obligations while preparing for his role with the United States Olympic Committee at the upcoming games in Berlin, Germany.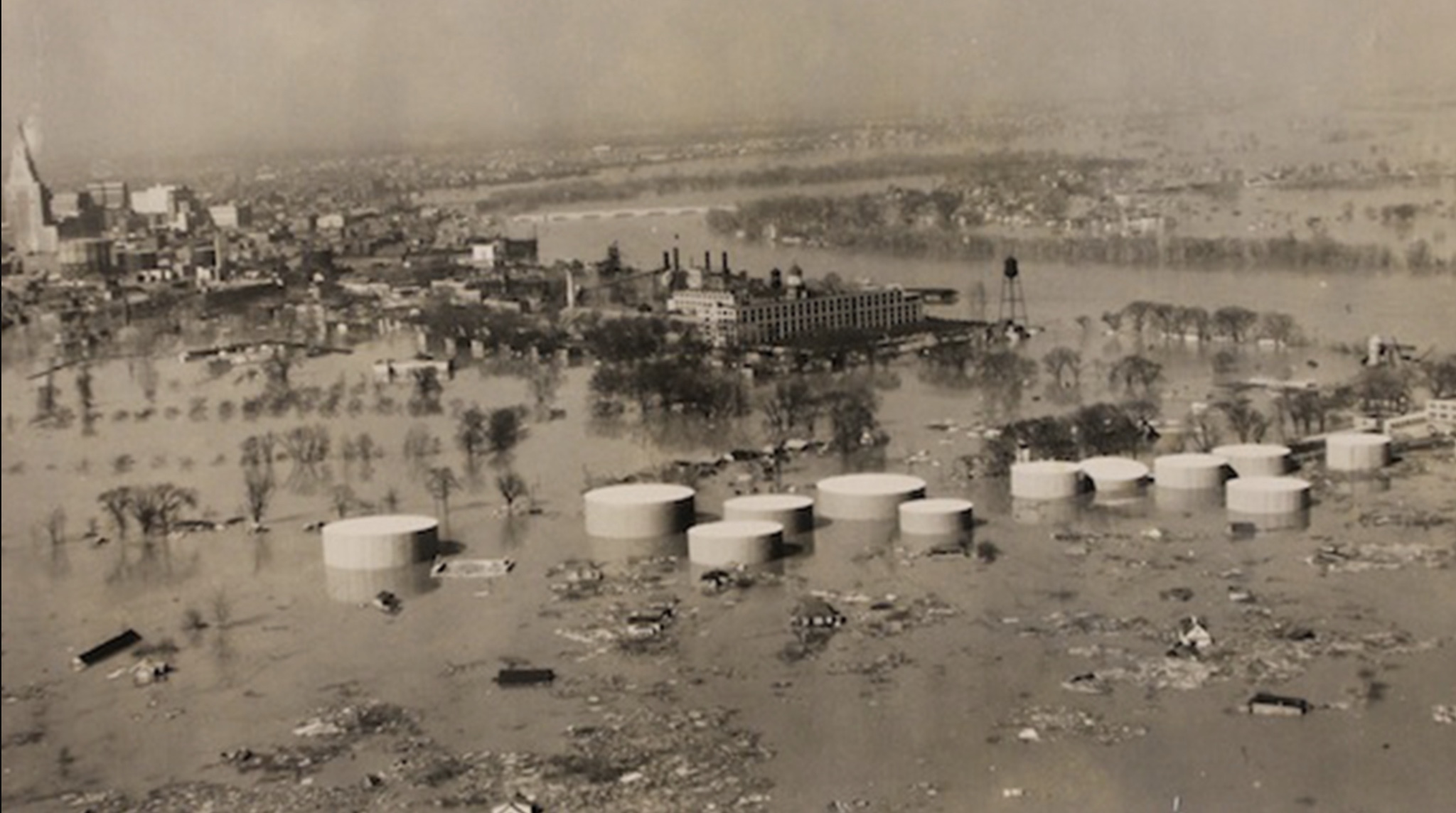 Alongside the United States Olympic team, Anderson headed to Germany aboard the steamship Manhattan in New York City on July 15, 1936. The head of the United States Olympic Committee was the notorious Avery Brundage. During the voyage to Germany, some of the athletes engaged in drinking on board. The American favorite for the 100-meter backstroke, Eleanor Holm Jarrett was dismissed for excessive drinking, though she later accused Brundage of partiality. When the ship arrived in Hamburg, Anderson sent postcards to friends in Hartford, including a card to 600 kids at Camp Courant.
The Berlin-based XI Olympiad began on August 1, 1936, and lasted fifteen days. Nazi Germany hosted the iconic Olympic Games where the world came to know Jesse Owens. The American track star won four gold medals and helped his relay team set a 400-meter world record. Harry Anderson endorsed Owens and the United States team as "the best ever." He had positive words for Berlin as a hospitable and clean city. Unbeknownst to Anderson and attendees at the Berlin Games, Adolph Hitler and fascists in Europe would cause the catastrophe of World War II.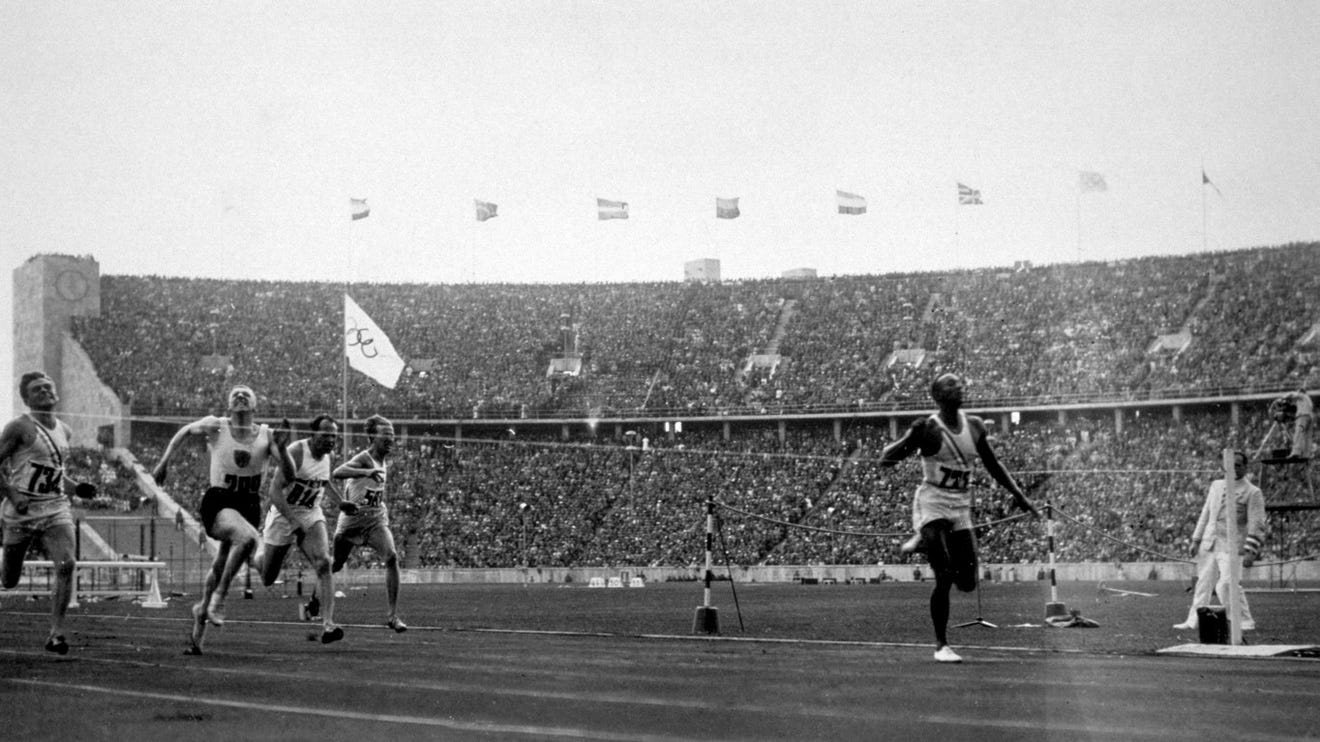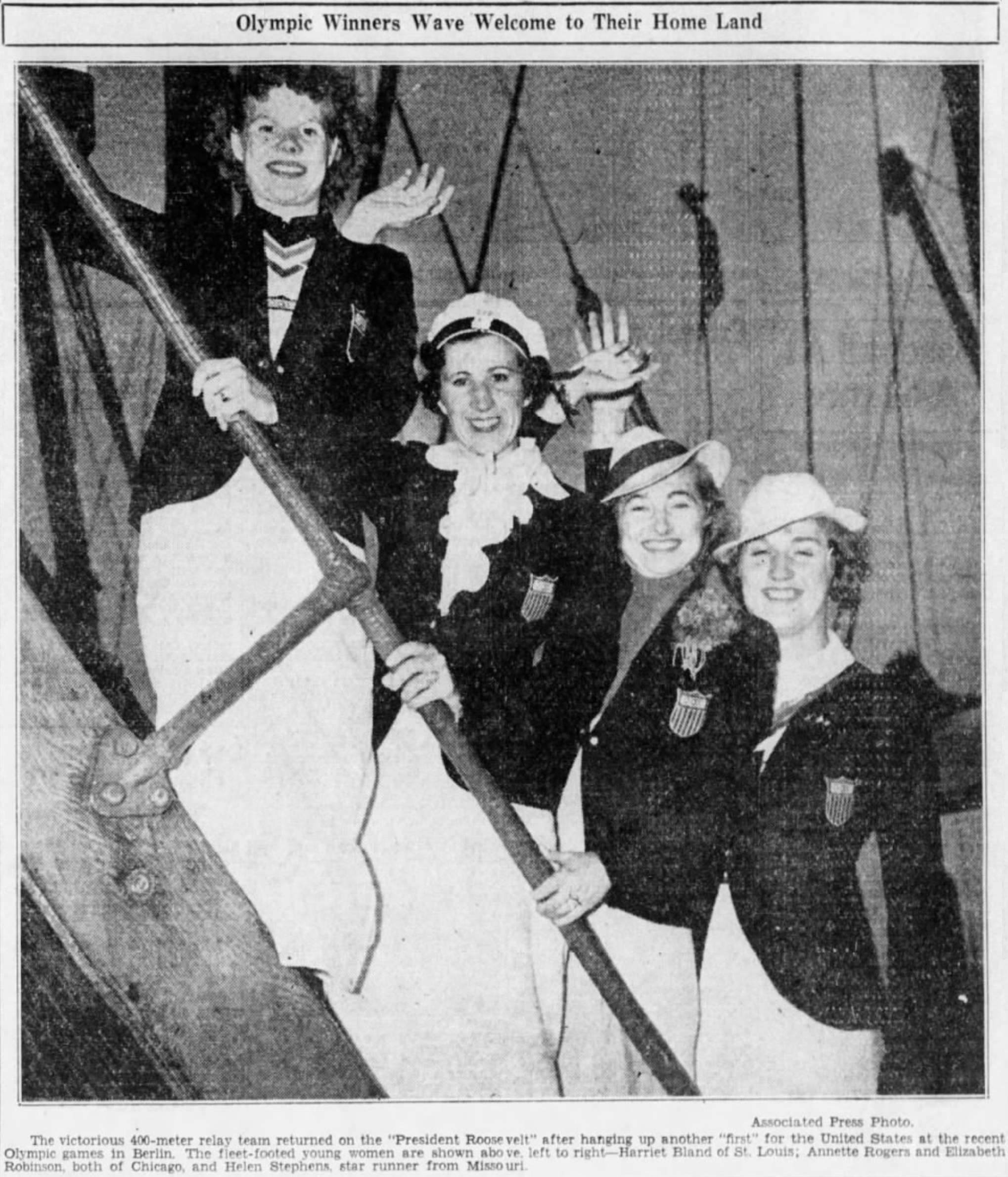 When he made it back to the United States, Anderson had motion pictures sent to Hartford so he could share his fourth Olympic Games. Now in his fifties, Anderson stayed busy by keeping up with friends, conducting annual and showing footage from the Berlin Olympics. Towards the end of 1936, he stepped down as president of the World Series Club. Shortly thereafter, he closed his sporting goods business and eyed retirement. He continued his charitable work with the Charity Bowling Carnival in 1937. The event was called the largest duckpin bowling tournament in the country. Weeks later, Anderson marked the twenty-fifth anniversary banquet of the Bermuda Invaders.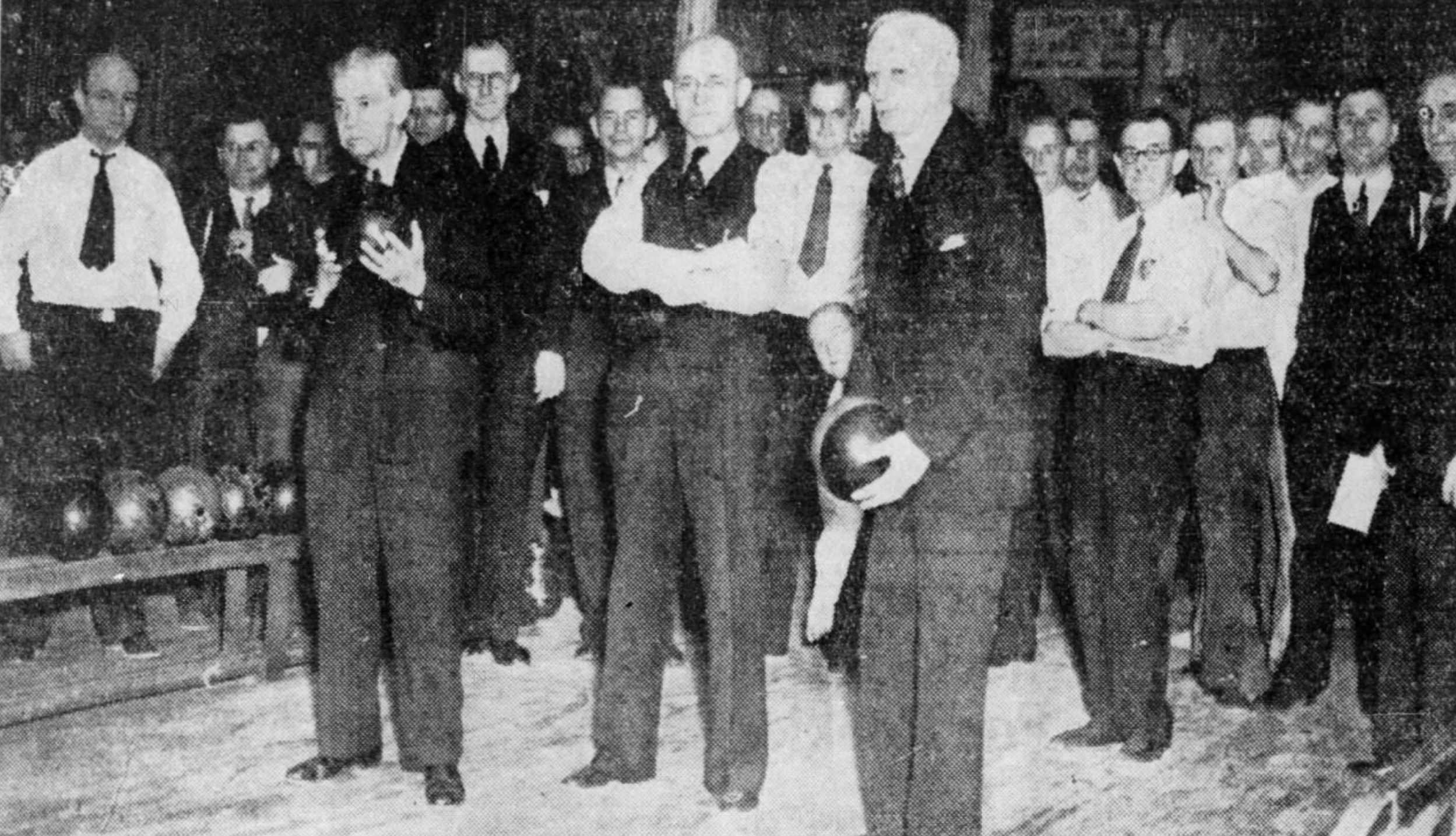 In the fall of 1937, Anderson assisted in the establishment a new organization dubbed Veteran Baseball Players Association. The group of players, managers, umpires and officials was created to promote and preserve the game while supporting aged baseball men experiencing poverty or illness. Members were required to be at least forty years of age. Former Hartford ballplayer Albert G. Kamm was elected president while Anderson was second in command. The Veteran Baseball Players Association hosted old-timers games, charitable events, banquets and conventions.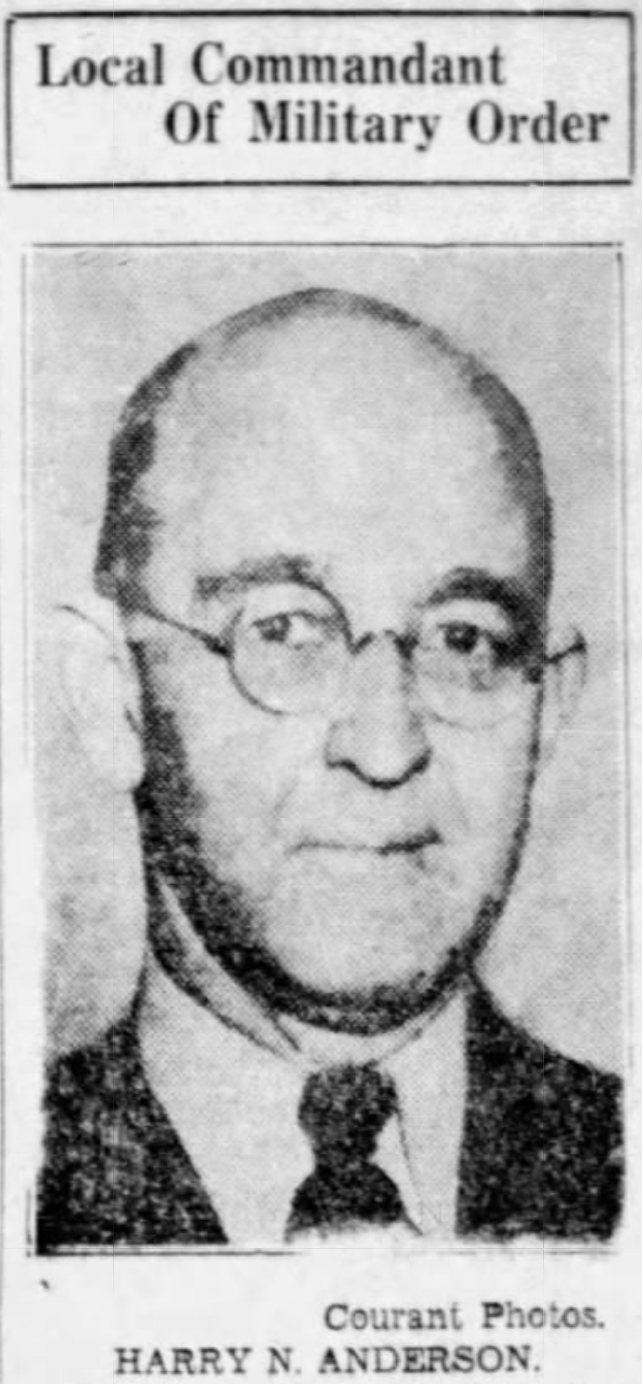 By 1938, the veterans association had about 300 members in 14 different states. To promote the association, Anderson and Kamm assembled old-timer games. On one occasion, Anderson dressed up as Abner Doubleday, alleged founder of baseball, and umpired an old-timer game played in the nineteenth century style of the New York Knickerbockers. At another contest, former big leaguer "Big Ed" Walsh of Meriden, Connecticut, appeared with the Yesteryear Stars at Bulkeley Stadium. Eventually, the Wives and Daughters of Veteran Baseball Players Association was established to support women.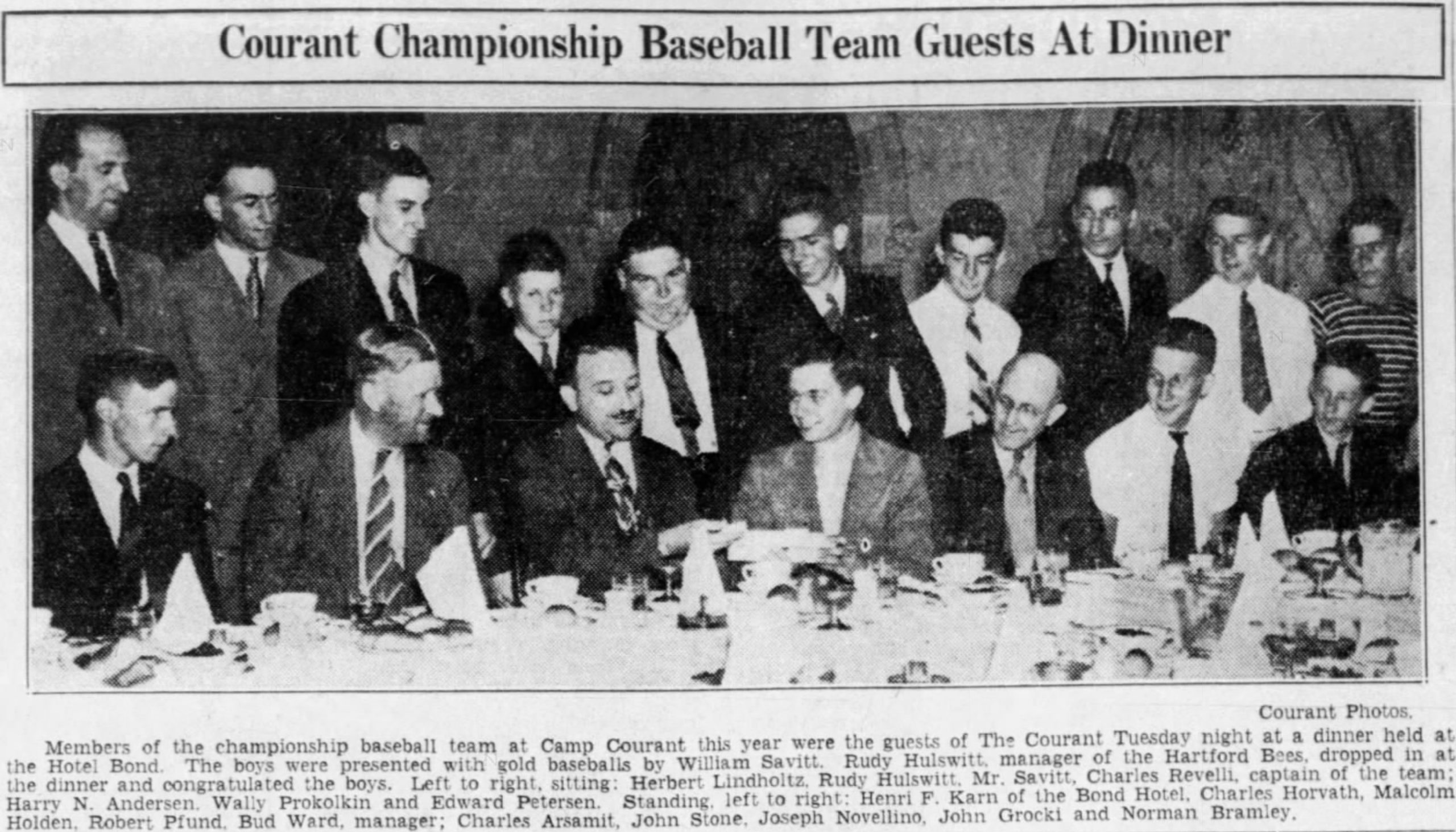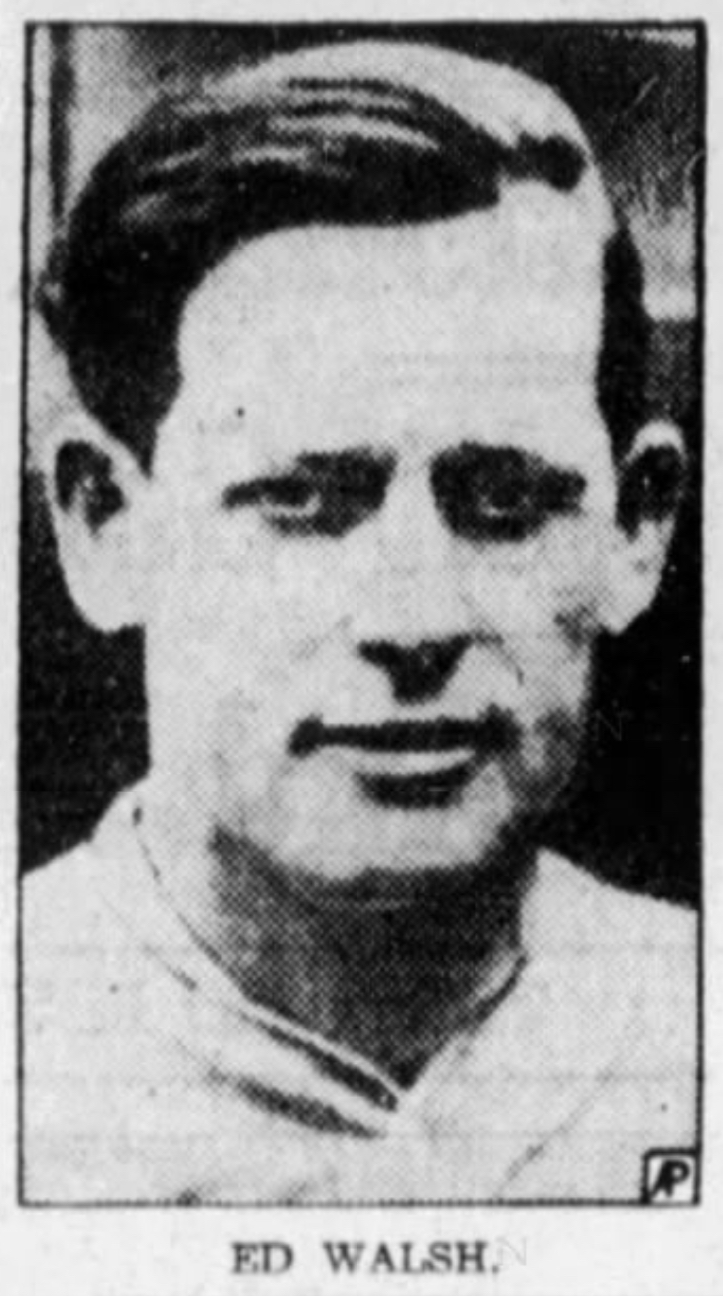 As part of baseball's hundredth birthday of celebration in 1939, the ultimate distinction was bestowed upon Harry Anderson and the Bermuda Invaders. Bob Quinn, President of the National Baseball Hall of Fame invited them to a special ceremony in Cooperstown, New York. At the Hall of Fame, Quinn unveiled a citation declaring the Invaders the first amateur team to compete on foreign soil. Anderson handed over a team photograph taken in 1912 to curator William Beattie, who hung it on the wall. They were officially the first amateurs recognized by the Hall of Fame in baseball history.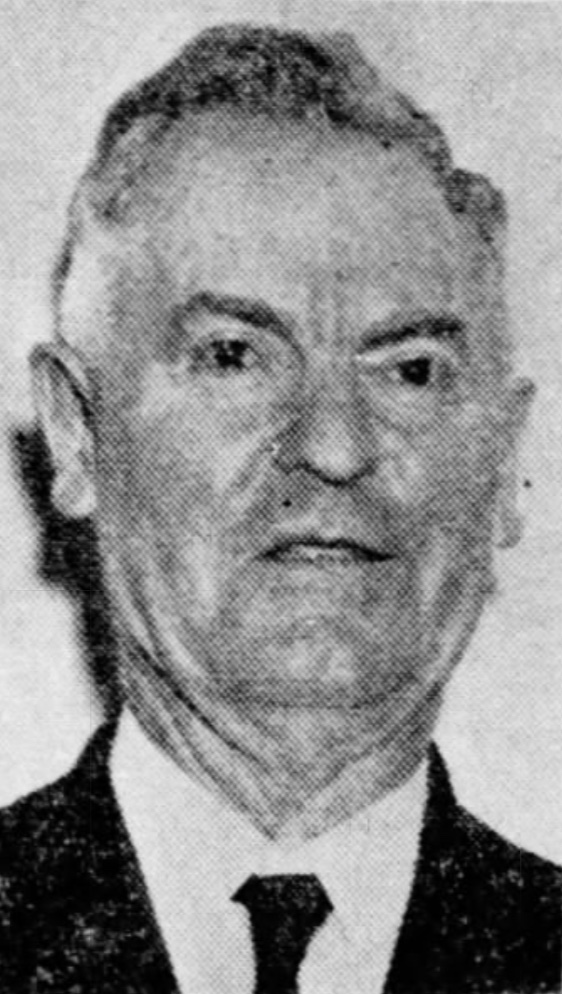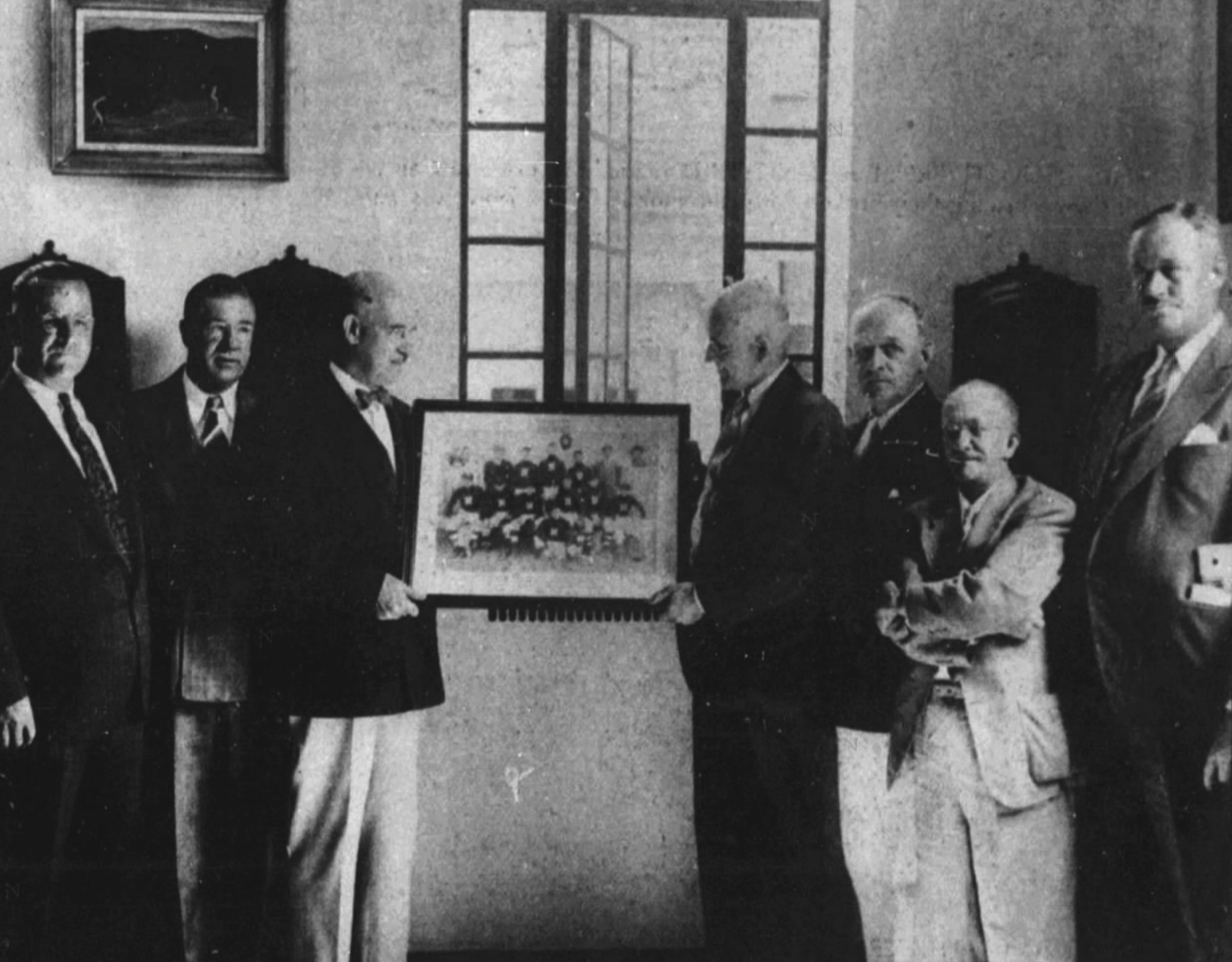 Anderson's Hall of Fame glory was a fitting capstone on his prolific baseball career. Even still, he sought out new objectives, impactful projects and timely crusades. Ever the humble and faithful servant to Hartford's Christ Church Cathedral, he served on the Christ Church Cathedral campaign. Later, during the Christmas season of 1939, Anderson and other volunteers distributed gifts and food to Hartford's war veterans. Throughout his adult life, he set aside time nearly every Christmas to deliver yule tidings, most often in a Santa Claus costume.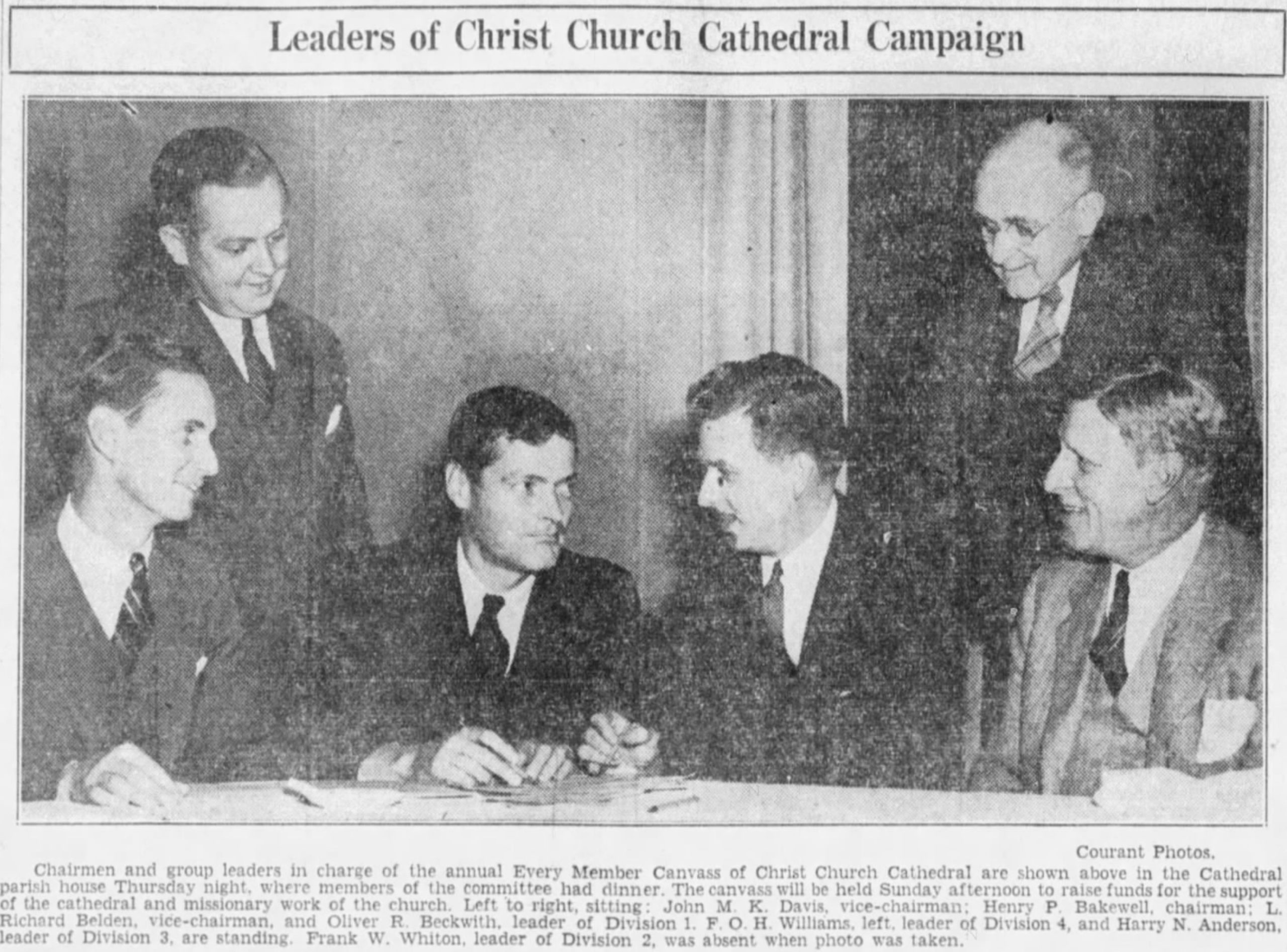 Anderson began 1940 as toastmaster of the Hartford Exiles reunion. He welcomed Congressman William J. Miller of Connecticut's First Congressional district to the Exiles. Miller was eligible to join the Exiles due to his service with the Aviation Section of the Signal Corps. during World War I. About a month later, Anderson and the Charity Bowling Carnival committee awarded gold watches to youngsters at Camp Courant for good citizenship. Later that year, Anderson assumed the role of Chairman for the Veteran Baseball Players Association. He delegated responsibility of the annual convention to association members in Torrington, Connecticut.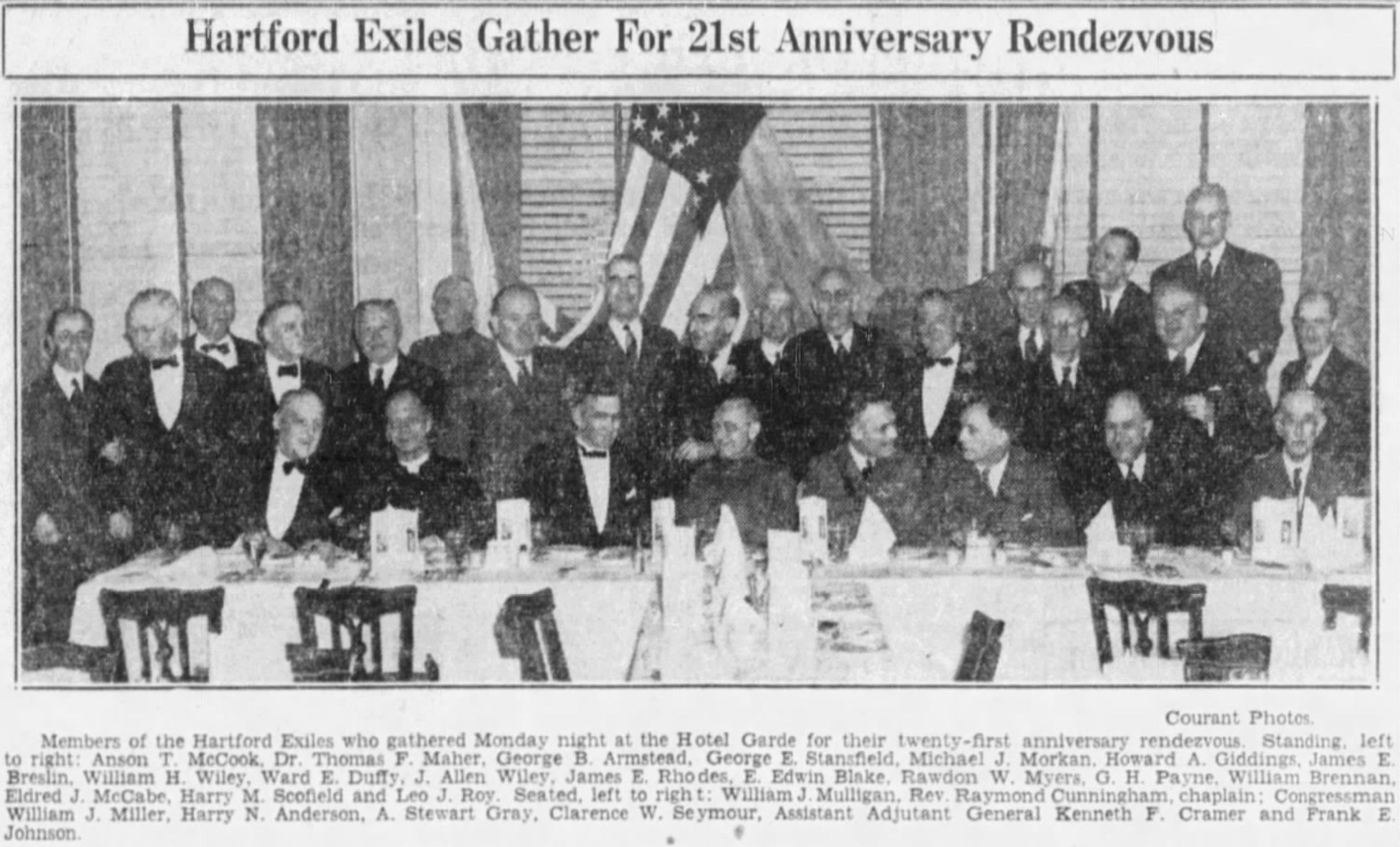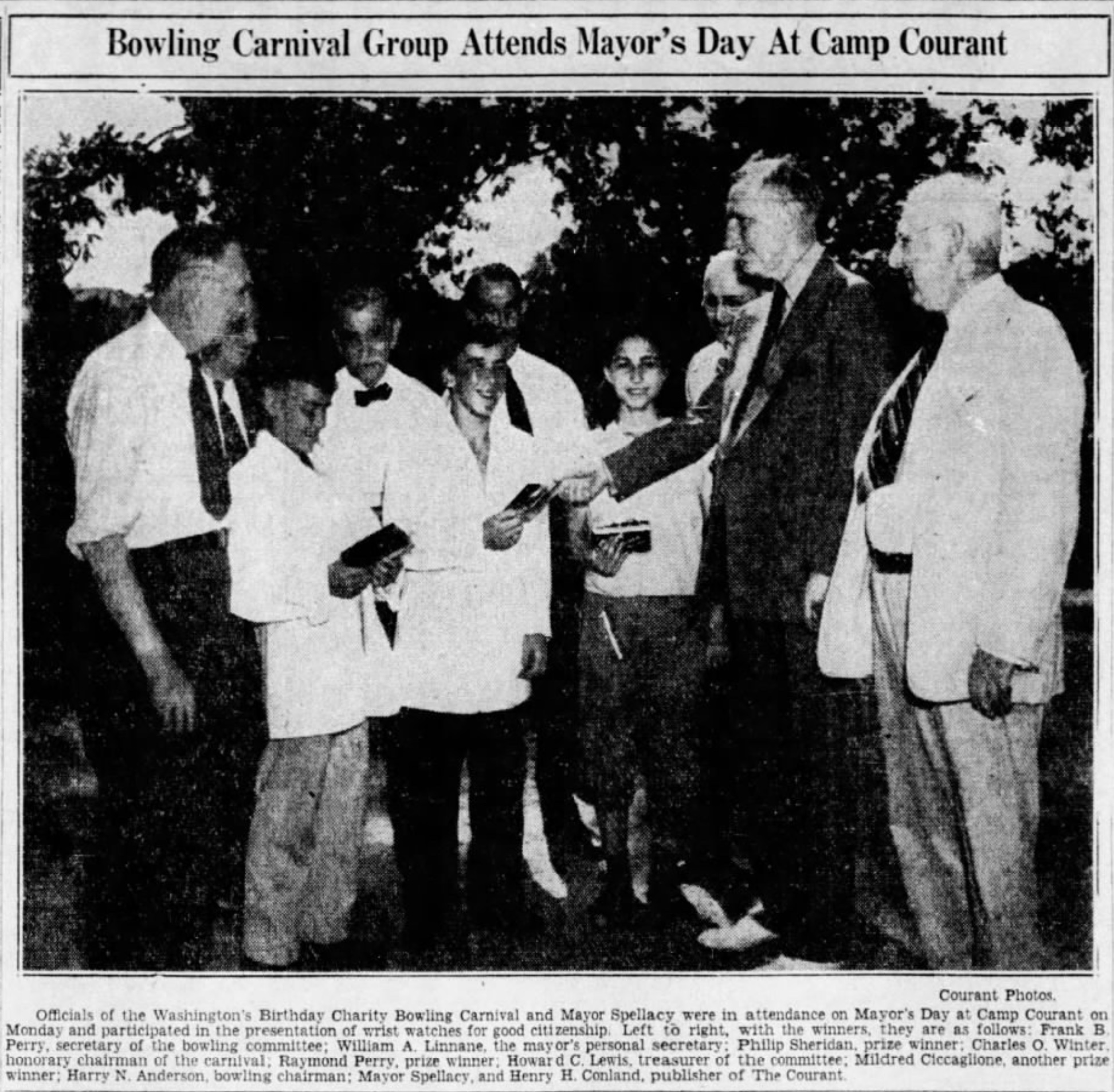 Ongoing Nazi aggression abroad caused American communities like Hartford to react with shock and concern. Anderson and the Hartford Exiles were eerily reminded of the German menace of World War I. The Exiles initiated sitting Governor Raymond E. Baldwin into the order on New Years Day, 1941. Governor Baldwin gave an eloquent speech exclaiming, "America now needs our loyalty, our energy and our courage more than ever before; let us all go forward with courage, united." The banquet drew a record number of attendees whom Anderson invited back to feast around the "H" shaped table for the ensuing year.
During the fall of 1941, Anderson made renowned first baseman Johnny Evers, Governor Robert A. Hurley and United States Representative James A. Shanley of New Haven honorary vice presidents of the Veteran Baseball Players Association. Two years prior, Anderson had lobbied Congressman Shanley to submit a resolution to the United States House of Representatives outlining the concept of National Baseball Day. With the full backing of Anderson and the veterans association, Congressman Shanley took up the crusade once again in 1941, but no legislation was passed. Anderson intended National Baseball Day to be an observance honoring the game and its supposed Civil War era forefather, Major General Abner Doubleday.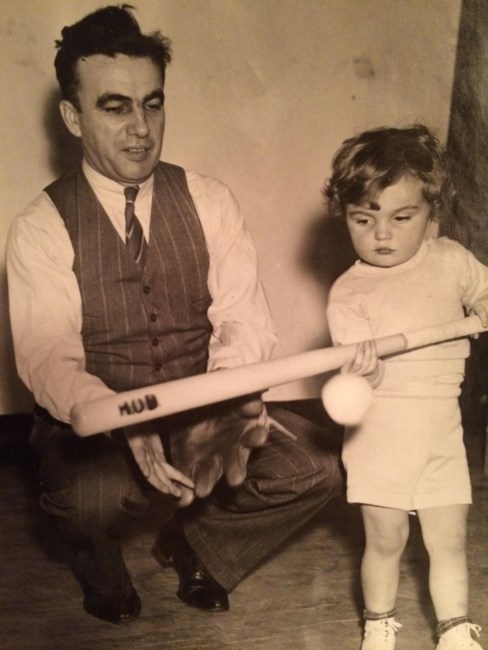 Because Doubleday's parents once lived in Lebanon, Connecticut, before relocating to Ballston Spa, New York, Anderson surmised a direct link between Doubleday and Connecticut. Therefore, Anderson thought it fitting for a congressmen from Connecticut to introduce a resolution for National Baseball Day. He chose Doubleday's birthday, June 26, as the date of observance. Anderson conspired with politicians to get National Baseball Day enacted into law and spent his final fifteen years advocating for the cause.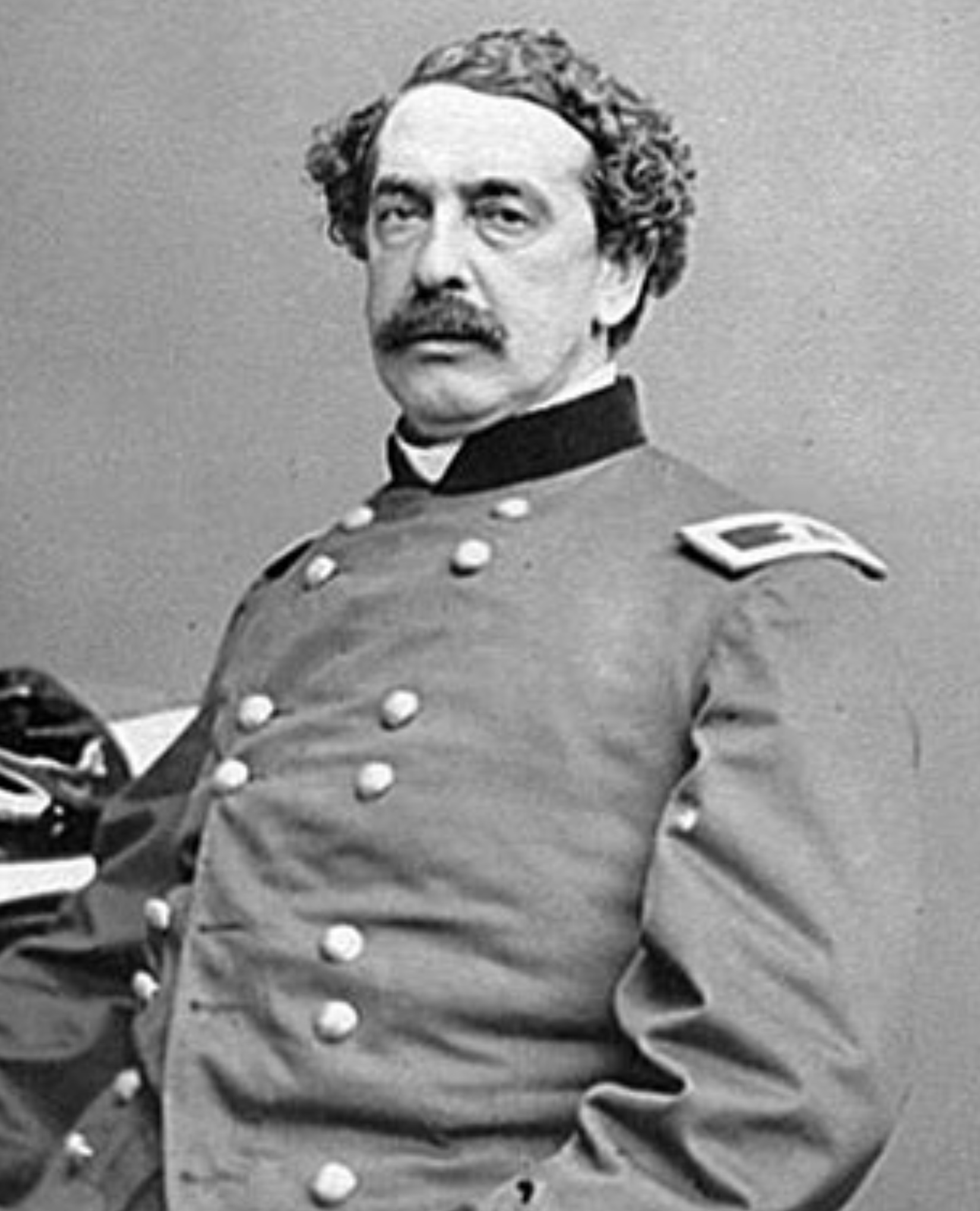 Following the attack on Pearl Harbor on December 22, 1941, Hartford's young men prepared for military service. Meanwhile, Anderson provided Hartford residents with a diversion at the lanes. As president of the Greater Hartford Big Pin Bowling League in 1942, he was tasked with organizing one of the most competitive bowling leagues in Connecticut. Colt Patent Fire-Arms Manufacturing and United Aircraft Corporation entered teams into the big pin league. That year, Anderson also volunteered as a committee member of the 61st Republican precinct.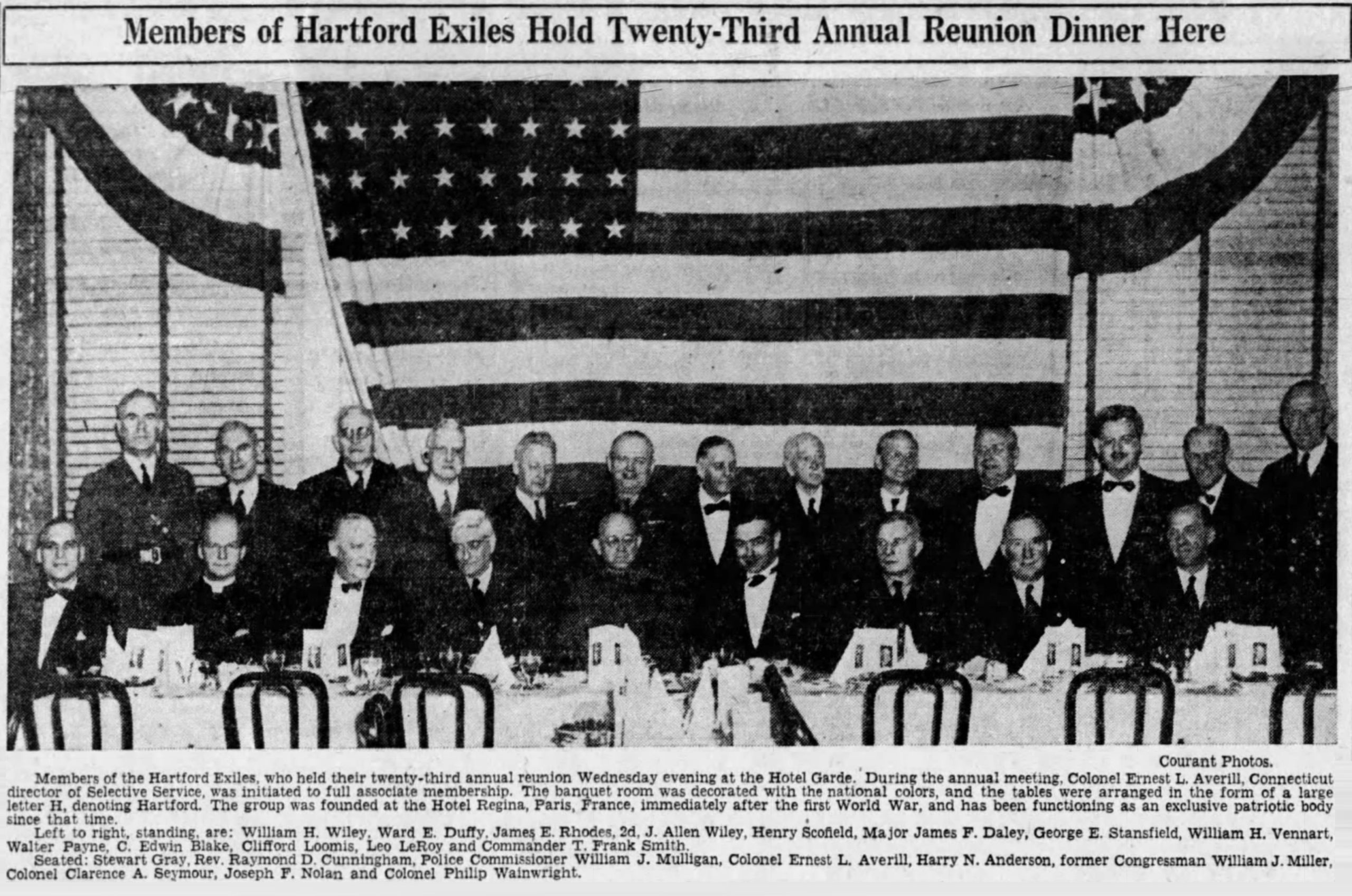 Anderson soon made significant headway towards implementing National Baseball Day. On March 20, 1943, a letter and a copy of Anderson's resolution and was received by the White House. Congressman William J. Miller of the Hartford Exiles had sent the letter to President Franklin D. Roosevelt on behalf of Anderson and the Veteran Baseball Players Association. Miller highlighted the potential war chest benefits of establishing National Baseball Day:
"It might be possible to tie this observance in with the sale of war bonds and stamps. I believe it would be possible to secure the cooperation of the Commissioner of baseball, officials of the major and minor leagues, along with a couple of thousand of men who are interested in sandlot baseball throughout the country. If the Treasury Department, through the offices of those engage in promoting the sale of war bonds and stamps, would cooperate in the effort, I believe that the baseball fans of the United States would purchase substantially over $1 billion worth of bonds and stamps on that one day."

William J. Miller, U.S. Representative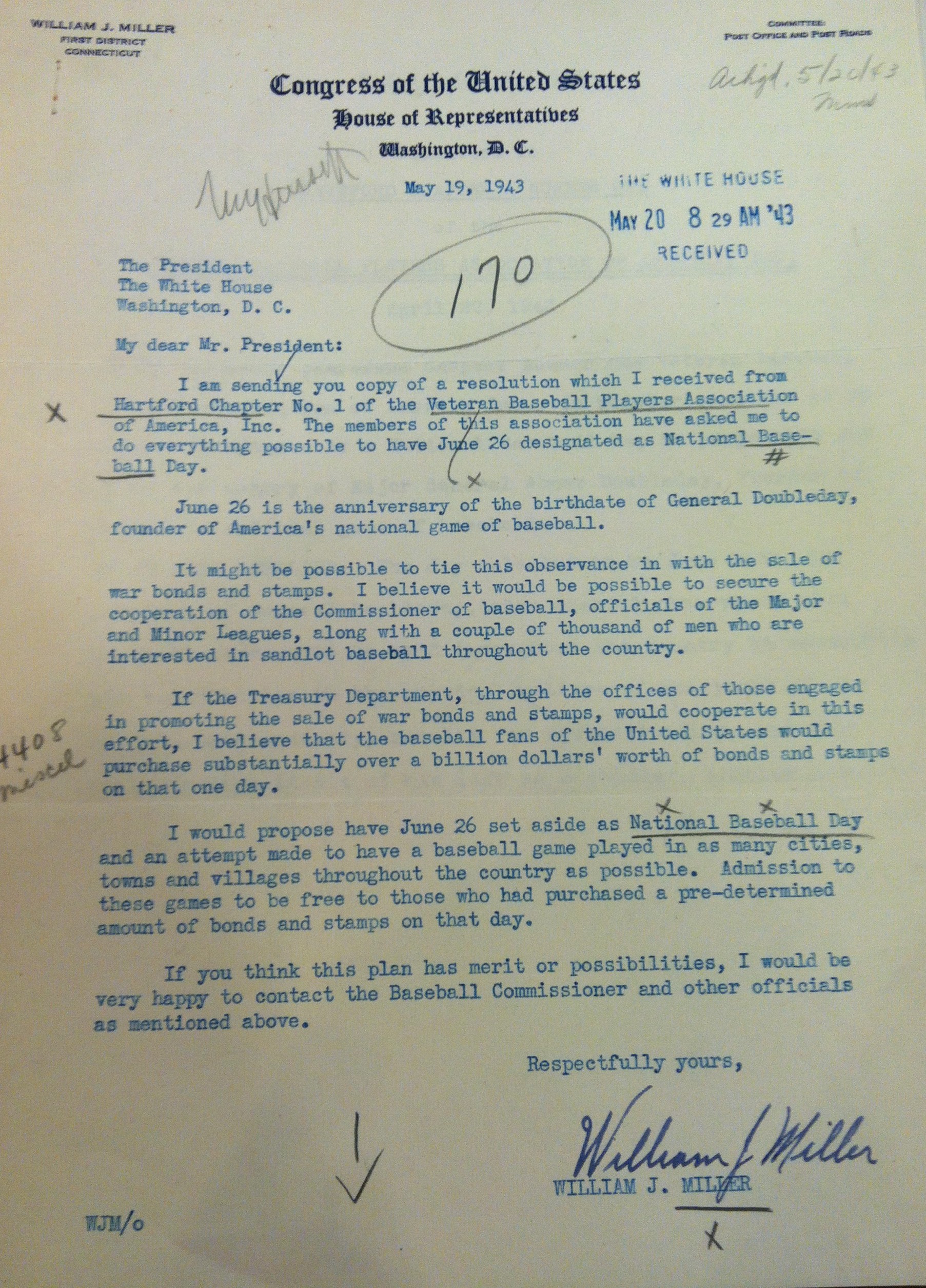 No written response came from President Roosevelt, who was busy commanding American forces in World War II. When Congressman Miller presented National Baseball Day to Congress, the bill died on the House floor. However, Harry Anderson persevered. After marking the 30th anniversary of the Bermuda Invaders, Anderson and Hartford's Chapter No. 1 of the Veteran Baseball Players Association planned a trip to Lebanon, Connecticut. They sought to promote National Baseball Day at home of Doubleday's parents but strict wartime limits on gasoline during the war forced Anderson to cancel the pilgrimage.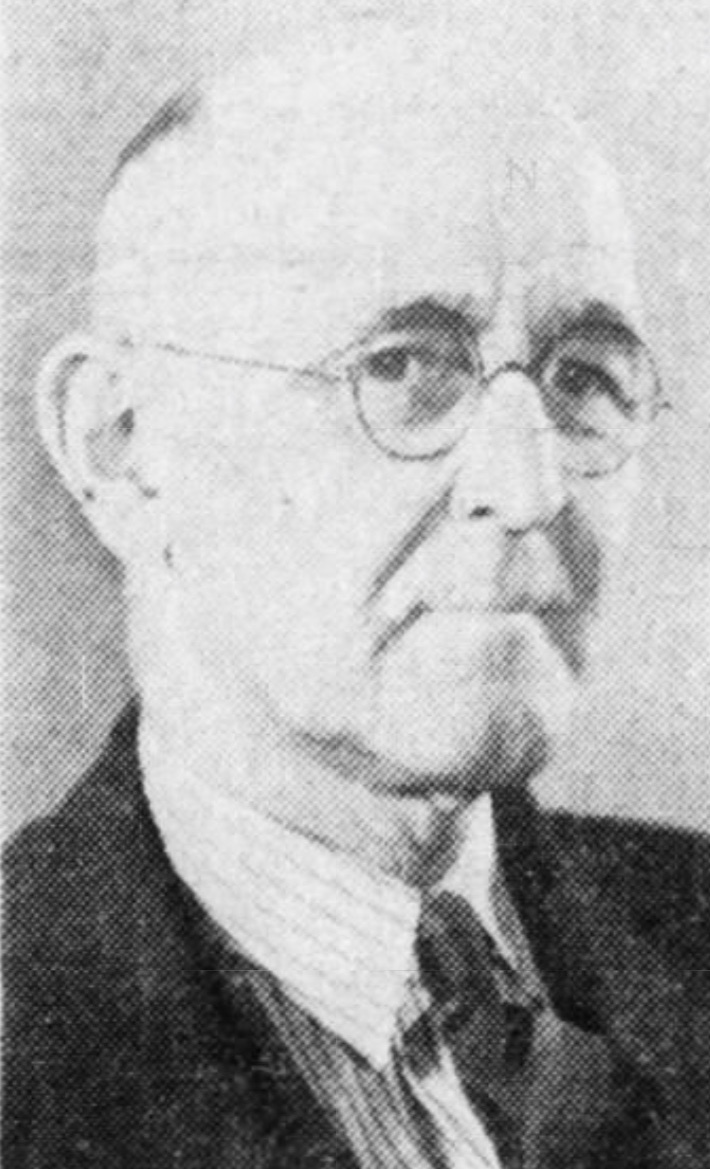 A few months after the invasion of D-Day, Harry Anderson made an appearance at a Camp Courant award ceremony with Private Tony DeMaio of the Marine Corps. They were also joined by members of the Hartford baseball club: Business Manager Charlie Blossfield, Manager Del Bissonette, and a pitcher, Merle Settlemire. They presented the Bert Keane Trophy for sportsmanship to Angelo Perone of 54 Charter Oak Avenue. Then, in October of 1944, Anderson was in an automobile accident. He sustained minor injuries and checked into Hartford Hospital. Anderson made a full recovery and details of his injuries were not disclosed.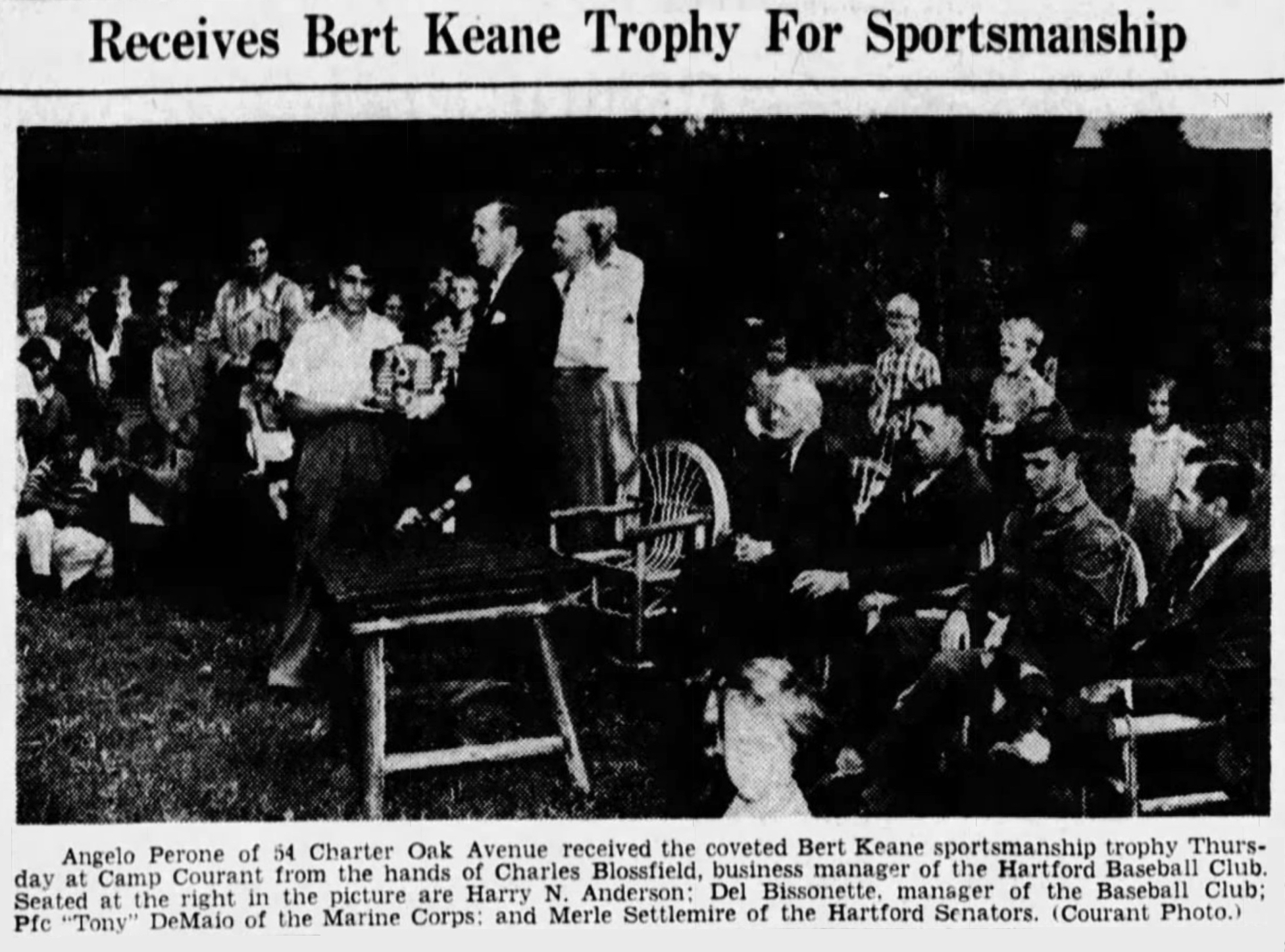 In his latter years, Anderson was a frequent contributor to the opinion pages of the Hartford Courant. When Judge Kenesaw Mountain Landis died on November 25, 1944, Anderson composed a tribute to baseball's "greatest leader" who restored confidence in the game. He shared a personal anecdote of meeting Landis who jumped at the opportunity to attend Hartford Boys' Baseball Day in 1927. Anderson's next editorial called for the continuation of athletics during World War II. He touted the physical, mental and social benefits of sports. Baseball in particular, he argued, was an important facet of daily life and served as an inspiration to young people.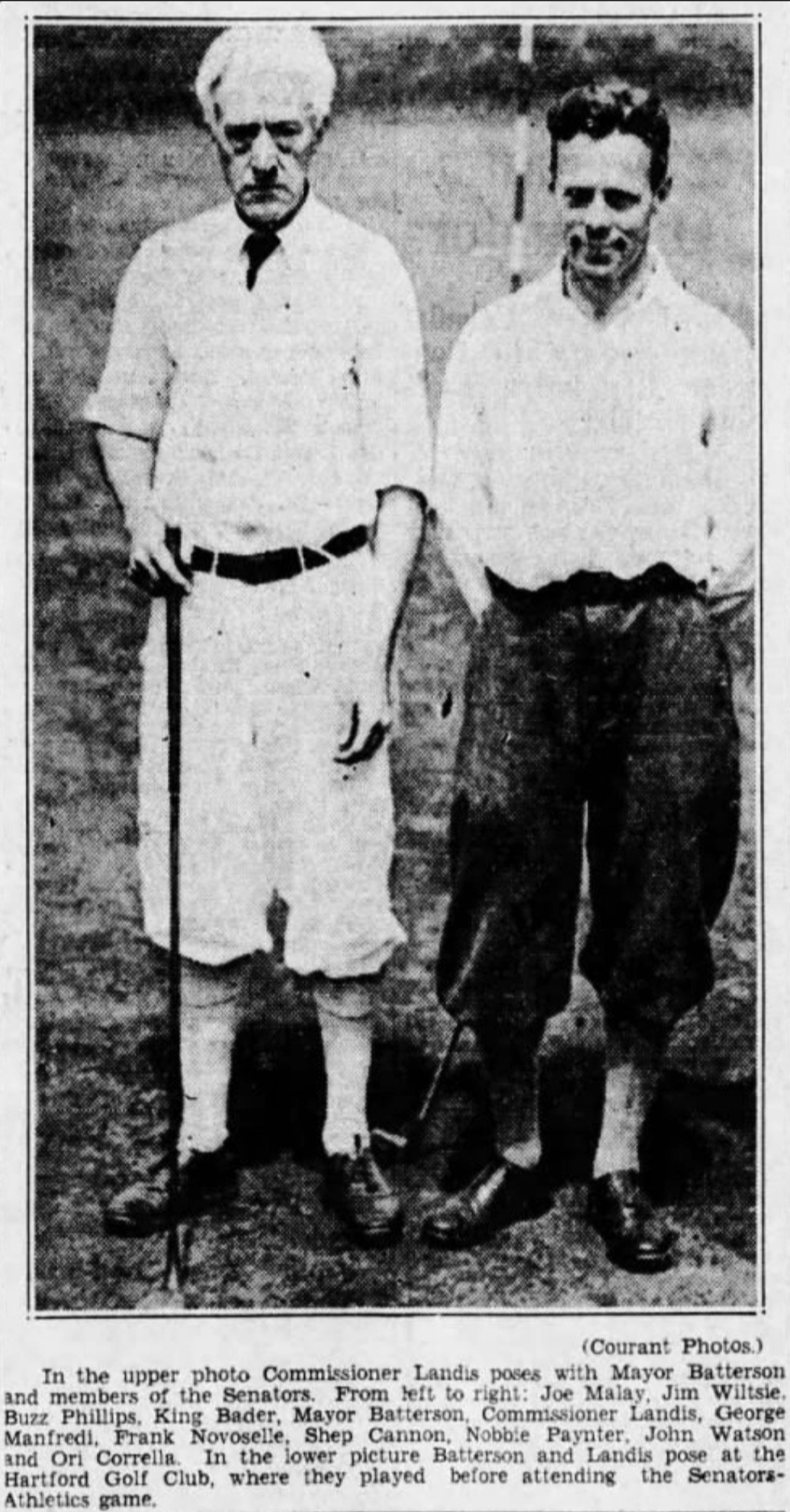 Anderson was behind another public address when the Hartford Exiles broadcasted their 1945 reunion on the radio. Remarks were made by Congressman Miller who endorsed the Universal Service Act—requiring military service for American citizens. At the dinner, Commandant Anderson wore his YMCA uniform from his days in France. Later that year, Anderson was appointed to Hartford's Medallion Commission, an official committee that voted on military service awards given on behalf of the city. War heroes such as Major General Leonard F. Wing and General Jonathan M. Wainwright were presented medals while making appearances in Hartford.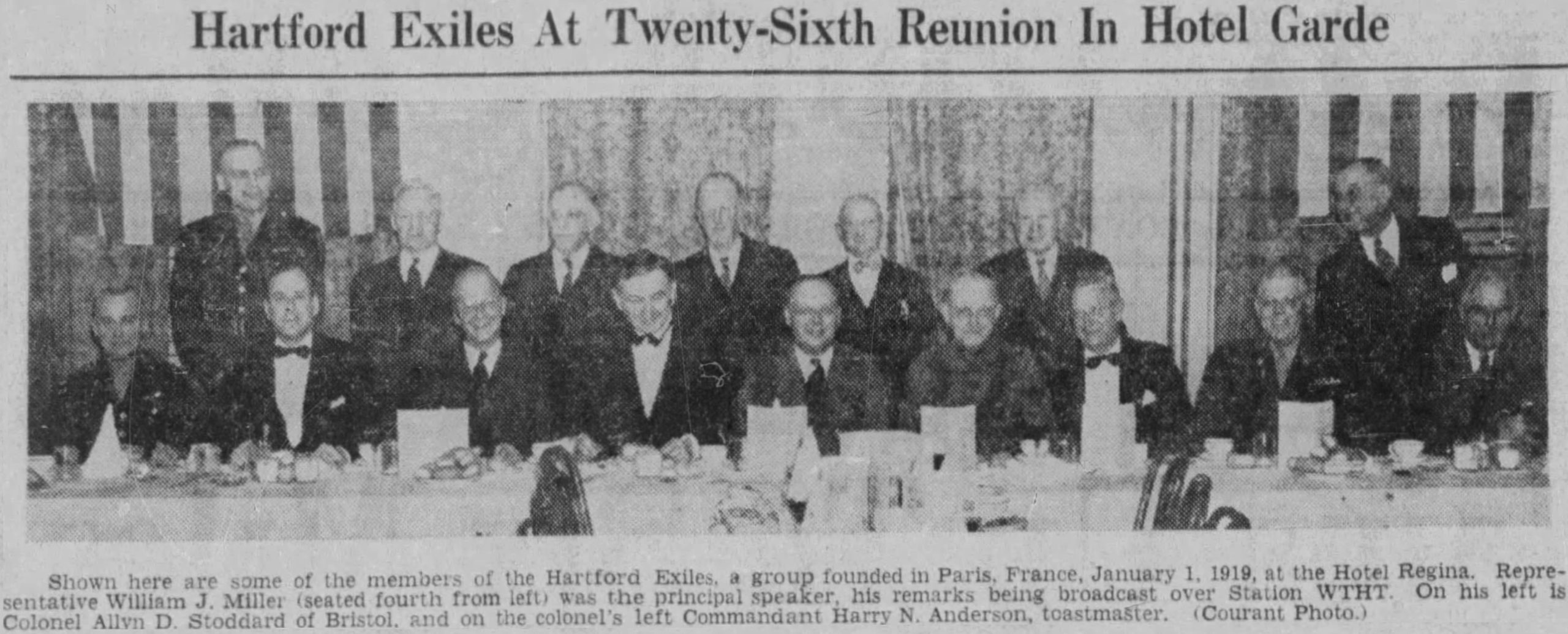 Then in August, Anderson showed his appreciation for a late friend, Mary E. J. Lally. She had been general supervisor of Camp Courant since 1924. After her sudden passing in 1934, Lally was remembered each year at the camp on "Mary E. J. Lally Day" and Anderson was a regular attendee. Like his friend Mary Lally, Anderson was a champion of youth organizations and physical education. His attachment to these causes led him publish more editorials on the topics of athletics, politics and all things Hartford.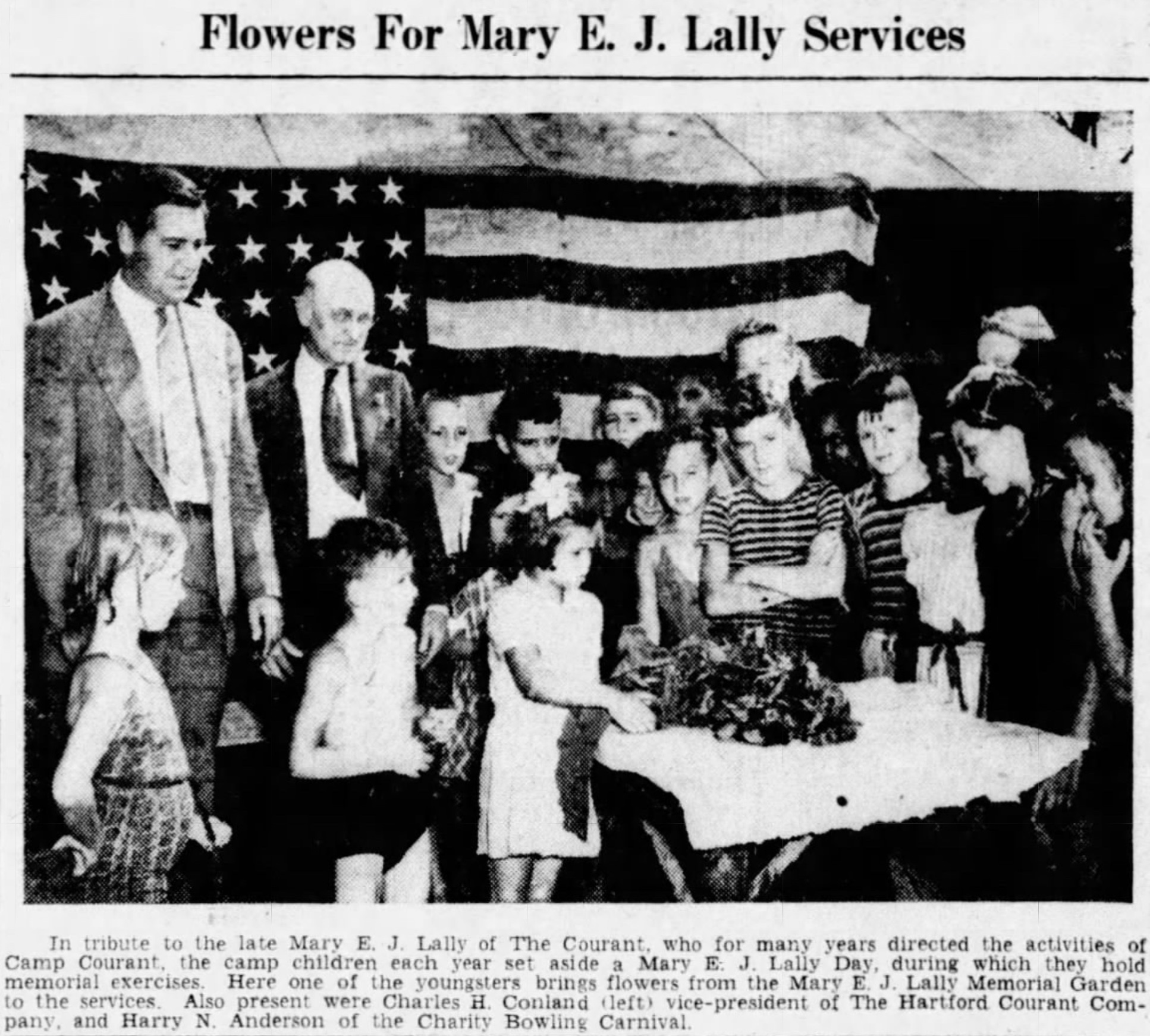 In two columns during 1945, Anderson expressed the need for an indoor arena in Hartford capable of hosting various cold weather sports. The Greater Hartford community had become more interested in cold weather sports such as basketball and hockey. He recommended dedicating the arena to veterans of both world wars and suggested a design similar to the Hershey Sports Arena in Pennsylvania. However, it would be another thirty years until the Hartford Civic Center was built in 1974.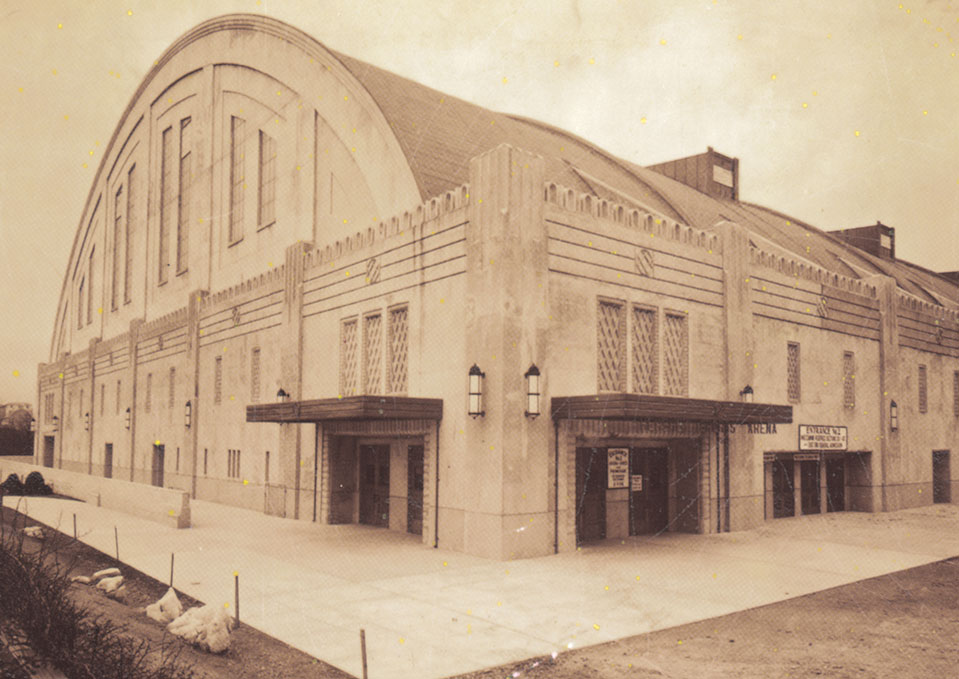 On New Years night in 1946, Harry Anderson and his exclusive club of Exiles dined around an "H" shaped table at Hotel Garde. Commandant Anderson presided as master of ceremonies which included the induction of Major Kenneth G. Collins into the order. Colonel Elmer S. Watson, state motor vehicles commissioner gave the keynote speech about the cost of world peace. He praised the valorous acts carried out by 43rd Infantry Division, made up of men from Connecticut, Maine, Rhode Island, and Vermont. Former Staff Sargent Donald C. Millen of Rocky Hill, Connecticut, exhibited his collection of souvenirs from a raid of the Reich Chancellery in Berlin.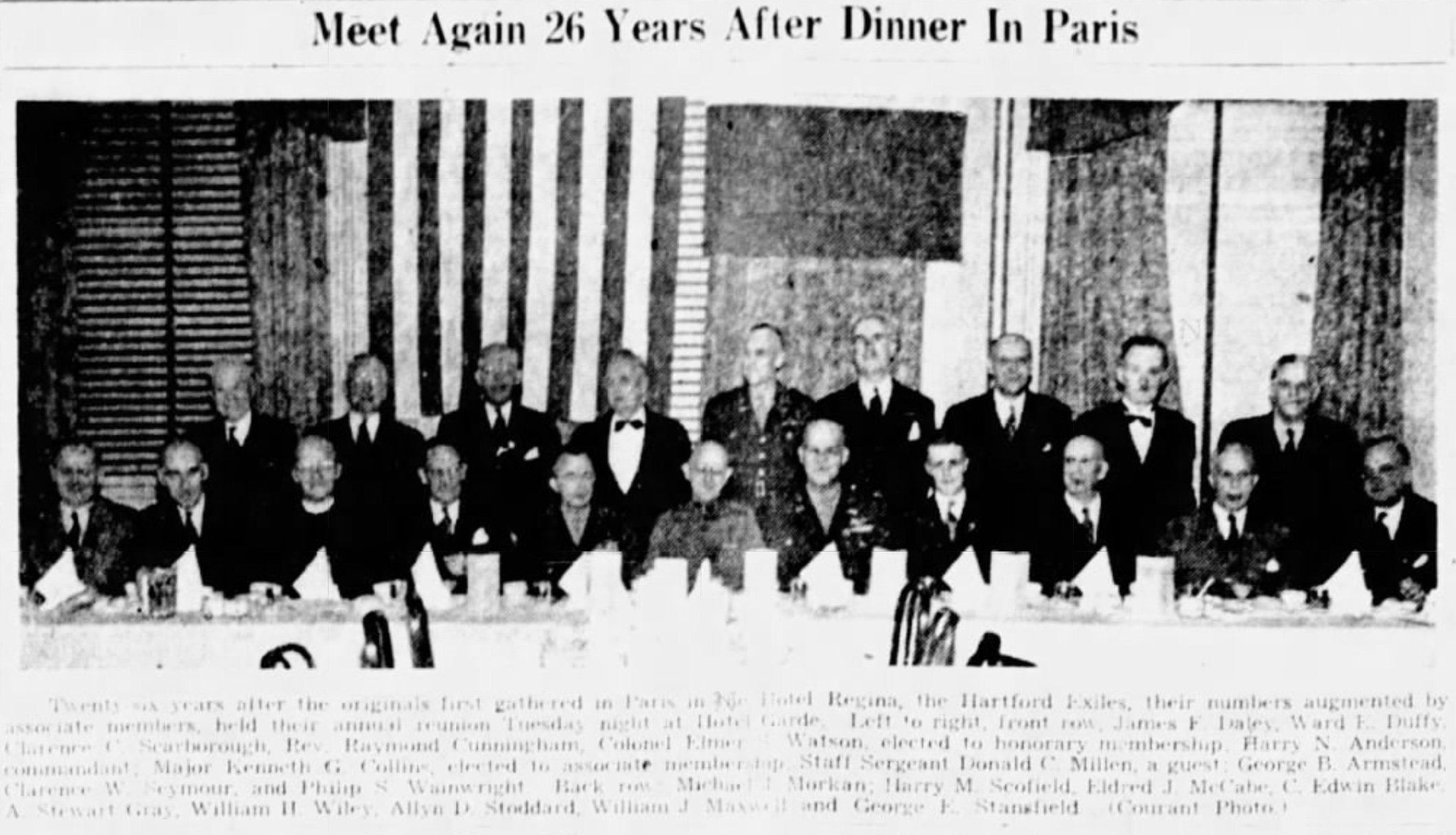 The Bermuda Invaders reunion of 1946 took place at Marble Pillar, a German restaurant in downtown Hartford. At the dinner, Anderson screened a short film of the 1945 World Series featuring the American League Champion Detroit Tigers defeating the National League Champion Chicago Cubs in seven games. Anderson had become a regular customer at Marble Pillar and a friend of the restaurant owner, Carl Struve. When Struve turned 72 years old, Anderson and the Veteran Baseball Players Association threw a him a birthday party.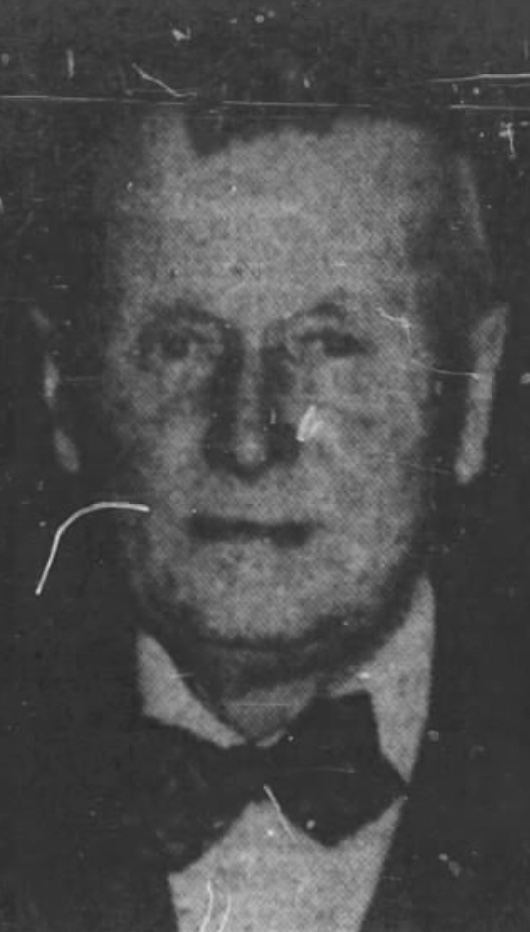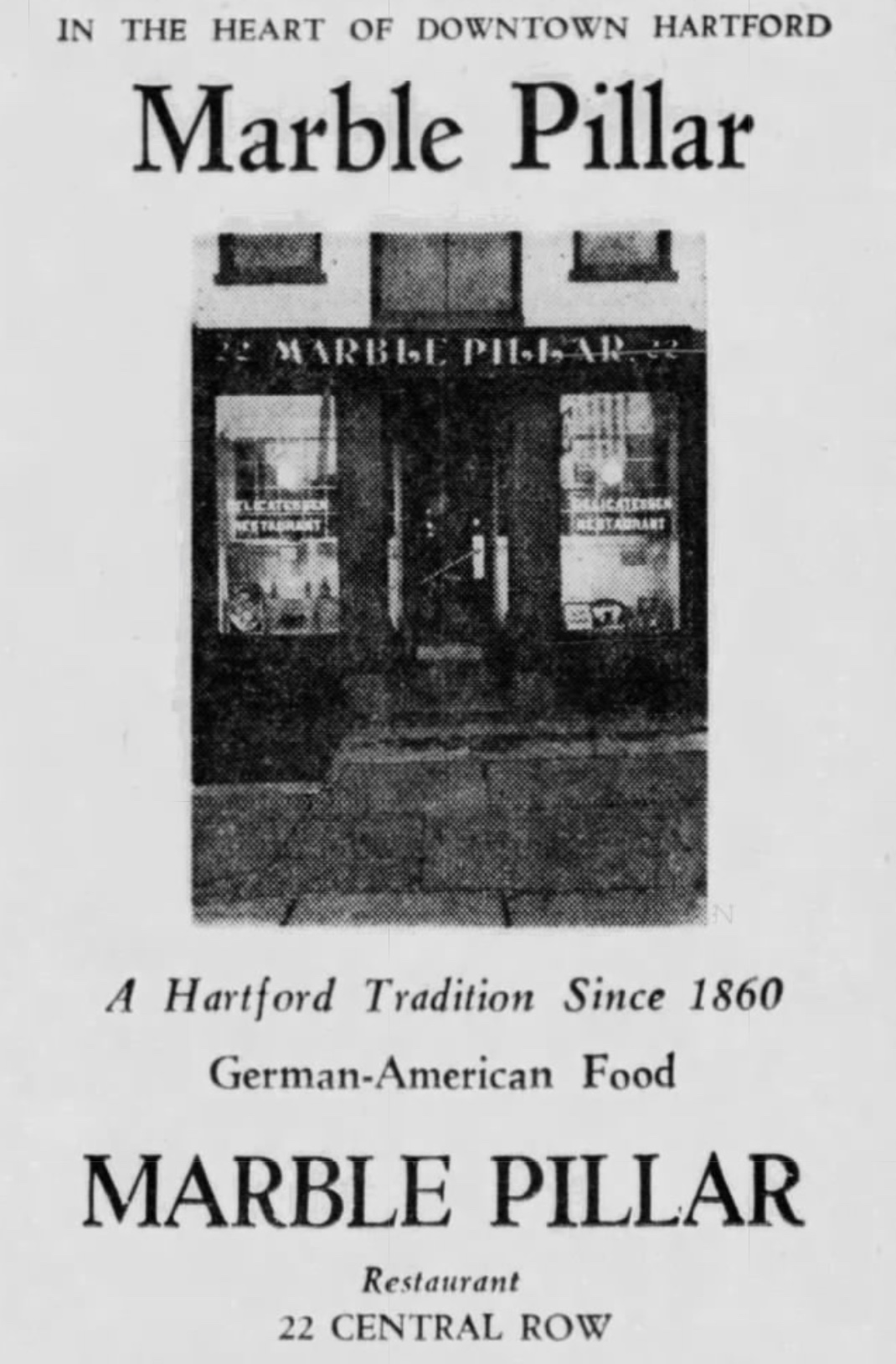 In spring of 1946, Anderson donated unboxed baseball gloves to a contest run by the Hartford Chiefs and a group known as the Lady Fans of Hartford. The women's fan club selected two Hartford High School baseball players, Bob Andrews and Arnold Lewis as recipients of the gloves and a Spring Training tryout with the Hartford Chiefs in Greenwood, Mississippi. Towards the end of the baseball season, Anderson made his annual visit to Camp Courant accompanied by Charlie Blossfield of the Hartford Chiefs and William J. Lee of the Hartford Courant. The trio the camp's highest honor to Kenneth Jerome for sportsmanship, citizenship and athletic ability.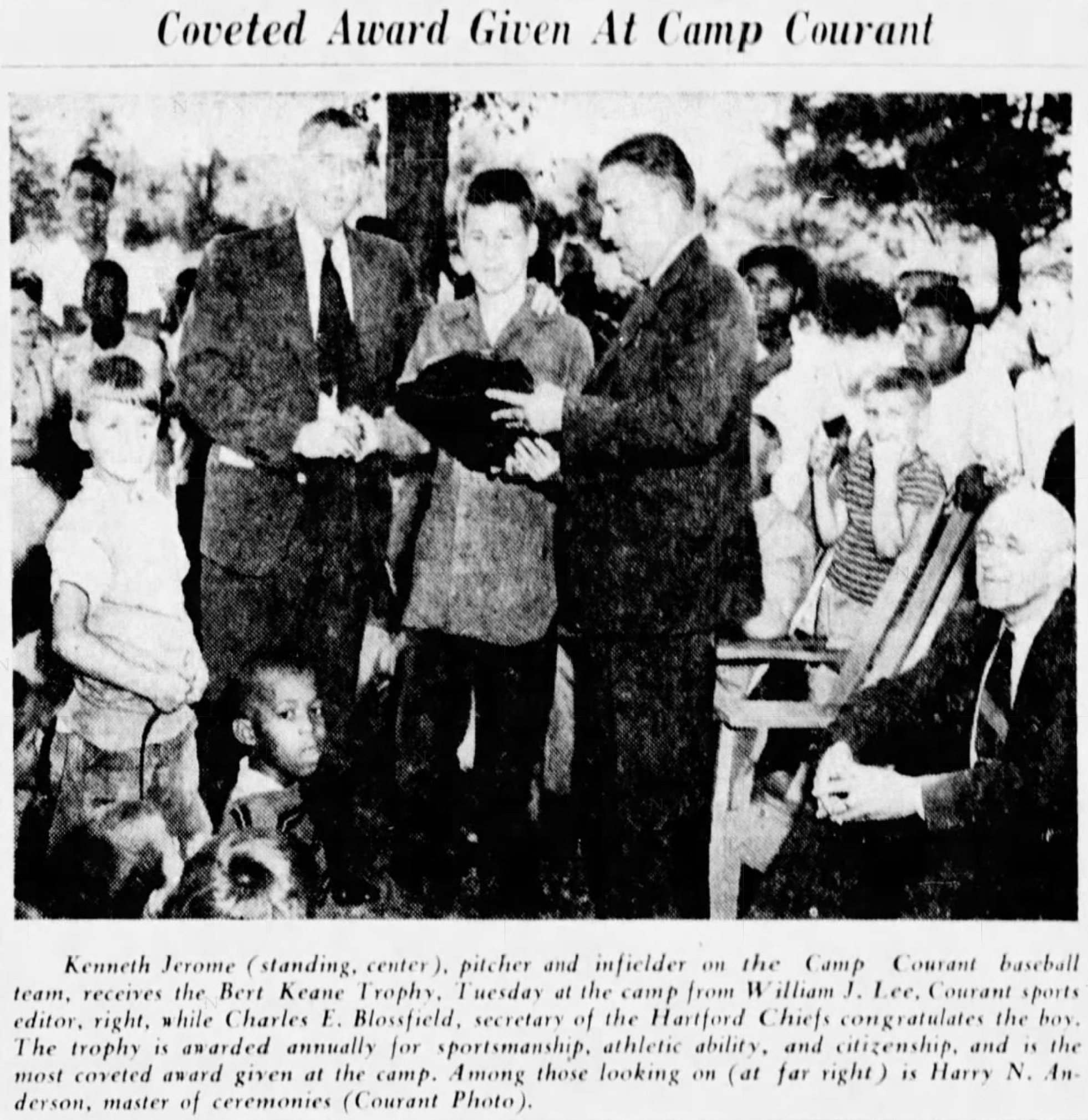 The following year, Anderson revisited the push for National Baseball Day. He wrote another editorial in the newspaper on April 20, 1947, endorsing the creation of National Baseball Day and exclaiming the importance of Abner Doubleday:
"For if he had not conceived the idea of the game, there would be no baseball game and no Babe Ruth to take part. Congressman William J. Miller of Connecticut had presented a resolution to side aside [Major] General Abner Doubleday's birthday as a National Baseball Day and will bring it before the President and Congress again. A certain percentage of the receipts from the games in the major and minor baseball leagues on the National Baseball Day could be devoted to taking care of veteran baseball players in need and the youth program in the development of baseball among sandlot players as a National Baseball Fund."

Harry N. Anderson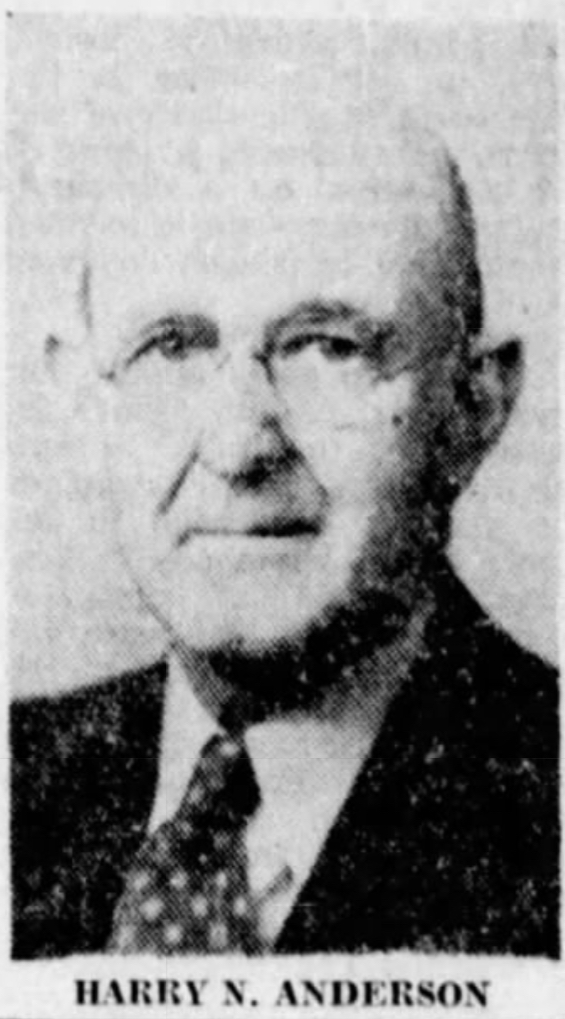 Anderson's calls for National Baseball Day were heard, but the levers of government had failed to deliver results. Yet, he remained engaged in the Veteran Baseball Player's Association. Anderson was chosen as president at the annual convention of 1948 at Craig Loch Manor in Meriden, Connecticut. His bygone friends, Luke Crowe of West Haven and Mickey Lambert of Unionville, served as officers. Former professional players, Harry Noyes of West Haven and James. J. Burns of Hartford, were each named vice presidents.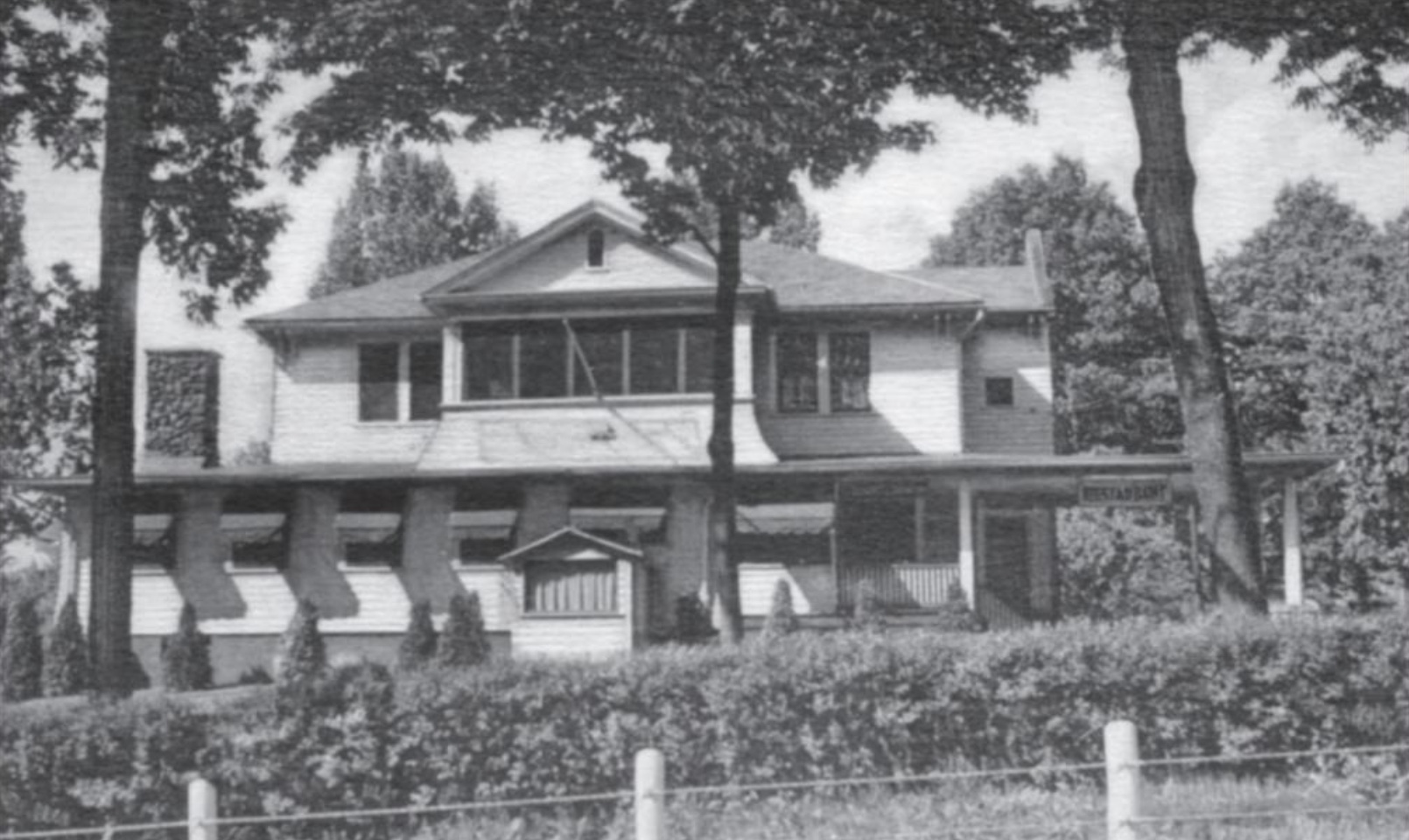 On August 17, 1948, Anderson attended the funeral of baseball's biggest superstar, Babe Ruth. He was selected by Mayor Cyril Coleman to represent the City of Hartford. Ruth's memorial was held at Universal Funeral Chapel on 52nd Street in Manhattan. About a month later, Anderson accepted an appointment to Hartford's Rent Advisory Board. He had been personally recommended to the position by Governor James C. Shannon.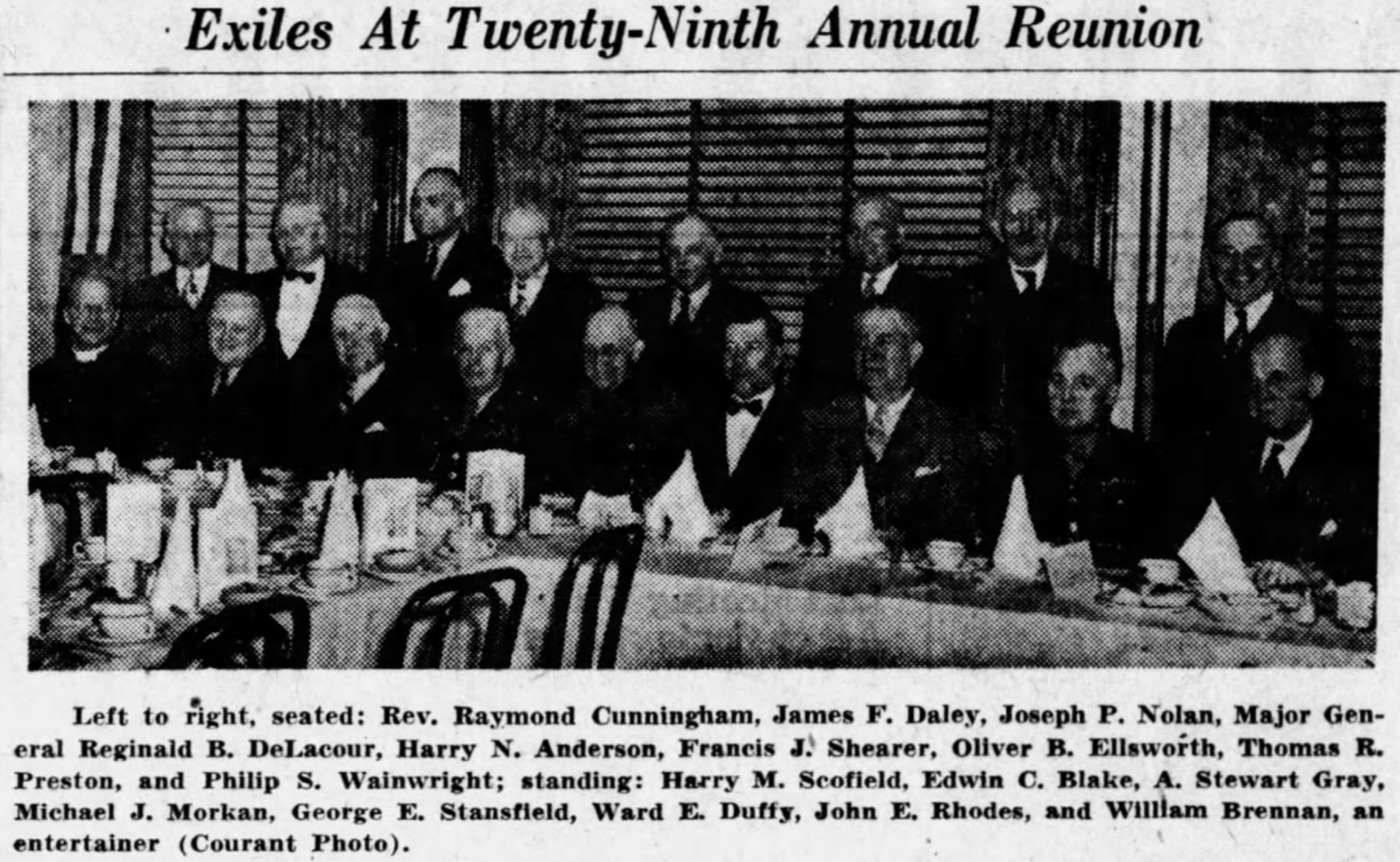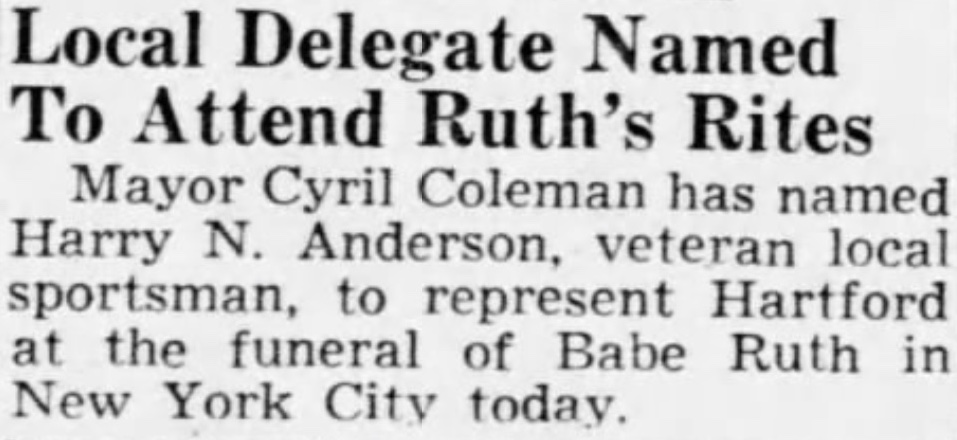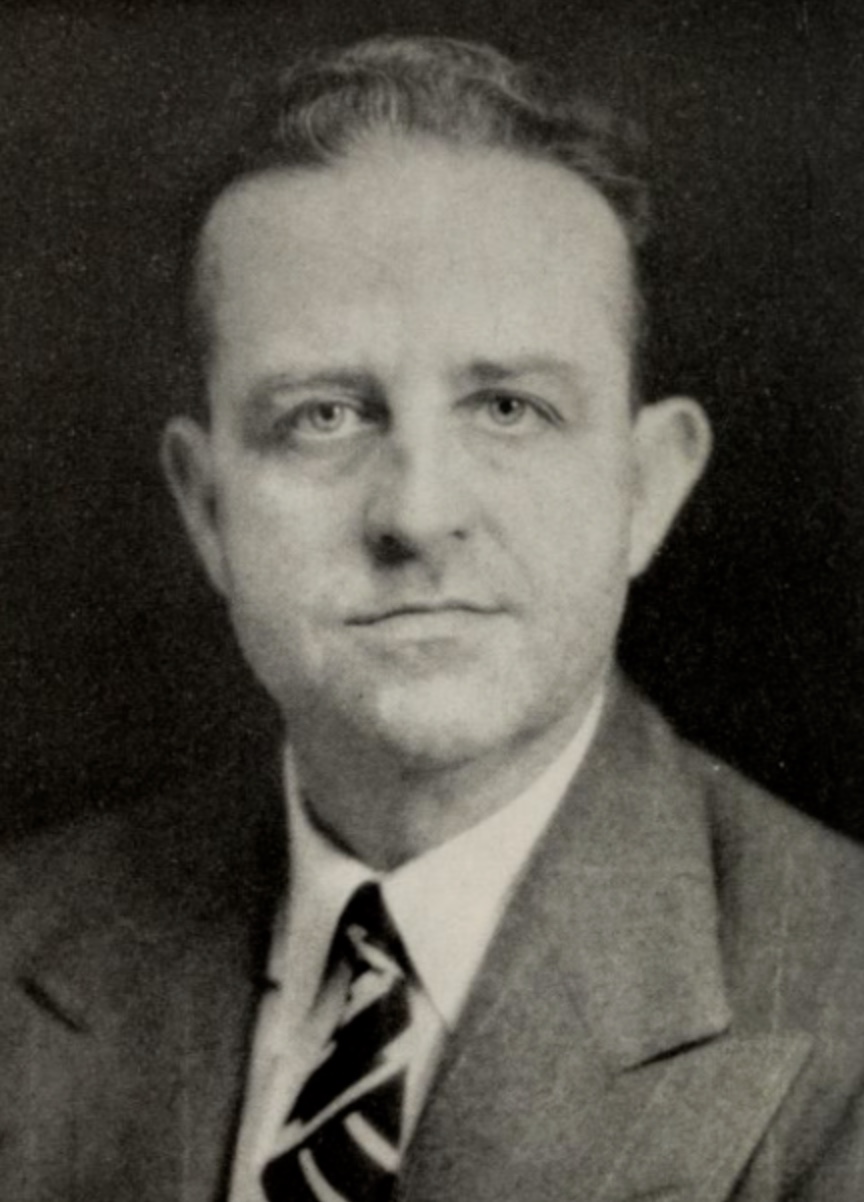 The Hartford Exiles gathered for their thirtieth anniversary on January 3, 1949. The milestone was held at the University Club situated at 30 Lewis Street. Twenty-five members heard Superior Court Judge Edward J. Daly deliver the keynote speech. Daly, one of three American judges at the Nuremberg Trials, spoke about the ruthless and criminal conduct of the Nazi regime. The Hartford Exiles inducted two new members, who were announced as the final additions to the order. Even though new membership had ended, Anderson promised that the reunions would go on.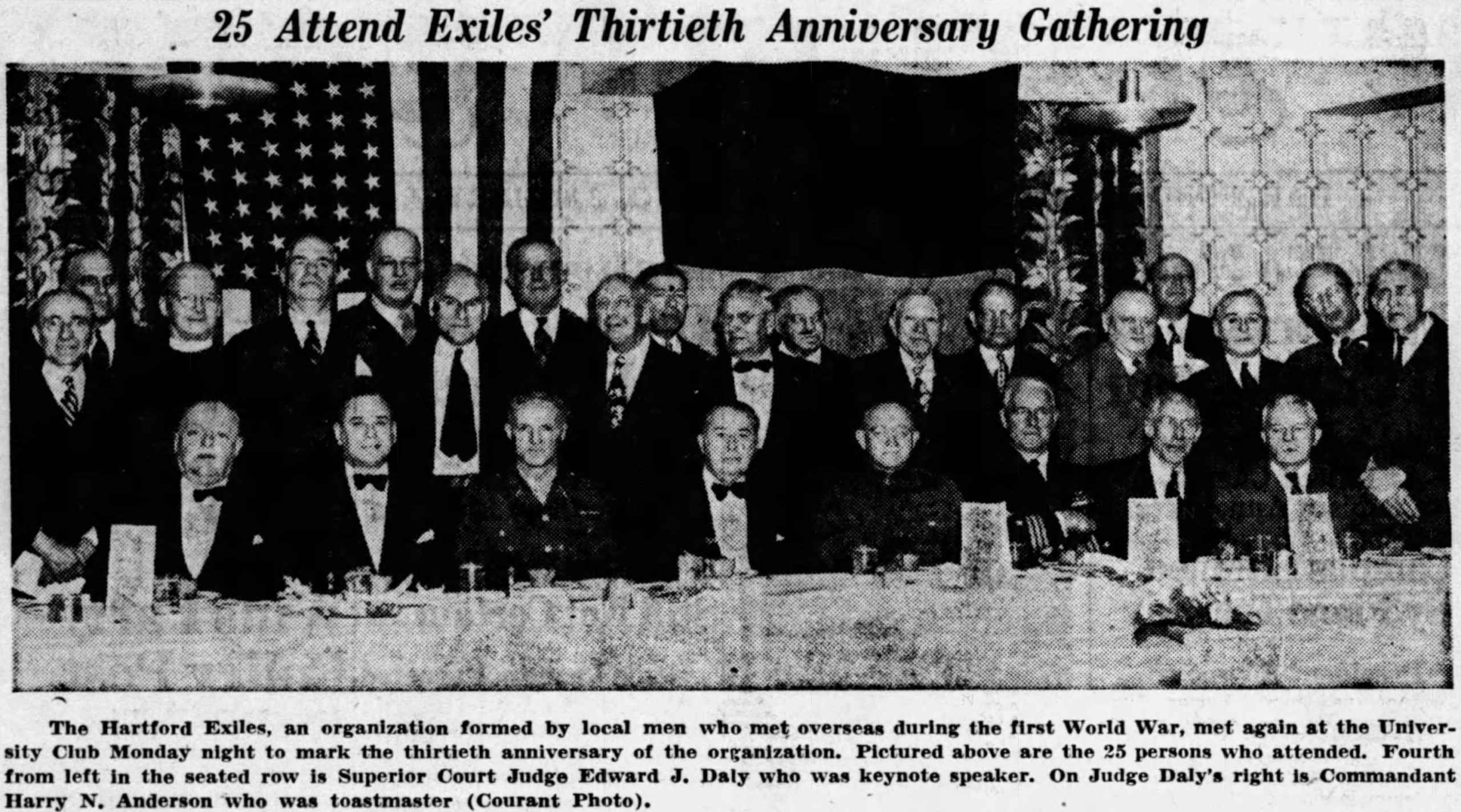 In the spring of 1949, Anderson gave a commencement speech to the graduating class at his alma mater, Brown School. By summertime, he made an obligatory visit and donation to Camp Courant on behalf of the Charity Bowling Carnival. Then, ten years after being honored by the National Baseball Hall of Fame, Anderson and the Bermuda Invaders were invited back to Cooperstown. Director of the Hall Fame, Bob Quinn recognized their feat in Bermuda, and he signed a draft of Anderson's National Baseball Day resolution.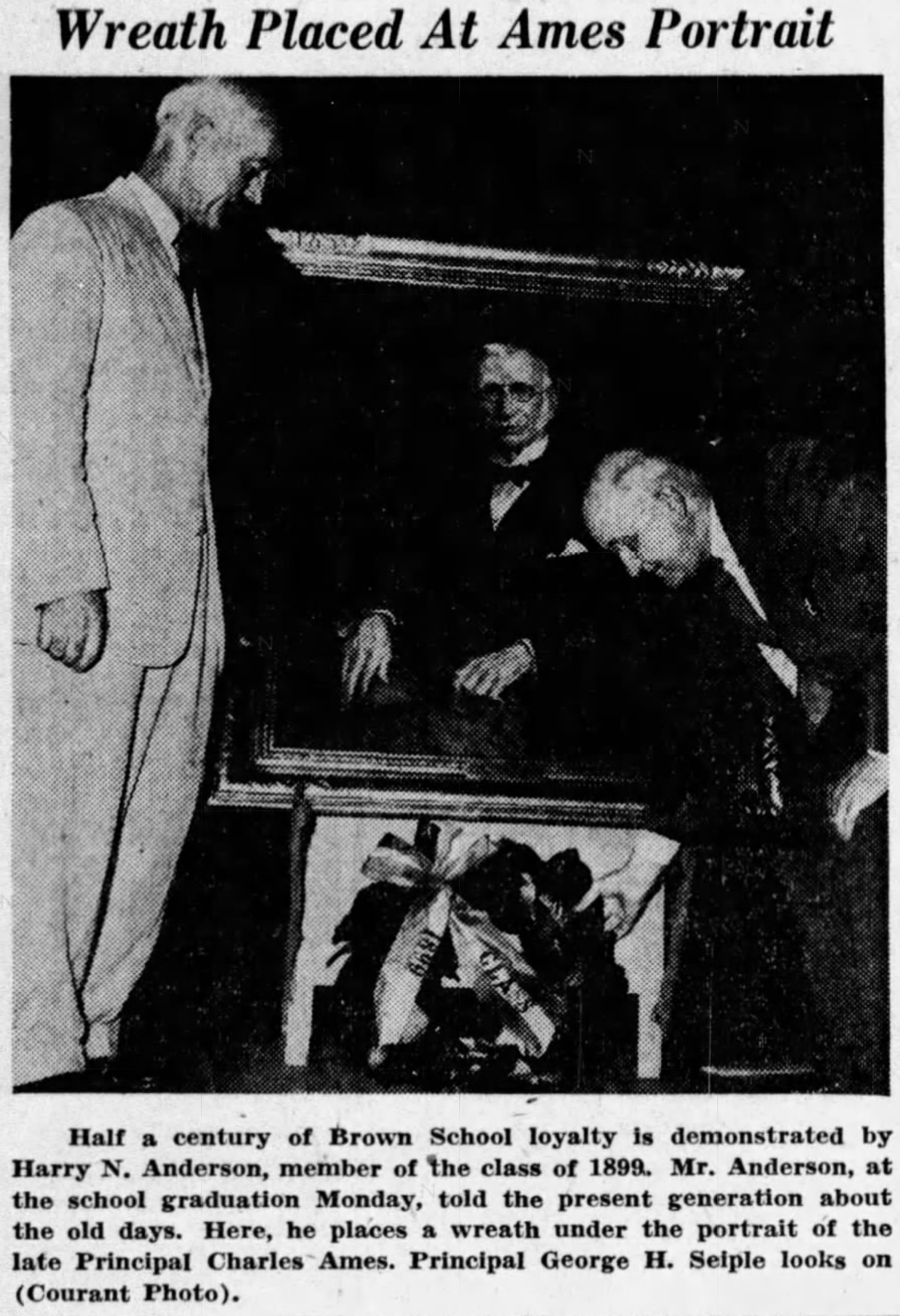 In 1950, Anderson coaxed Congressman Abraham Ribicoff into backing National Baseball Day. Ribicoff, a Democrat, crafted legislation for the observance, but again, the bill was rejected in committee. Back in Hartford, Anderson wrote short column endorsing fellow Exile, William A. Purtell for Governor of Connecticut. Purtell lost the 1950 Republican primary to Congressman John Davis Lodge. Later that year, the Exiles mourned the passing of three members: Rev. Raymond Cunningham, Congressman William J. Miller and former managing editor of the Hartford Courant, George B. Armstead.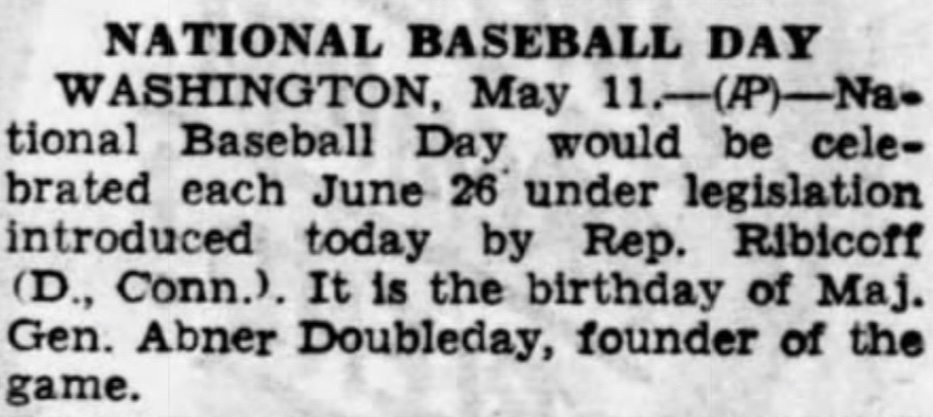 Anderson and Hartford Exiles began 1951 at the University Club for their thirty-second annual reunion. Hartford Attorney Thomas J. Dodd, distinguished for his work as prosector at the Nuremberg Trials, was guest speaker. Anderson and others listened to the aspiring politician declare communist Russia as America's next greatest threat. Dinner guests enjoyed the same four course meal served in Paris in 1919. The Exiles ended the night by singing the national anthems of the United States and of France.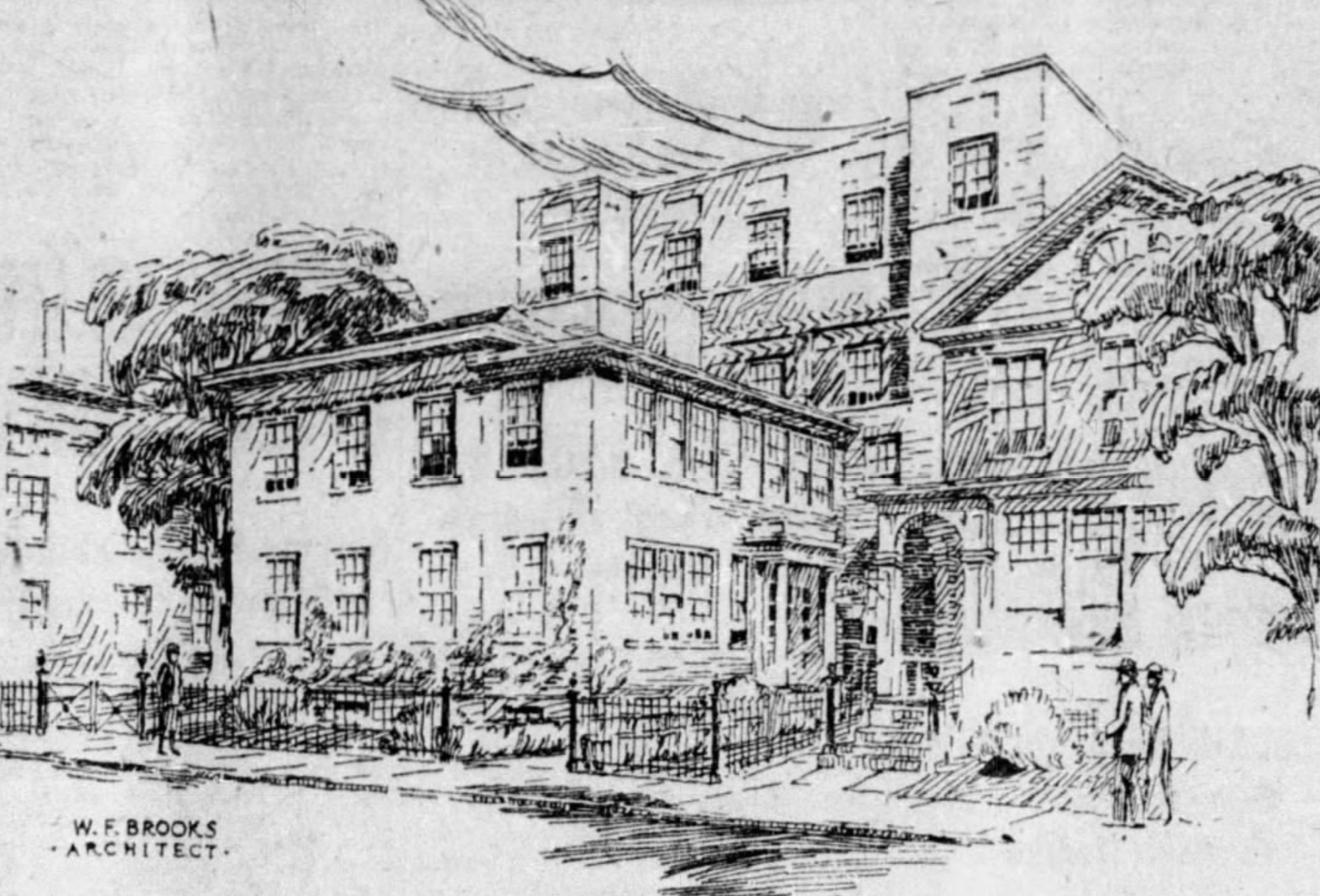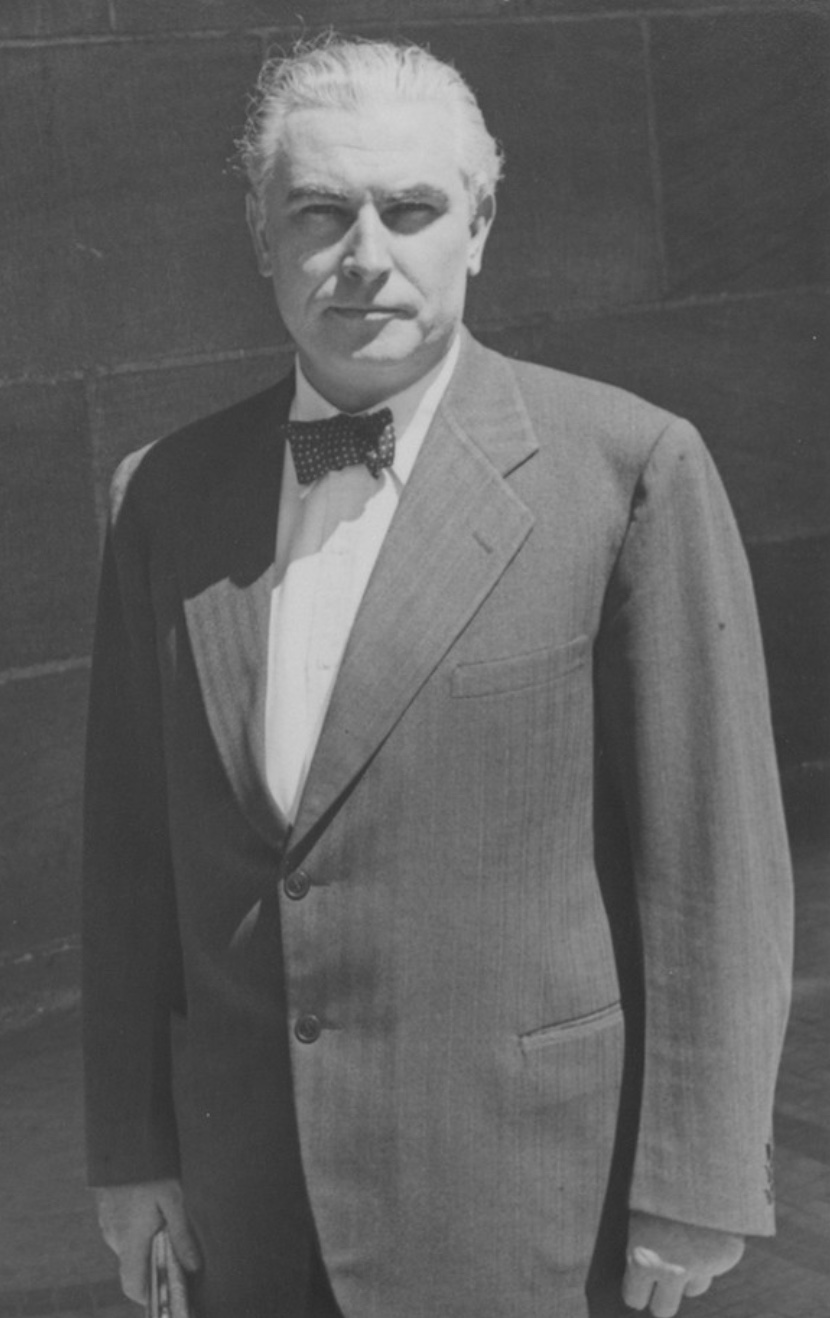 The Charity Bowling Carnival in February of 1951 was wildly popular. Anderson's annual event for Camp Courant attracted seventy-two bowling teams who competed until a half hour until midnight. At 65 years old, Anderson's philanthropic ways never ceased. On August 24, 1951, he arranged a special night at Bulkeley Stadium for young patients of the Newington Crippled Home for Children, who were greeted by members of the Hartford Chiefs and given autographed baseballs. At the end of the year, Anderson received a national honor when he was handpicked by the Amateur Athletic Union to vote on finalists for the James E. Sullivan Award.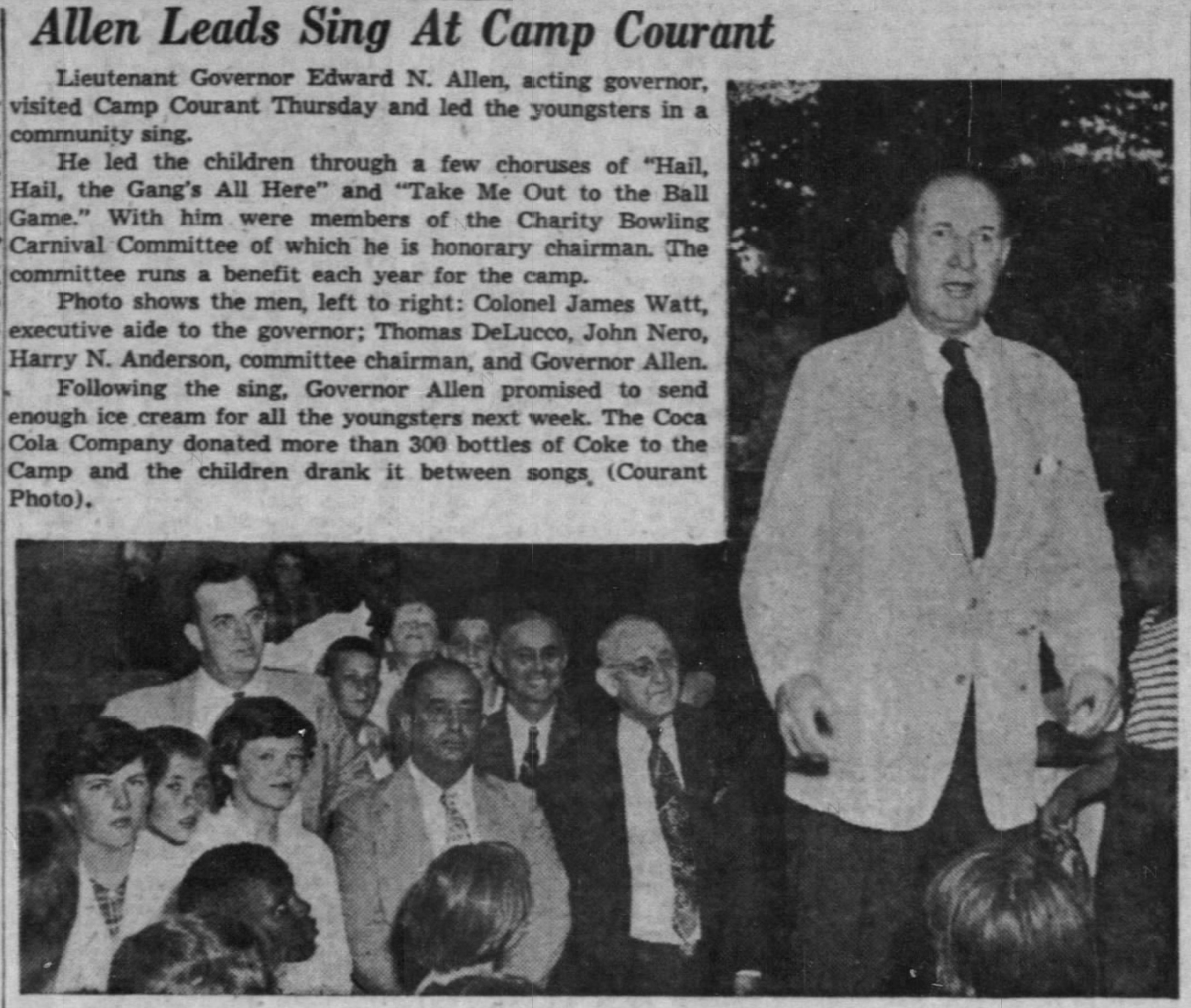 In 1952, Anderson and the Bermuda Invaders celebrated the fortieth anniversary since their groundbreaking trip. Some members of the close-knit team brought their wives to the banquet including Theodore J. Marenholtz, Harry E. Rau and Carl Palmberg. Anderson never married. Instead, he reveled in camaraderie within fraternal, athletic and nonprofit organizations, many of which he had founded. He had few family relations, but he had dozens of close friends and admiring acquaintances.
As a self-proclaimed "friend of pets," Anderson owned a cocker spaniel named Princess. On a few occasions, Anderson contributed articles to the newspaper concerning the treatment dogs in Hartford. He advocated for a new shelter where stray or abandoned pets could remain until adopted by residents. Each Christmas Eve, from 1950 to 1953, Anderson went door-to-door gifting bones to local dogs. One reporter called him the "Santa Claus of Canines."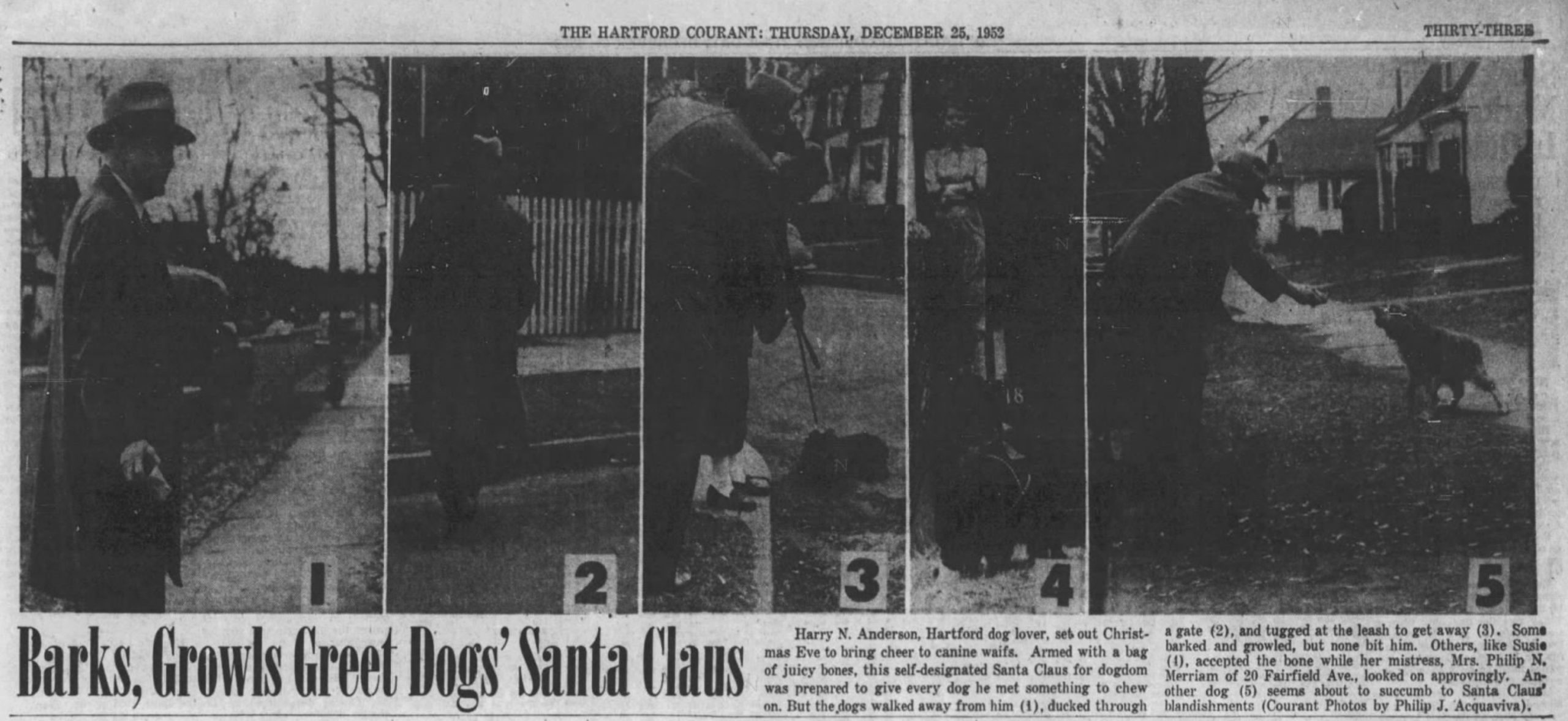 Anderson carried on his humanitarian habits in 1953. The Charity Bowling Carnival raised $75 for the Newington Home and Hospital for Crippled Children. During the check presentation, Anderson gifted a baseball autographed by Milwaukee Braves to Thomas Julian of West Hartford, a patient at the Newington facility. In another baseball matter, Anderson penned a glowing tribute to Hall of Fame Bob Quinn upon his passing in 1954: "He brought to the game the spirit of clean and honorable sportsmanship in all his dealings."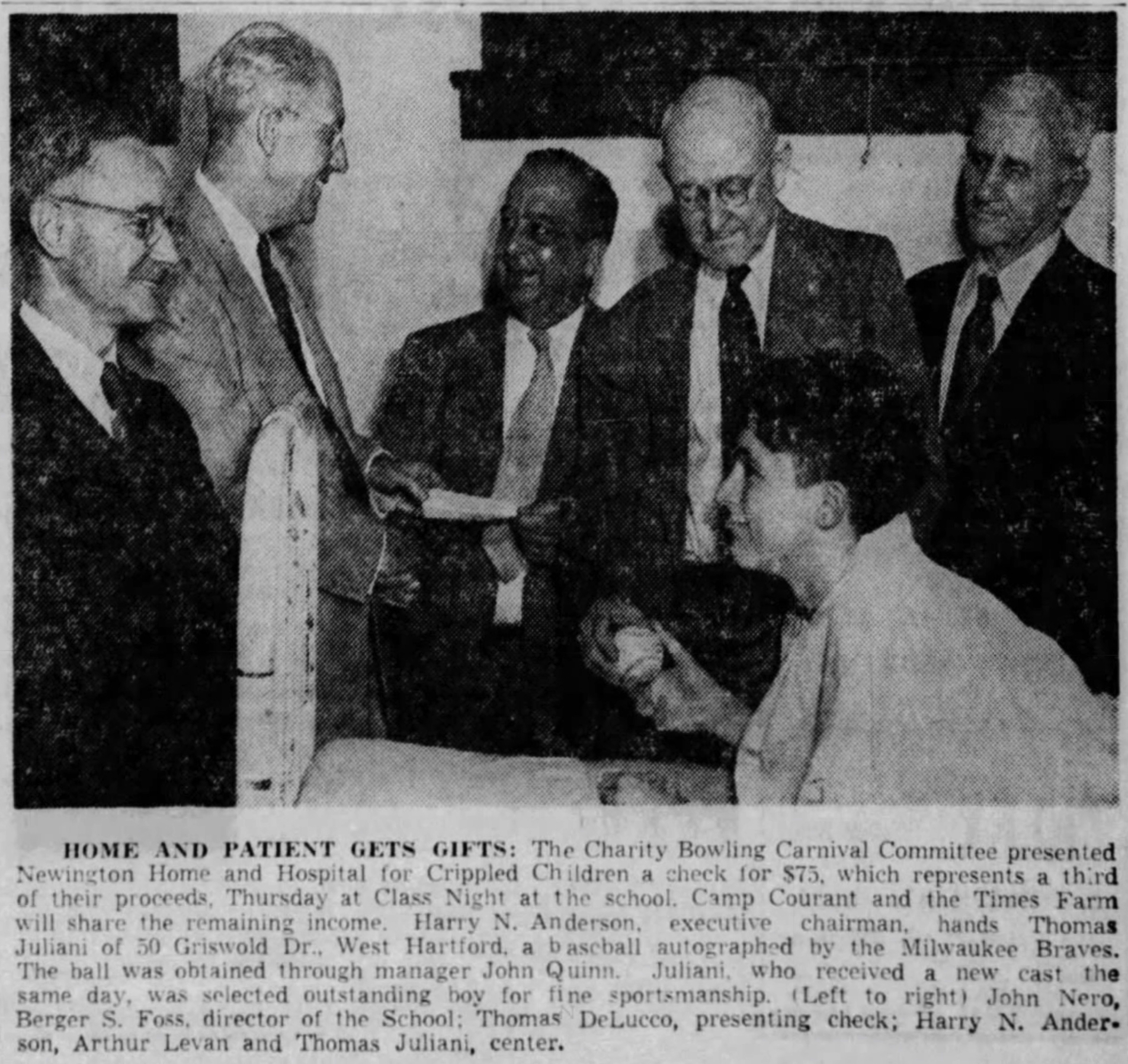 Towards the end of his life, Harry Anderson lived at 21 Montrose Street, Hartford. After an extended illness, he passed away on Christmas Day, 1954, at New Britain Hospital at the age of 69. Anderson died leaving many lifelong friends behind. They were saddened to lose him before his seventies. He was remembered as head of the Charity Bowling Carnival, Commandant of the Hartford Exiles and leader of the Bermuda Invaders. Anderson served others and in the process, he rubbed elbows with America's greatest sports figures and politicians.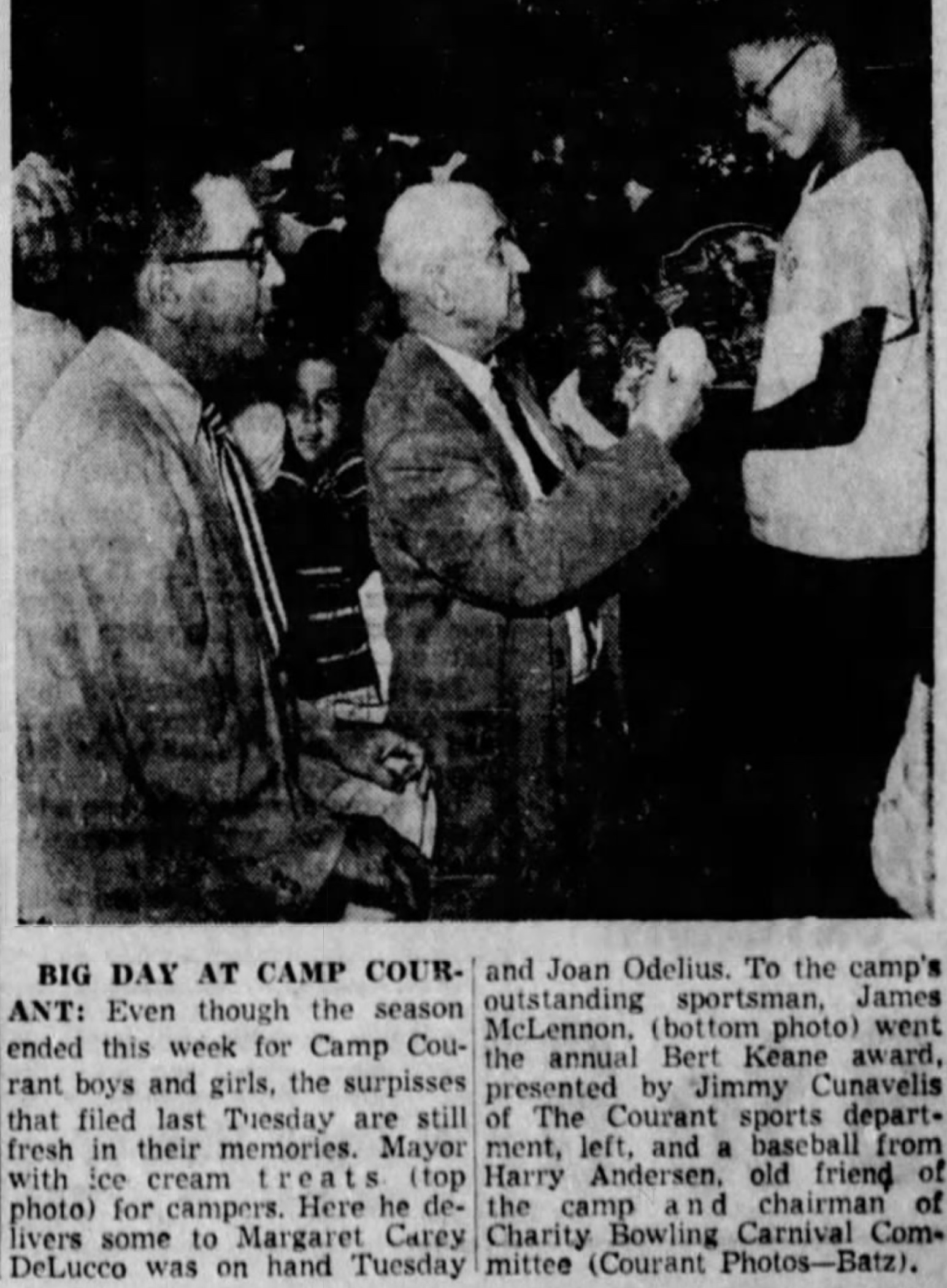 A few days after Anderson's passing, a friend from South Norwalk, Connecticut, and former track athlete, Harold Cutbill wrote a touching "A Tribute to Harry N. Anderson" in the Hartford Courant. In his last will and testament, Anderson left savings to Hartford causes and organizations. He bequeathed $16,000 in all. Camp Courant and Times Farm received $500 each. Other beneficiaries were Christ Church Cathedral, YMCA of Hartford, Newington Home for Crippled Children, Masonic Charity Foundation of Wallingford and the Hartford Chapter of the Yankee Division. Surviving members of the Hartford Exiles were left $500 to defray costs at future reunions.

Anderson's pursuit of National Baseball Day did not go in vain. He had convinced Congressman Thomas J. Dodd to take up the resolution, but it failed to pass the committee stage yet again. However, President Dwight D. Eisenhower, an ardent baseball fan, saw merit in the observance day. In 1957, President Eisenhower declared the first National Baseball Polio Day on Flag Day, June 14, 1957, at stadiums and sandlots across America. Professional and amateur teams throughout the United States collected donations to combat the polio epidemic.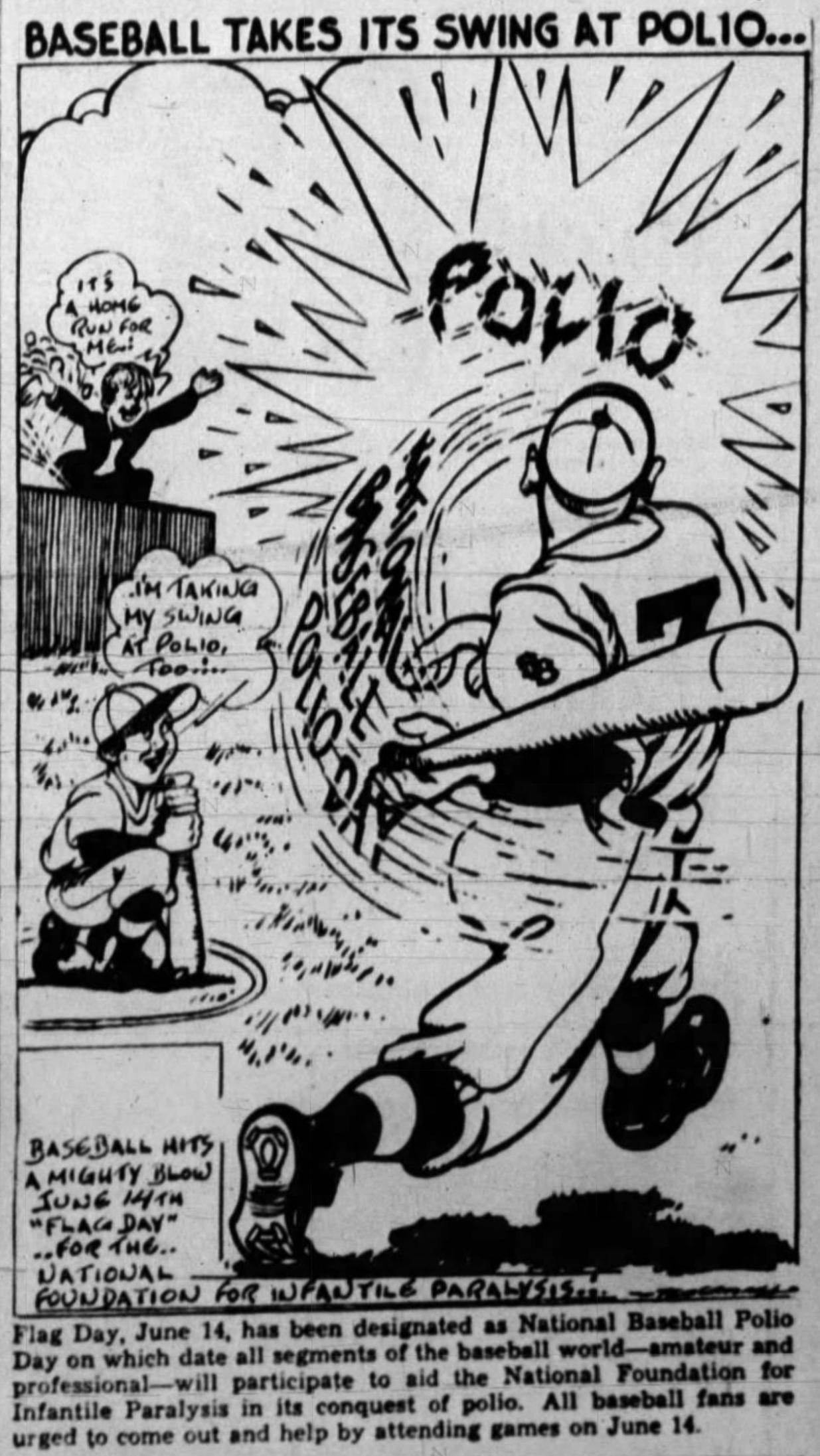 With great vigor and influence, Harry N. Anderson was a sports promoter, a philanthropist and a founding father of amateur baseball in Hartford. He acted admirably as a conduit between the city and charitable organizations. Thousands of men, women and children benefited from his life's work. He was a man of strong traditions, varied interests, charity, service and faith who devised athletic leagues and blazed baseball's trail, from Hartford to Bermuda to Cooperstown.
Gentlemen:—

Permit me to comment on the part you have taken in the interest of the poor children of this city that they might enjoy the recreational privileges that others of better circumstances have benefited for their physical welfare. It is a most worthy object that should have the support of all whose means will allow. I feel that the sporting fraternity of this city is in sympathy with any movement that will aid in the betterment of the physical development of our community life and should have a part this cause.

I therefore have arranged for a benefit baseball game to be played at a later date for which the proceeds will be turned over to this work. It is through the spirited co-operation of the Hartford police and firemen together with the services of the Hartford Grays and Simsbury teams of the County League that this is made possible.

I feel sure the sporting fraternity of this city will lend its patronage as it has all times in the past so that the event may be a big success in the upkeep of this worthy work. Assuring you my co-operation and best wishes for its continued success. I remain—

Sincerely yours,

Harry N. Anderson
July 31, 1920
¹A similar National Baseball Day resolution was presented to Congress in 1996 by Senator Frank Lautenberg of New Jersey however this time, Alexander Joy Cartwright Jr. was named as the founding father of baseball, not Abner Doubleday.
Sources

1. Hartford Courant database accessed through Newspapers.com
2. Player profiles on Baseball-Reference.com
3. Media content from Connecticuthistoryillustrated.org
4. Boston Globe database accessed through Newspapers.com
5. SABR Bio Project, Les Mann: sabr.org/bioproj/person/les-mann/
6. Baseball Prospectus: baseballprospectus.com/
7. Martin, Brian. Baseball's Creation Myth: Adam Ford, Abner Graves and the Cooperstown Story. McFarland, Incorporated, Publishers, 2013.