James Francis Thorpe was the greatest all-around athlete of The Deadball Era. In addition to playing five Major League seasons, he was a superstar football player as well as an Olympic gold medalist. Battling bigotry and discrimination, Jim Thorpe rose to stardom with perseverance and defiance. Unknown to many locals today, the 6'1" 185 lbs sportsman brought his talents to Hartford, Connecticut, on several occasions.
Born on May 28, 1887, Thorpe was a member of the Sauk and Fox Nation of the Oklahoma Territory. His Native American name was Wa-Tho-Huck (Bright Path or Path Lit by Lightning). As a youngster, he attended Haskell Indian School in Lawrence, Kansas, and then Carlisle Indian School in Pennsylvania. He played halfback on the Carlisle football team under coach Pop Warner and was selected by Walter Camp to the 1911 and 1912 All-American teams.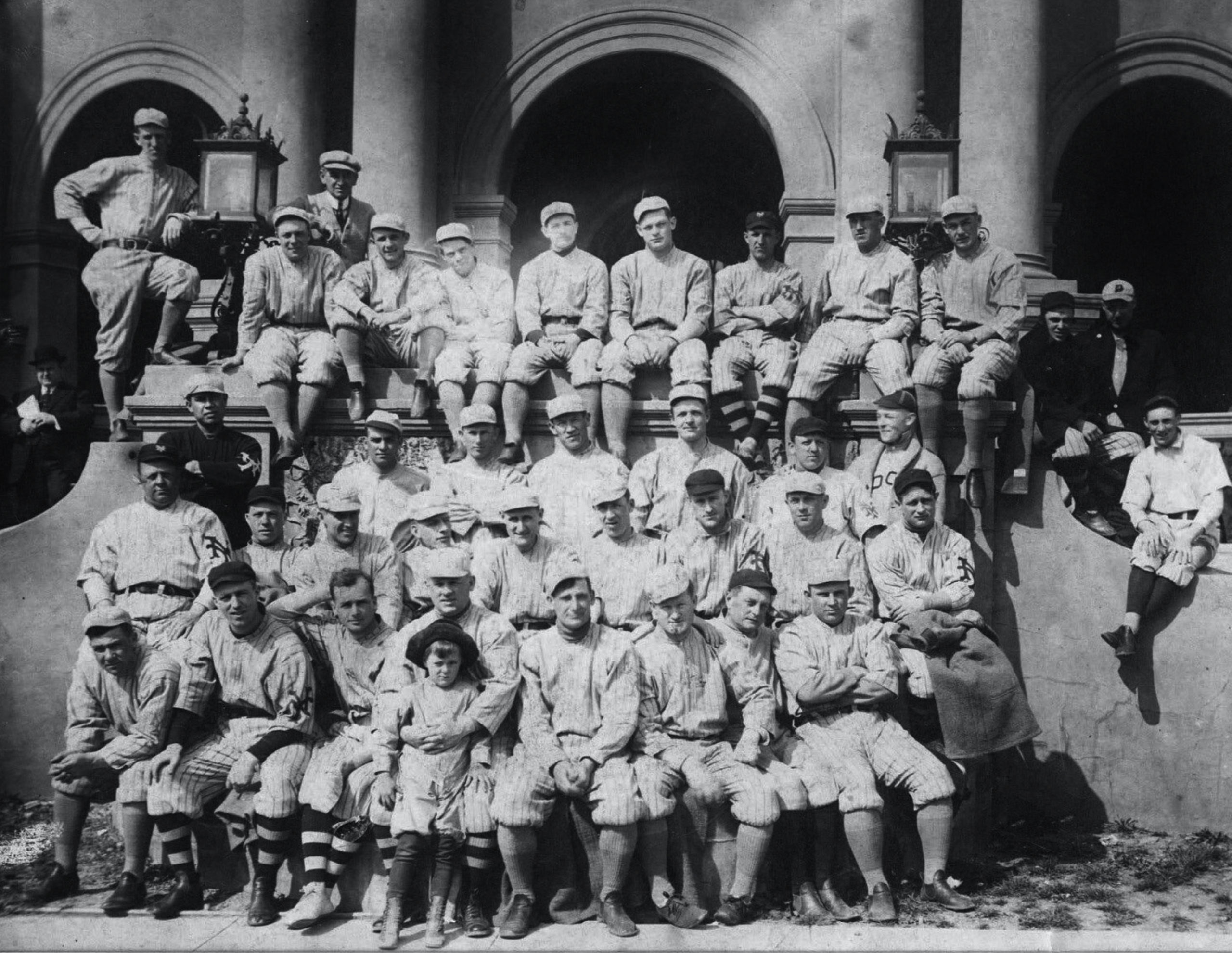 At the 1912 Stockholm Olympic Games, Thorpe won the decathlon and pentathlon by wide margins. Sweden's King Gustav told him, "Sir, you are the greatest athlete in the world." However in 1913 an investigation by the Amateur Athletic Union claimed Thorpe to be ineligible because he played professional baseball in 1909 and 1910. During those years, Thorpe did earn $2 per game in the Eastern Carolina League as an outfielder and pitcher. He was subsequently stripped of his gold medals.
Thereafter, Thorpe signed a three-year contract for $6,000 per season to play with John McGraw's New York Giants. As a rookie, Thorpe recorded 19 games, a home run and two stolen bases as the club captured the 1913 National League pennant. He was a bench player for the Giants. They loaned him to the Cincinnati Reds in April of 1917. Thorpe was recalled to New York in August, and the Giants won another league title. Manager McGraw gave Thorpe a larger role in 1918 when he hit .248 in 58 games.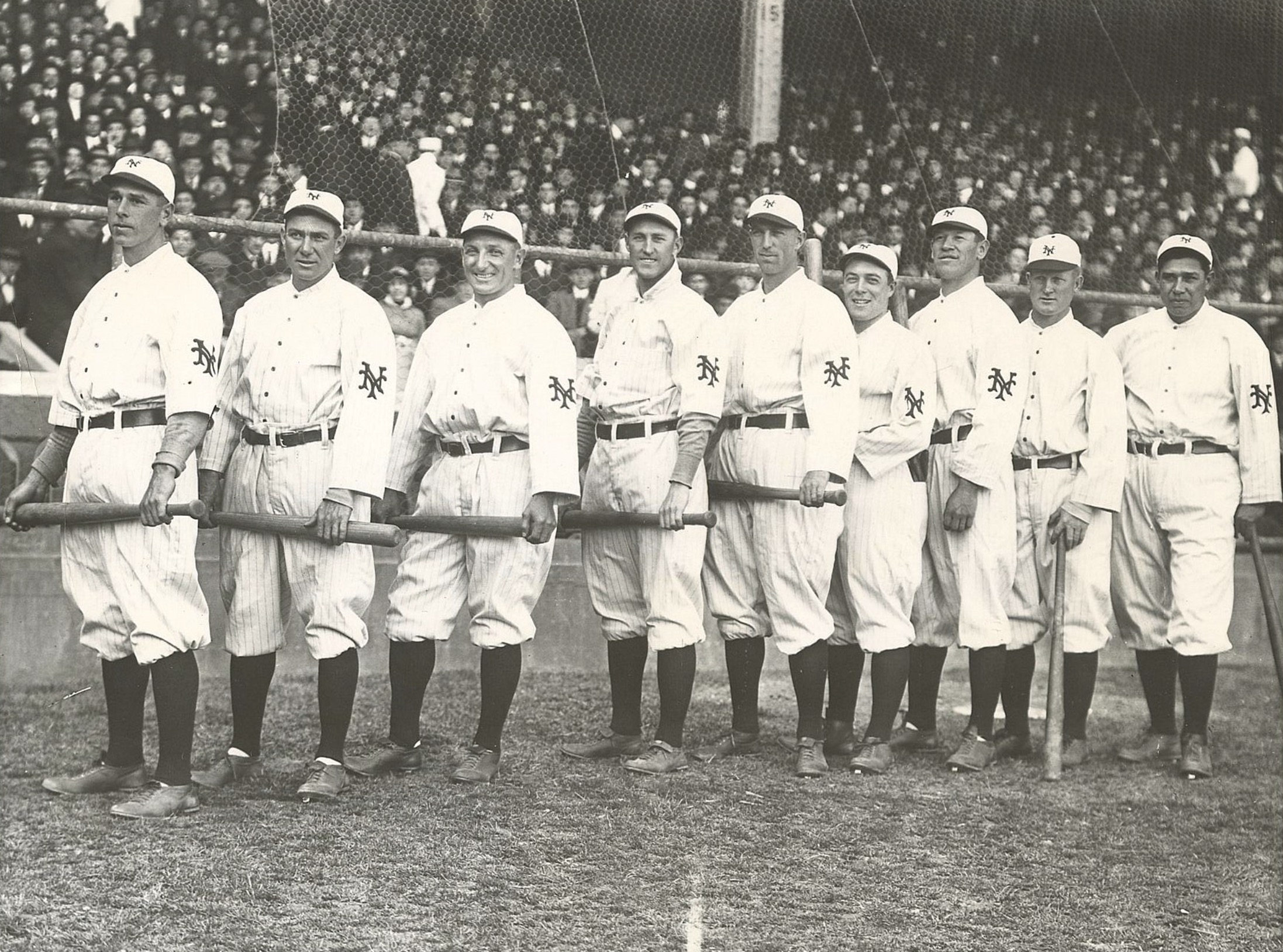 After complaining about playing time and refusing to be mistreatment, Thorpe was traded to the Boston Braves in 1919. The 32 year old began to hit his stride, batting .327 with 25 RBI and 7 stolen bases for the Braves. After Boston, Thorpe continued his career with five different minor league clubs including Hartford. All the while, Thorpe played professional football in the offseason. From 1920 to 1921, Thorpe was nominally appointed as first President of the American Professional Football Association, later becoming the National Football League.
Then, Thorpe was released from the Portland, Oregon, baseball club of the Pacific Coast League. So in June of 1922, he was picked up by James H. Clarkin, owner of the Hartford Senators. Thorpe immediately traveled to across the country with his family who settled at 34 Lancaster Road, West Hartford. As a Senator, Thorpe crushed Eastern League pitching, however his stint in Hartford would only last about six weeks.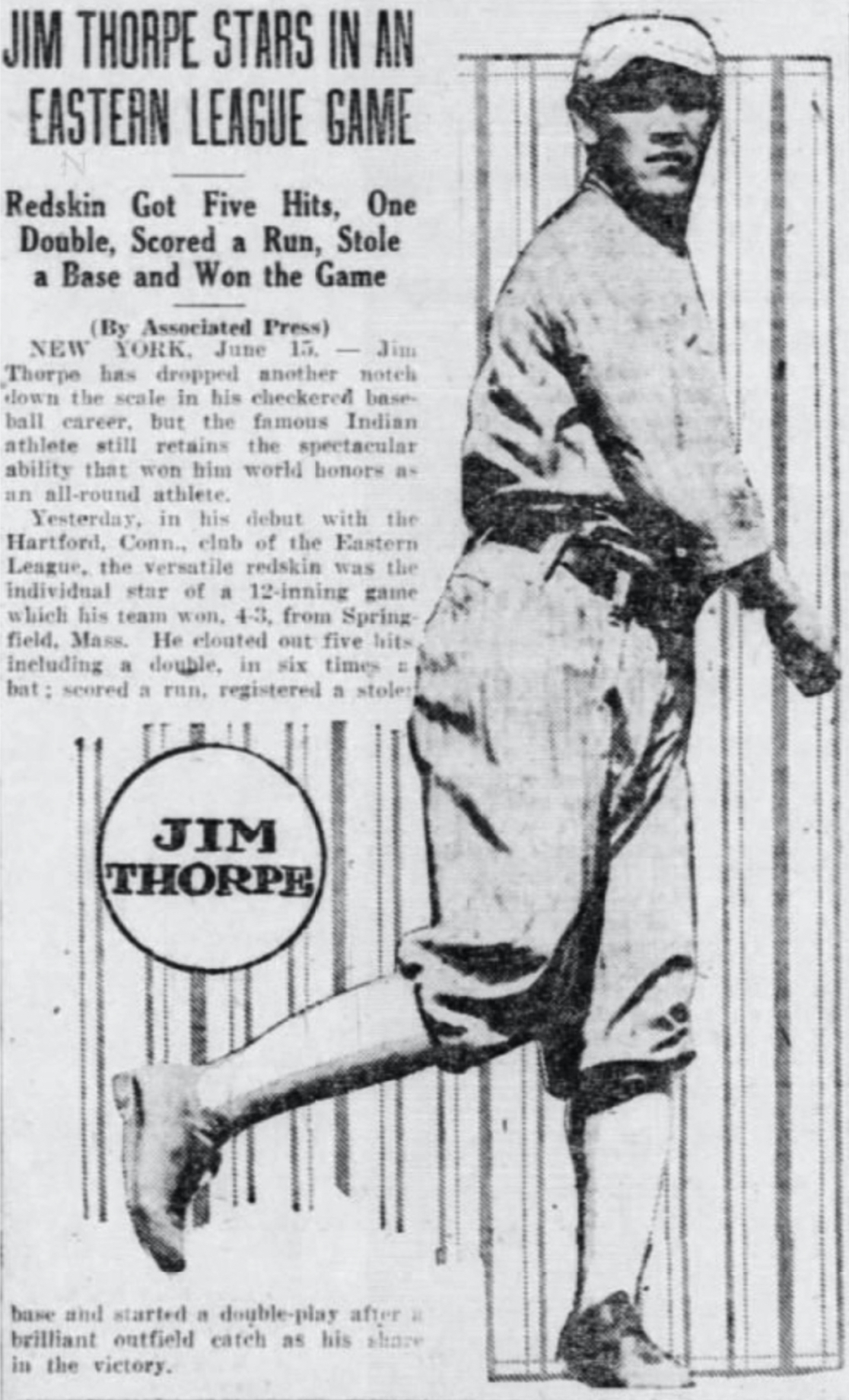 On July 12, 1922, Thorpe played center field in a doubleheader at New Haven's Weiss Park. He had a bad day. "Thorpe was plain awful. He had dropped a fly ball, muffed a grounder and failed to hustle after a ball hit in the gap. New Haven's fans were all over him, abusing him mercilessly with racist taunts. News accounts were equally childish and bigoted in context. One report cited Thorpe's performance as 'an imitation of a wooden Indian chasing flies."
Seething with anger, "Thorpe promptly changed out of his baseball uniform into his street clothes. He emerged from the clubhouse and charged into the grandstand to confront the New Haven hecklers, saying he wasn't 'going to stand for the impertinence of the fans.' Thorpe never threw a punch. Teammates persuaded him to return to the clubhouse before any fighting broke out. Police were called to the scene, though no arrests were made."1
Thorpe was fined $50 by the Eastern League and $50 by the Hartford club. In early August, he was released by owner Clarkin. Thorpe finished the year with the Fitchburg-Worcester club, and his .344 batting average was second in the Eastern League. He also hit 9 home runs in 96 total games played, but the year 1922 marked Thorpe's final season in professional baseball.
Unfortunately for Thorpe, his athletic fame did not result in a lasting fortune. He drifted from one public relations exploit to the next and wrestled with alcoholism. The famous athlete worked part-time as a painter, bouncer and ditch digger. His football career kept him solvent. Thorpe often came back to Connecticut to face professional football squads such as the short-lived Hartford Blues. He retired from football in 1928, but continued to make baseball cameos throughout the country.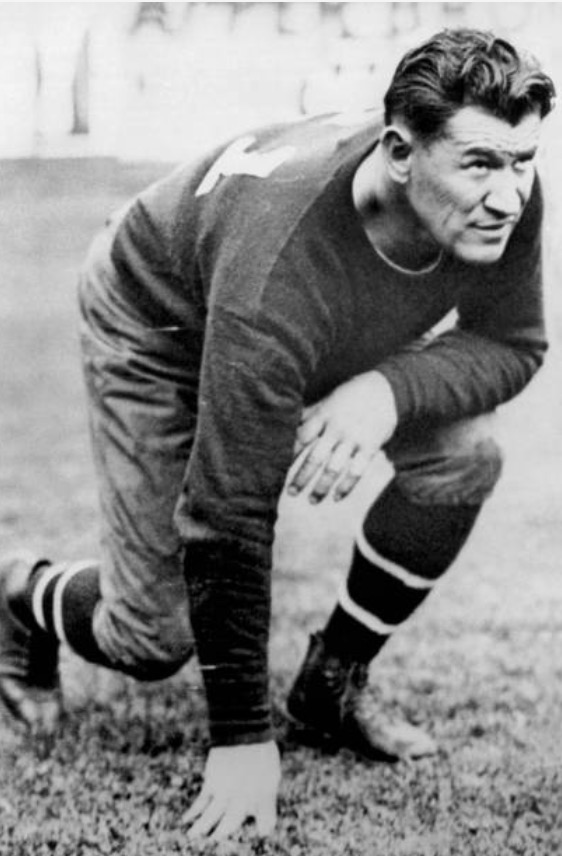 In 1933, Thorpe came back to Hartford as a player-manager of the Oklahoma Indians, a barnstorming team also dubbed Harjo's Indians. At the time, many athletes of color embellished their racial characteristics and adopted stereotypes in order to maximize profits. During the month of August, thousands of fans witnessed a five game series at Hartford's Bulkeley Stadium between the Oklahoma Indians and the Savitt Gems, a local independent team.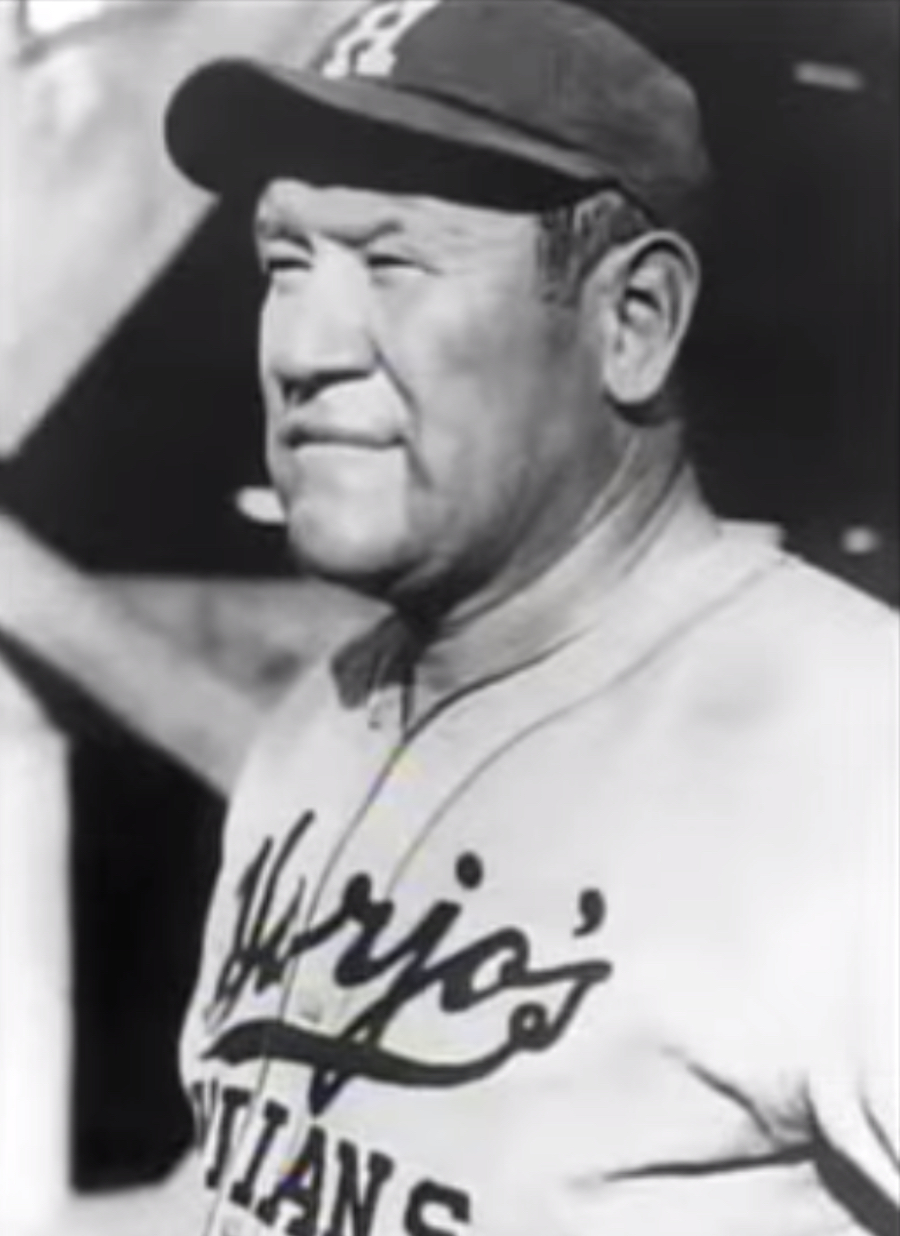 Thorpe began the first of five games as third base coach. He then manned right field midway through the game. On a fly ball by Jackie Cronin of the Gems, Thorpe made contact with the ball near the foul line. Umpire John Muldoon called the hit fair but Thorpe vehemently disagreed. He pulled his team off the field and demanded the umpires to be dismissed before resuming play. The umpires were replaced by players from each team and the game continued.
The Savitt Gems eventually won the series 3 games to 2, and Hartford baseball fans saw a good show. Later, Savitt Gems owner Bill Savitt would question whether or not Thorpe's antics were intentional. Perhaps he overreacted to rile up the crowd, thereby attracting more fans to Bulkeley Stadium. After all, the crowd did double in size from about 3,000 to about 6,000 at their next matchup. Thorpe, ever the showman, led the Indians in staged war dances between games.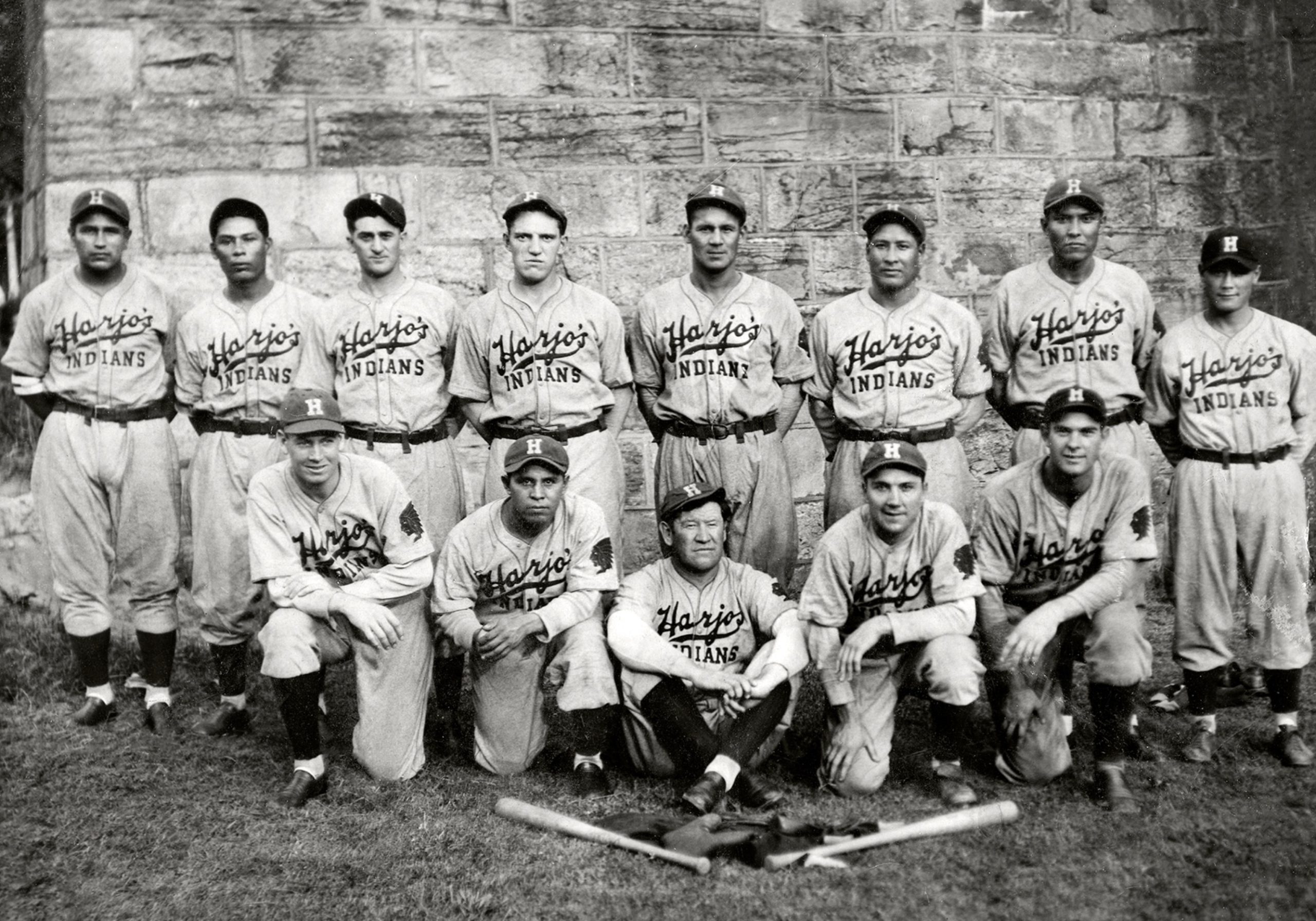 In 1950, Jim Thorpe was named America's top athlete of the half century by the Associated Press, beating out Babe Ruth. By then Thorpe had appeared in more than 70 Hollywood films. A biographical film entitled Jim Thorpe – All-American produced by Warner Bros. and starring Burt Lancaster was released in 1951. On March 28, 1953, Jim Thorpe died of a heart attack in Lomita, California at the age of 65.
In 1982, the International Olympic Committee restored Thorpe's two gold medals and they were presented to surviving family members. Then in a bizarre twist, Thorpe's widow, (his third wife) Patricia, sold his remains to the cities of Mauch Chunk and East Mauch Chunk, Pennsylvania. The two towns combined to create Jim Thorpe, Pennsylvania, where he is now laid to rest, though he never visited the place during his lifetime. Thorpe's children led an effort to return their father to the Sauk and Fox Nation in Oklahoma but lost a lawsuit in 2014.
Most recently, in 2022, Thorpe's 1912 Olympic gold medals were reinstated after 75,847 Signatures Helped Restore Jim Thorpe's Place in Olympic History.
See the full story here: https://nativenewsonline.net/opinion/how-75-847-signatures-helped-restore-jim-thorpe-s-place-in-olympic-history.
Sources

Thorpe Efforts