Major League debut: April 22, 1897
Position: Right Fielder
Bats: Left
Throws: Right
Born: October 24, 1871 in Indian Island, Maine
Died: December 24, 1913 in Burlington, Maine
Education: University of Notre Dame (South Bend, Indiana) & College of the Holy Cross (Worcester, Massachusetts)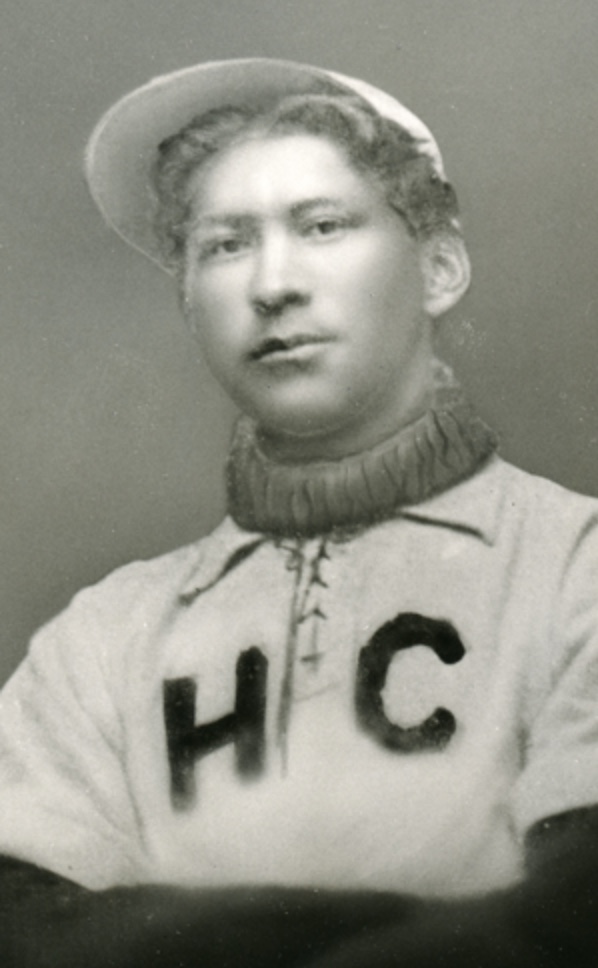 In 1899, the Hartford Base Ball Club of the Class-A Eastern League signed outfielder, Louis Francis Sockalexis. He was the first Native American to play professional baseball and the first person of color to play for Hartford. When he arrived in Hartford, Sockalexis was noticeably overweight and battling an alcohol addiction. Also called "Sock" or "Sox," he was once a five-tool outfielder who experienced a meteoric rise and fall during the Deadball Era.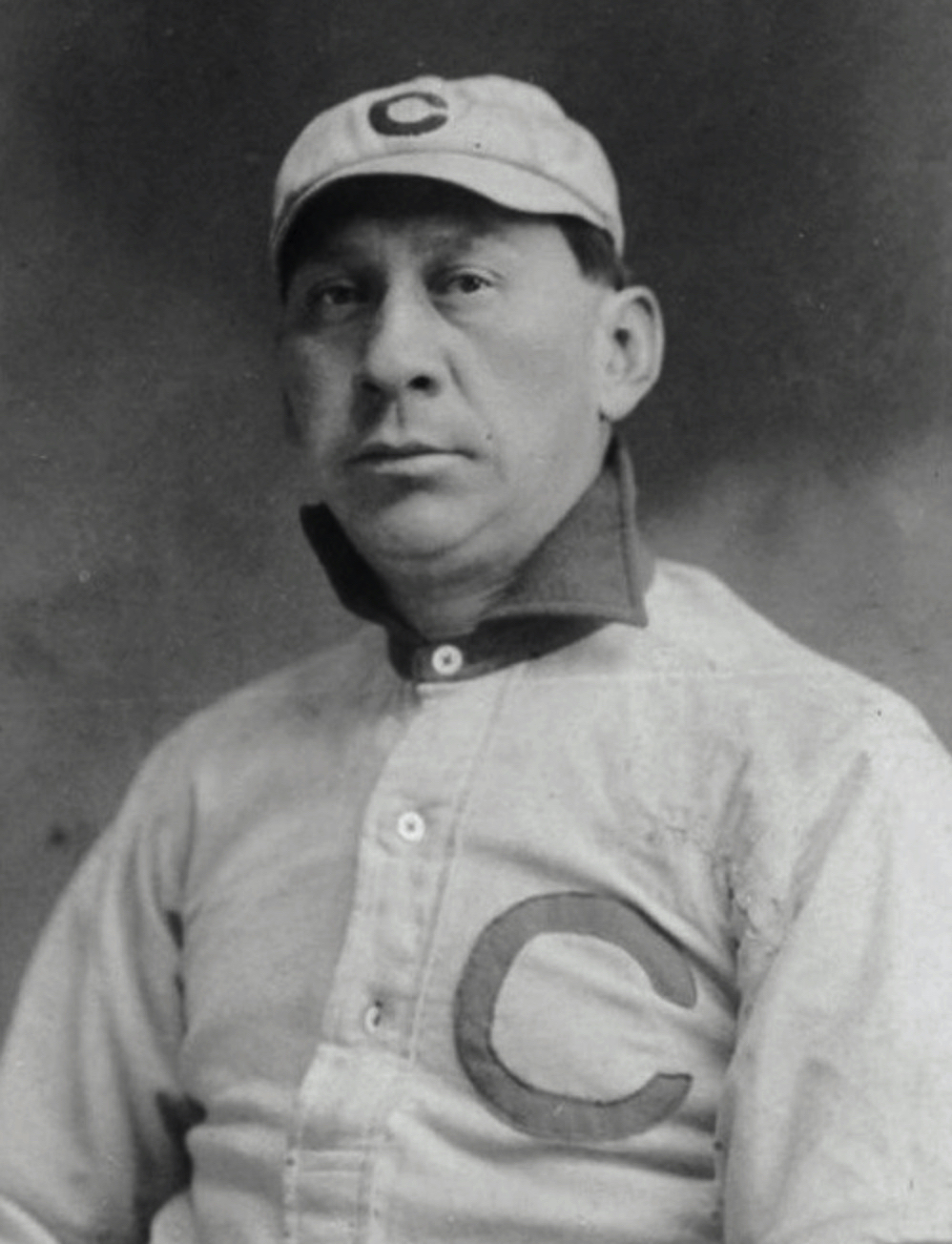 Sockalexis hailed from Indian Island, Maine and was a member of the Penobscot tribe. His athletic gifts earned him acceptance to College of the Holy Cross in Worcester, Massachusetts, where he excelled in baseball, football and track. He then followed his Holy Cross baseball coach and transferred to University of Norte Dame. He played both outfield and pitcher while at Holy Cross and Notre Dame. In a sign of things to come, Sockalexis was expelled from Notre Dame in his first semester for consuming alcohol.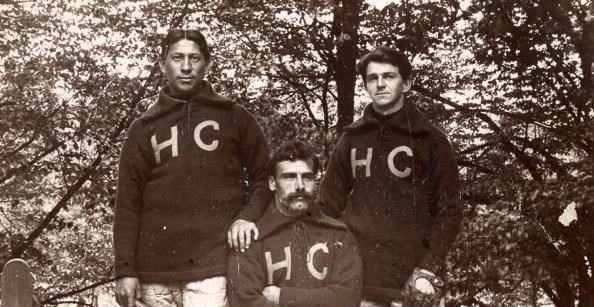 Fortunately for Sockalexis, Cy Young's Cleveland Spiders signed him to a major league contract on March 9, 1897. Sockalexis was so popular in Cleveland that fans and reporters later claimed him to be the source of the controversial "Indians" nickname. In his first big league season, Sockalexis appeared in 66 games, had a .338 batting average with three home runs, 42 RBI and 16 stolen bases. On July 1, 1897, he had five base hits in a game against St. Louis. Yet, a few days later, he got drunk, jumped from the second-story of a brothel and severely injured his ankle, which would affect his play and reputation.
Sockalexis struggled to regain his old form amid two more seasons in Cleveland. After being arrested for public drunkenness at a theatre, Cleveland released him in late May of 1899. A week later, Sockalexis landed with Hartford. Burdened by alcoholism, he slumped in the Charter Oak City. He hit for a .198 batting average in 91 at bats. His brief time in Hartford lasted about a month before manager Billy Barnie traded him to Bristol of the Connecticut State League.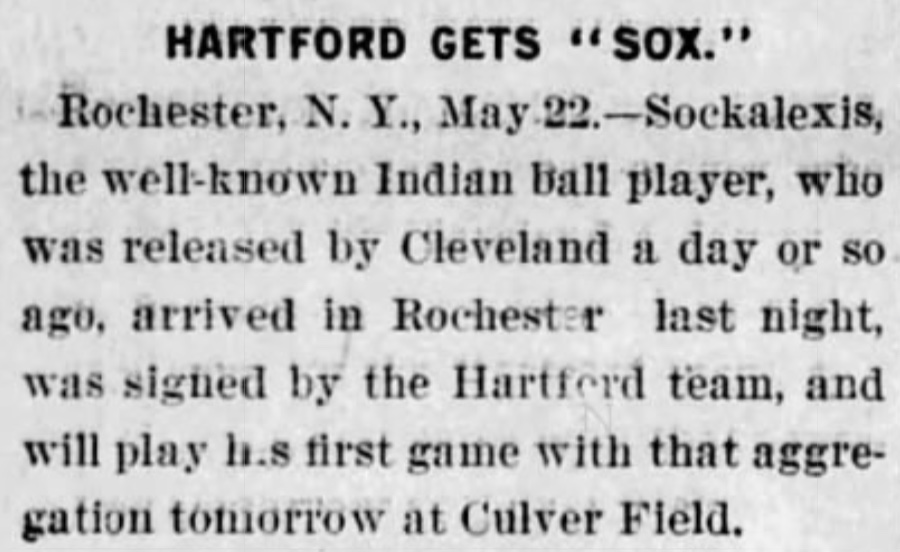 Bristol eventually unloaded Sockalexis to Waterbury that same year. He ended the season with a .320 batting average. The Waterbury club wanted him back for the following season, but Sockalexis returned to Maine. A series of news reports detailed his arrests for public drunkenness, and the former baseball star was reduced to homelessness and vagrancy. He served intermittent time in jail but made a comeback in 1902 with Lowell of the New England League. At 30 years old, Sockalexis hit for a .288 average in his lone season with Lowell.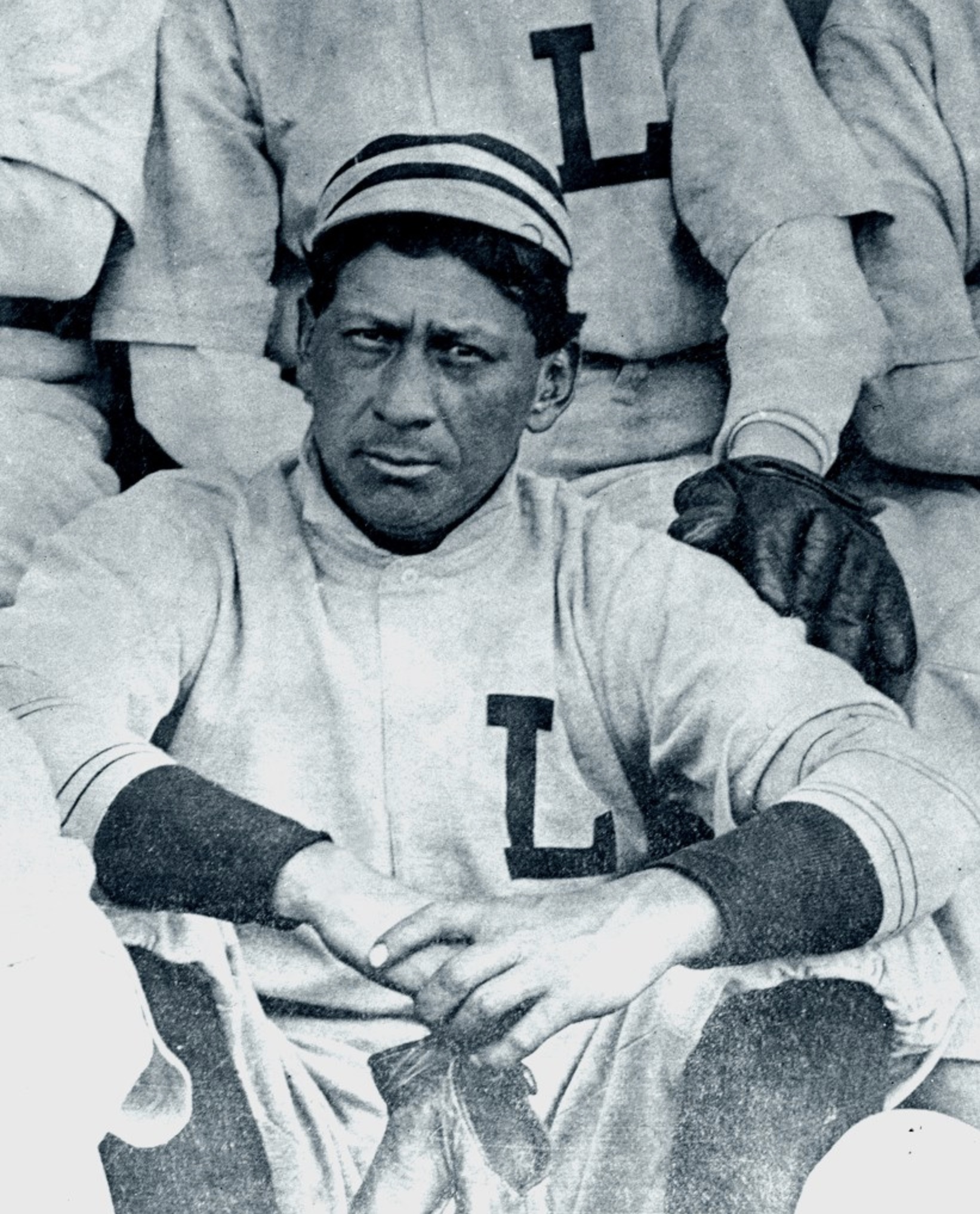 In 1907, Sockalexis signed his last baseball contract. He appeared with the Bangor club of the Maine State League. Sockalexis then found work as a lumberjack and lived at Penobscot Indian Island Reservation. He also piloted a ferryboat on which he enjoyed reading The Sporting News and newspapers left behind by passengers. Sockalexis continued to show interest in baseball, playing on amateur teams, coaching and umpiring.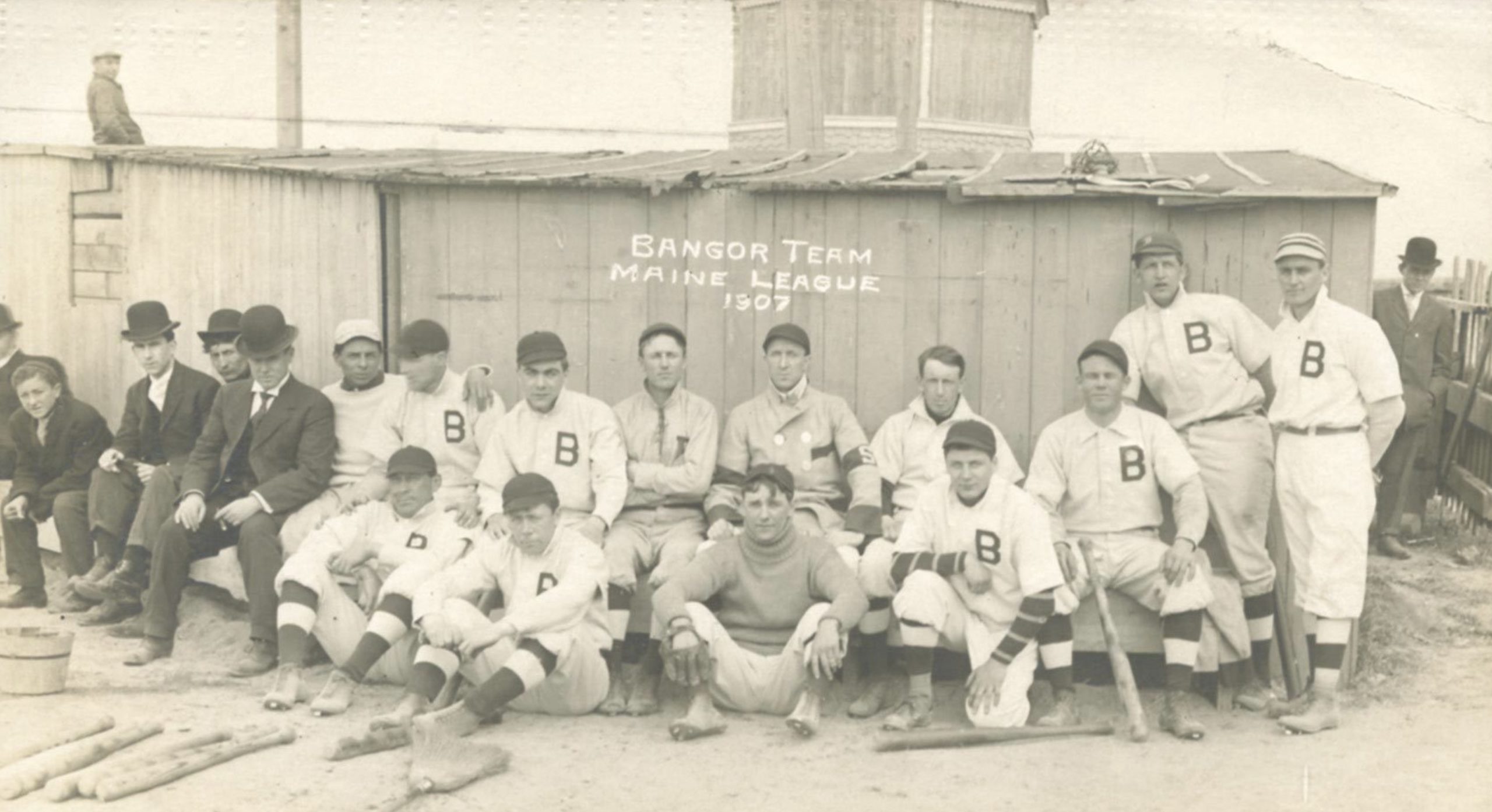 He eventually stopped drinking to excess, but was not in the best of health. Sockalexis suffered from attacks of rheumatism and looked older than his age. In the fall of 1913, he joined a logging crew harvesting the northern woods of Maine. While felling a pine tree on Christmas Eve, he suffered a heart attack and died at the age of 42. Louis Sockalexis was buried in St. Anne Church Cemetery on Indian Island, Maine.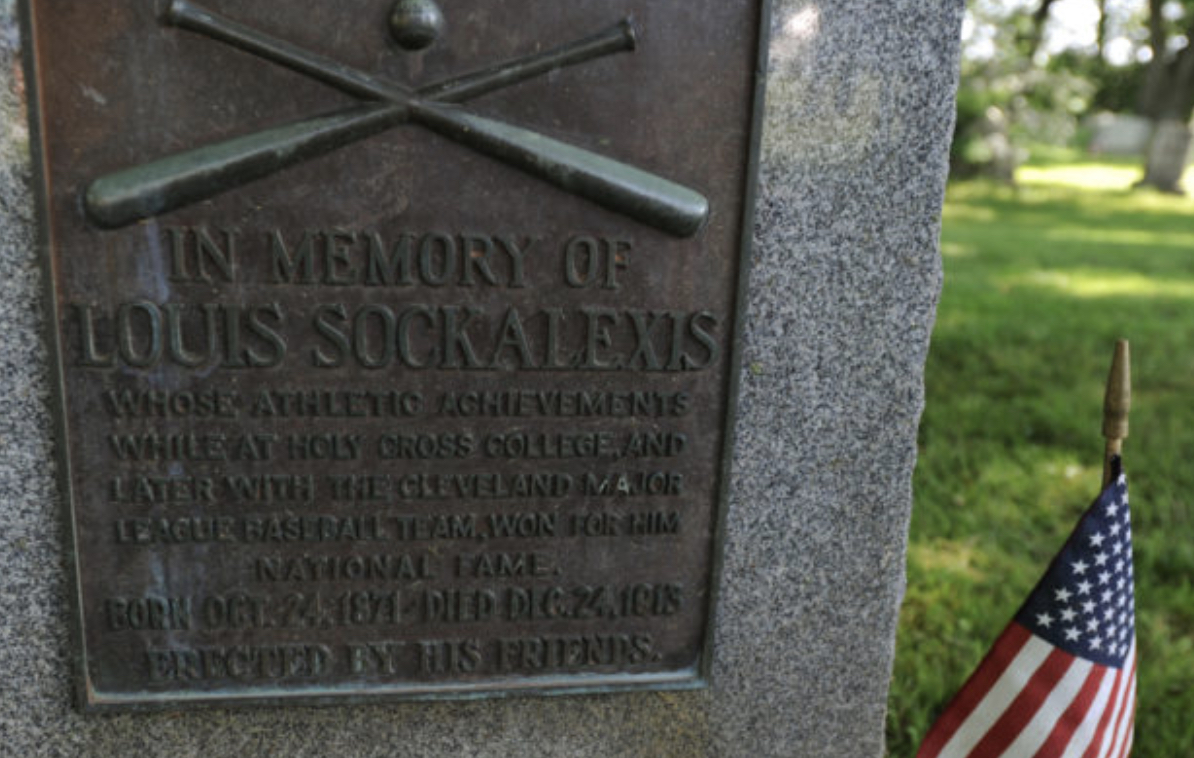 Today, Sockalexis is remembered as a pioneering figure. As the first Native American in the major leagues, he blazed a trail amidst widespread prejudice. Fans in various cities hollered racist epithets and made ignorant gestures towards Sockalexis throughout his career. Like Charles Bender, Jim Thorpe and Jackie Robinson, Sockalexis endured cruel discrimination while playing the game he loved. Though alcoholism did him in, Louis Sockalexis prevailed over racial attitudes of the time and momentarily achieved, baseball greatness.
Sources:
SABR Bio: https://sabr.org/bioproj/person/2b1aea0a
Louis Sockalexis – Remembering Now and Forever: http://sockalexis.net/