Schult, an Eastern Connecticut Baseball Alum and GHTBL Champion.
WILLIMANTIC, Conn. – The No. 5 stitched to Jim Schult's uniform as a four-year member of the Eastern Connecticut State University baseball program may very well have stood for '5-tool', as in 'complete' player.
This past week, Schult — voted the Division III National Player-of-the-Year in 2011 — represents Eastern on D3baseball.com's second all-decade team this century, the 2010s All-Decade Team.
An honorable mention selection at the utility position, the Wappingers Falls, NY native was one of 82 players named to the team, which also includes first, second and third teams which were voted upon by D3baseball.com staff and their colleagues at The Podcast About Division III Baseball. Players had to have played at least two seasons to be eligible for consideration in the decade.

"It's definitely a big honor to be on this (all-decade) team… it's nice to be thought of," admitted Schult, when reached by telephone Friday afternoon.
Eastern, a four-time NCAA Division III national champion, was represented on the first all-decade team of the century (released in 2010) by three players: first-teamers Ryan DiPietro, a left-handed pitcher, and utility player Shawn Gilblair and second-teamer Dwight Wildman, an outfielder.
During their careers, all four of Eastern's all-decade selections were named Player or Pitcher-of-the-Year by either the American Baseball Coaches' Association (ABCA) or National College Association (NCBWA), or both. Schult was the only one of the four named to both.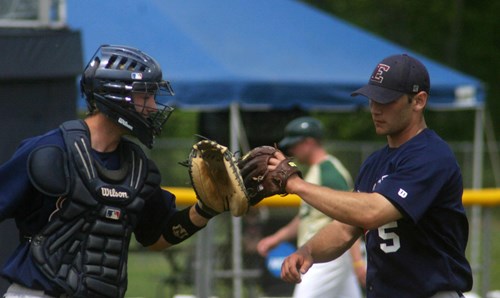 In his four-year career (2008-11) as a right-handed pitcher, outfielder and DH, the six-foot, 200-pound Schult led the Warriors to four straight NCAA tournaments, at least a share of two Little East Conference regular-season championships and one LEC tournament title, and a 72.7 winning percentage. He batted third in the order in each of his final three years — playing primarily right field — until moving to DH as a senior tri-captain.
As a first-team ABCA All-America and National Player-of-the-Year in 2011, Schult set personal career-highs and led his team in most every statistical category. At the plate, he batted .392 with 76 hits (currently tied for tenth all-time in a season) while starting all 47 games for the 34-13 Warriors. He stole 20 of 21 bases that year with 138 total bases (tied for fifth all-time in a season) and 64 RBI (sixth) and his combined total of 120 RBI and runs scored currently equals the sixth-most in a season in program history. On the mound, he was 10-1 with 92 strikeouts in 87 innings with a 3.31 ERA., his only loss coming in one of his two relief appearances.
During that final season, Schult was credited with four of the staff's five complete games, his final one coming in a five-hitter with 12 strikeouts in a 2-0 win – the only shutout of his career — over the College of Brockport in the NCAA regional tournament opener in the final pitching appearance of his career. It was that game, where he walked five batters and hit one and stranded ten runners – seven in scoring position — that Schult feels defined his career. "I think if you had to sum me up in a single game, I think that game would probably tell you what you needed to know about me. I didn't have great stuff that day — I think I threw about 165 pitches — but I was able to get out of (jams nearly every inning)."
In his career, Schult threw complete games in both of his regional tournament starts, also going the distance in an elimination-game win against Husson University in the 2009 regional that moved the Warriors to within a win of advancing into the championship round.
In a 20-13 win over the University of Chicago in Chandler, AZ as a sophomore in 2009, he became the sixth player in program history to hit for the cycle (tripling in the ninth inning to complete the feat), tying program game records in the process with six hits and six runs scored.
A pitcher and third baseman (shortstop was taken by future major league Gold Glover Joe Panik) in high school, Schult was sent to right field on the first day of his first fall season at Eastern to replace a teammate who failed to appear. In that game, hit a home run in his first fall at-bat, and he spent the majority of his career – when not pitching — at that position. After struggling defensively as a freshman, he spent the summer playing center field in a local league at home, honing his craft under the tutelage of Negro League legend Willie Mack. He committed only one outfield error as a sophomore and subsequently led the team in outfield assists each season thereafter.
Schult says that he is most proud of his teams' three LEC titles and the Warriors' prodigious power-hitting teams of 2009 and 2010. The 2009 team batted an astounding .355, won its first 13 games, was ranked No. 1 nationally for three consecutive weeks, carried a 14-game hitting streak into the NCAA tournament, and finished as the national leader in doubles and was second in runs and hits. Those two teams set season records in six offensive categories that remain today.
"We stepped on the field with so much confidence, knowing that we were going to do whatever we needed to do to win that game from an offensive standpoint," Schult recalls of his sophomore and junior seasons.
A .371 career hitter, Schult today ranks among the program's all-time career Top Ten in 12 offensive categories, including second in doubles (63), third in total bases (417) and fourth in runs (199) and RBI (189). As a pitcher, he fell one win shy of being one of 13 hurlers in program history with 20 career wins. He finished 19-2 with two saves and a 3.24 ERA in 203.0 innings. Among pitchers with a minimum of ten career decisions, his career winning percentage of 90.5 ranks sixth all-time.
Schult says that he turned down several Division I offers out of high school because Eastern afforded him the opportunity to play every day, as well as pitch.
While freshmen rarely cracked the starting lineup on veteran teams stocked with All-America players under Hall of Fame coach Bill Holowaty, Schult was an exception. Appearing in 40 of 49 games in 2008, he batted .301 with 23 RBI and 30 runs scored, then blossomed as a sophomore by batting .388 with 122 total bases and 58 runs score. "I always thought of myself as a competitor and somebody who would rise to that level of competition," says Schult of his fast start.
Schult believes that a series of adjustments throughout his career were the keys to his success, from learning the nuances of the outfield and being able to hit a curveball after his freshman year, to mastering the art of opposite-field hitting and to learning to 'pull the trigger' early in the count as his career progressed. "Every time something got exposed with me, I spent the summer and the winter working on that weakness," he recalls. "I think, really what it was, was just being willing to learn."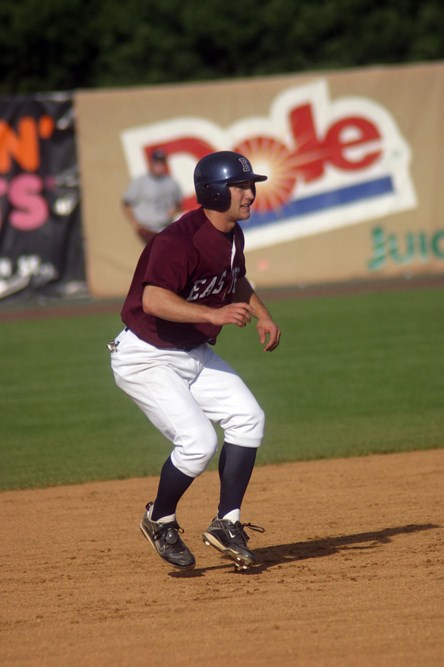 In addition to his baseball accomplishments, Schult was a two-time CoSIDA Academic District I selection and Eastern Outstanding Scholar-Athlete qualifier in both years of eligibility and LEC All-Academic qualifier in all three seasons of eligibility.
Schult grew up in a baseball family, with his grandfather, Art (Dutch) Schult, enjoying a five-year MLB playing career with four organizations in the 1950s and 60s as a 1949 New York Yankees signee, and his father, Jim, being a 33rd-round MLB draft pick of the Texas Rangers as a power-hitting outfielder in 1981. Schult's younger brother, Jeff, played four seasons at Western New England University as a centerfielder and DH, earning all-region and all-conference honors before graduating in 2014. Like Jim, he was also a CoSIDA academic all-district selection.
After earning his B.S. Degree in Business Administration from Eastern in 2011, Schult spent three summers playing in independent leagues and a winter season as one of the top pitchers in the Australian Baseball League with the Brisbane Bandits before retiring after tearing his UCL and undergoing Tommy John surgery. In the summer of 2019, he came out of retirement at the request of Holowaty – the current president of the Greater Hartford Twilight League– to resuscitate a struggling East Hartford franchise. As a player-coach, he helped lead the Jets to the GHTL championship this past summer.
In 2018, Schult earned a B.S. Degree in Accounting from Marist College and is employed at Blum Shapiro as a senior consultant, and resides in Simsbury.