Andy Baylock is a teacher, mentor and role model for athletes throughout Connecticut and beyond. He is best known for his prolific career as the former head coach of University of Connecticut's baseball program. Baylock's story began in New Britain where he was born on June 22, 1938. As a native of the Hardware City, he played catcher for New Britain High School's 1955 state championship team. Baylock graduated from Central Connecticut State University where he was a 4-year letterwinner and captain for the baseball and football teams.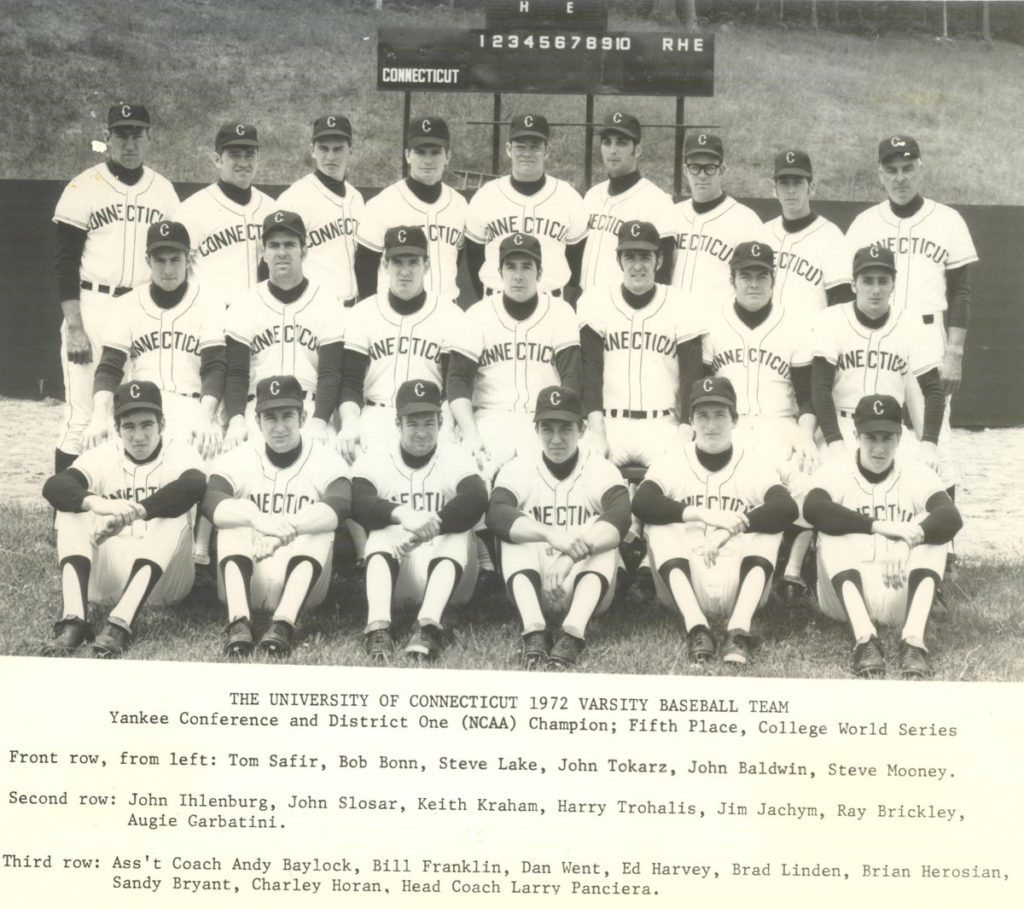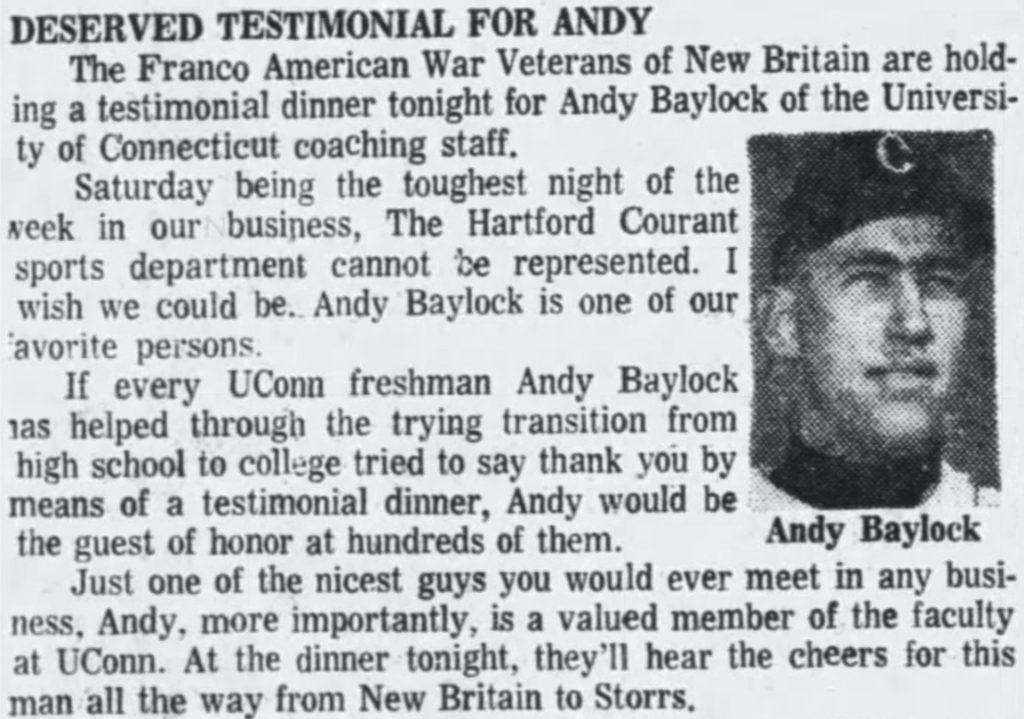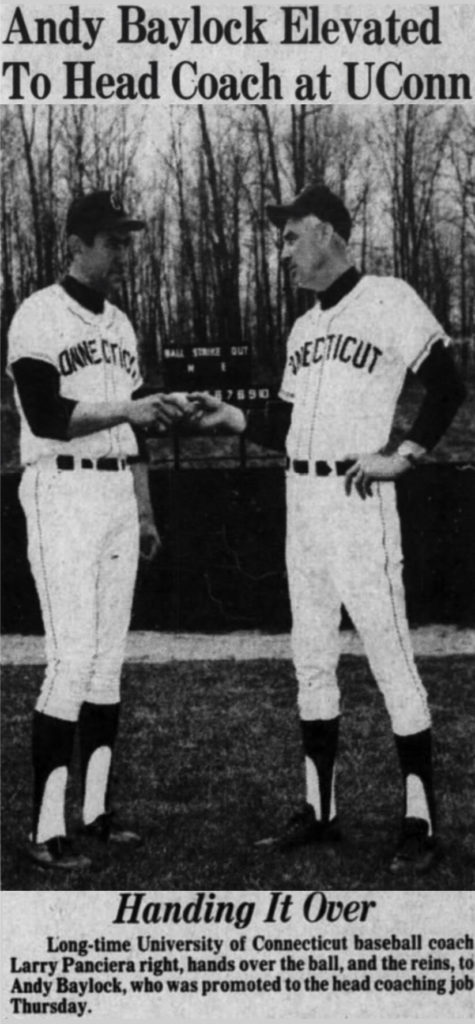 During his college years, Baylock played summer ball in the Greater Hartford Twilight Baseball League, earning league titles with the Hamilton Standard and Riley Redlegs teams. Then he attended the University of Michigan where he earned a Master's degree in 1962. Baylock served as a graduate assistant coach with the Michigan Wolverines baseball and football teams. Next, he returned home to Connecticut to East Catholic of Manchester as a schoolteacher and football coach. During this time, Baylock also played professional football for the Springfield Acorns in the Atlantic Coast Football League.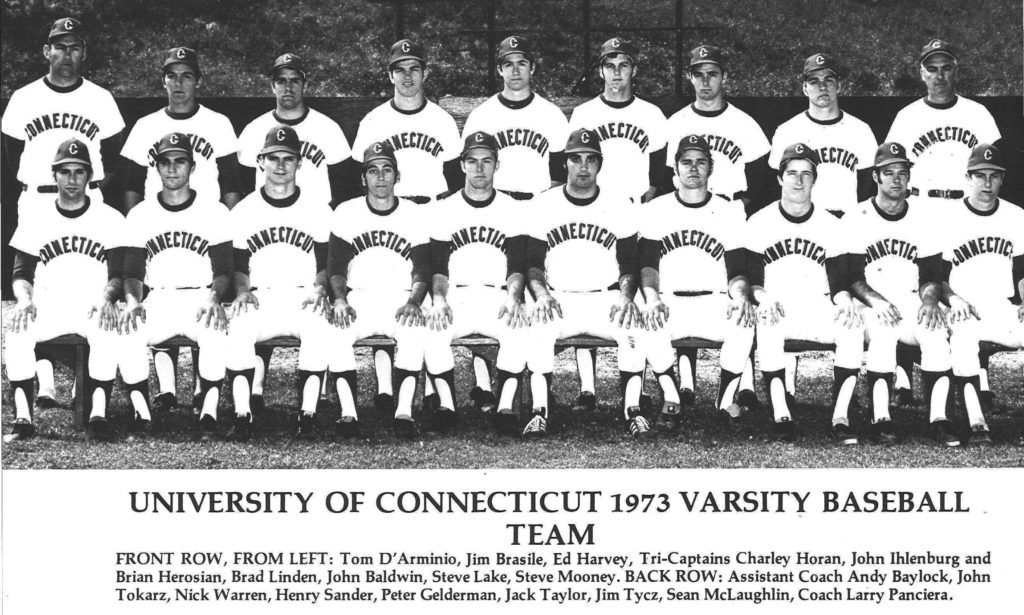 In 1963, Baylock was hired as UConn's freshman baseball coach. He joined the Husky staff on a full-time basis a year later as assistant football and baseball coach. During the summer of 1971, Baylock also became assistant coach of the Falmouth Commodores in the Cape Cod Baseball League. By 1973, he was appointed head coach of the Commodores, taking over from Bill Livesey. Baylock was UConn's assistant baseball coach for 15 years under the tutelage of head coach Larry Panciera. From 1964 to 1979, Baylock helped the Huskies to the College World Series in 1965, 1972 and 1979. He has also sat on the faculty of the department of kinesiology at UConn.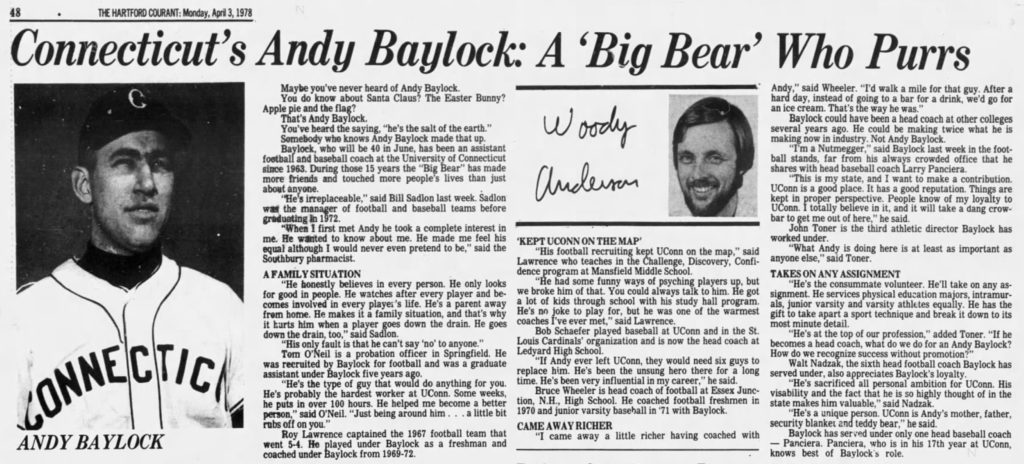 Baylock became head coach of UConn Baseball in 1980, a post he held for 24 years. He compiled a 556-492-8 record, won two Big East championships and earned three NCAA tournament berths. He also had an active international coaching career as a pitching coach for the 1985 and 1989 U.S. Senior National Teams. In 1992, Coach Baylock was named Big East Coach of the Year. Under Baylock, players such as Charles Nagy, Pete Walker, Jesse Carlson, Jason Grabowski, Jeff Fulchino, Brian Esposito, Scott Burrell, Brian Specyalski and Brett Burnham matriculated to professional baseball.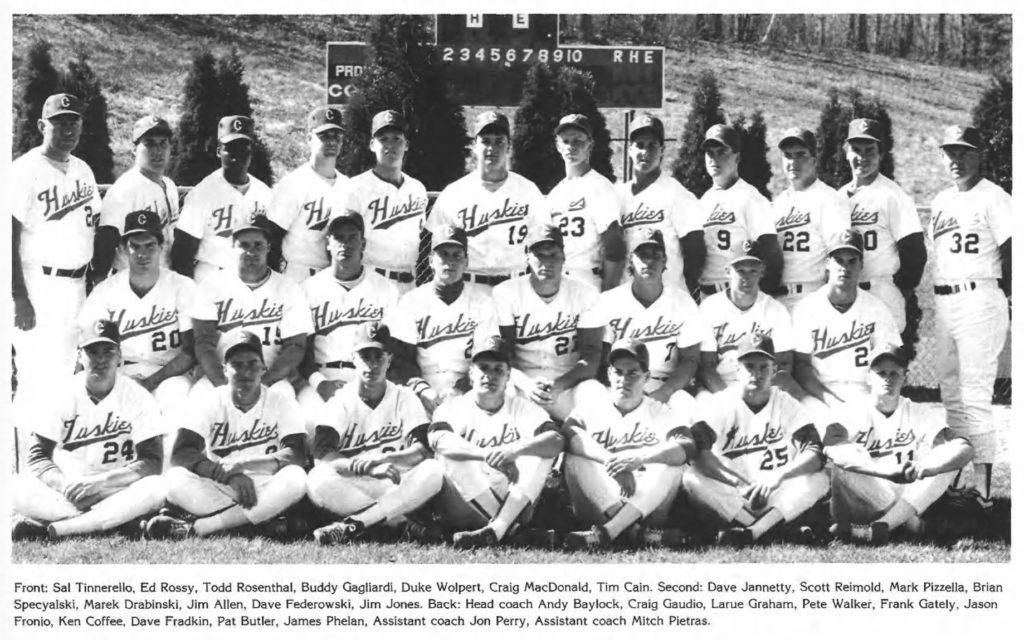 In 1996, Baylock was inducted into the American Baseball Coaches Hall of Fame, 1 of 8 Hall of Fames in which he has been enshrined. Others inductions included the New Britain Sports Hall of Fame and New England Intercollegiate Baseball Association Hall of Fame. Baylock retired as UConn's head baseball coach in May 2003. The University of Connecticut retired his uniform number (28) at a banquet in 2004. Nearly 600 attended the event at the Aqua Turf in Southington, Connecticut.
"If you took part in athletics, you know how it taught you to discipline yourself, to operate under a pre-arranged system of rules and regulations. You know athletics taught you democratic principles of equality, team spirit, the willingness to work in order to win and sacrifice for the same purpose. You will know that athletics taught you decision making, humility and that they gave you someone extra to talk to—your coach."

-Andy Baylock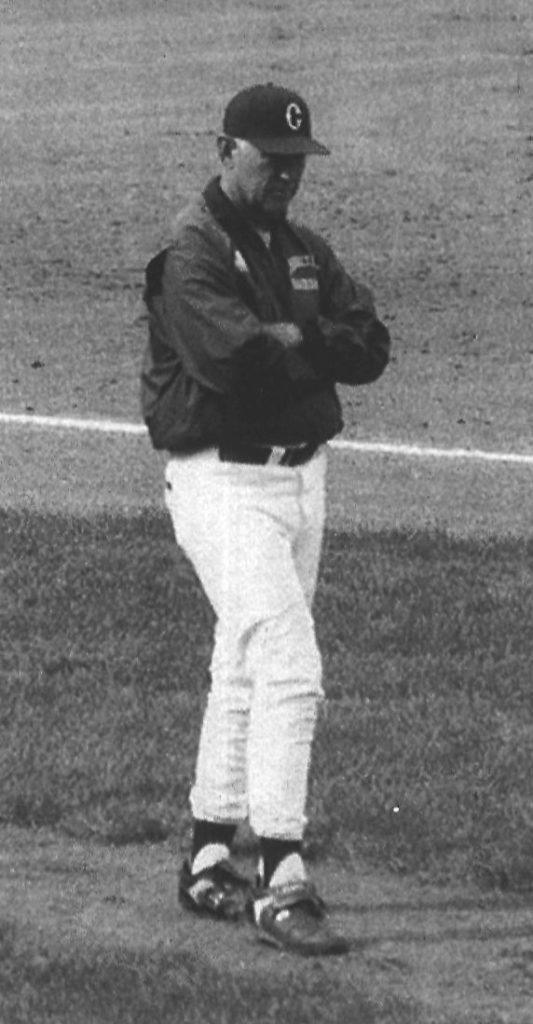 Coach Baylock has served as UConn's Director of Football Alumni and Community Affairs since 2002. In his role, he cultivates relationships with Husky football alumni and various members of the national football community. Baylock serves as the team's liaison both to professional scouts and Connecticut high school coaches. He also assists the team's departing seniors with career networking, represents UConn at various speaking engagements and organizes community service projects.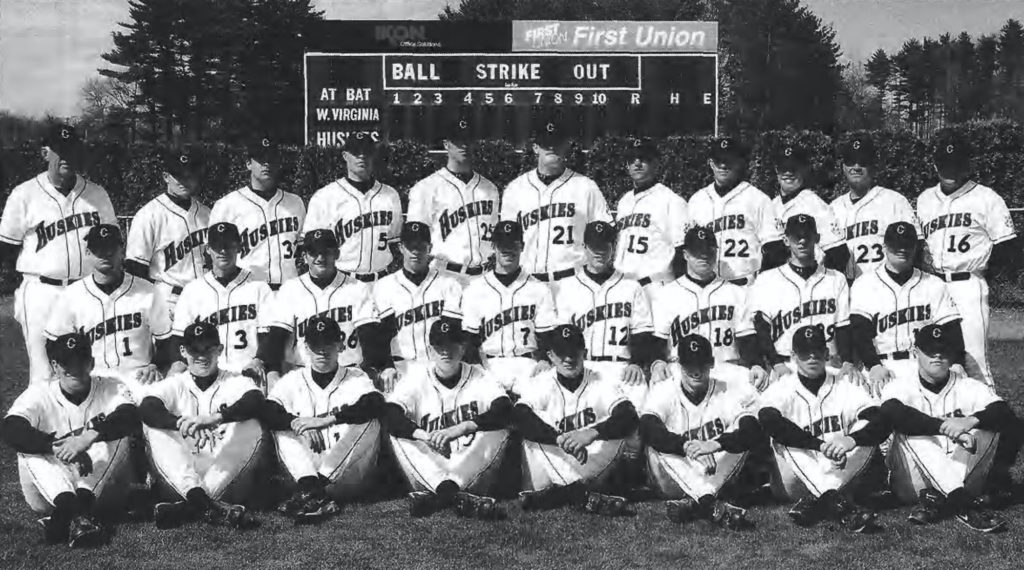 Coach Baylock rejoined the Greater Hartford Twilight Baseball League as Vice President in 2016. He's been a source of steady wisdom and encouragement for the league. Up until the the COVID-19 pandemic, he was a perennial batting practice pitcher for the Connecticut Tigers of the New York–Penn League. Coach Baylock is said to have a rubber arm and as recently as 2019, at the age of 81 years old, he was throwing batting practice to hitters at Dodd Stadium in Norwich.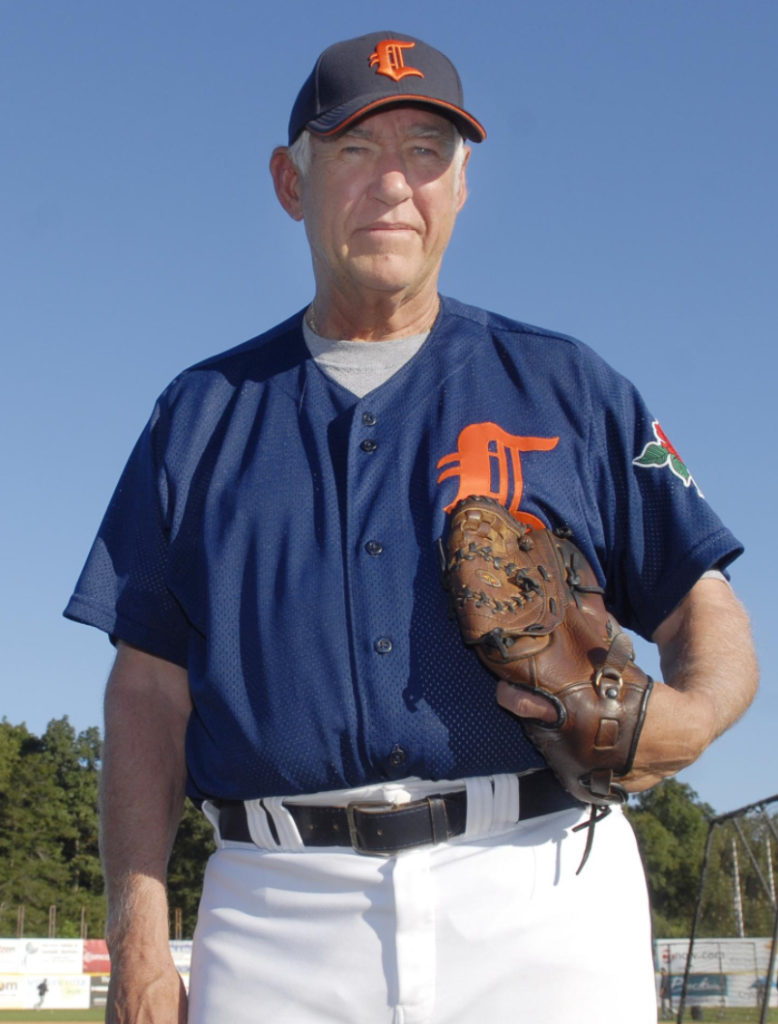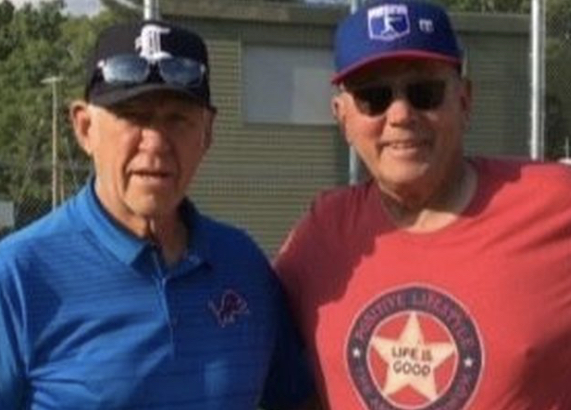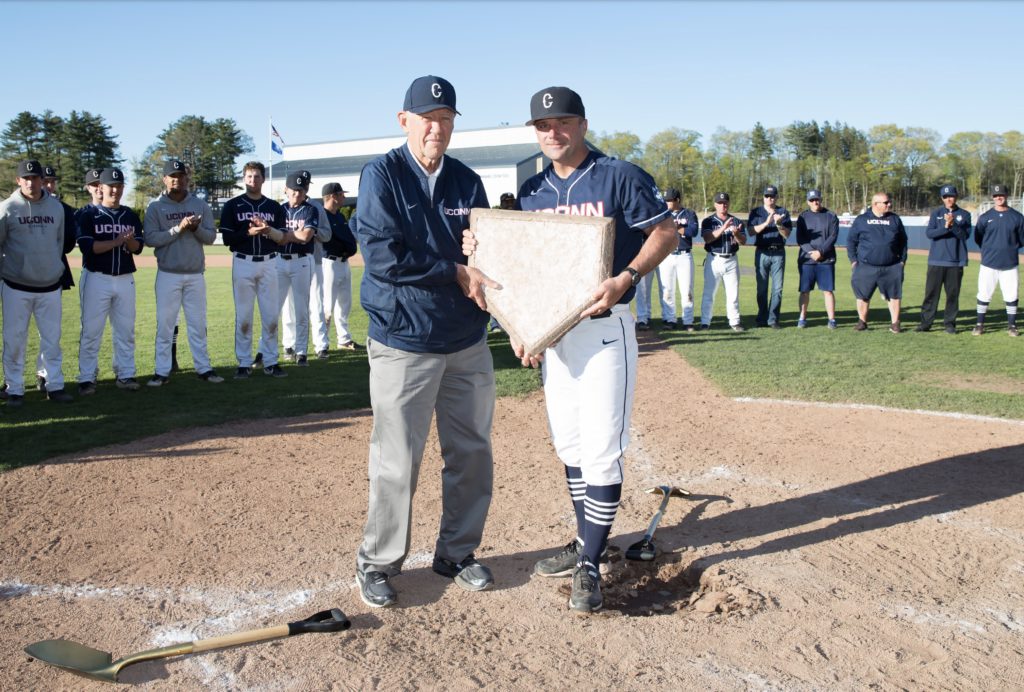 A few months ago, Andy Baylock appeared in a documentary film, Far From Home: The Steve Dalkowski Story by Thomas Chiapetta. Baylock was Dalkowski's catcher and friend while growing up in New Britain. Baylock now resides in Mansfield, Connecticut. He and his late wife, Barbara, are the parents of three children, Jennifer, Jeffrey and Andrea, all of whom attended UConn. He also has six grandchildren. Here's to Coach Baylock; a local sports legend who's spent a lifetime teaching student student-athletes, guiding young adults and selflessly serving others.