FORMER HIGH SCHOOL COACH AND GHTBL HALL OF FAMER EARNS A GREAT HONOR.
Reposted article from Journal Inquirer by Joe Chaisson
WINDSOR — It was a joyous occasion Saturday as town officials, current and former players and coaches, and family and friends honored Barry Chasen, dedicating the ballpark outside the high school in his honor.
Chasen, who turns 73 this month, was the head coach of the high school's baseball team from 1975 to 2003 while also teaching social studies for 36 years.
The ceremony was scheduled to take place in March during the season, head coach Joe Serfass said, but had to be rescheduled because of the pandemic. The afternoon, however, offered warm baseball-type weather.
Many of the former coaches and friends in attendance called Chasen a "walking encyclopedia" for baseball. During his speech, Chasen rarely spoke of himself, but instead attributed his coaching career to a long list of coaches he worked with during his career. Chasen concluded the speech by thanking his wife, Joanne, and son, Matthew, for all their support.
Chasen led the school to a state championship title in 1979 and again in 1991.
Before the ceremony began, Chasen said he was incredibly pleased to be recognized by the town and the high school.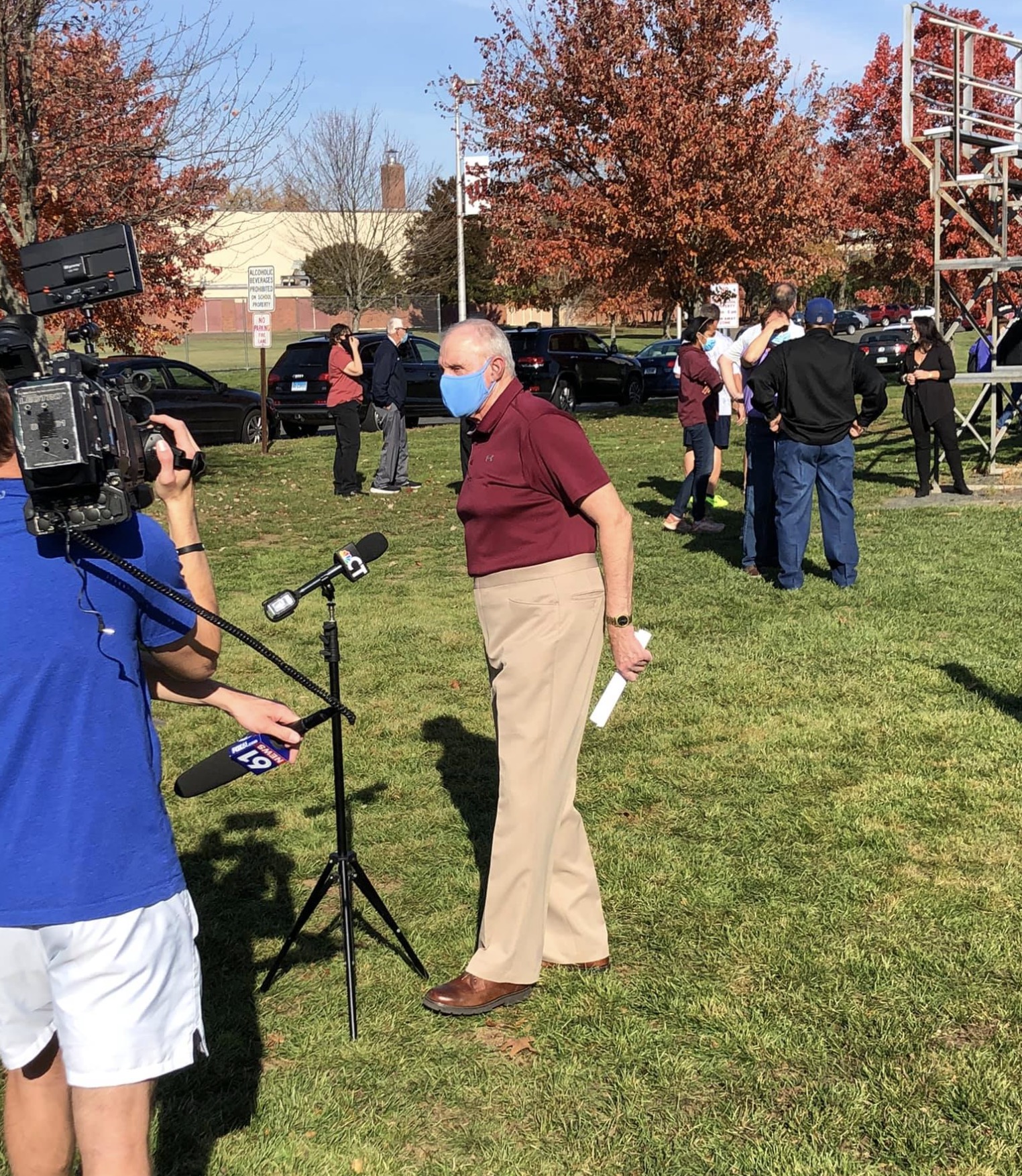 "I feel really good about this. Obviously, it's been tough the last eight months, but the turnout today has been really nice. It's a nice tribute and certainly I feel very honored to see my name up there on the sign," Chasen said.
"I didn't go into coaching for that though, and you don't get here by yourself, so it's thanks to all the people who have helped me out between players, coaches, administrators, town people, parents, and many more.
James Apicelli, who coached with Chasen from 1998 to 2003, said Chasen was the ultimate coach.
"I think the best part about coaching with Barry was we would always come back after the game, we'd go into the coaches office, and we'd sit down for hours after games and go over in-game details. It wasn't to criticize or anything, we would look at every decision that was made during the game and he'd ask if we should have done things differently."
Mayor Don Trinks said Chasen is much more than just a baseball coach.
"When you think about his tenure as a coach and all the lives he's impacted and the success of young people that he helped mold and create — he's really contributed so much to the town and certainly in many other ways than just baseball," Trinks said.
Trinks credited Chasen with inspiring him to get involved with politics after Chasen was his teacher during the Jimmy Carter presidency.
"He really gave me a peek into the political and government world," Trinks said. "I can't go as far as to say he made me go into government, but he certainly had an impact on that decision so I imagine he's impacted a lot of other students in the past the same way."
Serfass, who's been with the school since 2010, said he was happy to see the field finally completed with the addition of the new sign.
"Unfortunately, when I came here the field was one of the worst in the state," Serfass said. "There were no dugouts, no fencing, no scoreboard, no press box, and the infield was in bad shape. We finally renovated it about six years ago and redid everything and it's an honor to have Coach Chasen on the sign."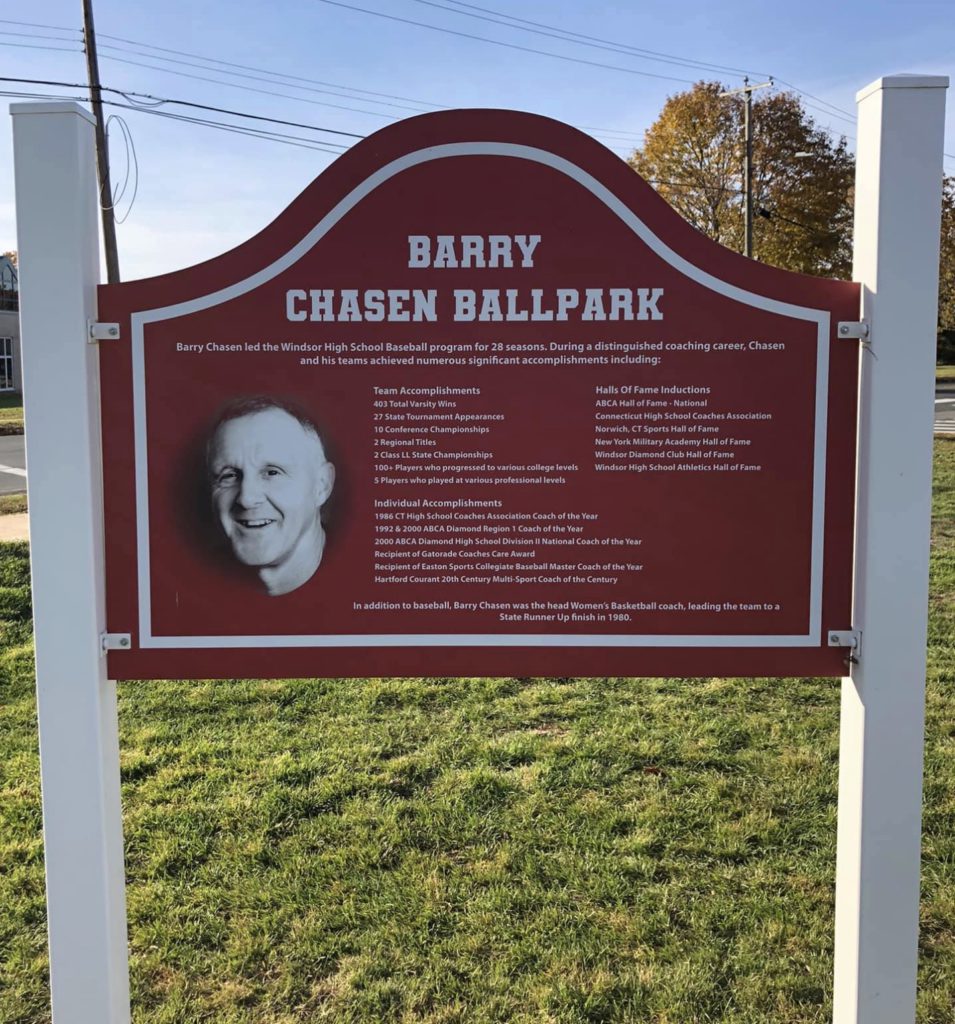 Click Here to Watch the Barry Chasen Ballpark News Story by NBC Connecticut / Xfinity Sportsdesk on Instagram.