June 4, 2020
Harold "Hal" James Lewis was born in Hartford, Connecticut, on September 4, 1927, to James Lewis and Lula Randolph Deloach. He grew up in the city's North End and attended Weaver High School. After school, Lewis joined the Army for eighteen months. He returned to Hartford in 1949 and gained employment as a sheet metal worker at Hamilton Standard. As an avid sportsman, Lewis became a star player for the Hamilton Standard company baseball team.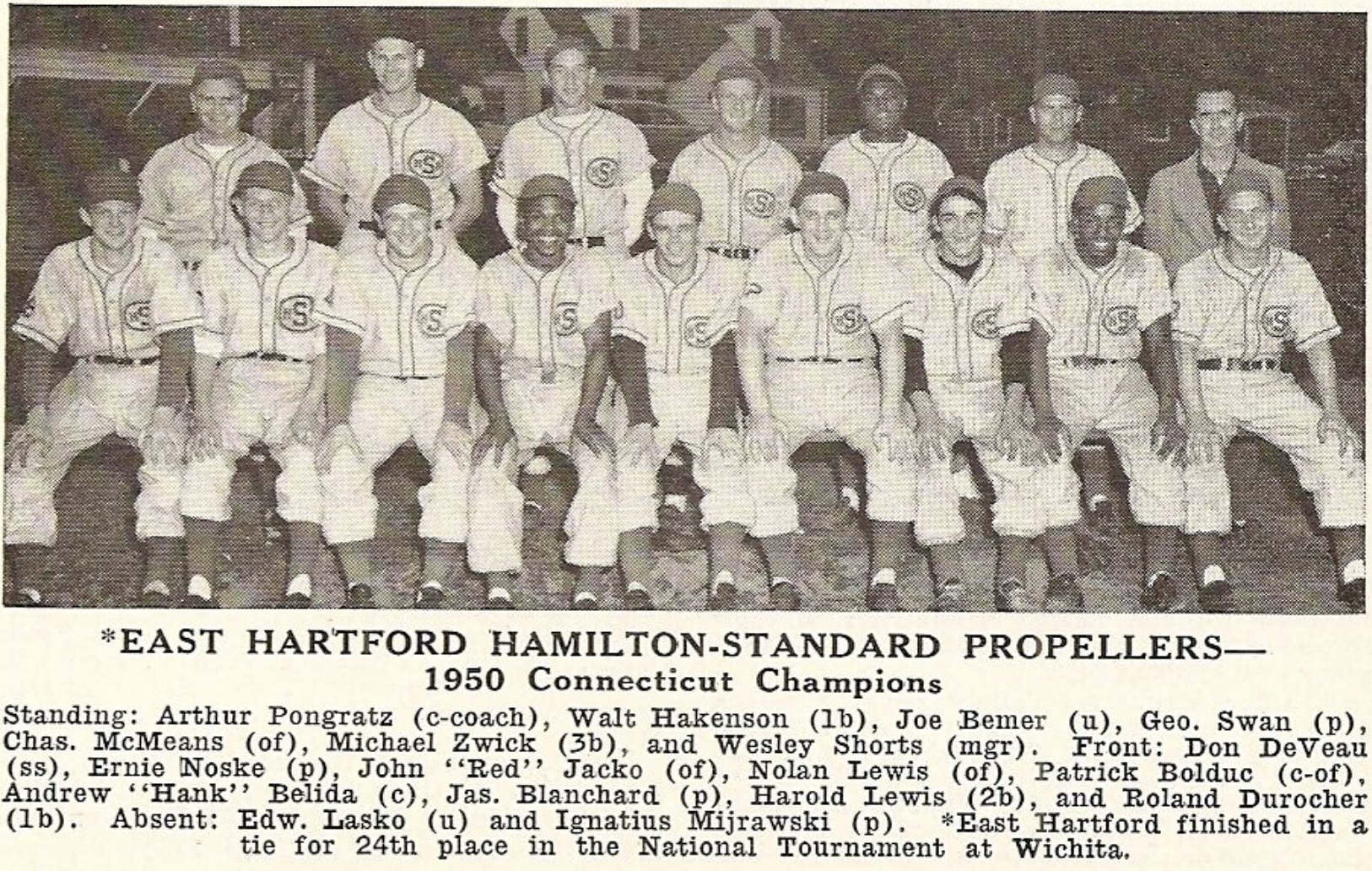 Lewis also suited up for an all-black team called the Nutmeg Dukes as an infielder and outfielder. The Dukes were initially formed in 1942 as an independent club who barnstormed throughout Connecticut. Of the Dukes, Lewis said, "We wanted to play competitive baseball. We wanted to be in a league," and they were admitted to Hartford Twilight League in 1950. As the first African-American club in league history, the Dukes dominated the competition and won regular season and playoff championships.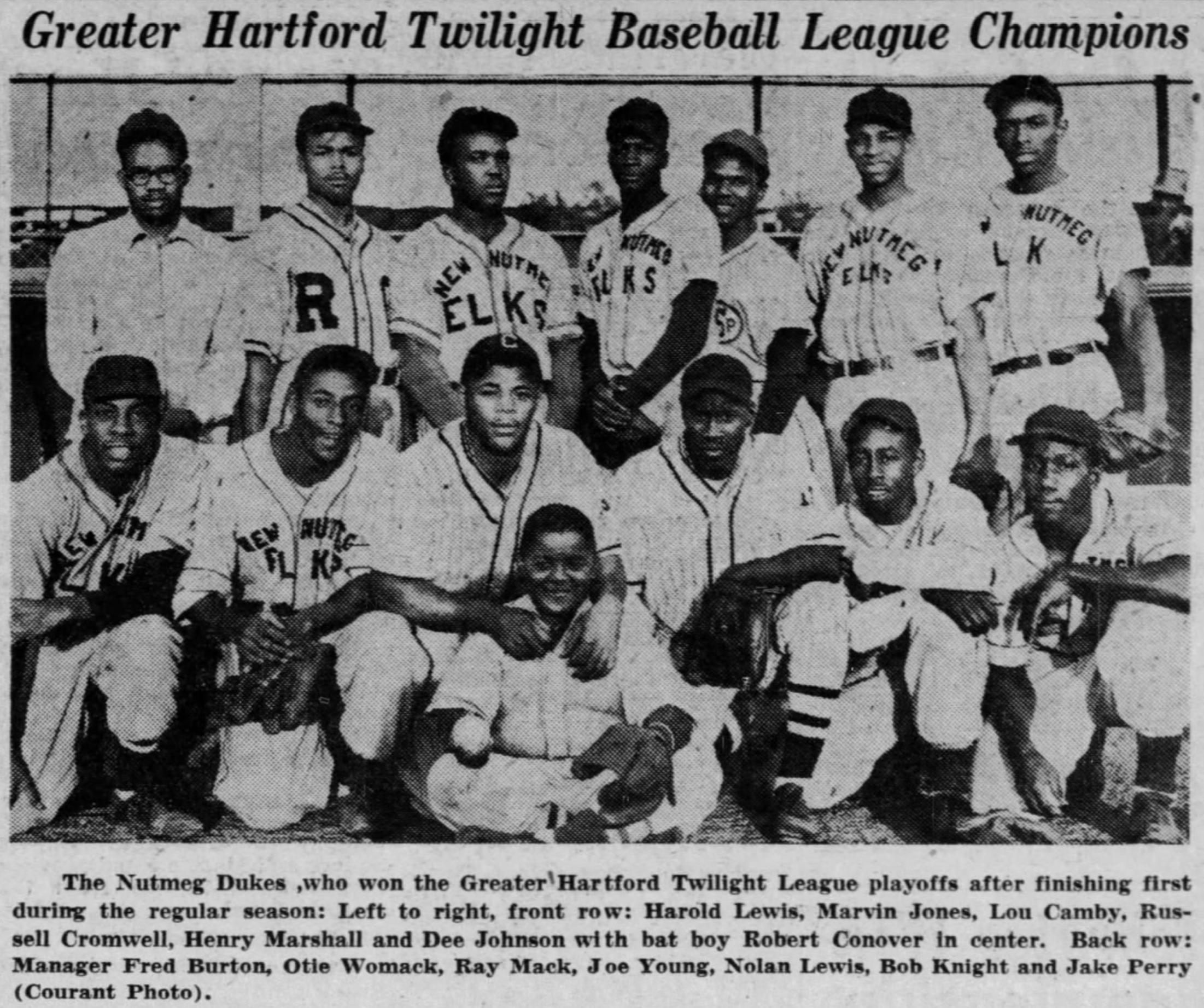 In January of 1951, Lewis became the second African-American from Hartford to sign a professional baseball contract. His childhood friend, Johnny "Schoolboy" Taylor, became the first a year earlier. Lewis appeared in 29 minor league games for the Quebec Braves, an affiliate of the Boston Braves. As the only black player on an all-white team in Canada, he was subjected to racial slurs and taunts. Two months into his first season, he packed his bags and returned to Connecticut. Lewis was rehired at Hamilton Standard and continued to play baseball for the Windsor Locks based company.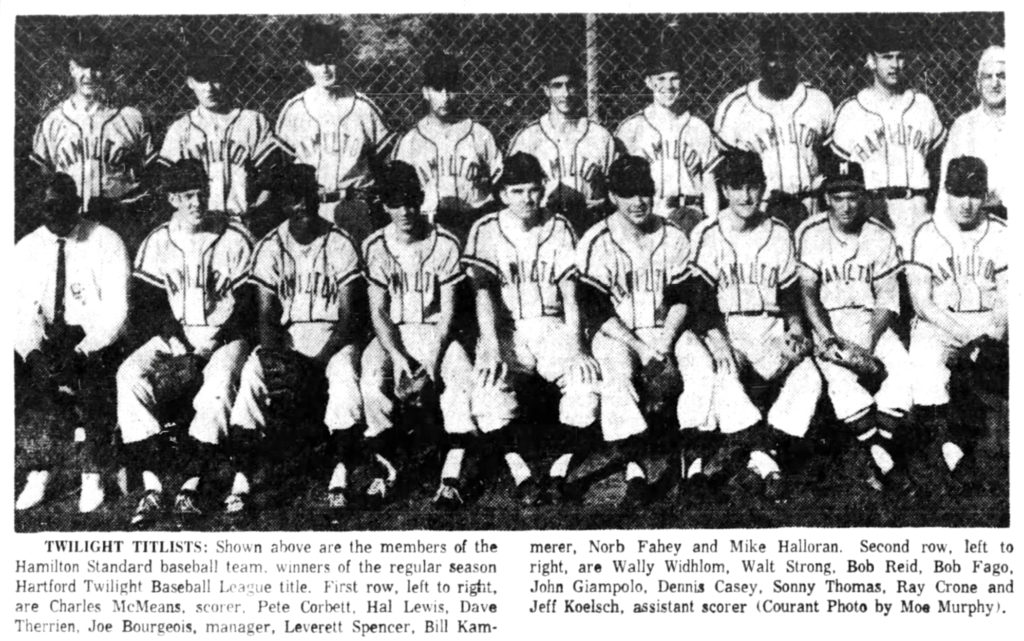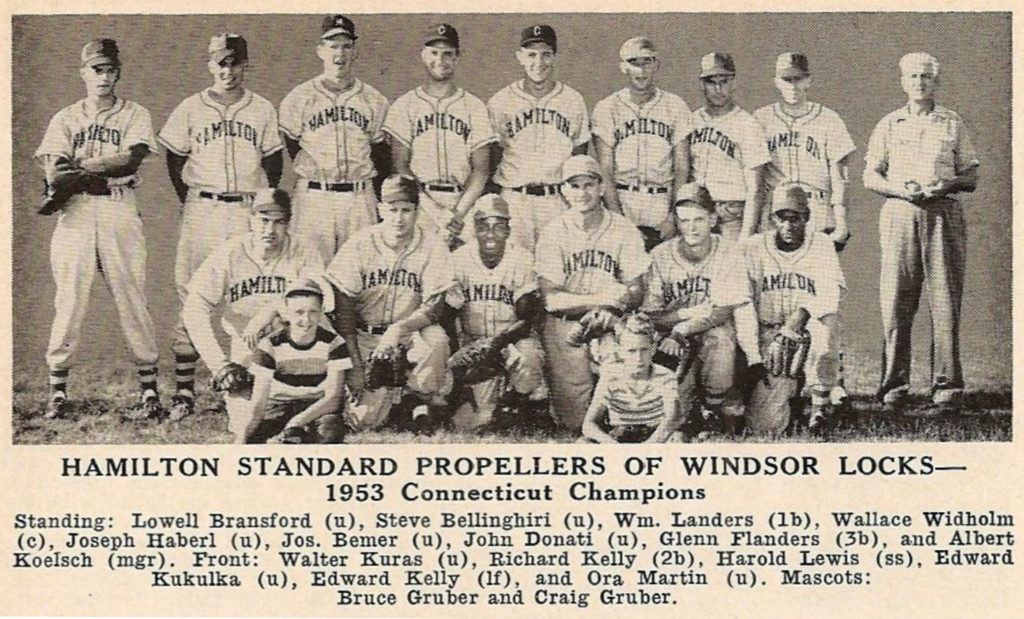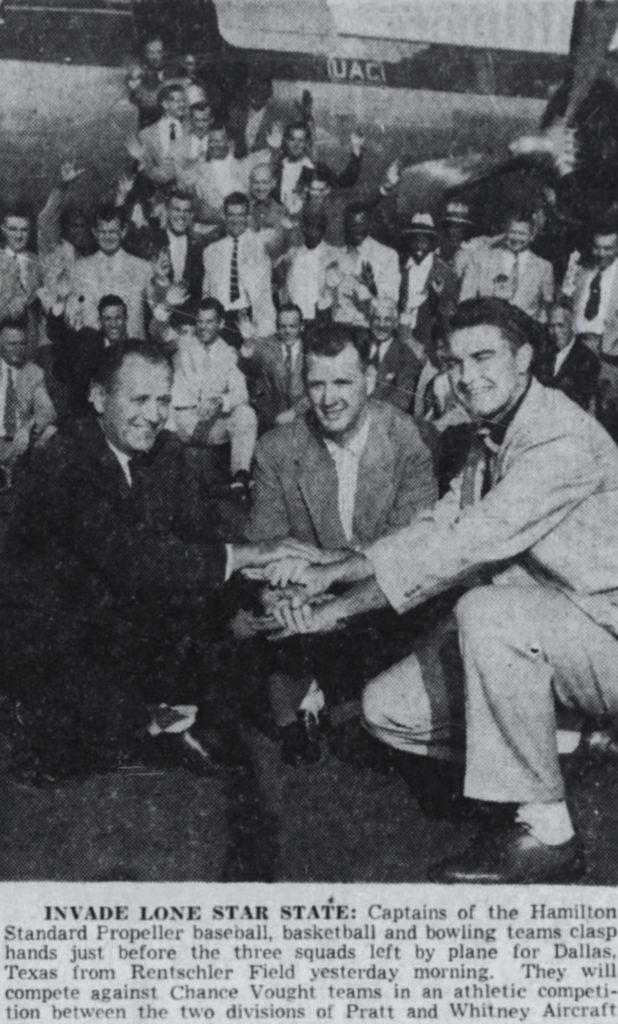 For about fifteen years, Lewis excelled at the amateur level and was one of the best ballplayers in the Greater Hartford area. In his time with the Hamilton Standard Propellers, Lewis won seven championships and set stolen base records in the Hartford Twilight League. The "Props" were crowned in state champions in 1953. With Lewis at shortstop, the team then flew to Dallas, Texas, to play in a national tournament. In 1956, Lewis temporarily switched teams and won another twi-loop title with the Bloomfield Townies.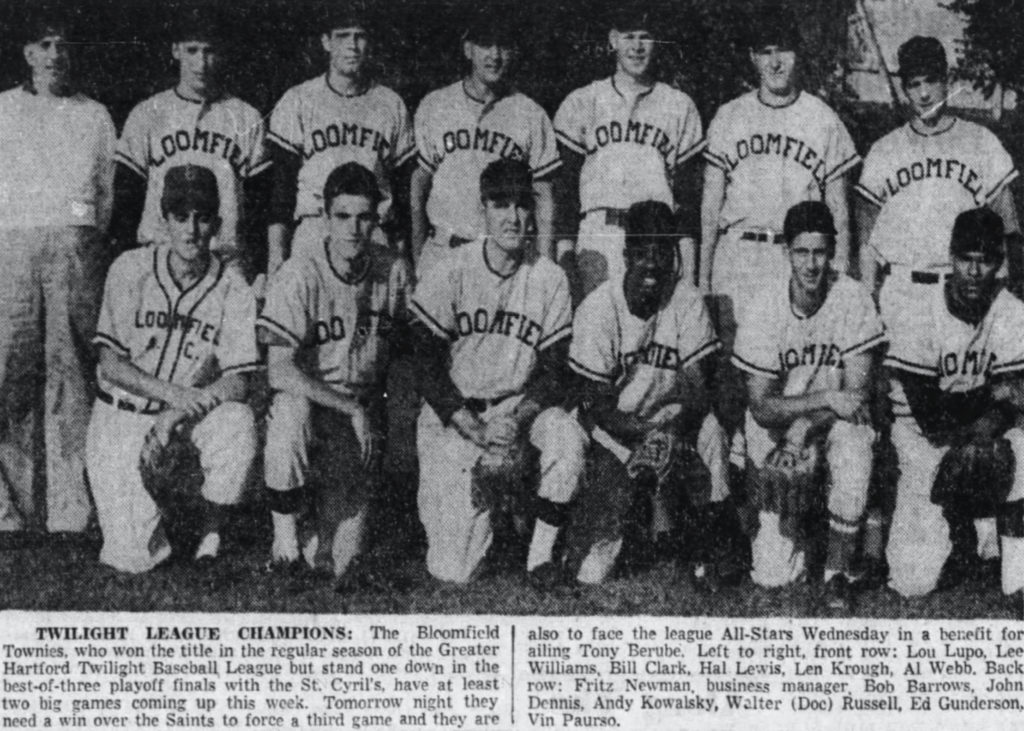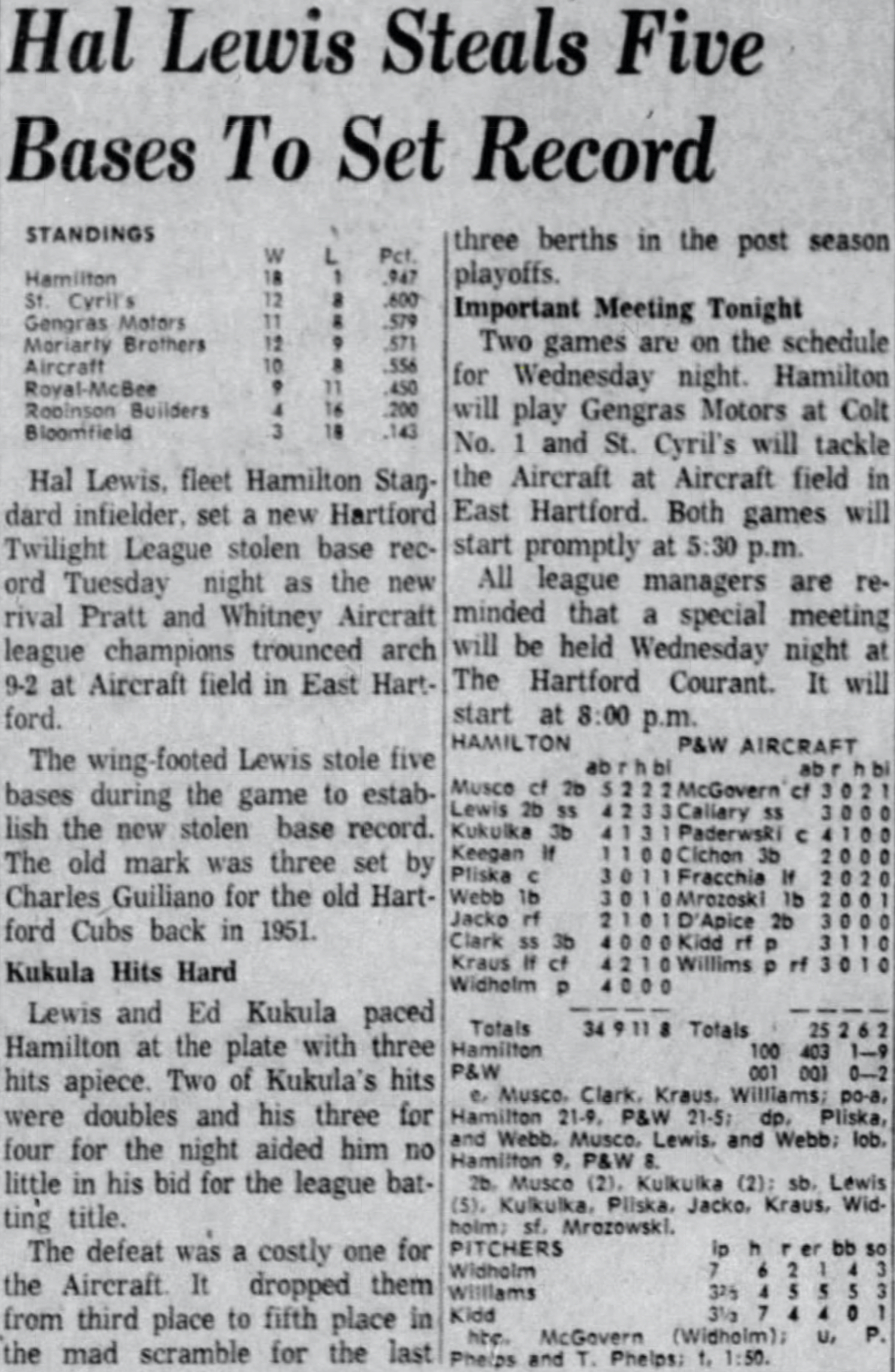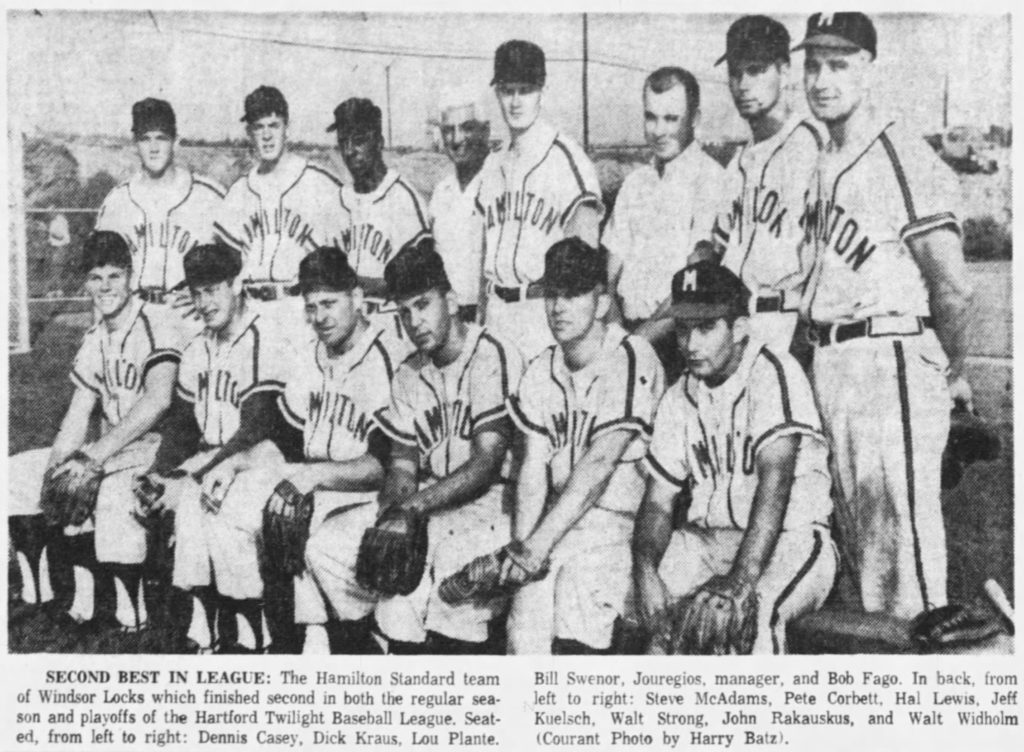 Lewis retired from competitive baseball after eighteen seasons. The final game of his career came in 1968. A veritable "who's who" of Hartford Twilight League alumni played in an Old Timers Game at Dillon Stadium. Thirty-six former Hartford Twilight leaguers took part in the game. Lewis appeared alongside local greats like Johnny Taylor, Monk Dubiel, Duffy Lewis and Bob Repass. Famed broadcaster, Bob Steele served as announcer.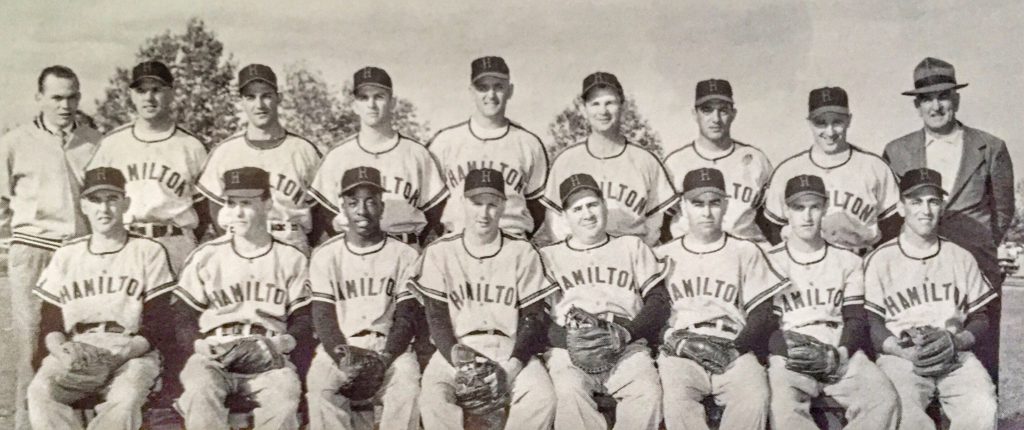 In 1969, Hal Lewis ventured into the restaurant business. After twenty years at Hamilton Standard, Lewis changed careers and established "Hal's Aquarius," a popular diner at 2978 Main Street, Hartford. Visiting celebrities, politicians, police officers, clergy and regulars congregated at Hal's. Lewis worked sixteen hours per day, seven days a week. He ran the restaurant and catering business while raising three children with his wife Mary. Hal's Aquarius operated until Lewis retired in 1989, due to failing health.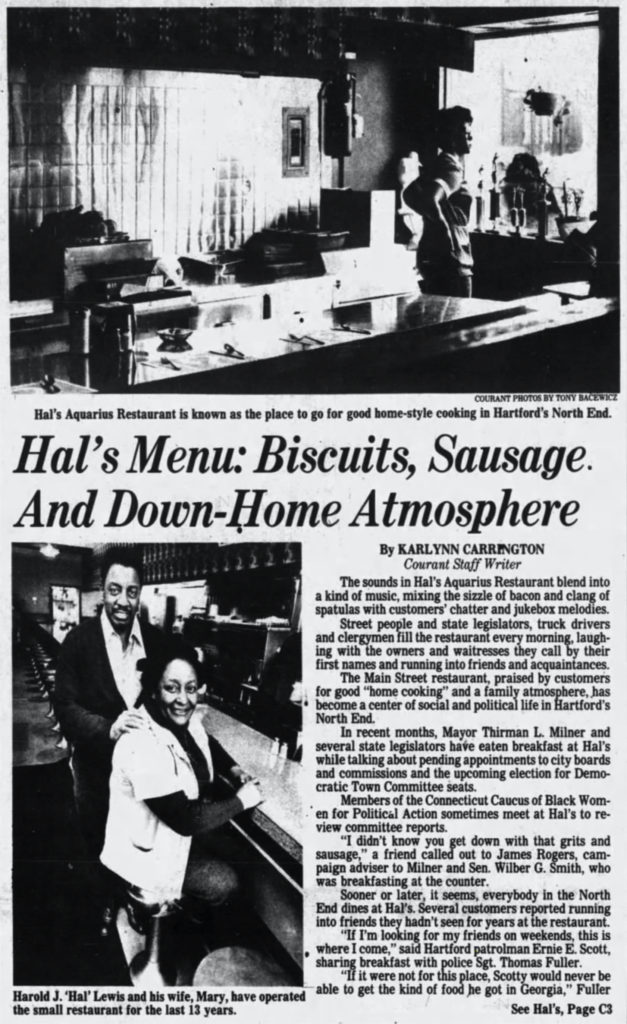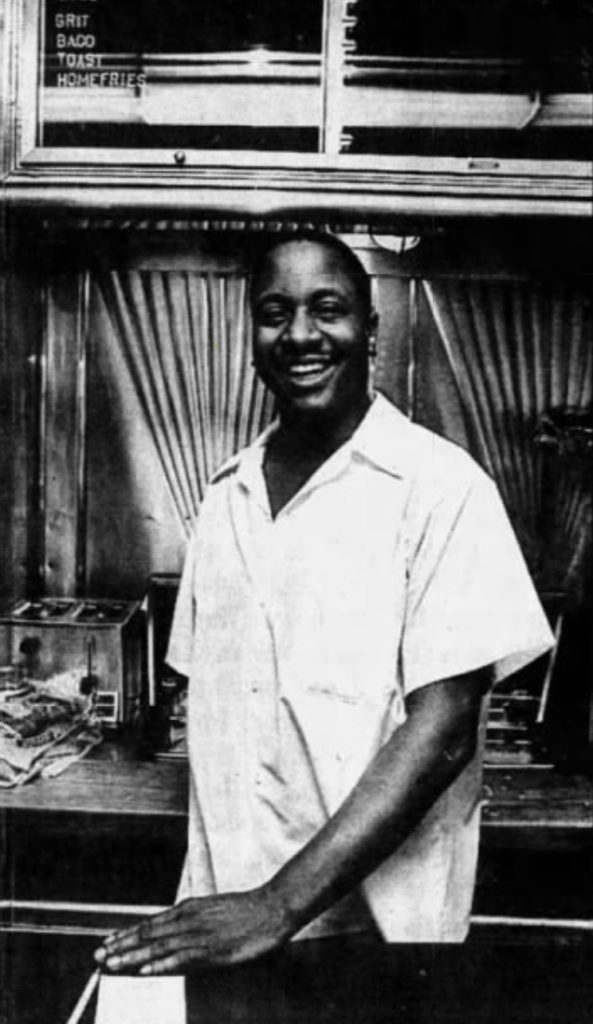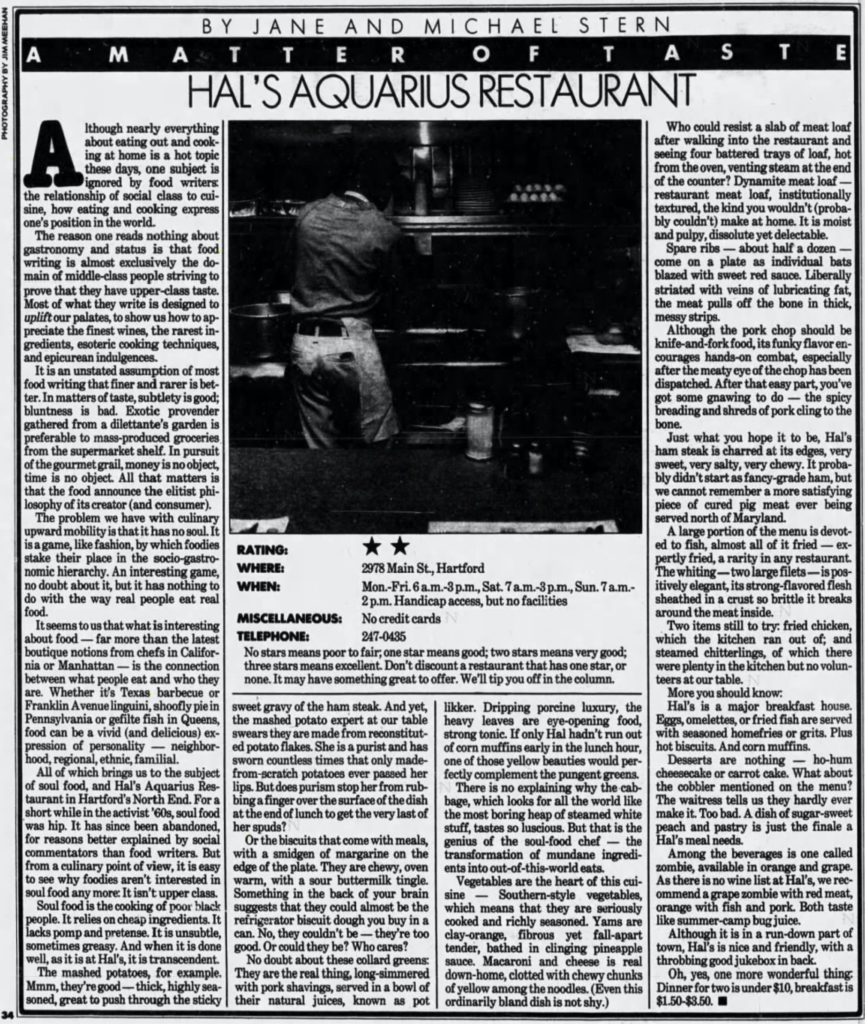 He was also a talented vocalist and musician. Lewis sang at local clubs and performed with the Sam Kimble Band, Jasper Jenkins Trio, Paul Brown and others. After a comeback from heart problems, Lewis performed at a jazz concert in Bushnell Park in 2000. His performance with singer Kitti Kathryn and his solo renditions of "Fools Rush In" and "It's Wonderful," dazzled the crowd once more.
"I'm a happy guy, just a real happy guy. I'm having fun and I'm appreciative of everyone around me."

– Hal Lewis, 2002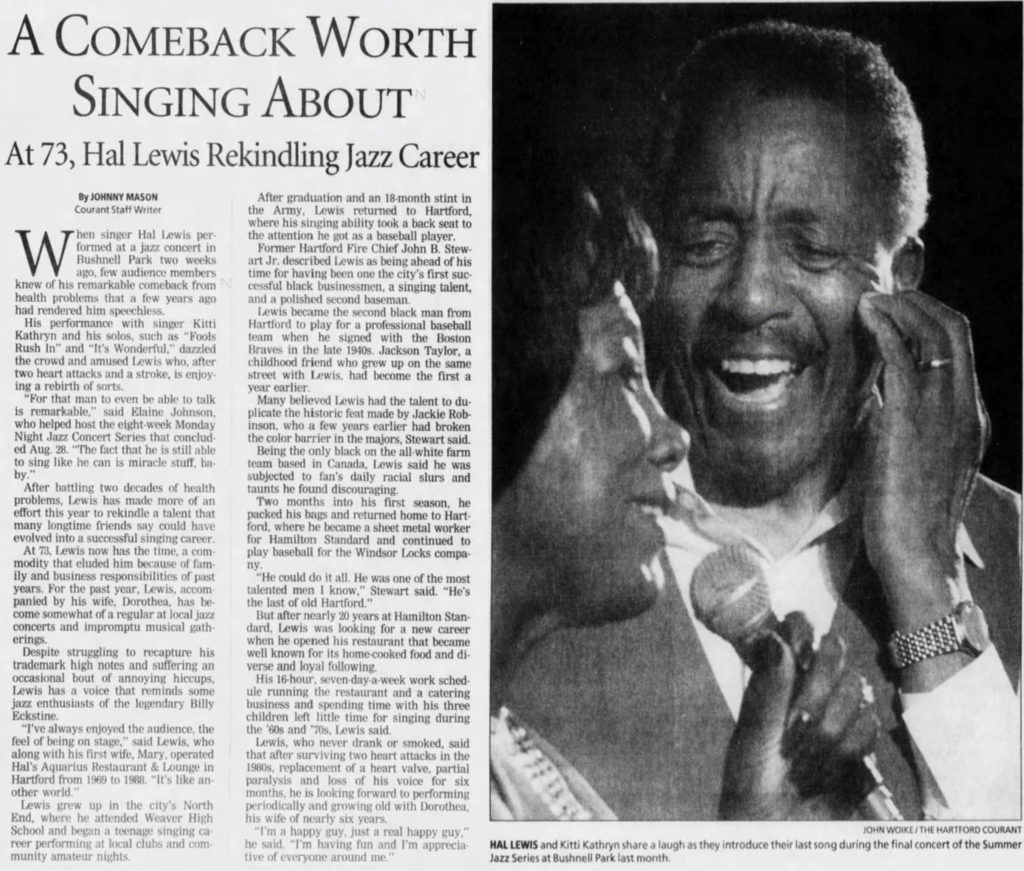 Former Hartford Fire Chief John B. Stewart Jr. described Hal Lewis as being ahead of his time for having been a successful businessman, a singer and a revered ballplayer. Stewart said, "He could do it all. He was one of the most talented men I know. He's the last of old Hartford." As a member of Union Baptist Church, Lewis had a fun-loving personality with quick wits and a compassionate soul. Hal Lewis departed this life on June 15, 2004, at his home in Bloomfield, Connecticut.