Over the last 50 years, men of the Riemer family have achieved remarkable baseball success. The story of a father and his two sons begins in New Britain, Connecticut in 1974. A junior at New Britain High School named Mark Riemer was a fleet-footed infielder with a quick bat. Behind Mark, the Hurricanes won the Class AA State Championship. In 1975, New Britain won 30 consecutive games but lost 1-0 to North Haven in the state championship game. Mark was awarded First Team All-State honors. Later that fall, he also earned All-State honors as a linebacker on the football team.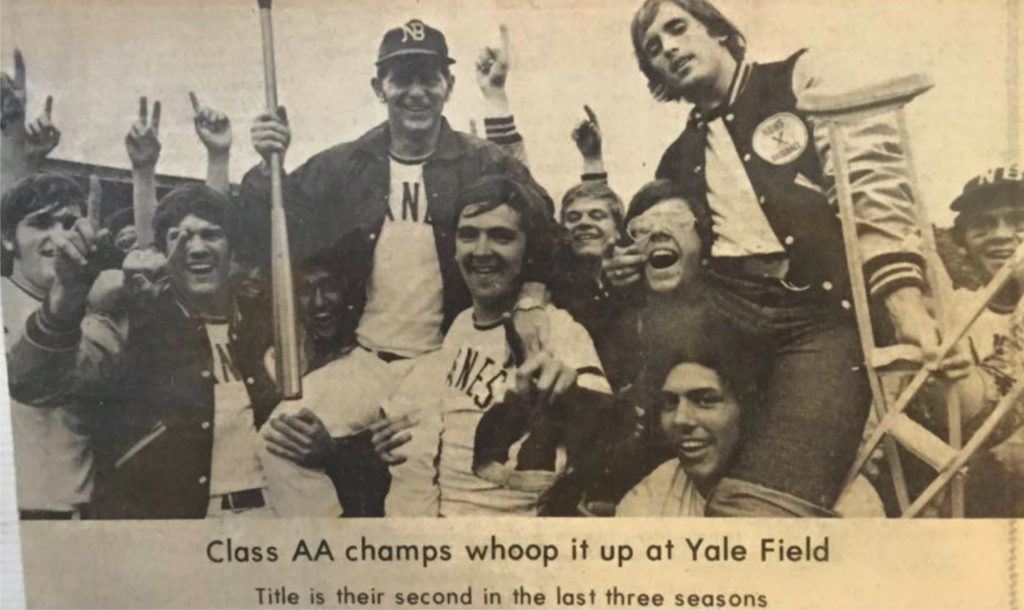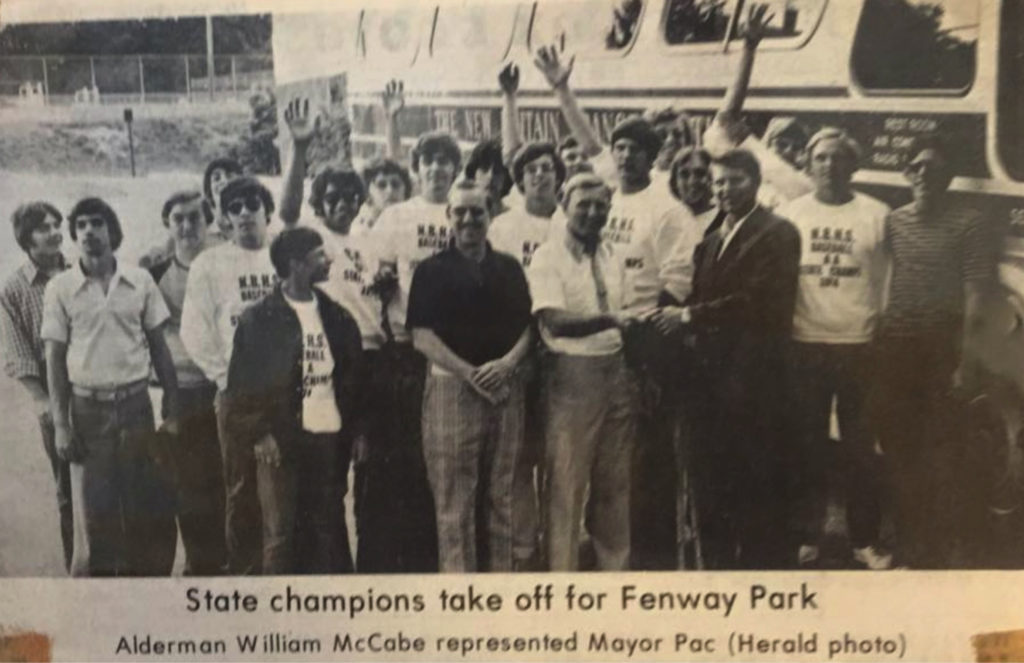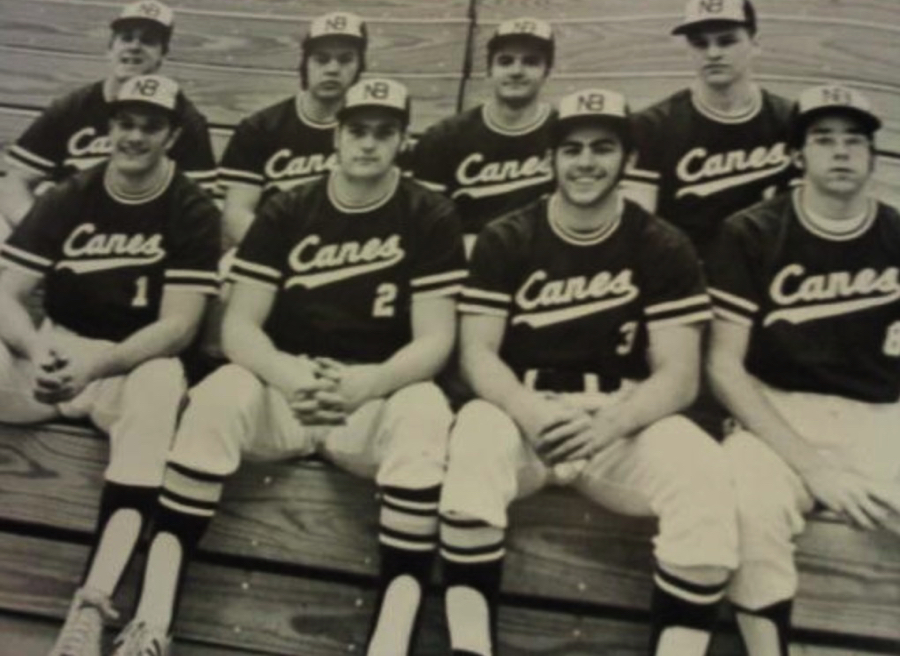 Mark Riemer matriculated to Eastern Connecticut State University where he was a four-year starter on the baseball team under Head Coach Bill Holowaty. Mark helped the Warriors to their first four NCAA Division-III tournaments. He was the first position player in New England Division-III to earn First Team NCAA All-American honors. As a junior right fielder in 1978, he batted .403 with an .803 slugging percentage, led Division-III in hits (73), RBI (59), total bases (146), was second with 14 home runs, and tied for second in doubles (19). Mark holds the Warriors career record for triples (18), is second in total bases (366) and home runs (34), third in RBI (152) and fourth in slugging (.637).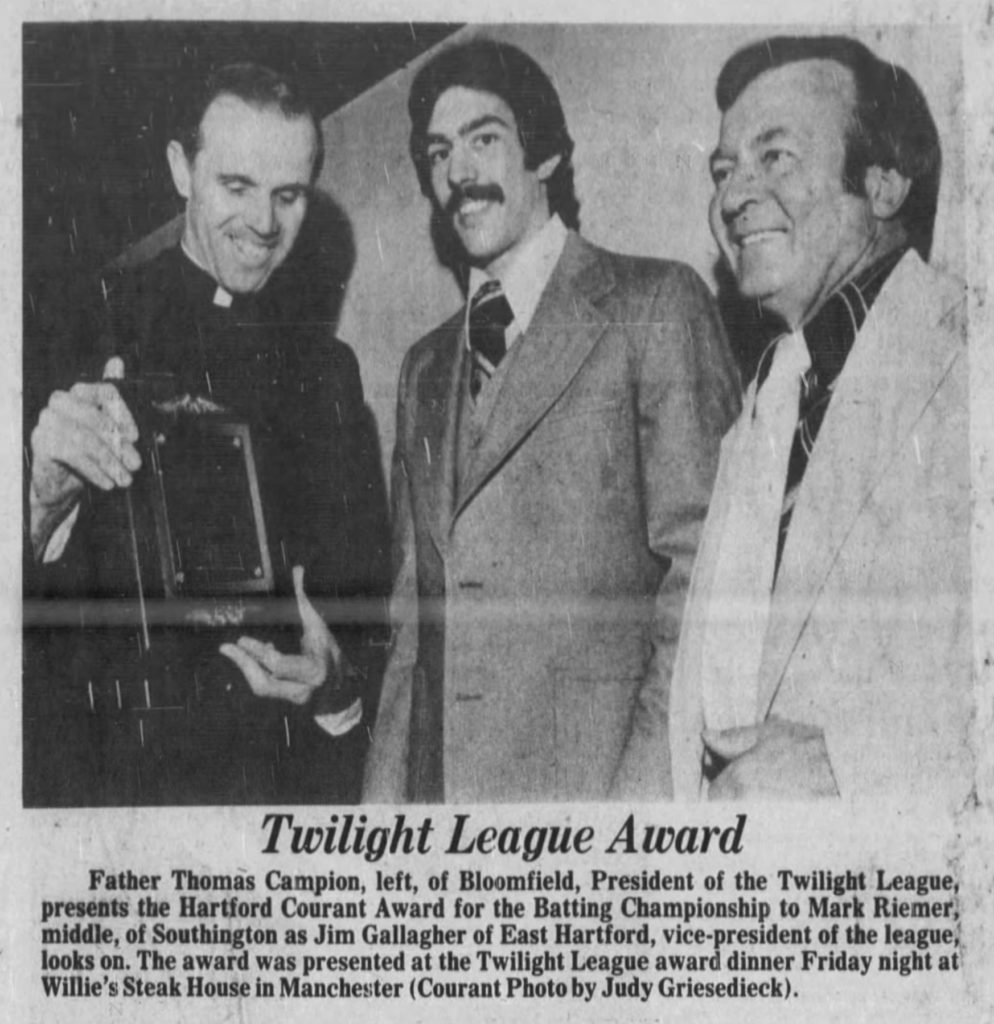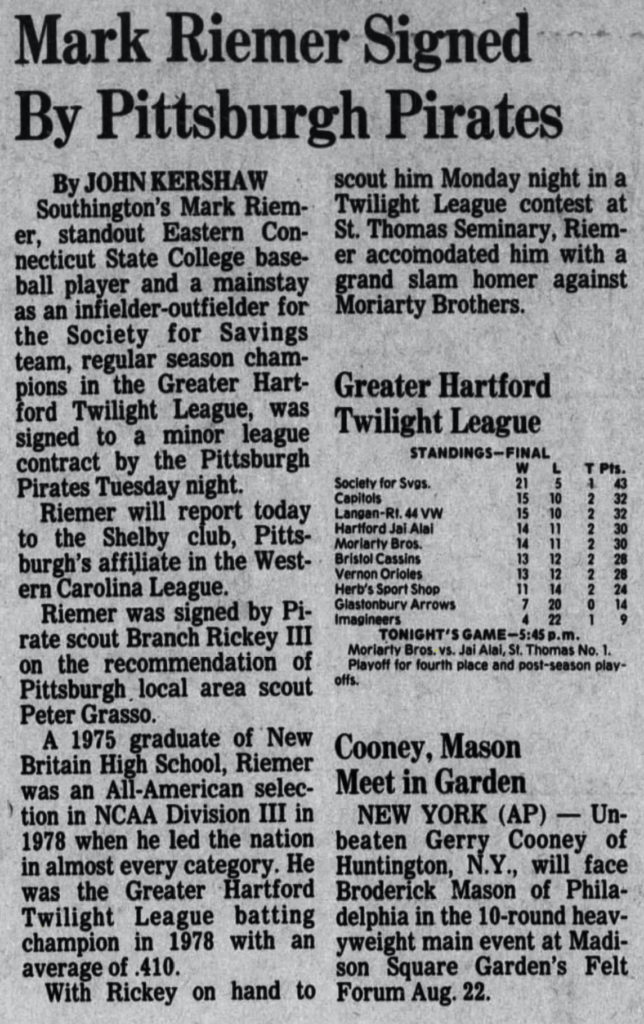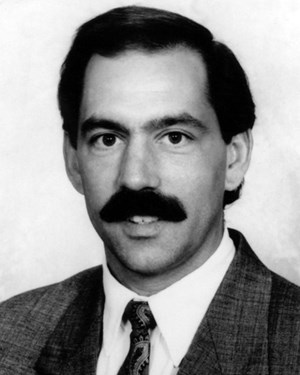 Throughout his baseball career, Mark Riemer also starred in the Greater Hartford Twilight Baseball League. At 18 years old, he suited up for the Moriarty Brothers of Manchester, winners of the 1975 league championship. Then he changed teams in 1977 and joined Manager Tom Abbruzzese's Society for Savings. After winning the GHTBL batting title and another championship season in 1979, Mark signed as a free agent with the Pittsburgh Pirates organization. As a member of the Carolina League's Salem Pirates in 1980, he finished second on the team in batting with a .298 average in 416 plate appearances.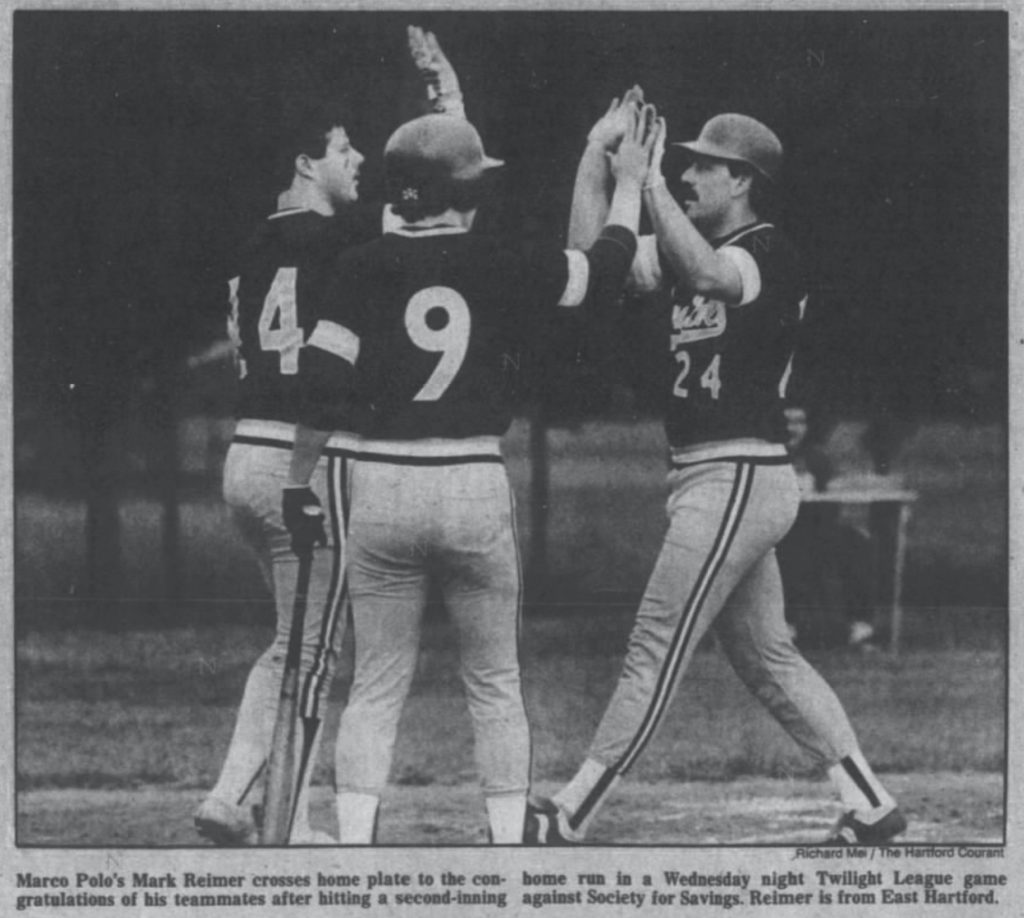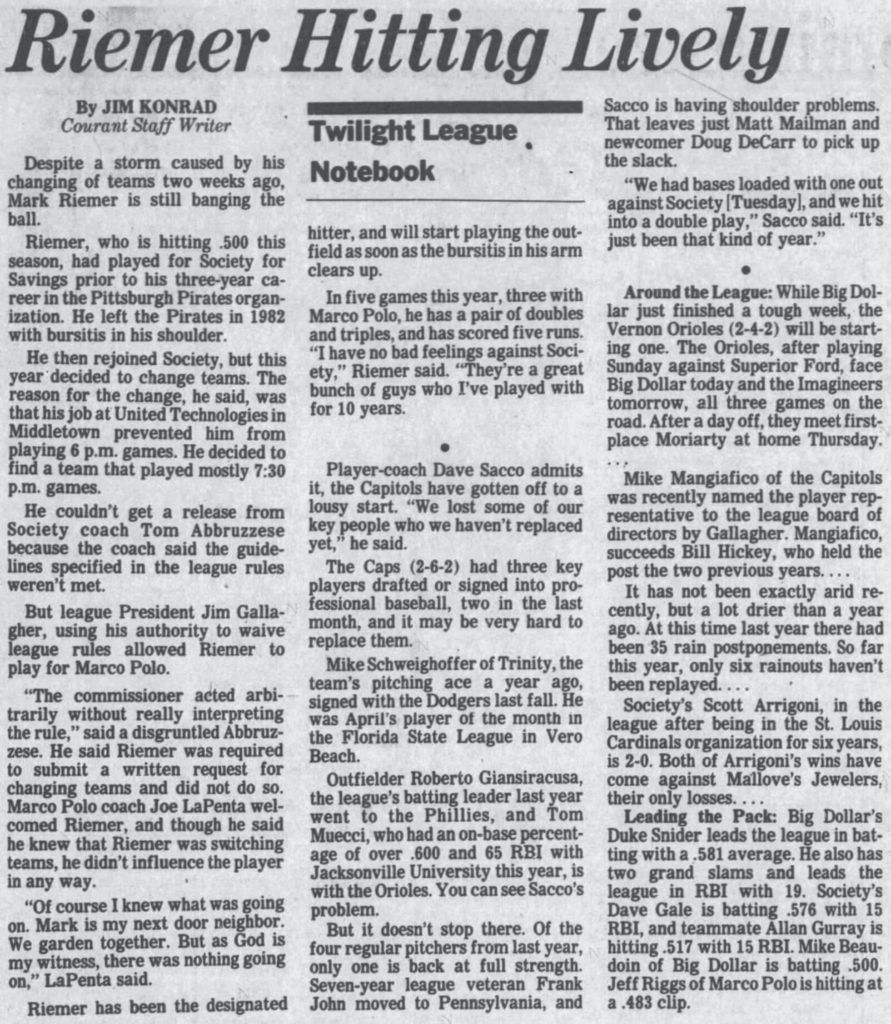 Mark served two years in professional baseball before returning home to Connecticut. He rejoined Society for Savings with whom he won 4 league titles. Afterwards, Mark jumped to the East Hartford Jets franchise from 1985 to 1992. Late in his baseball career he won several National Senior Baseball World Series men's league tournaments in Phoenix, Arizona alongside GHTBL Hall of Fame inductee, Dave Bidwell. Mark continued to make twilight league appearances until around 2011 as a designated hitter for Tom Abbruzzese's People's United Bank franchise. Mark's nickname is "Trout" because of his love for fishing. He is a father of three children, Matt, Meagan and Mike.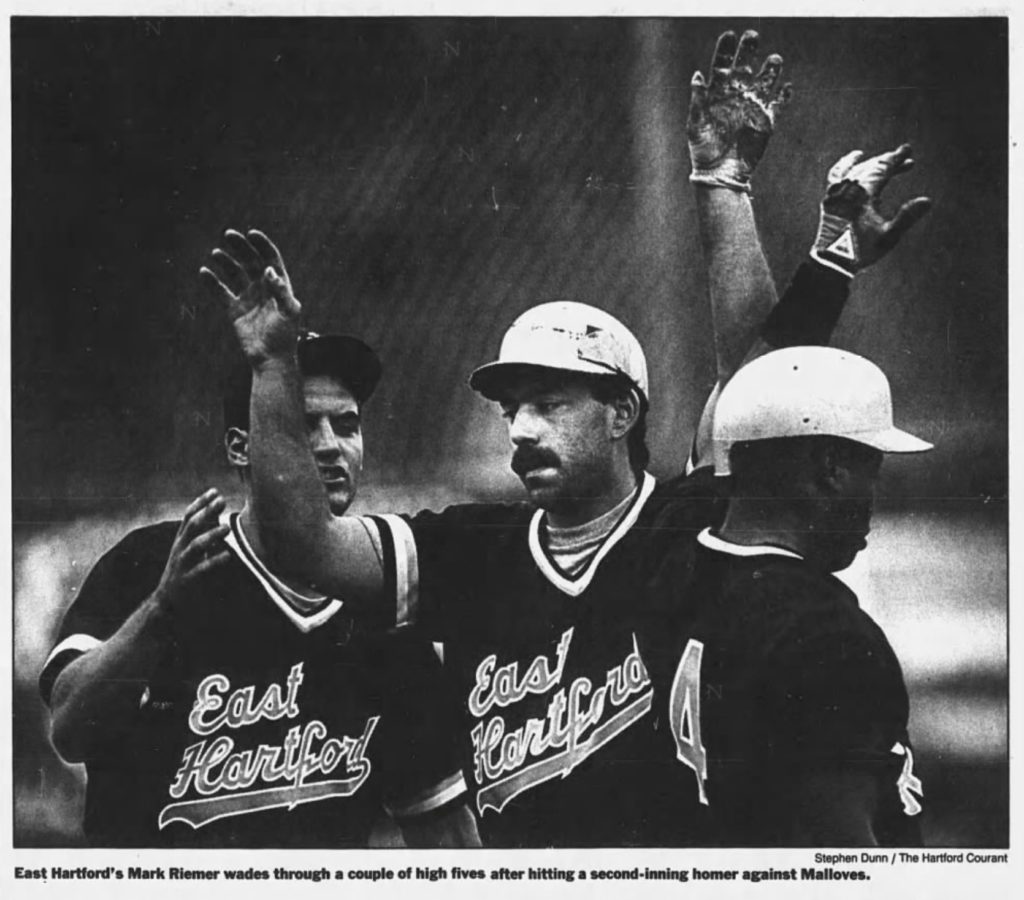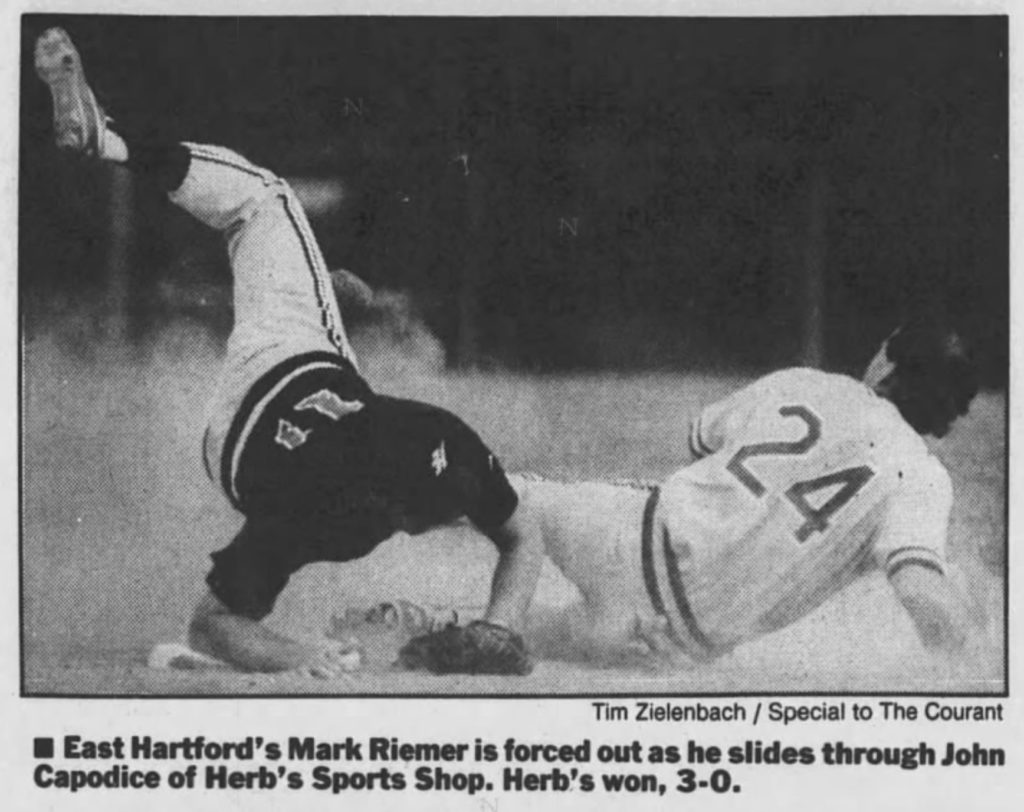 Matt Riemer followed in his father's footsteps in many respects. After graduating from Ellington High School, Matt took his skills to Eastern Connecticut State University. There he displayed speed and versatility under Head Coach Bill Holowaty, winning a Little East Conference championship in 2007. Matt began his Greater Hartford Twilight Baseball League career in 2004 for People's Bank. He was an effective leadoff hitter who got on base and collected steals at a high rate. Matt led People's to a league championship in 2006, and regular season titles in 2007, 2008 and 2011. He took the field for the last time in 2013 after eight GHTBL seasons.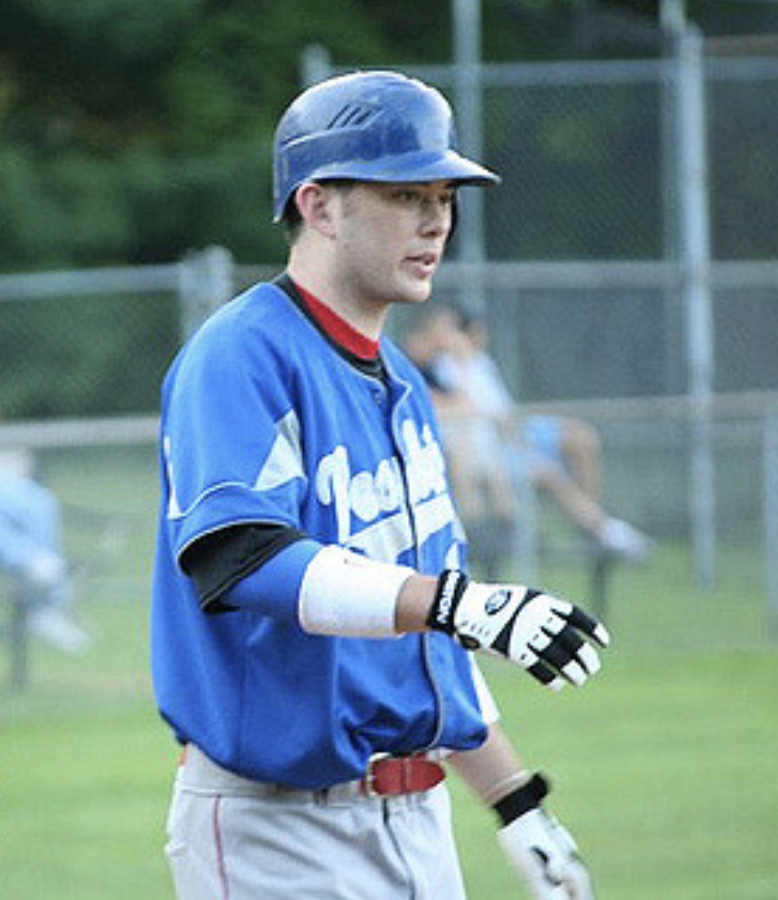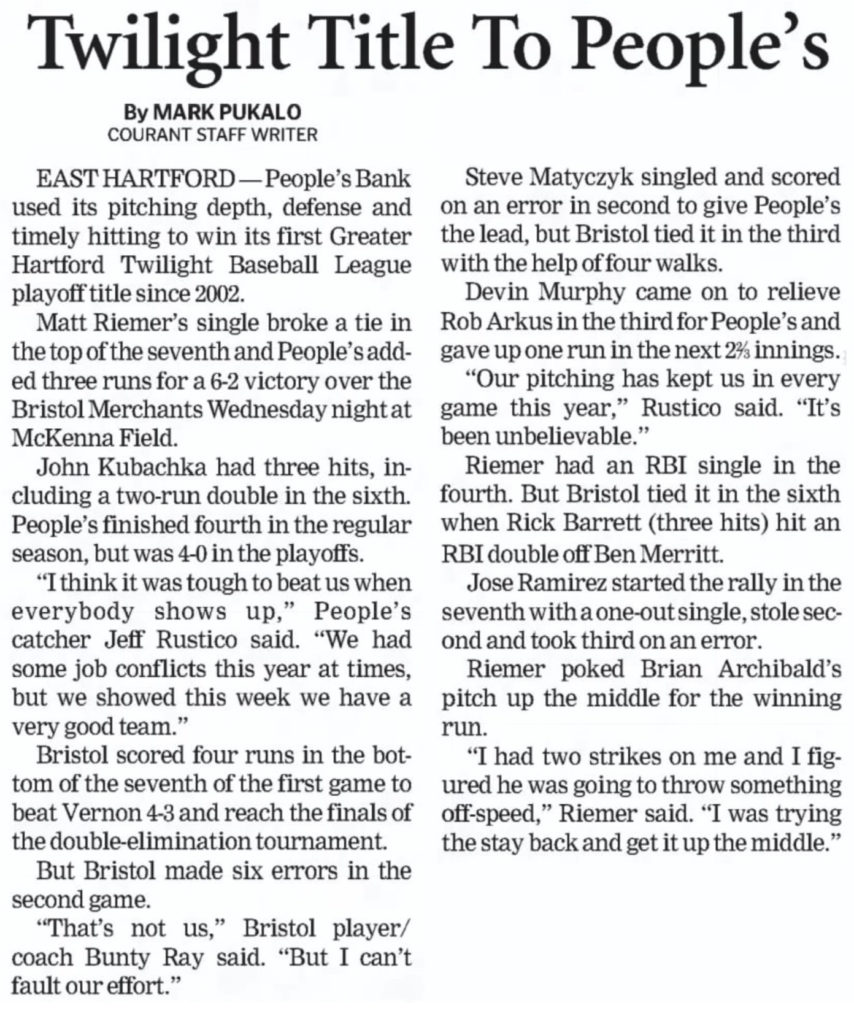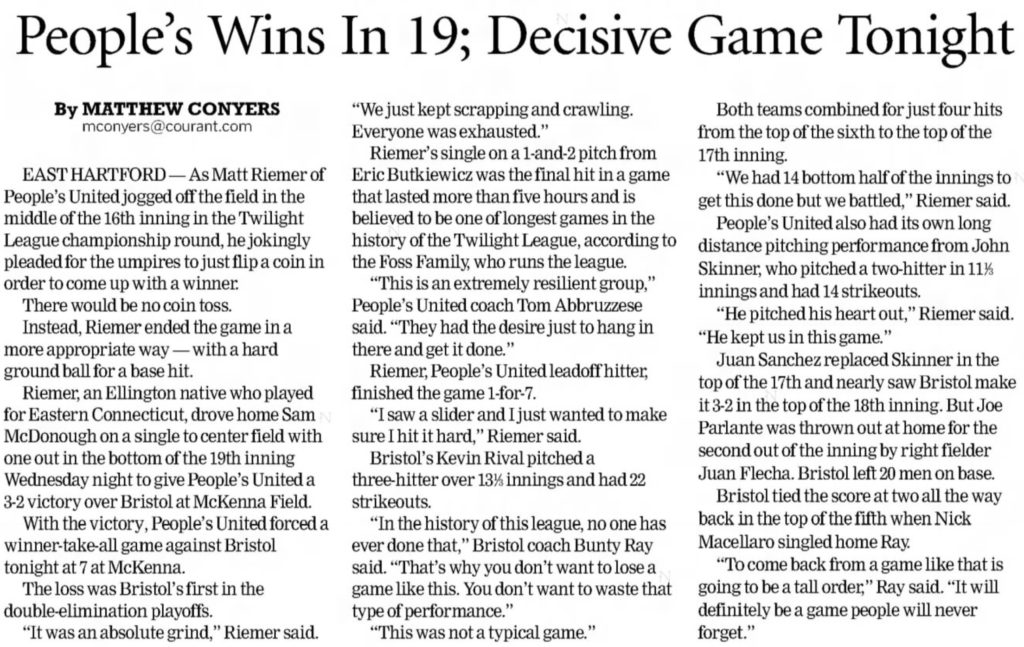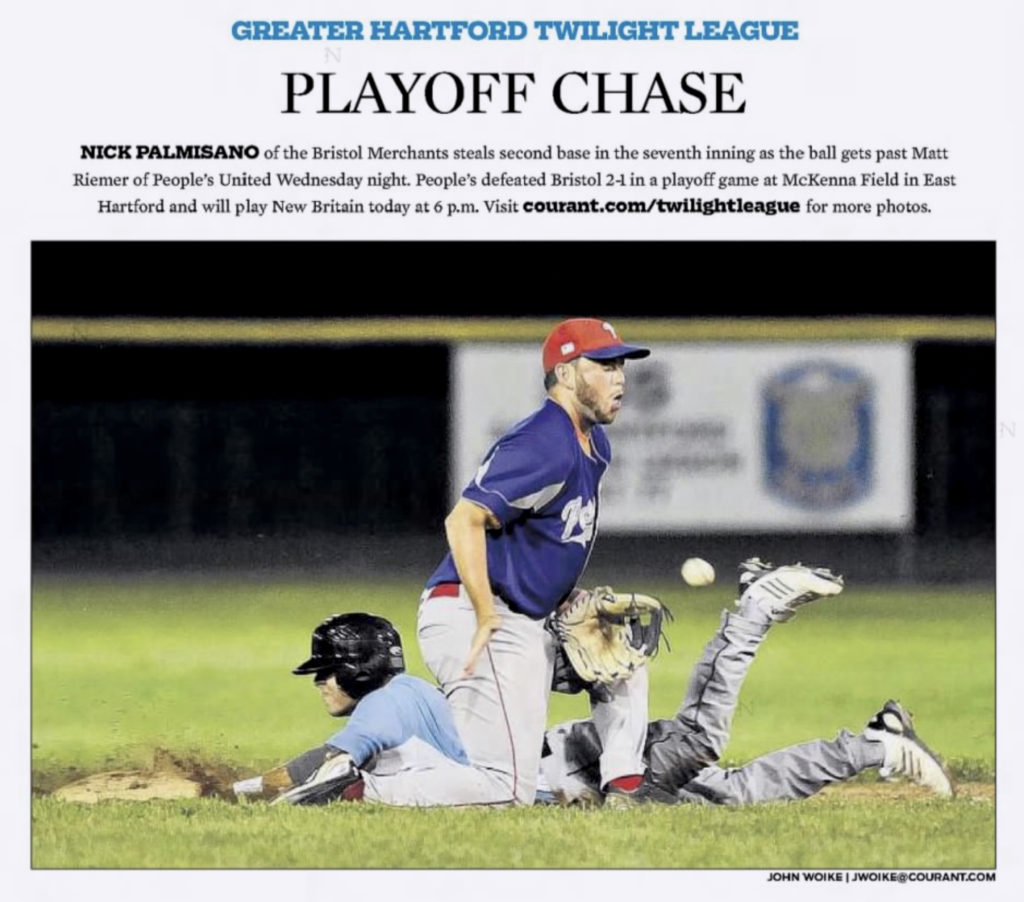 Mike Riemer, the youngest of the Riemer men, graduated from the Berkshire School in Sheffield, Massachusetts, class of 2008. Like his father and older brother, Mike played under Bill Holowaty at Eastern Connecticut State University. He transferred to the Warriors from Division-I Central Connecticut State University. In 2011, Mike was primarily a relief pitcher in his first season. Then he became a two-year starter in center field and a heart-of-the-lineup hitter as a junior and senior. In his final collegiate season, he was one of three players to start all 44 games. Mike batted .329 with three home runs, 30 RBI and committed only one error in center field in 2013.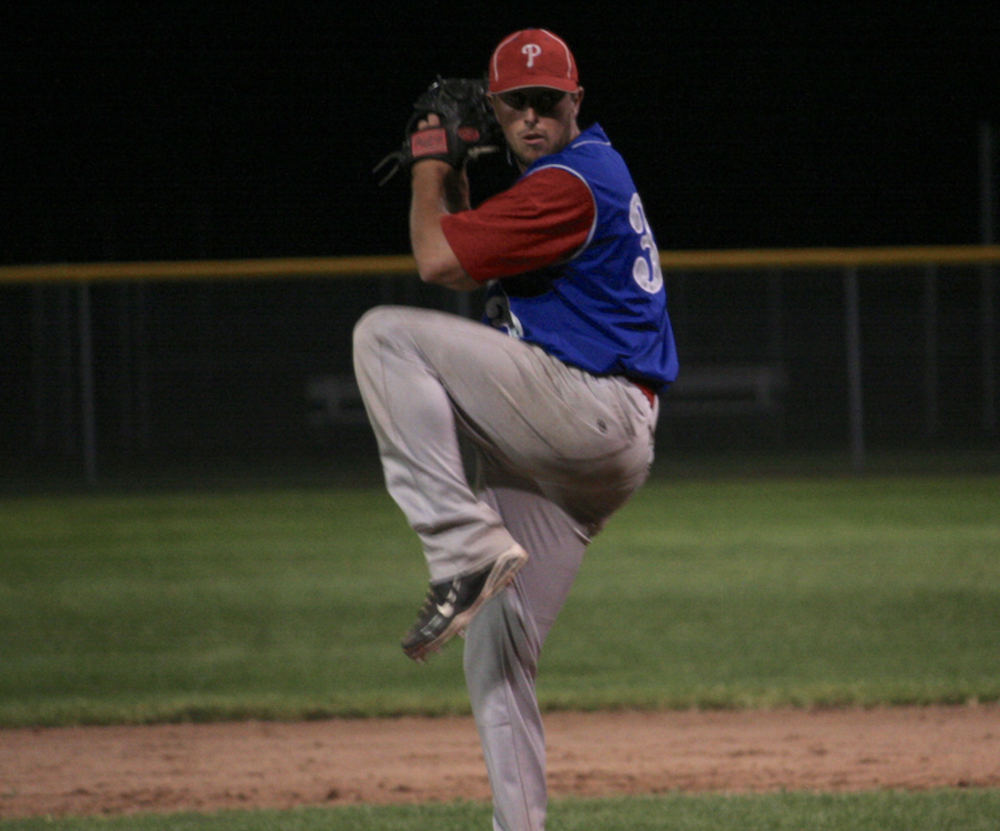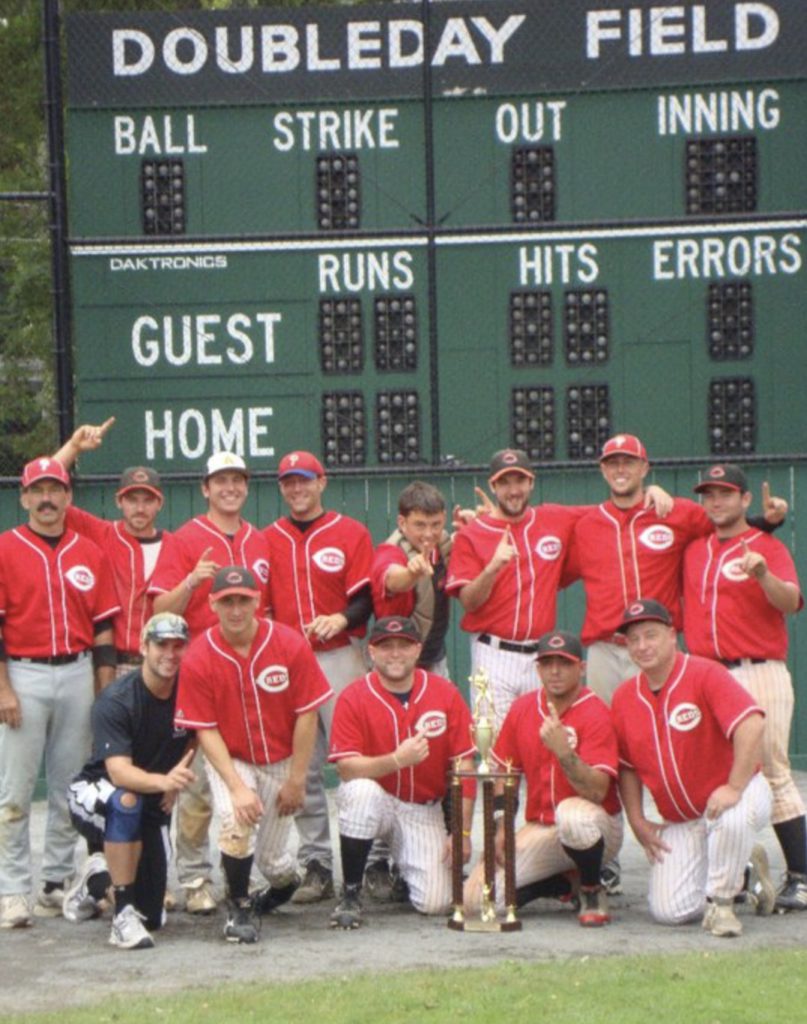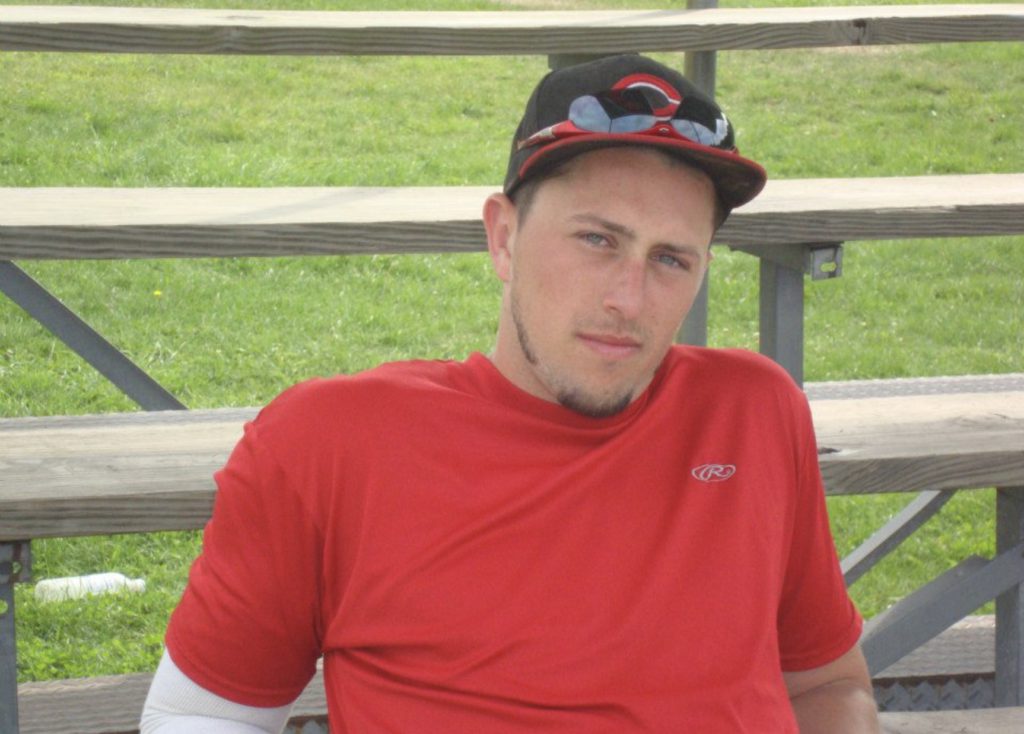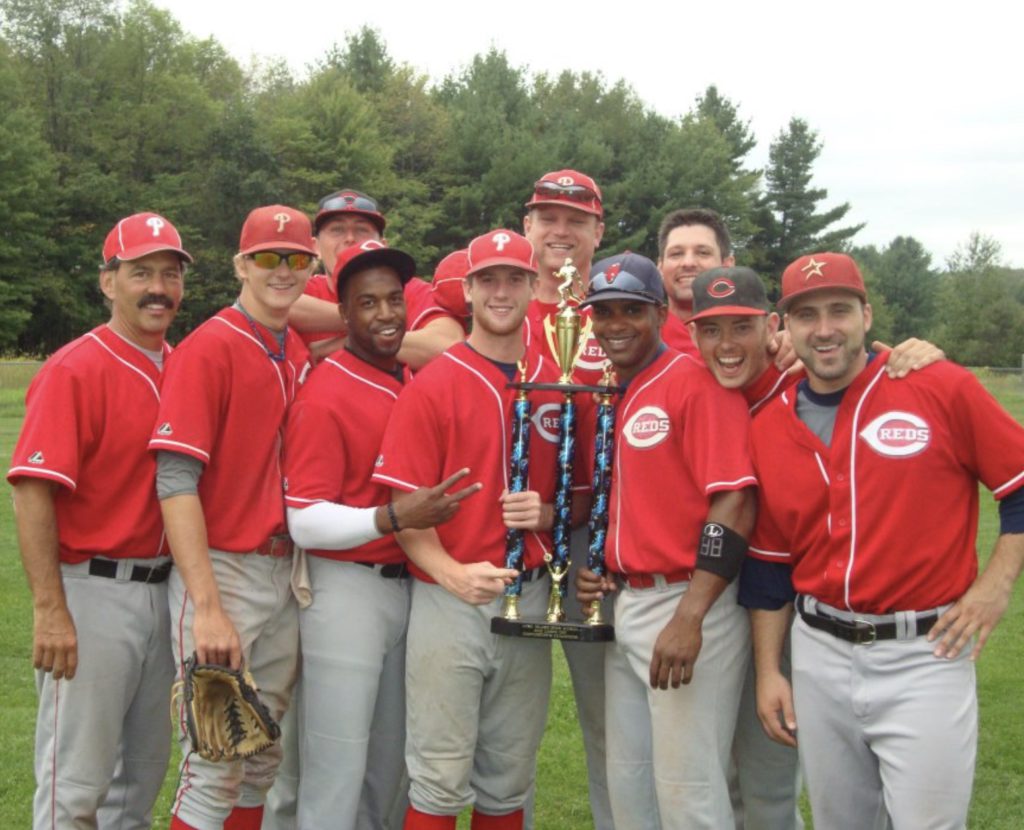 During summer months, Mike Riemer was a valuable member of People's United Bank team in the GHTBL. The Riemer men also organized an amateur squad that won three straight tournaments in Cooperstown, New York in 2010, 2011 and 2013. Men's league experience helped Mike develop into a more complete player and in 2014, he signed to play professional baseball in Germany. The 6-foot-2 and 220 pound, 24 year old joined the Tübingen Hawks of the German Baseball and Softball Association (DBV). He landed in Germany after being recruited by Jason Holowaty, Director of Major League Baseball international development operations in Europe and Africa.